By Lambert Strether of Corrente.
This year's ObamaCare open (mandated) erollment period begins on November 1, 2015 and ends January 31, 2016[1]. Plans and prices will be available "by late October." Skipping over the repellently self-congratulatory material on how the totally-not-a-laughingstock-by-civilized-standards ObamaCare has managed to deliver a non-universal[2] national health insurance program, everybody admits that this enrollment period is going to be a tough one[3]:
HHS Secretary Says Coming Sign-up Season Will Be Toughest Yet Under Health Law

[Official] are eyeing about 10.5 million people who could buy coverage through HealthCare.gov or state sites, often with federal subsidies to offset premiums, but who have resisted signing up as the law rolled out.

"Those who are still uninsured are going to be a bigger challenge," said Health and Human Services Secretary Sylvia Mathews Burwell in a speech at the Howard University College of Medicine, after praising the law for pushing the rate of Americans without coverage to historic lows.

"Overall, this open enrollment is going to be tougher than last year," she said. "But while our goals may be harder to reach, we're working smarter to reach them," she said. "We know Americans are depending on us and we're doing everything we can to help them find the coverage they need."
Let's skip over the question of why "doing everything we can to help," for this Democratic administration, and for the currently leading Democratic candidate, never includes even a smidgeon of consideration for the simple, rugged, and proven single payer solution. And for now, let's skip over the question of why Burwell thinks Americans are "depending" on HHS but at the same time "resist" enrolling. When Burwell says "working smarter," what does she mean, and what are her goals? Kaiser Health News:
Burwell said the agency's goals for the upcoming enrollment season, which ends Jan. 31, 2016, are to "improve the consumer experience, retain our current customers and increase our enrollment." By the end of this year, HHS expects 9.1 million individuals will have coverage through the federal and state health insurance exchanges, or marketplaces, she said. HHS officials have yet to announce an enrollment goal for 2016.
OK, Burwell hasn't actually set any goals. To be fair, that actually could be "working smarter," given the givens. Moving on:
To reach the approximately 10.5 million uninsured, agency officials plan to use data accumulated over the last two health law enrollment campaigns, such as information about where the uninsured live and what sorts of messages might convince them to purchase coverage, senior HHS officials said Tuesday. Email and social media campaigns that encourage people who have started their applications to finish them, or to promote awareness about the law's financial assistance that is available to help people purchase coverage and pay out-of-pocket costs, will be key. While there's 'no silver bullet' to increasing enrollment, 'we have to keep chipping away at it,' a senior agency official said.
Again, let's skip over the fact that there is a "silver bullet": Junk the Rube Goldberg device that is ObamaCare, and adopt a single payer system instead. And let's skip over the bathetic collapse from "we were able to deliver on universal health care" (Obama, November 6, 2013) to this year's "we have to keep chipping away at it" (with lethal effects for those "depending on us"). Where is the chipping away to be done?
Outreach and enrollment efforts will be focused on five targeted areas — Dallas, Houston, Northern New Jersey, Chicago and Miami — where there are large numbers of uninsured who qualify for the law's financial assistance.
And again, let's skip over the fact that consumers's citizens' access to life-saving health care under ObamaCare is random with respect to jurisdiction (as we showed here, here, here, here, here, and here, in "Obama's Relentless Creation of Second Class Citizens"). I mean, if you don't live in one of those five urban areas, you're out of luck, right? But so what, because markets [4]. Rather, let's ask the question:
Why would people "resist" signing up for ObamaCare?
The punditry really can't explain. For example, FiveThirtyEight does the math. There are 33 million uninsured, of whom 7 million are non-citizen immigrants, 3.8 million are in states that did not expand Medicaid, 7.7 are between 19 and 14 (that is, on their parents policies or so-called "young invincibles"), leaving about 14 million.
why these 14 million people weren't insured, but the administration will have to figure that out if it wants to come close to the universal coverage the law intended [snort].
Six years after ObamaCare was passed, and it's "hard to say" why everybody wouldn't already have leaped to sign up for it. Alrighty then. Bloomberg is just as vague:
[T]he uninsured rate needs to be pushed even lower. The people who've signed up for Medicaid or exchange coverage are those who have most wanted insurance; the challenge remains to persuade those who are less motivated or don't understand their options.
Or, perhaps, are highly "motivated," and "understand their options" all too well? Burwell:
Almost 40 percent of the uninsured who qualify for marketplace coverage earn between 139 and 250 percent of the poverty level, about $30,000 to $60,000 a year for a family of four, Burwell said. Nearly 60 percent of the uninsured are either confused about how the tax credits work or don't know that they are available, and about half of the uninsured have less than $100 in savings, Burwell said.
Or, perhaps, are not "confused" at all?
Could it be that ObamaCare just isn't that good a deal? Could that be why people resist enrolling? Interestingly, that's what HHS's internal studies are telling them, even if word hasn't percolated out to the pundits just yet. From a June 2015 study outsourced to the Robert Wood Johnson Foundation:
Cost remains the main barrier to insurance. Those who have looked made
Imagine that! Working people making "calculated decisions"! Who would have thought? RWJF goes on to mention factors that might change those calcuations:
Even after two enrollment periods, many uninsured individuals lack knowledge about tax credits, special enrollment periods and the fine. Providing ongoing and straightforward information on these issues could move more uninsured towards enrolling in insurance. Also, the survey found that most uninsured would like to talk with someone when signing up for insurance.
Let's skip over the fact that six years into the program, nobody's been able to figure out how to provide "straightforward information" about how ObamaCare works, and let's skip over the question of whether Rube Goldberg devices are ever hard to explain.
Rather, let's ask ourselves: Even taking the tax credits, the special enrollment periods, and the fines into account, is ObamaCare a good deal? A new study from the NBER suggests no. From Mark Pauly, Adam Leive, Scott Harrington, NBER working paper number 21565[5], quoting the abstract in full:
This paper estimates the change in net (of subsidy) financial burden ("the price of responsibility") and in welfare that would be experienced by a large nationally representative sample of the "non-poor" uninsured if they were to purchase Silver or Bronze plans on the ACA exchanges. The sample is the set of full-year uninsured persons represented in the Current Population Survey for the pre-ACA period with incomes above 138 percent of the federal poverty level. The estimated change in financial burden compares out-of-pocket payments by income stratum in the pre-ACA period with the sum of premiums (net of subsidy) and expected cost sharing (net of subsidy) for benchmark Silver and Bronze plans, under various assumptions about the extent of increased spending associated with obtaining coverage. In addition to changes in the financial burden, our welfare estimates incorporate the value of additional care consumed and the change in risk premiums for changes in exposure to out-of-pocket payments associated with coverage, under various assumptions about risk aversion. We find that the average financial burden will increase for all income levels once insured. Subsidy-eligible persons with incomes below 250 percent of the poverty threshold likely experience welfare improvements that offset the higher financial burden, depending on assumptions about risk aversion and the value of additional consumption of medical care. However, ; indicating a positive "price of responsibility" for complying with the individual mandate. The percentage of the sample with estimated welfare increases is close to matching observed take-up rates by the previously uninsured in the exchanges.
Let me just emphasize the key sentence once again:
[E]ven under the most optimistic assumptions, close to half of the formerly uninsured (especially those with higher incomes) experience both higher financial burden and lower estimated welfare
So, ObamaCare's not a crapshoot after all; it's a coin toss! That means that the uninsured are entirely rational to resist it. They did the math! And in the marketplace, we're all rational actors, right? The Street summarizes the report as follows:
The group of people whom the authors highlight are the non-poor, or those ineligible for Medicaid but who maybe eligible for various subsidies for premiums or cost-sharing, depending on their income level. It turns out that the more someone earns the worse off they'll be.

"At higher income levels, small or zero subsidies and currently modest penalties will not be enough to affect the large welfare losses that the middle class uninsured experience were they to buy coverage," the report says. Those in good health were "consistently worse off from purchasing coverage regardless of the assumptions made," according to estimates calculated by the researchers.

"Most uninsured will lose and, according to our estimates, will prefer to remain uninsured at the current penalty levels for violating the individual mandate," the report continues.
Conclusion
ObamaCare has always had a contradiction at its heart: It's a marketplace that people are forced to enter (and I've always felt that this should have been the principled[6] conservative objection to it. And now it turns out, that for some large proportion of the uninsured, the only way to get them to buy a product they view as defective — because otherwise they would already have purchased it — is to ratchet up the fines until they see reason. The beatings will continue until morale improves.
NOTES
[1] If you can't, won't, or don't make the January date, you may be able to qualify for a "Special Enrollment Period" by reporting "major life change" to the marketplace. I would explain how, but sadly — by which I mean hilariously, because who would have expected such a thing from Obama's HHS? — the link to "learn more" is broken (as of Sunday, October 4 at 10:10AM EST):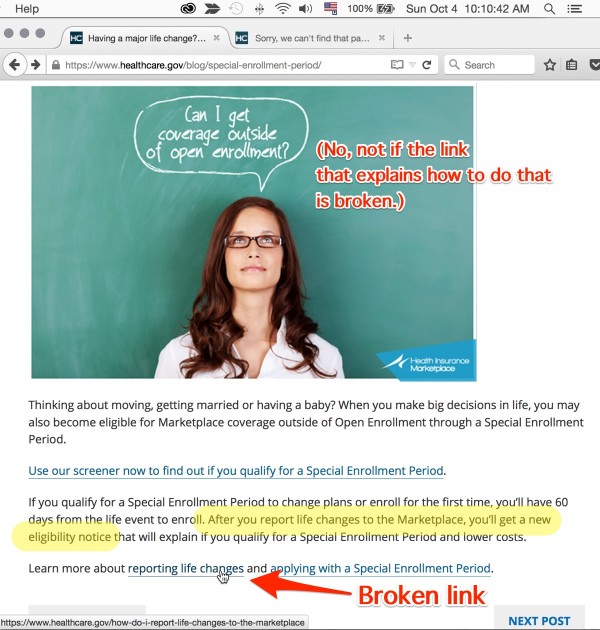 To be fair, we can remind ourselves of the programming pearl: "the cheapest, fastest, and most reliable components are those that aren't there." In a single payer "everybody in, nobody out" system, this nonsensical eligibility test would never exist in the first place, and so there would be no link that the farcially bad quality assurance program of whatever HHS vendor built this page could fail to check. (I'm also showing the whole page to contrast the nauseatingly patronizing and over-familiar marketroid prose with the broken delivery of critical information.) Secretary B-u-u-u-r-r-r-well! Could you fix this, please?
[2] Here are the latest enrollment figures from HHS:
In March 2015, ASPE estimated that 16.4 million uninsured people had gained health insurance coverage as several of the Affordable Care Act's coverage provisions took effect. Using updated data, ASPE now estimates that 17.6 million uninsured people have gained health insurance coverage. Coverage gains refer to , including Medicaid, the Health Insurance Marketplace, and individual market coverage; therefore, gains are not limited to Marketplace-eligible individuals.
Notice how, with "different sources of coverage," HHS is managing to take credit for all gains in health insurance coverage, including however many people purchased individual coverage in the post-2009 recovery, such as it was. Notice further HHS's methodology:
[W]e use the most recent data available on health insurance coverage from the Gallup-Healthways Well-Being Index Survey, which are collected daily and become available soon after data collection. The data in this brief reflect interviews through September 12, 2015. Analyses to date suggest the Gallup-Healthways Well-Being Index survey's national uninsured estimates track the NHIS national estimates quite closely (see http://aspe.hhs.gov/health/reports/2014/InsuranceEstimates/ib_InsuranceEstimates.pdf). (There is a review of a number of nonfederal surveys from the Urban Institute at: http://www.urban.org/UploadedPDF/2000146-Nonfederal-Surveys-Fill-a-Gap-in-Data-on-ACA.pdf).

We determined the change in uninsured rates for the nation, states with and without the Medicaid expansion, and persons with different demographic characteristics. We computed these uninsured rates by updating the methodology used in the ASPE issue brief "Health Insurance Coverage and the Affordable Care Act", published in March 2015, which adjusted for demographic and economic covariates: age, race, household income, ethnic group, sex, employment status, and state of residence. The current methodology also adjusts for marital status and rural residence. These covarietes are aimed to control for changes in the economy, population composition, and non-policy factors affecting health insurance coverage.
In other words, HHS has outsourced the enrollment figures to Gallup. One thing I don't understand: Why can't HHS use its own hard numbers for enrollment through the marketplace? Can it possibly be that the ObamaCare backend is so flaky that it can't deliver this data? Or that HHS specified the system such that the total number of enrollees can't be queried? Or is HHS so captured by the ideology of the market state that the most basic of functions — in this case, what one would think would be a count of records in their database — can't be provisioned without paying some third party a fee?
[3] Assuming Matthews isn't lowballing the numbers to make a mediocre effort appear superior at some later date, of course.
[4] Have HHS officials been so deeply captured by neoliberal ideology that they literally cannot conceive of universal coverage for all citizens as an achievable objective?
[5] I'm deliberately not quoting the title of the paper, which is: "The Price of Responsibility: The Impact of Health Reform on Non-Poor Uninsureds." ObamaCare's architecture is one of putatively shared responsibility between "the federal government, state governments, insurers, employers, and individuals." However, since the insurers are parasitical and should not exist, there's no reason to share responsibility with them, so I don't accept the language.
[6] I know, I know.
[7] Of course, insurance companies can violate the law and not get fined, because they have impunity and you don't.