This is Naked Capitalism fundraising week. 195 donors have already invested in our efforts to combat corruption and predatory conduct, particularly in financial realm. Please join us and participate via our Tip Jar, which shows how to give via check, credit card, debit card, or PayPal. Read about why we're doing this fundraiser, what we've accomplished in the last year, and our first target, funding for digital infrastructure and user improvements.
By Lambert Strether of Corrente
TPP/TTIP/TiSA
"[T]he Donald has yet to really get going on the TPP. The damage that Ross Perot did to NAFTA will, as with so many things with the Donald, pale in comparison" [HuffPo]. Yes, Trump has been quiet. Too quiet.
"Map of TTIP free communities in Europe" [Attac]. The UK should get going on this. Ditto Spain.
2016
Policy
"It's hard to overstate the degree to which the killing of Osama bin Laden transformed American politics" [New York Times, "What Do We Really Know About Osama bin Laden's Death?"]. But there's no real evidence for that claim, not even polling, for that claim. And oddly, there's no mention of Secretary of State Clinton in the article. I say oddly, because of this famous picture:

 

We see Clinton, but we don't see what Clinton sees. Maybe somebody should get her on the record about that. Given this article, and given the givens.

Republicans converge on plan to replace ObamaCare [The Hill]. "The plans all center on a tax credit intended to help people afford health insurance, along with more limited protection for people with preexisting health conditions and a cap on federal payments to states for the low-income Medicaid program." I hate tax credits. I have to pay the money now, and I get paid back in an unknown amount at some point in the future.

"Far from fringe: A historian explains why the democratic socialism of Bernie Sanders is an American idea" [Raw Story].

"Obama Administration Hits Back at Student Debtors Seeking Relief" [Bloomberg].
Money
"How Bernie Sanders Raised $1.3 Million in Four Hours" [Bloomberg]. From small contributions:

ActBlue was taking donations from about 800 people per hour on Tuesday evening, a fairly standard pace. At one point, though, after Sanders told the media to focus on issues and knock off its fascination with Clinton's e-mail usage as secretary of state, his campaign blasted out a fundraising appeal quoting the exchange.

"We went from that level to over 10,000 contributions an hour in the space of just a few minutes," Thames said.
The organization said it wouldn't speak about specific campaigns and that the 10,000 contributions reflected their overall fundraising efforts Tuesday evening.

Still, Sanders was raising nearly $5,500 a minute and continued getting donations after the initial four-hour spike: He has brought in $1.9 million since the debate, according to CNN.

And I would imagine that very few of those voters hedged their bets with another candidate or party, or were able also to purchase influence at contribute to the Clinton Foundation.

"Republican presidential contender Dr. Ben Carson has put his public campaign events on hold for two more weeks to go on book tour for his new tome "A More Perfect Union" and catch up on fundraising events" [ABC]. And the book tour is, of course, totally separate from the campaign, especially for reporting purposes.
The Debates
A reasonably neutral account of the debates from McClatchy [McClatchy].

Helpfully annotated [@AmandaMarcotte]:

http://t.co/vcJig74d0G Sorry, Sanders truthers[1]: There's no media conspiracy[2] to hide that he "won" the debate. Claiming otherwise hurts him[3].

— Amanda Marcotte (@AmandaMarcotte) October 15, 2015
In an awesome display of power tweeting, we get [1] a smear ("truthers"), [2] a straw man ("conspiracy"), and [3] concern trolling ("hurts him"). Who said 140 characters was any kind of limit? (If you want actual analysis of the media's role in the debates, see Yves here.)
UPDATE "Is the mainstream media in the tank for Clinton?" [The Hill]. I think an editor stuck that headline on the piece (it's from a Russell Frank, a journalism professor, not an operative) so as to trigger a false-positive invocation of Betteridge's Law of Headlines. In fact, if the press aren't actually in the tank, they've got far more "skin in the tank" than their toes.
The Trail
UPDATE "Democratic strategists" predict Biden won't run [The Hill]. And why would he have? For his beaux yeux?

UPDATE "In the United States, liberalism advances only when radicalism is bubbling, which is why Clinton and Sanders need each other, and why the Democrats need them both" [Harold Meyerson, Business Insider]. Sure. Clinton can be Sanders' Secretary of State. Why not? They pretty much agree, and he can rein in her more aggressive impulses. Meanwhile, Sanders can straighten out domestic policy, instead of tinkering round the edges of it with eleventy-five point plans. I mean, come on. Does anybody want to see Ira Magaziner anywhere near public policy again? Or, more to the point, Robert Rubin?

UPDATE "That Trump's campaign is finding its Iowa delegates via staged, game-show-style events might seem odd. But it begins to make sense when you consider the extent to which Trump's appeal as a candidate is built on his starring role on The Apprentice—a prime-time network show that, it must be noted, has aired for 14 seasons with anywhere from about 5 million to 20 million viewers" [Bloomberg].
The Hill
"McConnell, according to a report first published by CNN, plans to make several major demands of the White House, including changes to Medicare, Social Security, and EPA regulations as his price for raising the nation's debt limit" [The Fiscal Times]. It's time for a Grand Bargain!
Stats Watch
Consumer Price Index, September 2015: "[W]hen stripping out food, which moved higher in September, and energy, which moved sharply lower, the core CPI rose 0.2 percent which is the high-end expectation" [Econoday]. "There may be a little bit of inflation centered in housing, otherwise the September consumer price report doesn't point to any urgency for a rate liftoff." Nice of Econoday to interpret the data for Yellen…
Jobless Claims, week of October 10, 2015: "Jobless claims are settling in right at historic lows, continuing to point to a significant lack of slack in the labor market" [Econoday]. "[R]ecord lows for this series which, unlike initial claims, only goes only back about 15 years." Interesting. So "normal" for is series is entirely encompassed in the neoliberal dispensation that began in the mid-70s.
Empire State Manufacturing Survey, October 2015: "Minus signs sweep the Empire State report with the headline at minus 11.36 which is more than 1 point below Econoday's low end estimate" [Econoday]. "[N]ew orders are in very deep trouble." However: "As this index is very noisy, it is hard to understand what these massive moves up or down mean – however this regional manufacturing survey is normally one of the more pessimistic" [Econintersect].
Bloomberg Consumer Comfort Index, week of October 11, 2015: "Job openings are abundant and are giving a lift to the consumer comfort index which continues to accelerate" [Econoday]. "The index is enjoying one of its best runs of the recovery."
Philadelphia Fed Business Outlook Survey, October 2015: Contraction is seeping into the Mid-Atlantic manufacturing sector [Econoday]. "This report confirms the Empire State report released earlier this morning and points to accelerating declines for manufacturing, a sector that appears to be getting hit harder and harder by weak foreign markets." The containers are going out to China empty. They are coming back full, but how long does that last?
Shipping: "Containerized import volume was up for a seventh-straight month at the Port of Oakland in September. The Port said this week that it handled 1.6 percent more containerized imports last month than it did a year ago" [Longshore & Shipping News].
Shipping: "Australia's Fortescue Metals Group said on Thursday seaborne iron ore sales into China were clearly improving, and iron ore prices would increasingly be driven by demand rather than supply" [Hellenic Shipping News]. Hmm.
Ag: "Chinese cotton imports reached an all-time low in September, as thick inventories and an economic slowdown weigh on demand" [Agrimoney]. However: "Website CNCotton reports that China imported just 50,900 tonnes of cotton in September, a decline of 59% year-on-year." These are government statistics. I wonder if there is other real economy data to back it up.
The Fed: "The overwhelming theme of no imminent Fed lift-off continues to dominate the trading environment [Marc Chandler at Brown Brothers Harriman, Across the Curve]. "Yet on the other side of the coin, ECB's Nowotny noted that the bank is 'clearly missing' its inflation target." You don't bat zero for the season without a plan…
The Fed: "Four Words That Have the Federal Reserve in a Panic: 'Pushing on a String'" [Wall Street on Parade]. Zeitgeist watch….
The Fed: "New York Federal Reserve Bank President Bill Dudley said Thursday he prefers a flexible approach to monetary policy decision-making, but does not favor giving central bank policymakers total discretion" [Market News]. "The world is complex and ever-changing," Dudley said in remarks prepared for delivery to a Brookings Institution event." It's a complex world…
Honey for the Bears (?): The Blue Chip Consensus for GDP (down) and the Atlanta Fed's GDPNow (down more) model converged, then diverged [Mosler Economics].
Fear & Greed Index, October 15, 2015: 35 (-3); Fear [CNN]. Last week: 37 (Fear). (0 is Extreme Fear; 100 is Extreme Greed).
Imperial Collapse Watch
"The Drone Papers" [The Intercept].
The Intercept has obtained a cache of secret documents detailing the inner workings of the U.S. military's assassination program in Afghanistan, Yemen, and Somalia. The documents, provided by a whistleblower, offer an unprecedented glimpse into Obama's drone wars.
Oddly, or not, the whistleblower didn't approach a media outlet like the Times or the Washington Post. Clearly, although drones are rather good at whacking civilians — perhaps that's one reason drone operators are so stressed, even if they do work out of trailers in the Arizona desert — they aren't real good at actually killing enemies of the United States.
Speculating very freely, and leaving the reason-of-state justifications aside, and leaving aside also the self-licking ice cream cone aspect of blowing wedding parties to pink mist in parts of the world where revenge is a family value, peripheral colonies are often used as test beds for military technology later to be used in the metropolis; one thinks of the Brits, who innovated both the Maxim gun and the concentration camp in the Boer War, or the Italians, bombing Ethiopian civilians from the air. I know if I were part of an elite faction possessed by fear, and driven by a guilty conscience, I'd like having a drone command somewhere about, ready to be used for domestic purposes. So much more handy than a Praetorian guard, and of course certain geographic coordinates would be whitelisted in the guidance software. Kidding!
Canada
Conservative Muslim-bashing could cost the NDP Quebec [Economist].
"Harper's greatest success in hampering the state from serving Canadians has been to strip it of its most important resource: taxes. Continuing a Liberal legacy, Harper's cuts to taxes – GST, corporate and personal – have enriched corporations and denied the state a stunning $45 billion a year in revenue. This has deliberately starved the ability of this government – and of future ones – to pay for public services and address inequality or climate change. Such policies have reduced the country to depression-era divisions: Canada's wealthiest 86 people now own as much as the 11.4 million poorest" [Guardian]. It's like there's a neo-liberal playbook or something…
Dear Old Blighty
Porcine enthusiast David Cameron, lying through his expensively kept teeth:
Here's the Corbyn interview about Bin Laden,alongside Cameron's speech deliberately misquoting it. Vile fearmongering pic.twitter.com/YjEDlmWDYy

— Tom Bell (@tombellforever) October 7, 2015
"Ken Spours, the author [of the The Osborne Supremacy], explores the new Conservatives' rising audacity and underlines how energised their politics has become now the shackles of coalition are off. Spours cites a passion among clued-up Tories for tech innovation (Uber and Airbnb, for instance) and more importantly a quest to steal political concepts like fairness, social justice and even equality from the left and 'fill them with Conservative meaning'" [Guardian].
"The UK Trade Union Bill, currently working its way through parliament, is almost a caricature of repressive anti-worker legislation" [Jacobin].
"The Investigatory Powers Tribunal (IPT), the UK body that hears complaints about intelligence agencies, has ruled that the communications of MPs and peers are not protected by the Wilson Doctrine, which was thought to exempt them from surveillance by GCHQ and other intelligence agencies. Back" [Ars Technica].
Gaia
"A growing body of data, mostly from animals raised in sterile, germ-free conditions, shows that microbes in the gut influence behaviour and can alter brain physiology and neurochemistry." [Nature].
CIA study: "'Prospects are poor for countries grappling with food insecurity,' the report declares. 'The intersection of food insecurity with governance gaps will probably result in social disruption, political turmoil, or conflict" [The Hill]. What the hell is a "governance gap"? Like at the SEC?
"Survival Horror" [Campo Santo Quarterly Review]. Long-form article on Centralia, PA; this is "bitter/cling to" territory; the people Obama and the Democrats threw under the bus in 2008.
Corruption
UPDATE "Former Google CEO Eric Schmidt: Alphabet is about to get 'a lot' bigger" [Business Insider]. And I'm sure Schmidt backstopping the Clinton campaign's technical needs with his Groundworks operation (see here for bizarre and creepy logo) will never be used to smooth away tiresome bureaucratic and regulatory obstacles.
Class Warfare
"In spite of a well-financed scare campaign, and a not very subtle effort by the European Union to load the dice in the October 4 Portuguese elections, the ruling right-wing Forward Portugal coalition lost its majority in Parliament, left parties garnered more than 50 percent of the vote, and the austerity policies that have paralyzed the country for four years took a major hit" [The Nation]. When last I checked, that wasn't what I was hearing from Portugal. Readers?
News of the Wired
"If our hypothesis is correct, the agency has been vigorously exploiting weak Diffie-Hellman, while taking only small steps to help fix the problem" [Freedom to Tinker]. "For more details, see our research paper: Imperfect Forward Secrecy: How Diffie-Hellman Fails in Practice. (Update: We just received the Best Paper Award at CCS 2015!)" This sounds important. Readers?
"Mathematicians find 'magic key' to drive Ramanujan's taxi-cab number" [Escience Commons]. This sounds important too.
"Right now, assembly lines require expensive human or robot operators to assemble a product. Something like Kinetic Blocks could transform the conveyor belt of an assembly line into a robot operator. Imagine automobiles or iPhones that seemingly assemble themselves as they move down the factory line" [MIT Technology Review].
* * *
Readers, feel free to contact me with (a) links, and even better (b) sources I should curate regularly, and (c) to find out how to send me images of plants. Vegetables are fine! Fungi are deemed to be honorary plants! See the previous Water Cooler (with plant) here. And here's today's plant (OregonCharles):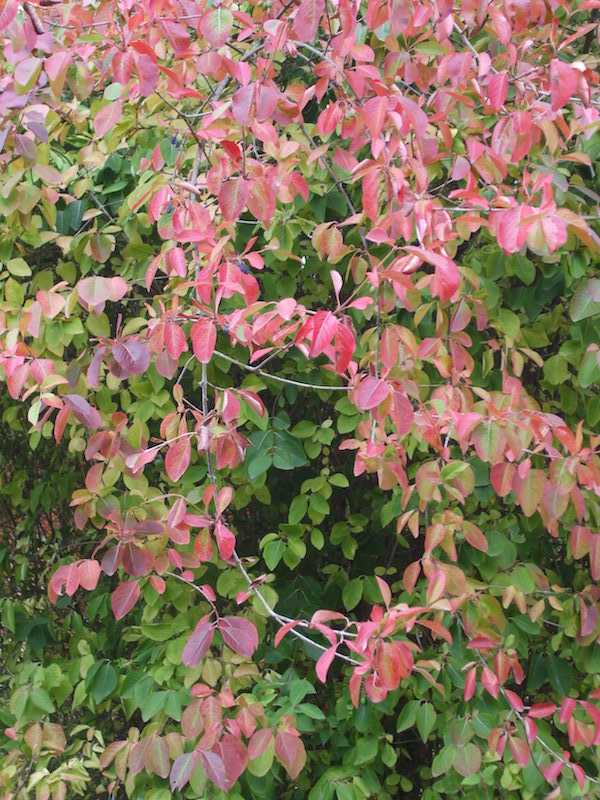 I believe this is a Camellia sinensis? One can make tea from it.