This is Naked Capitalism fundraising week. 127 donors have already invested in our efforts to combat corruption and predatory conduct, particularly in financial realm. Please join us and participate via our Tip Jar, which shows how to give via check, credit card, debit card, or PayPal. Read about why we're doing this fundraiser, what we've accomplished in the last year, and our first target, funding for digital infrastructure and user improvements.
Yves here. I have to confess that I could stand to tune in with only one ear to the Democratic presidential debates last night. Part of it was that the six-person spectacle and the often-poorly-framed questions didn't lend themselves to more than a superficial presentation of the candidates' views. And for some important topics, most of all Syria, the responses from all the contenders were remarkably poor, although Sanders' "Beware of the quagmire" was in many respects the least bad (although he still undercut that by saying he was willing to go to war for the right causes).
But what stood out head and shoulders even with my limited focus was on how horrible Clinton seemed. Oh, superficially she had the patter down best, and she had a clear presentation strategy: to use every opportunity to remind her audience of the breadth of her experience, on how many times she'd been a power player. Let us put aside the fact that pretty much everything she's touched, from her effort to launch a national health plan to her tenure at State, has been a disaster.
One telling anecdote: a voter who is a prime Hillary target, a middle aged, white, high-income, well educated woman who has both worked in a serious professional job and raised a family, isn't keen about Clinton: "She likes war too much." She asked a friend who is a Clinton bundler to tell her what Hillary had accomplished at State. The answer? "She asked young people in the Department what they thought it could do better." In other words, the best Clinton can tout to prospective backers is having been a more democratic manager. Save us.
I found her grating, and I don't mean just her voice. She was overly confident and told too many obvious lies. I swear I can now even hear her tick when she knows she's pulling a fast one: her voice becomes tighter, more strident. Her sound formation shifts a bit forward in her palate and her volume goes up a smidge. Her voice goes harder, a twinge more nasal, and flatter.
So as much as I came away thinking Sanders had a very uneven evening, in that he was very effective and crisp at some points, took his "let's take the high ground" too far, and let Clinton and his other debaters off the hook (you can assail bad policy choices and lousy or flip flop track records without descending to personal attacks), and like all of them, was worrisome on foreign policy. But even with those warts, I still found him to be more compelling than the well packaged Clinton fraud, the candidate of the oligarchs now pretending to be the progressive booster of the decimated middle class. I was thus surprised by the virtual unanimity of the punditocracy in declaring Clinton to have been the winner.
But this Alternet article, on the yawning chasm between focus group and various online poll reactions, versus the take of the chattering classes, yet again proves how isolated our elites and their media mouthpieces have become. Many of these people ride the Acela yet seem incapable of looking out the window and taking in the poor condition of many of the communities on the route. Or consider Janet Yellen, who had to have her staff locate three actual unemployed people for her to speak with before her first speech as Fed chair so she could feign having some direct knowledge. It appears that the struggling are so far removed from her sphere that they might as well be housed in zoo cages, as we did to pygmy Ota Benga.
Similarly, you'll see that one of the reasons for "expert" antipathy to Sanders is that they deem him to be too angry. The well-enforced cultural norm, that one has to be well-domesticated and adhere to the requirement that discourse be "polite" as in bloodless, is a very effective device for stifling debate and marginalizing dissenters. One of the reasons that young people are so keen about Sanders may not simply be that he is voicing their grievances. It is also that he is validating anger as a legitimate reaction. Anger is particularly demonized in America, no doubt because anger is a hard-wired reaction to injustice in social species. Intelligent social animals both collaborate and cheat. Altruistic punishment, meaning the impulse to discipline cheaters even when the party inflicting the punishment incurs cost without getting any personal benefit, is a pro-long-term survival behavior, since too much cheating means that social structures start to erode.
In other words, Sanders is not just tapping into the desire of downtrodden members of the 99% for a fairer deal. He is also challenging the unwritten rules of elite discourse that have allowed the powers that be to dismiss complaints about what is a Best of All Possible Worlds…for them.
By Adam Johnson, an associate editor at AlterNet. Follow him on Twitter at @adamjohnsonnyc. Originally published at Alternet
Who "won" a debate is inherently subjective. The idea of winning a debate necessarily entails a goal to be achieved. What this goal is, therefore, says as much about the person judging its achievement as the goal itself. Pundits are ostensibly supposed to judge whether or not a candidate said what "the voters" want to hear. But what ends up happening, invariably, is they end up judging whether or not the candidate said what they think voters wanted to hear. This, after all, is why pundits exist, to act as a clergy class charged with interpreting people's own inscrutable opinions for them. The chasm between what the pundits saw and what the public saw was even bigger than usual last night.
Bernie Sanders by all objective measures "won" the debate. Hands down. I don't say this as a personal analysis of the debate; the very idea of "winning" a debate is silly to me. I say this because based on the only relatively objective metric we have, online polls and focus groups, he did win. And it's not even close.
Sanders won the CNN focus group, the Fusion focus group, and the Fox News focus group; in the latter, he even converted several Hillary supporters. He won the Slate online poll, CNN/Time online poll, 9News Colorado, The Street online poll, Fox5 poll, the conservative Drudge online poll and the liberal Daily Kos online poll. There wasn't, to this writer's knowledge, a poll he didn't win by at least an 18-point margin. But you wouldn't know this from reading the establishment press. The New York Times, the New Yorker, CNN, Politico, Slate, New York Magazine, and Vox all unanimously say Hillary Clinton cleaned house. What gives?
Firstly, it's important to point out that online polls, and to a lesser extent focus groups, are obviously not scientific. But it's also important to point out that the echo chamber musings of establishment liberal pundits is far, far less scientific. It wasn't that the online polls and focus groups had Sanders winning, it's that they had him winning by a lot. And it wasn't just that the pundit class has Clinton winning, it's that they had her winning by a lot. This gap speaks to a larger gap we've seen since the beginning of the Sanders campaign. The mainstream media writes off Bernie and is constantly shocked when his polls numbers go up. What explains this phenomenon? Freddie DeBoer had this to say:
This morning, I've been pointing out on Twitter that the unanimity of pro-Hillary Clinton journalism coming from the mouthpieces of establishment Democratic politics — Slate, Vox, New York Magazine, etc. — is entirely predictable and has no meaningful relationship to her actual performance at the debate last night. That's because, one, the Democrats are a centrist party that is interested in maintaining the stranglehold of the DNC establishment on their presidential politics, and these publications toe that line. And second, because Clinton has long been assumed to be the heavy favorite to win the presidency, these publications are in a heated battle to produce the most sympathetic coverage, in order to gain access. That is a tried-and-true method of career advancement in political journalism. Ezra Klein was a well-regarded blogger and journalist. He became the most influential journalist in DC (and someone, I can tell you with great confidence, that young political journalists are terrified of crossing) through his rabid defense of Obamacare, and subsequent access to the President. That people would try and play the same role with Clinton is as natural and unsurprising as I can imagine.
Many establishment journalists were in a hurry to declare Clinton not just the winner of the debate, but of the party nomination. One fairly creepy exchange between Ryan Lizza of the New Yorker and Alec MacGillis summed it up nicely: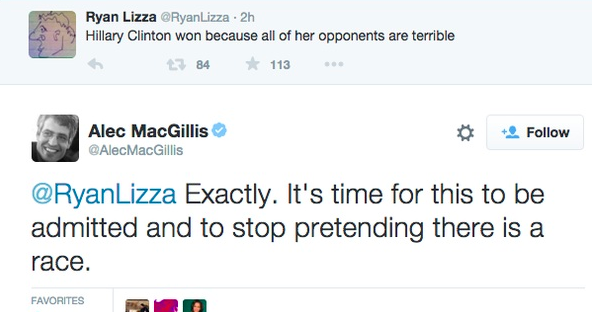 "Pretend" there's a race? Isn't that sort of the whole point of democracy? To have as much debate and vetting as possible before nominating a potential leader of the free world? Matt Yglesias at Vox also dismissed this entire primary process out of hand: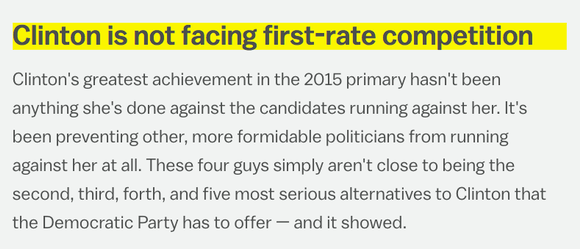 It's unclear what the rush is. The first primary is months away, yet they're ready to call it based entirely on an ad hoc analysis of one debate. This tweet by Michael Cohen of the Boston Globe perfectly sums up mainstream media's cluelessness: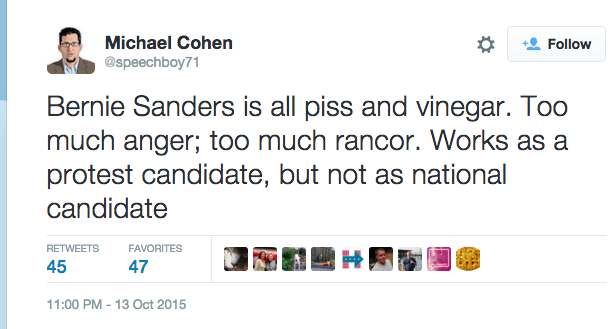 A "protest candidate"? If Cohen hasn't noticed, the electorate is full of piss and vinegar and rancor, which is precisely why an otherwise obscure, self-described Socialist has risen in the polls the way he has.
But the question still remains: why the rush to write off Sanders? Why the constant gap between how the public perceives Sanders and how the mainstream media does? Why, most of all, would anyone listen to the very same pundit class that was wrong in '08 and continues to be wrong in 2015?