This is Naked Capitalism fundraising week. 1131 donors have already invested in our efforts to combat corruption and predatory conduct, particularly in the financial realm. Please join us and participate via our donation page, which shows how to give via check, credit card, debit card, or PayPal. Read about why we're doing this fundraiser, what we've accomplished in the last year, and our fifth target, more original reporting.
One of the facts of life of the online publishing is that the overwhelming majority of sites, measured in terms of traffic and influence, run advertising. As much as it's routinely acknowledged that journalism has been in a crisis for nearly 20 years as budgets and headcounts have been slashed, that crisis is at its root an advertising crisis. Half of newspaper ad revenues once came from classified ads. When that shrank radically due to competition from Craigslist and other free online listing services, the content side was put on a Procrustean bed. Lifestyle sections remained largely untouched, since they are by design ad venues, and their articles are mainly publicist placements and hence cost little to gin up. It was the news side that took the brunt of the cuts.
Now some sites are able to make a go of it on donor contributions alone. Others, almost entirely sites with investment-related content, have a subscription-ony model and they throw the occasional piece over the paywall for promotional purposes. And some sites are run by solo bloggers as a by-product of their day job, which means the proprietor treats it as a secondary activity, say as as a venue for the writer to increase his network or get feedback on his ideas, or as a marketing vehicle.
As we've mentioned from time to time, we run a hybrid revenue model. We as you know full well, run an annual fundraiser because neither advertising alone, with the considerable restrictions we put on the type of ads we allow on NC, nor an once-a-year fundraiser, produce enough to cover the nut for this operation.
We don't have a philosophical objection to advertising because no single advertiser provides a meaningful amount of our revenue, hence we are not hostage to anyone. And advertisers aren't even placing ads on NC per se. Our ads are sold by a third party service and Naked Capitalism is part of a "vertical" as in we are pitched as a group buy along with similar sites (in terms of demographics) for premium ad campaigns. The rest of our ads are "remnant" ads, which our ad service claims to optimize at a higher rate than its competitors. The one downside of that is that readers might get the occasional ad they deem to be offensive, like one for a Presidential candidate they loathe, or for a TBTF bank's products. I initially react badly when I see them too, but I've learned to become Zen about them: to the extent the wrong people wind up advertising here, they are unwittingly supporting the opposition.
The big objection we have to a lot of ads (and I say "we" because I include Lambert in many of these decisions) is aesthetic. Ads look kinda cheesy. The print version of the New York Times, and even its online version, manages to preserve that Serious Player look even with ads, but many Serious Sites are think tanks (like the Council for Foreign Relations) which means they are funded by big backers and can spend lots of money perfecting their look and feel (McKinsey has long spent a lot of time and money on its visual presentation, and they are not alone). They have a spare, clean visual vocabulary that emulates that of policy documents.
Naked Capitalism, by contrast, has always had a "letter from the gulag" look, and ads sit awkwardly in that. But as we'll discuss very soon, we actually reject a lot of high-payout per view (per CPM, in the lingo) because we deem them to be too intrusive or downright tacky. So while it may not be evident to you, we are already taking a bit hit in revenue terms in the interest of keeping readers focused on our content. Since we often make complex arguments with a lot of information, we don't want you to be distracted.
And it's not as if ads can't be pretty or interesting or entertaining, even though few seem to reach that level. When I was a kid and we got our first TV (yes I am so old as to have been born when most families did not have TV), I am told I watched commercials but not the programs. Below is a sample of some well-loved commercials:
So I've wondered if typically unappealing state of Internet advertising really is native to the platform, or whether it reflects unconscious resentment among ad agencies and advertisers. Having worked briefly with marketers, it seems that the most fun (and often most lucrative) activity for them is commercials. The internet has sucked a lot of eyeballs away from TV. And even though I can't imagine it's impossible to be creative and do fun and interesting work in a very different medium, if they are used to vastly larger budgets and more time, the response to the new design parameters appears for many to be to do throwaway work.
Now we do have times when our ad service fails to ask if we are willing to accept ads of the type we've said we aren't keen about, and they slip through. Generally we catch or are told about it sooner rather than later. But to give you an idea of how stringent we've been, below are examples of the type of ads that we've rejected (thank Lambert for rounding them up).
First are the ubiquitous clickbait ads. I can't tell you how many times our ad service has told us we are giving up Big Bucks by not having one of these so-called "Adblades" sit beneath each article, meaning between the article and the comments section. I'm not willing to have something so large that it impedes readers who read an article from seeing that we do have a comments section (and thus being encouraged to proceed and participate), and that's before you get to the uber tacky factor: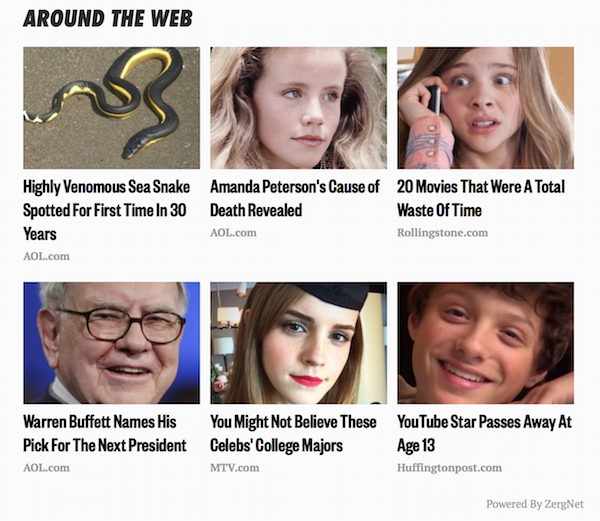 This is called a "Native Ad Sidebar". You can see even though it would sit in what we call the "right rail" as in our right column, and thus not be very intrusive, it would not look very "native" to NC. But readers are meant to think that we somehow chose and therefore endorse the featured content.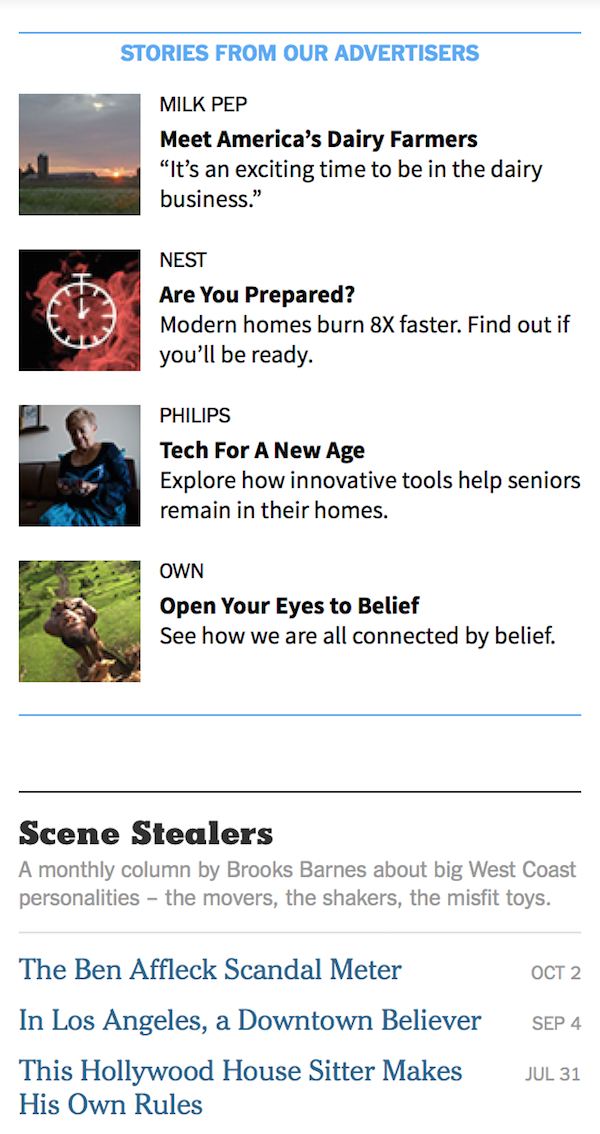 We did for a while have Newsmax, which was about as good as it gets in this category. It sat in the "right rail," it had a simple, clean layout, and its links were to almost entirely economic and political articles. Even then, we told Newsmax that it had to screen out its most right-wing content, which amounted to 20% of its publishers, by name. So even when we have run advertising in this category, we've invested more in managerial time than other sites would to run it.
But most other "native ads" are far more intrusive, as in they sit right below or even worse, in the actual text of articles. They are meant not just to get readers to encounter the click-through headline or content, as the case may be. The advertiser also gets an image buff by being associated so seamlessly with the publisher, particularly if the publisher has a strong brand image. Consider this one from the International Business Times: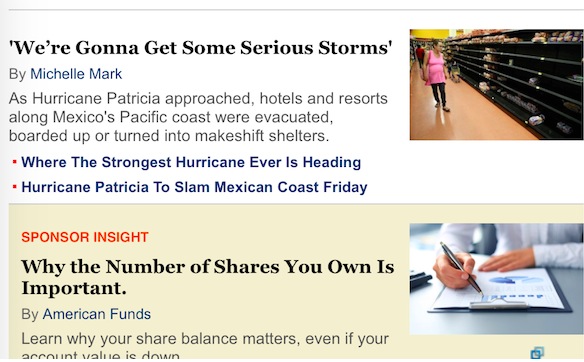 A reader has to be moderately alert to recognize that the article in the beige box is from an advertiser, not an IBT writer. Even though it does say "Sponsored Content" and is demarcated by the change in background color, it otherwise has the same layout as an International Business Times story and sits right below one. In other words, it is designed to be deceptive. And this particular one gives investment advice, something we strenuously avoid doing.
The Wall Street Journal is even more subtle about this sort of thing, which is arguably worse: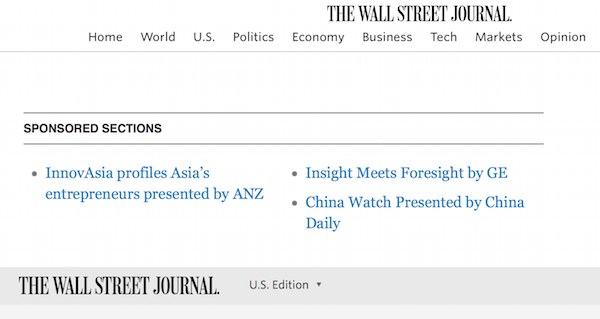 And I have no idea what some of these advertisers are thinking. Just because you've inserted a pop-up does not mean anyone will be interested in it, particularly when the ad is so clearly far removed from the topic of the story. And that makes it even more annoying: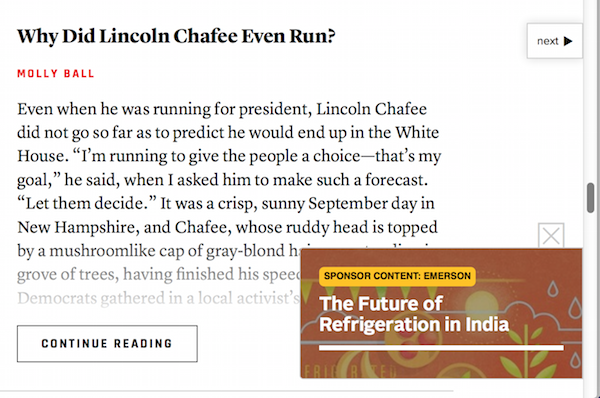 Lambert took it upon himself to mark up these ads, again of the sort we've rejected, since the static versions don't give you the same feel as when you encounter them in the wild. Here's another "what were they thinking" sort, in terms of the association of the ad with the copy, along with the distraction of having an ad in the middle of text: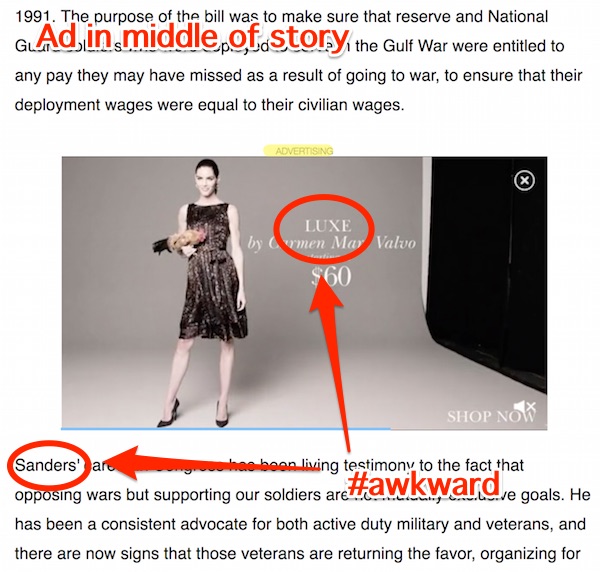 This one is a video in the midst of a text article. The first is how it looks when you stumble across it: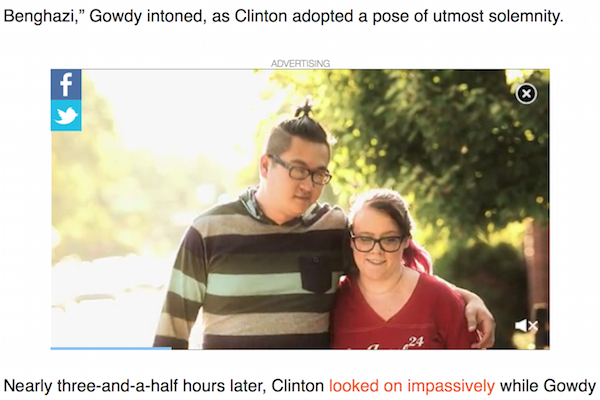 Lambert marked it up to try to give a sense of what happens: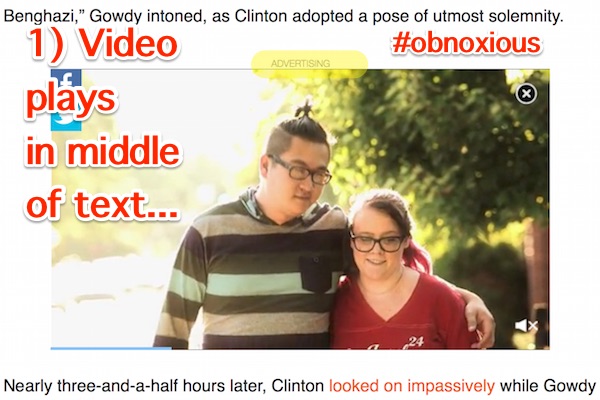 Here you've got TWO ads plunked over a single story: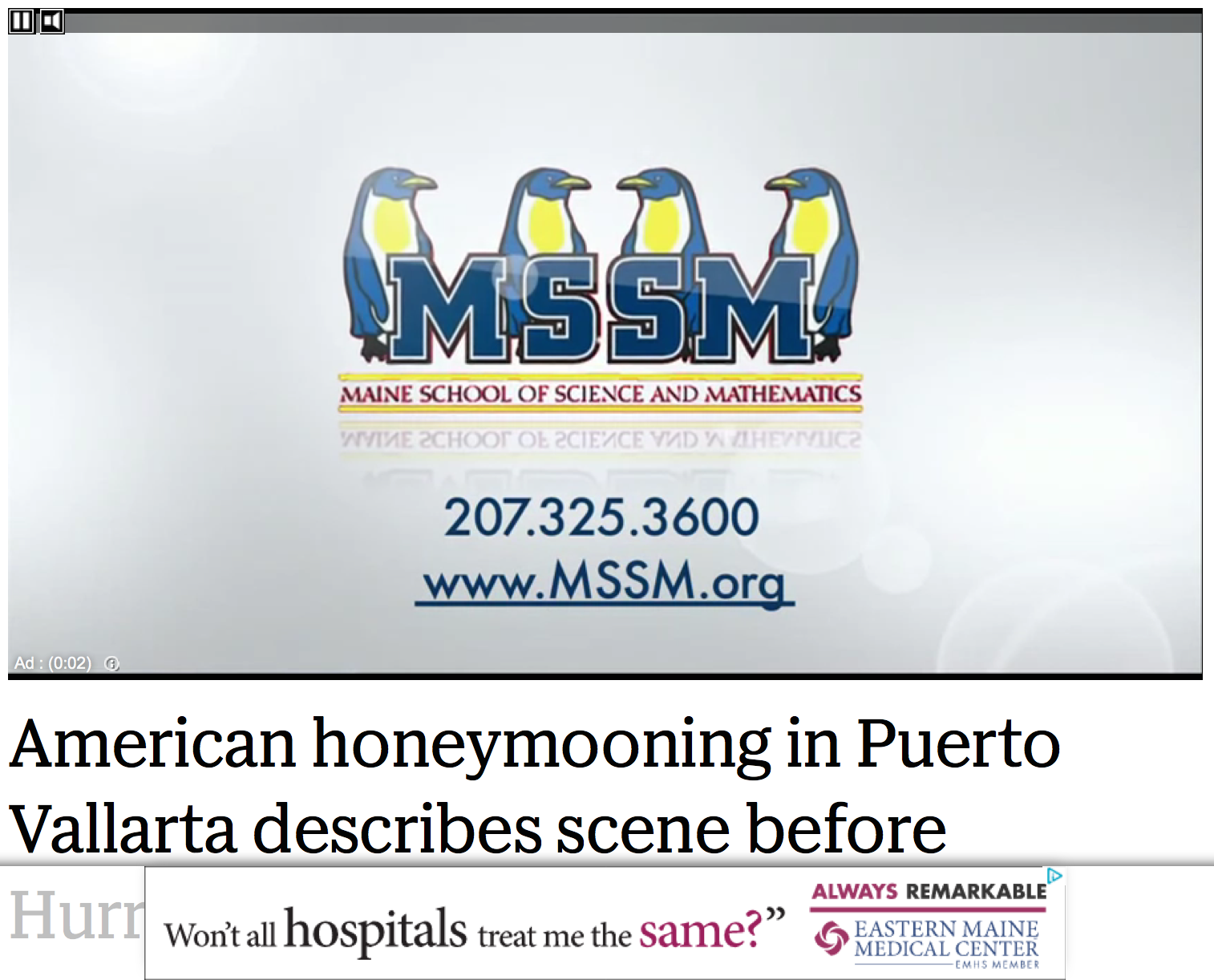 And worse, one of them is a hard to close video ad!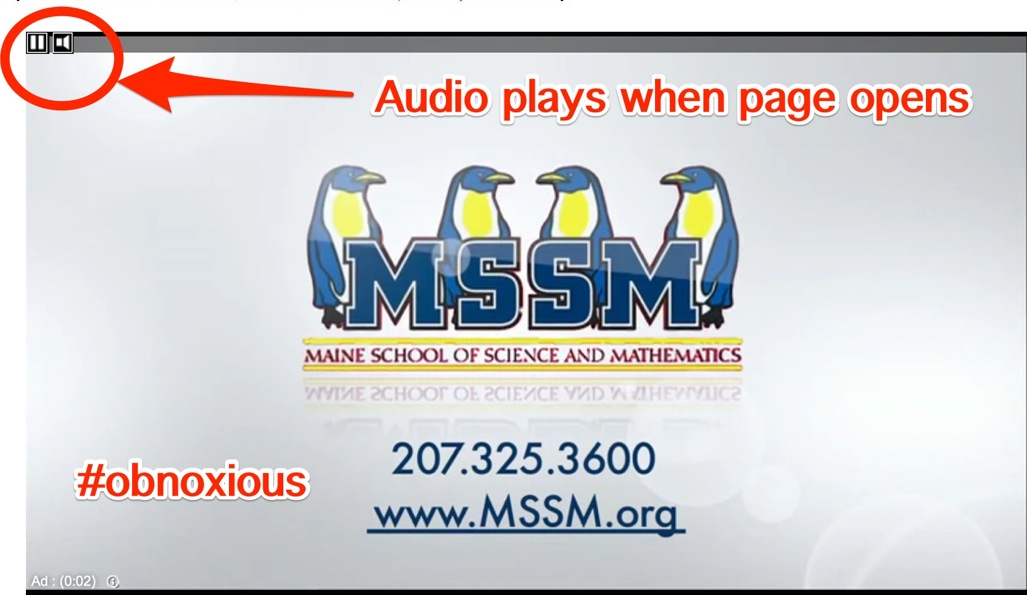 And this one might not seem problematic until you consider the Faceborg factor: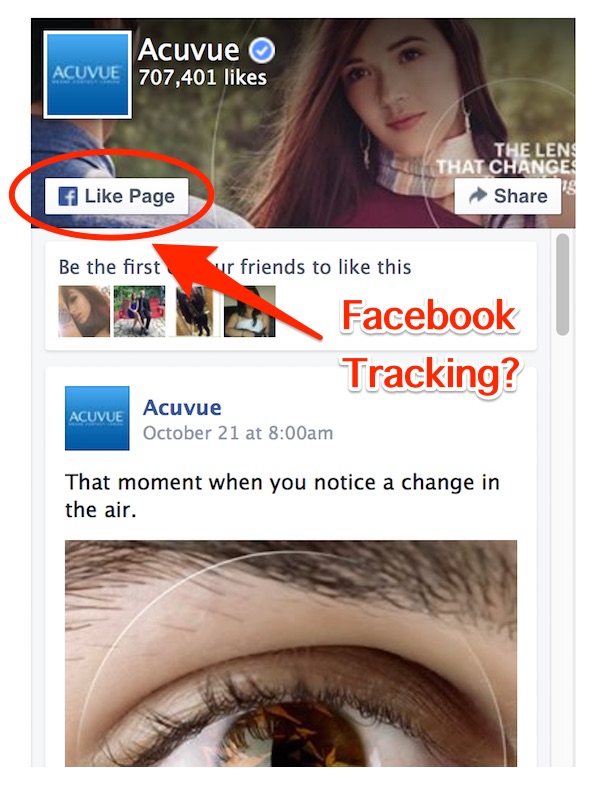 So from our perspective, keeping Naked Capitalism reader-friendly, and in particular, preserving our comments section, means we have to be vigilant about the ads we accept. So we are making serious revenue sacrifices on behalf of improving the experience of the community. We thus appreciate as well as depend on your support in this fundraiser. If you haven't yet had a chance to donate, we hope you'll take a minute now to visit our fundraiser page, which shows you how to give by check, debit or credit card, or PayPal. If you can give a little, that helps us meet our goals, and if you can give a lot, we hope you'll give a lot. And if you can't make a financial gift, you can help us by sharing what you are learning here with family, friends, and colleagues. Thanks again for participating in this community!