By Lambert Strether of Corrente.
To get a little more insight into "this interest," I want to look at Ned and Constance Sublette's new book, The American Slave Coast: A History of the Slave-Breeding Industry, published this year by the Chicago Review Press; it has a place on my bookshelf (review; review) along with Edward E. Baptist's The Half Has Never Been Told: Slavery and the Making of American Capitalism, and Ian Baucom's strange but compelling Spectres of the Atlantic: Finance Capital, Slavery, and the Philosophy of History. All three of these books painstakingly curate and interrogate documents from the time: newspapers, letters, advertising, posters, account books, trial transcripts, slave narratives; and that's the kind of detailed, densely textured history writing that I like. In this post I'll introduce you to the Sublettes' book, and briefly muse about some of the incongruities it provokes. 
The Coffle
I'm going to begin with an extensive quotation from very early in the Sublettes' book, because reading this passage was, for me, like being hit in the head with a hammer. The context is the coffle, an essential link in the supply chain that transported slaves from the slave breeding states on the Atlantic coast (chief among them Virginia) to the slave markets and plantations deeper South.
Southern children grew up seeing coffles approach in a cloud of dust.

A coffle is "a train of men or beasts fastened together," says the Oxford English Dictionary, and indeed Louis Hughes referred to the coffle he marched in as a "herd." The word comes from the Arabic qāfiah, meaning "caravan," recalling the overload slave trade that existed across the desert from the sub-Saharan Africa to the greater Islamic world centuries before Columbus crossed the Atlantic. …

But the people trudging to Mississippi along with Louis Hughes were not Africans. They were African Americans, born into slavery and raised with their eventual sale in mind. Force-marched through wilderness at a pace of twenty of twenty-five miles a day, for five weeks or more, from can't-see to can't-see, in blazing sun or cold rain, crossing unbridged rivers, occasionally dropping dead in their tracks, hundreds of thousands of laborers transported themselves down south at gunpoint, where they and all their descendants could expect to be prisoners for life.

… About a quarter of those trafficked southward were children between eight and fifteen, purchased away from their families. The majority of coffle prisoners were male: boys who would never again see their mothers, men who would never again see wives and children. … The only age bracket in which females outnumbered males in the trade was twelve to fifteen, when they were as able as the boys to do field labor, and could also bear children. Charles Bell, forcibly taken from Maryland to South Carolina in 1805, recalled that

The women were merely tied together with a rope, about the size of a bed cord, which was tied like a halter round the neck of each; but the men…. were very differently caparisoned. A strong iron collar was closely fitted by means of a padlock around each of our necks. A chain of iron, about a hundred feet in length, was passed through the hasp of each padlock, except at the two ends, where the hasps of the padlock passed through a link in the chain. In addition to this, we were handcuffed in pairs, with iron staples and chains, with a short chain, uniting the handcuffs and their wearers in pairs.

As they tramped along, coffles were typically watched over by whip- and gun-wielding men on horseback and a few dogs, with supply wagons bringing up the rear… The captives were not generally allowed to talk among themselves as they tramped along, but sometimes, in the midst of their suffering, they were made to sing. The English geologist G. W. Featherstonehaugh, who in 1834 happened upon the huge annual Natchez-bound chain gang led by trader John Armfield, noted that "the slave drivers… endeavour to mitigate their discontent by feeding them well on the march, and by encouraging them" — encouraging them? — "to sing 'Old Virginia never tire,' to the banjo. Thomas William Humes, who saw coffles of Virginia-born people passing through Tennessee in shackles on the way to market, wrote; "It was pathetic to see them march, and to hear their melodious voices in plaintive singing as they went."…

From the first American coffles on rough wilderness treks along trails established by the indigenous people, they were the cheapest and most common way to transport captives from one region to another.

The Federally built National (or Cumberland) Road, which by 1818 reached the Ohio River port of Wheeling, Virginia (subsequently West Virginia), was ideal for coffles. It was the nation's first paved highway, with bridges across every creek. Laying out approximately the route of the future US 40, its broken-stone surface provided a westward overland transportation link that began at the Potomac River port of Cumberland, Maryland. From Wheeling, the captives could be shipped by riverboat down to the Mississippi and on to the Deep South's second-largest slave market at Natchez, or further on to the nation's largest slave market, New Orleans.
I'll stop at the demonstration of how Federal infrastructure improve the slave trade's supply chain.
From my vantage point (starting with my family history and where I live), the coffle seems like a work of fiction, a dystopian nightmare written by a demeted sadist. Imagine a hundred or so slaves chained together and being driven down the main street of my small town by dogs and men with whips. And now imagine this scene was normal, and kids coming home from school walked right past it. When do I wake up?  (Sure, Rome. But that was thousands of years ago!) 
And yet this is not science fiction stuff, or fantasy. It's history. Here's a list of the Presidents who owned slaves:
George Washington (between 250-350 Slaves)
Thomas Jefferson (about 200)
James Madison (more than 100)
James Monroe (about 75)
Andrew Jackson (fewer than 200)
Martin Van Buren (one)
William Henry Harrison (eleven)
John Tyler (about 70)
James Polk (about 25)
Zachary Taylor (fewer than 150)
Andrew Johnson (probably eight)
Ulysses S. Grant (probably five)[1]
The more slaves, the more transactions. The more transactions, the more coffles. And the deeper the knowledge of coffles. But everybody knew. Including the children.
Teaching History
There's been another controversy about how the state of Texas teaches history to school children. Here's the trigger this time, from a McGraw-Hill textbook written (like so many textbooks) to the specifications of the Texas State Board of Education, which dominates the market: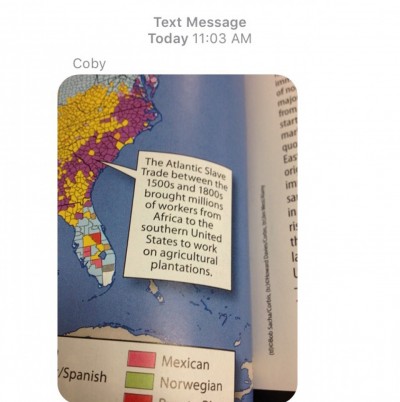 So read that caption carefully. Does the use of the coffle comport in any way with the use of the word "workers"? As opposed to slaves? Fortunately, this is a story with a happy ending, but there's plenty more where that came from. The Washington Post:
Mothers of teenagers are used to getting frustrating text messages, but the one that Roni Dean-Burren received from her 15-year-old son last week wasn't about alcohol, dating or money for the movies.

It was about history.

Her son, Coby, had sent her a photo of a colorful page in his ninth-grade McGraw-Hill World Geography textbook. In a section titled "Patterns of Immigration," a speech bubble pointing to a U.S. map read: "The Atlantic Slave Trade between the 1500s and 1800s brought millions of workers from Africa to the southern United States to work on agricultural plantations."

"We was real hard workers wasn't we," Coby retorted in a subsequent text.

The image alarmed Dean-Burren, who was an English teacher for 11 years at the Pearland, Tex., public high school that her son attends. Now a doctoral candidate in the University of Houston's Language Arts program, she has spent much of her life thinking about the power and dangers of nuanced language. The motive behind the textbook's choice of words seemed clear.

"This is erasure," Dean-Burren said in an interview with The Washington Post. "This is revisionist history — retelling the story however the winners would like it told."

In calling slaves "workers" and their move to the United States "immigration," she noted in viral Facebook posts Wednesday and Thursday, the textbook suggests not only that her African American ancestors arrived on the continent willingly, but also that they were compensated for their labor.
McGraw-Hill had addressed the issue (although these textbooks will be in print and used in the classroom for another ten years):
McGraw-Hill Education sought to redress these implied untruths in a Facebook announcement Friday. While the geography program "meets the learning objectives of the course," the publishing company's statement said, a close review of the content revealed that "our language in that caption did not adequately convey that Africans were both forced into migration and to labor against their will as slaves."
So good for Roni and Coby Dean-Burren. Again, though, doesn't this feel like science fiction stuff? I mean, in what alternative universe did that textbook make it hrough the editorial and production process to the printer? Imagine, for example, an alternate Earth whose history textbook treats the mill-workers described by E.P. Thompson in The Making of The English Working Class as volunteers, doing their work for the sheer joy of it[2], rather in the manner of Santa's elves. Wouldn't we be looking at the same level of disconnect?
Conclusion
I focused on the long passage from the Sublette's book because it seemed to me to be an objective correlative for living in the midst of a slave power, and that experience is an important — a critical — part of American history, and I believe that getting the history right is important.
And although I've written I prefer human gift to human rental (wage labor), and human rental to human sale (slavery), I don't have any grand policy pronouncements to make. I do think we need to be leery of using slavery as a metaphor; "wage slavery" is not slavery; where's the coffle? Ditto "debt slavery." (That's not to say that wages and debt are not power relations, because of course they are, but the human reality of the power relations is different.)
So all I can do is ask you to get the image of the coffle firmly in your mind, and children watching one go by. The coffle was a thing. That was what was going on. The whole thing makes me want to take a bath. And we're still living with the complicated and painful consequences of slavery today.
NOTE
Title quotation from Lincoln's Second Inaugural Address.
NOTES
[1] On Grant and slaves, see here, here, and here.
[2] The twenty-first century word to describe this attribute is "passion."