By Lambert Strether of Corrente
TPP/TTIP/TiSA
TPP: "One thing is clear: China's interventionism and attachment to state capitalism are difficult to reconcile with the West's "behind-the-border" liberalization program which includes harmonizing safety and technical standards, currencies, national treatment of foreign investors, and the protection of intellectual property. And having had no say in designing the TPP, China may be reluctant to join later" [Wolf Street].
TTIP: "'We believe that it is important to try to finish these negotiations during President Obama's presidency,' Dan Mullaney, the U.S. chief negotiator, said during a press call marking the end of the 11th round of trade talks this week in Miami. 'To do that, we'll need to use our time with maximum efficiency'" [Politico].
TTIP: "Exclusive: U.S. trade czar says Britain would lose on trade outside the EU" [Reuters].
TPP: "Hikmahanto Juwana, an international law professor with the University of Indonesia (UI), said he was surprised by [President Jokowi expressed intention to join the TPP], which contradicted traditional views held by state officials" [Jakarta Post]. 'I'd say that the President's statement was just a form of politeness as a guest, because the Obama administration is rather persistent in pushing the TPP agenda. I don't think it will be easy for Indonesia to join the deal, because we weren't in the original negotiations,' [Revrisond Baswir, economist at the University of Gadjah Mada] told the Post." Hmm.
ISDS: "Joseph Stiglitz: Under TPP, Polluters Could Sue U.S. for Setting Carbon Emissions Limits" [Democracy Now].
2016
Republican Debate (last night)
"[T]he number of flat-out lies in tonight's debate was pretty stunning" [Kevin Drum, Mother Jones]. "Everyone seems to have internalized the fact that you can say anything you want at a televised debate, and only a tiny fraction of the audience will ever see a fact check. So why not claim the moon is square?" 

Cruz: "This is not a cage match. You look at the questions: 'Donald Trump, are you a comic-book villain?' 'Ben Carson, can you do math?' 'John Kasich, will you insult two people over here?' 'Marco Rubio, why don't you resign?' 'Jeb Bush, why have your numbers fallen?'" [WaPo].

Rubio: "Has the Marco Moment arrived?" [Karen Tumulty, WaPo]. Massive takedown of Jebbie (quoted), plus takedown of Trump (not quoted, interestingly).

Jebbie: "Jeb Bush sought to calm anxious donors with a comeback strategy focused on taking down rival Marco Rubio. But Bush's plan backfired badly on national television in the third GOP presidential debate" [National Journal]. You can read the exchange at the link, but here's the bottom line: "He almost completely disappeared for long stretches. In fact, Bush had the least speaking time of anyone in the debate, by some counts." Yikes.

Jebbie: "The most significant story from last night is that Jeb Bush's campaign now finds itself on life support, especially after Bush swung and missed when trying to hit Rubio over his Senate voting record" [NBC]. But all that money!

UPDATE "For the first hour of the debate, which was staged by CNBC, Trump largely disappeared. His rivals and the moderators demonstrated less interest in him than they had in the past, and a Trump without attention is like a petunia without water and light. It fades. It droops" [New York Times, "Ben Carson and Donald Trump Lack Electricity in a Charged Debate"]. "And while that presented a window of opportunity for Carson, he lacked the pep to get through a window or, for that matter, an extremely wide set of sliding doors. His eyelids sometimes went to half-mast as he swayed through an answer, making a sluggish voyage to an uncertain destination." Ouch!

"Carson denies involvement with controversial supplement maker" [The Hill]. Not the kind of headline your PR guy wants to see…. 
Policy
"'Too many Americans have seen their lives destroyed because they have criminal records as a result of marijuana use. That's wrong. That has got to change," [Sanders] said during a town hall at George Mason University in Virginia that was live streamed and shown at watch parties on more than 250 college campuses" [The Hill]. So far as I know, those watch parties are completely under the radar… 
Voters
"Matching Candidates With the Books They Sound Like" [New York Times]. (Truly, we live in a golden age of data visualization). Clinton: Persuasion (Jane Austen); Sanders: The Confessions of Saint Augustine and Around the World in Eighty Days; Trump: The Legend of King Arthur and Hans Christian Anderson fairy tales.
 Money
This is from yesterday, but important (and I butchered yesterday's link): "Those lapses appear set to catch up with the foundation (now formally known as the Bill, Hillary, & Chelsea Clinton Foundation), which has until November 16 to amend more than ten years' worth of state, federal and foreign filings. According to Charles Ortel, a financial whistleblower, it will be difficult if not impossible for the foundation to amend its financial returns without acknowledging accounting fraud and admitting that it generated substantial private gain for directors, insiders and Clinton cronies, all of which would be against the law under an IRS rule called inurement" [100r.org]. Hmm.

UPDATE "Per Sanders, the wealthy have built and maintained a self-serving system of income inequality at the cost of the 99 percent. As he has put it: 'This is a rigged economy — heads they win, tails you lose'" [Rich Lowry, Politico]. And: "The Sanders view has all the hallmarks of a good conspiracy theory." Normally, I can take Politico for what it is — the Daily Shopper for the political class — but this is too much. See the work of Martin Gilens and Benjamin I. Page on oligarchy here, here, and here:

This is what the data shows: when the economic élites support a given policy change, it has about a one-in-two chance of being enacted. (The exact estimated probability is forty-five per cent.) When the élites oppose a given measure, its chances of becoming law are less than one in five. (The exact estimate is eighteen per cent.) The fact that both figures are both below fifty per cent reflects a status-quo bias: in the divided American system of government, getting anything at all passed is tricky.

Speaking against Gilens and Page is the obvious fact that better shills than Lowry have not been found; you'd have expected the free market™ to have provided them, given the obvious demand for their services.
The Trail
Third Way: "Moderate Democrats Confident Clinton Would Govern From the Middle" [National Journal]. What middle?'

"Hillary Clinton has extended her already sizable superdelegate lead by several dozen since August, and is deploying former President Bill Clinton to bring more of the powerful endorsers on board" [Bloomberg].

Will there be a draft Romney movement? [The Hill].
The Hill
Ryan calls for a return to "the regular order" [The Hill]. Ryan: "The committees should retake the lead in drafting all major legislation. Open up the process. Let people participate. And they might change their tune. A neglected minority will gum up the works. A respected minority will work in good faith. Instead of trying to stop the majority, they might try to become the majority." Fine words butter no parsnips…. 
Stats Watch
GDP, Q4 2015: "Steady domestic spending helped to prop up GDP growth in the third-quarter which came in at an annualized 1.5 percent, just shy of 
Jobless Claims, week of October 24, 2015: "Initial claims rose only 1,000 in the October 24 week to a lower-than-expected 260,000 which is just off a 42-year low" [Econoday]. "There are no special factors in the report, one that continues to point to very low levels of unemployment" (modulo the disemployed). And: "Claim levels are at 40 year lows (with the normal range around 350,000 weekly initial unemployment claims of levels seen historically during times of economic expansion" [Econintersect].
Bloomberg Consumer Comfort Index, week of October 25, 2015: "Consumer spirits appear to ebbing a bit with the consumer comfort index down for a second week" [Econoday].
Pending Home Sales Index, September 2015: "The outlook for the housing sector has turned lower this week, first on Monday's very weak new home sales report followed by today's September index on pending sales of existing homes which is down a very sharp 2.3 percent" [Econoday]. "Uncertainty in the financial markets is also cited, perhaps making buyers take a wait-and-see approach."
"PotashCorp warned over a "weaker fertilizer environment" as it cut its forecast for earnings and potash sales, and unveiled production cutbacks which will lower volumes by nearly 500,000 tonnes in the current quarter" [Agrimoney].
"Kering, the French conglomerate that owns Gucci, Saint Laurent, Balenciaga and Bottega Veneta, reported third-quarter revenue growth that beat analysts' estimates" [The Fashion Law]. "Three and a half years after Hedi Slimane took the helm at Saint Laurent, sales are still booming. The house posted a sales increase of 37 percent on a reported basis and 27 percent on a comparable basis."
"Weather Underground Bought by IBM" [Jeff Masters, Weather Underground]. "There are no changes that have been announced for how Weather Underground will operate, and Bob Henson and I plan to ride the rapids to see where they lead. IBM brings some pretty remarkable technology resources to the table, so I expect that WU's creative development team will be able to take advantage of that and crank out some ground-breaking weather software." 
Jargon watch: "In simple terms, is another wealth extraction tool used by Wall Street firms to pick the public's pocket in the name of stock market liquidity" [Wall Street on Parade]. Maker-taker: "Brokers servicing retail clients and institutions (like those managing your pension money) are incentivized to send their customers' stock limit orders to trading venues that will pay them a rebate (on the premise that they are "making" liquidity) while traders who trade on those limit orders are charged a fee (on the premise they are "taking" liquidity). Thus the maker-taker model." So that's not a kickback, then?
The Fed: "…. then you'll be a Fed Governor, my son? Not sure I can take Kipling to the FOMC but there are so many 'If's' im fed policy I'm stuck with the image. The FOMC left the door ajar [Across the Curve]. "If you can keep your head when all about you / Are losing theirs and blaming it on you…." [Kipling].
Honey for the Bears: "U.S. demand for corrugated packaging is no better than modest as manufacturers place minimal orders and inventories of the material post double-digit gains over a year ago, industry executives said" [Market News]. Amazon may not need bricks and mortar for the holiday season, but it will need packaging… 
Today's Fear & Greed Index: 71 (+5); Greed [CNN]. Last week: 55 (Neutral). (0 is Extreme Fear; 100 is Extreme Greed)
Black Injustice Tipping Point
Second student arrested in Spring Valley, this time for filming assault by cop on student [WLTX].
"I Hope My Son Gets Arrested at School Today" [Patheos]. Patheos is a religious site, so this post has that, but the post also puts the Spring Valley incident in much needed greater context.
"Stop Pretending the 'Ferguson Effect' is Real" [Medium]. "The fact that a theory lacking evidentiary support could be so hastily endorsed by some of the nation's foremost institutions speaks to the enduring power of the belief that aggressive policing is the only way to keep black communities safe. This notion, applied exclusively to black communities, is exactly what needs to change."
Gaia
Evidence for human evolution in the present day from an island in the Saint Lawrence [Nautilus].
"[S]ugar is like alcohol. It's got calories, but it's not nutrition. There's no biochemical reaction that requires it. And at high doses, alcohol can fry your liver" [Raw Story]. The study: "Isocaloric fructose restriction and metabolic improvement in children with obesity and metabolic syndrome."
Class Warfare
"The Enlightenment bull market and its decolonial future" [Clio@King's: The History Department Blog]. "The involvement of John Locke in the Royal African Company, and as a key member of the Board of Trade and Plantations, or the investments held by philosophes in the Compagnie des Indes, are widely known by scholars but not by the public. It is almost never used to make sense of how Locke or Voltaire thought of rights and freedom.  But the constitution of forms of rights which have as their premise categories of rights-bearers who, as Charles Mills has noted, are limited to people of a particular race and gender has some interpretative importance."
"400 years ago, when her son was at the very height of his scientific career, Katharina Kepler was accused of witchcraft" [The Conversation]. "The Imperial mathematician formally took over his mother's legal defence. No other public intellectual figure would have ever involved themselves in a similar role, but Kepler put his whole existence on hold, stored up his books, papers and instruments in boxes, moved his family to southern Germany and spent nearly a year trying to get his mother out of prison." (NC on the history of witch hunts.)
"Farewell to America's Middle Class: Unions Are Basically Dead" [The Atlantic]. "[T]he International Monetary Fund (!), for instance, recommended reviving unions as a way for democracies to grow their economies and boost productivity."
"Teamster Officials Announce Support of Port Drivers Amid More Strikes" [Long Beach Post]. "[T]he partnership that was announced Tuesday between the Teamsters and the advocacy group Warehouse Workers Resource Center could bring significant changes to employment dynamics in the staffing agency-reliant warehouse distribution industry" [Longshore & Shipping News].
News of the Wired
"Uber's surge pricing doesn't necessarily increase the availability of rides. It just makes them more expensive" [Pro Publica]. And now that we understand the algorithm, we can game it!
"Aussies slur their words and use only two-thirds of their mouth to speak because early settlers spent most of their days DRUNK, academic says" [Daily Mail].
"Google's Court Victory Is Good for Scholarly Authors. Here's Why" [Chronicle of Higher Education]. "Google Book Search does precisely what the overwhelming majority of authors of books in research-library collections would want for their books: It rescues them from the obscurity of print collections and makes them more findable online."
Great moments in infographics [@mims]:
Is there a Nobel Prize for infographics? Can I nominate this? pic.twitter.com/PWUC0jeo6x

— Christopher Mims (@mims) October 28, 2015
More great moments in infographics [@mc_hankins]:
Use of the phrase 'exponential growth' by decade pic.twitter.com/WqAsubbgkD

— Matthew Hankins (@mc_hankins) October 12, 2015
* * *
Readers, feel free to contact me with (a) links, and even better (b) sources I should curate regularly, and (c) to find out how to send me images of plants. Vegetables are fine! Fungi are deemed to be honorary plants! See the previous Water Cooler (with plant) here. And here's today's plant (Isabel, who's been so helpful to NC on Portugal, once again):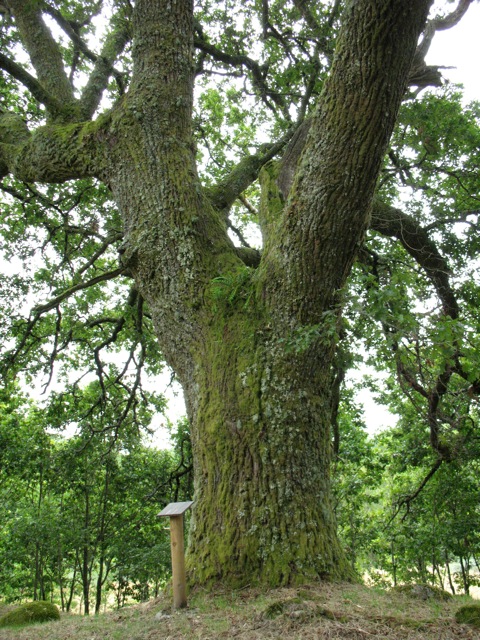 A gorgeous chestnut tree!
If you enjoy Water Cooler, please consider tipping and click the hat. Winter is almost here, I need to buy fuel, and I need to keep my server up, too. And thanks so much for the donations during the annual fundraiser. They are much appreciated, both practically, and as signs that you enjoy the work.