By Lambert Strether of Corrente
One outcome of the very successful fundraising campaign just concluded — thank you, readers! — is that NC will be able to cover more topics more deeply, and even do original reporting on them. One such topic is health care, and I'm saying health care as such, not ObamaCare, because whether ObamaCare indeed enters an actuarial death spiral or, however improbably, becomes a roaring success in delivering actual services, the effects in terms of finance, economics, politics and power will be profound, and felt by the health care system as a whole. (The effects will also be felt by many readers, personally, as we've seen.) 
Clearly, we'll have to do an immmense amount of study. This post, then, isn't the kind of deep dive you expect from NC, but a mere outline of topics to investigate. And since I'm outlining what I don't know (a lot), there will be very few links.  However, since you, readers, collectively have considerable knowledge of the health care industry, so called[1], I hope you will contribute in comments: Links, links, links, of course, but also topics to be investigated that I missed, or even methods of investigation.
Finally, if we aggregated all reader comments at NC over the last few years on the real provision of health care services, we'd see a depth and volume of content that moves beyond far beyond anecdote[2]. I'm not aware of any other blog, or even publication, with comments of equivalent value. And what your comments reveal, at a minimum, is a deep level of mistrust of the health care system — even a sense of betrayal[3] — based on experience, sometimes health- and life-threatening. As far as I can tell, nothing like this message has reached the mainstream, not even on the [clears throat] left. Yves tells me that a similar disjunction between reader commentary and mainstream coverage occurred as the  mortgage crisis began to blow up, and as it turned out, readers were right, and right early. So, reader experiences with health care systems and subsystems under any of the topics listed below will be more than welcome, and the more vivid and concrete the better. (To pick a random example: If you do medical coding, I'd love to hear exactly how random the coding process is (if it is). Or medical accounting. Or creating health insurance company marketing brochures. Or writing the policies. Or working for collections. Even nursing and doctoring! And so on!)
* * *
To begin with, the health care industry is enormous. From Health Affairs:
Health spending growth in the United States is projected to average 5.8 percent for 2014–24, reflecting the Affordable Care Act's coverage expansions, faster economic growth, and population aging. Recent historically low growth rates in the use of medical goods and services, as well as medical prices, are expected to gradually increase. However, in part because of the impact of continued cost-sharing increases that are anticipated among health plans, the acceleration of these growth rates is expected to be modest. The health share of US gross domestic product is projected to rise from 17.4 percent in 2013 to 19.6 percent in 2024.
Rate of change regardless, 20% of GDP is a very large number (and, again, much bigger than ObamaCare). Of course, it remains to be seen how much of that 20% is about the provision of heatlh care, and how much is parasitic bloat[4]. (Since this percentage is a wildly high outlier by world standards, we might imagine rather a lot.) The Office of the Actuary in the HHS's Center for Medicare & Medicaid Services has built a model that projects "National Heatlh Care Expenditures," (NHE) and here's one of their charts; it shows the buckets ("sectors") that we could throw this 20% of GDP into: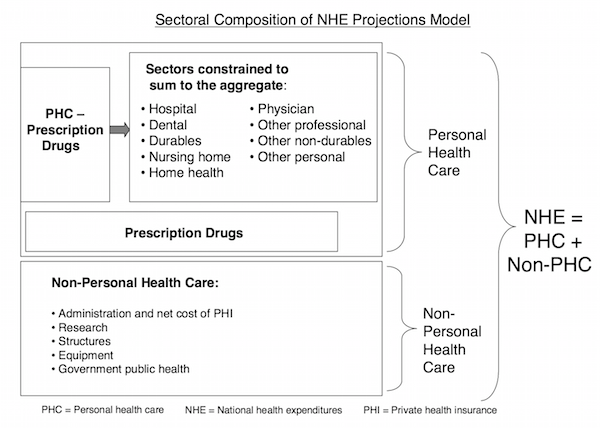 This chart is about expenditures, not profits. But we can say that health care industry profits are enormous, too. (Of course, some health care industry firms are non-profit, nominally or actually; I don't know how surplus allocation in the non-profit context is accounted for.) For example, health care technology was 2015's most profitable industry. Profit margins for pharmaceuticals rival those of banks. Return on Equity looks healthy to me. (Hospital care accounted for $850 billion of the total $2.7 trillion of national health expenditures (2011), but because most hospital revenue comes from third party payers, I'm not clear on how to translate that to profits; Stephen Brill calls hospital profits "gluttonous.") Some doctor practices are profitable enough to be targeted for acquisition by private equity; others are seeking to become more entrepreneurial[5]. For all these industry sectors, the trend to consolidation must be increasing profits as well.
Turning from profits to govenment, ObamaCare is still complex and problematic. (It's not even clear that ObamaCare policies that are attractive enough for people to buy can deliver profits to insurance companies.) As we've seen, ObamaCare is a target-rich environment for those who are looking for problems, which we'll look at in future posts: The front end still doesn't deliver accurate lists of in-network doctors (and why isn't this fraud); so far as I know, the back-end issues have never been completely fixed; the Republicans would still like to repeal it, and have come up with a new Constitutional challenge; and, as we've seen from the NBER, 50% of those who haven't yet enrolled in the program have done the math, and decided that ObamaCare is a bad deal for them. In addition, we've seen Democratic and administration rhetoric about universal care gradually retreat from triumphalism to caution, and we're starting to hear language like "hard slog," and "we'll have to be persistent" in enrolling the unenrolled. This is the behavior of bureaucrats seeking to avoid reputational damage by lowering expectations and distancing themselves from the programs they are responsible for. Finally, because ObamaCare delivers its product randomly with respect to jurisdiction, income, age, and family structure, let alone actual health care needs, we're going to be hearing continuously from those falling into the cracks that ObamaCare itself creates. We are not seeing the signs of a healthy program.
Other government health care programs are also in trouble. (From here on in, links will start be thinner on the ground, since I have yet to do research.) In addition to ObamaCare, we have Medicare, Medicaid, and the Veterans Administration (We also have the Indian Health Service for the tribes on their reservations, but I know less than nothing about it.) To be frank, I know very little have the opportunity to develop my research and critical thinking skills with respect to Medicare and Medicaid; as a single payer advocate, I tend to view the popular Medicare program, especially, as the paragon for what a single payer program should be ("Medicare for All"), but more experienced people tell me it's been systematically hollowed out and optimized for rental extraction, especially with Bush's Medicare Part D. For Medicaid, my knowledge starts and ends with the unconscionable "asset recovery" program, which, at least in some states, means that poor people who are forced into Medicaid by ObamaCare may end up being unable to pass their houses on to their children, a risk that richer people don't face. And then there's the nursing home racket, also under Medicaid. As for the Veterans Administration, my impression is that once you get in, the provision of care is acceptable, but there are big issues for intake: There is a covert rationing-by-queuing system, and the eligibility IT system is hosed. (There may also be a neo-liberal assault on the VA, exactly like the assault on the Post Office, because markets.)
And then there is the role of information technology. Besides the woes of the ObamaCare "marketplace," there's the role of Electronic Health Records (EHR). Of course, Obama was enthusiastic about them — that right there tells you there are big problems with them — and made sure they were funded in 2009's stimulus package. My impression is that the problems with EHR are basically three-fold: First, since EHRs are computerized, the doctor ends up looking at the screen and tapping and typing, instead of actually paying attention to the patient. (If seeing a doctor working on a computer has a placebo effect, this could be good, but that seems unlikely, especially for Windows users [rimshot. Laughter].) More subtly, the EHR records only what its fields permit it to record, and that doesn't necessarily include the narrative information needed for accurate, as opposed to profitable, diagnosis.) Second, my understanding is that  EHR taxonomies (systems of categorization, "coding") are optimized not for health care, but for insurance company billing. (They would be, right?) Finally, I believe there are multiple and competing EHR systems with incompatible taxonomies, meaning that every time a patient consumer is treated processed, information can be lost in translation between systems.
Finally, there's the question of values. Neoliberal values are, as we know, market-based; but if you believe that the market is a function of society, rather than society being a function of the market, neo-liberal values will strike you as both brutal and impoverished. I'm thinking that the central value to be proposed is that our systems should be humane at the point of care. That includes every phase of health care, from "intake" at the office through the envelope that comes in the mail (as well as all online interaction. I believe I can say with confidence that no phase of our system for provisioning health care accepts or embodies that value, with the exception of some (more or less random) human-to-human interactions between patient and doctor. Certainly the system overall is not designed to be humane, and where humanity collides with profit or rental extraction, humanity loses. This absence of humanity extends to a failure to prevent entry into the system: For example, Americans diet is optimized for the consumption of High Fructose Corn Syrup. HFCS causes diabetes. Diabetes leads to a profitable chain of treatment, including especially drugs. (Can you see how the self-licking ice cream cone works, here?) A humane system would consist not in providing diabetes drugs in a kinder, gentler, and/or cheaper fashion, but in avoiding (so far as possible) the need (inelastic demand) for the disease, the treatment, and the drugs in the first place; "First, do no harm." And so we see that in some ways, the problem of the health care industry is the problem of health itself; an even broader topic.
Again, reader feedback on the topics to be covered, and contributions in the form of links and personal experiences, will be very welcome.
NOTES
[1] Though I'm not even sure that "industry" is the right word, or whether its neoliberal newspeak, seeking to present a collection of finance-driven extractive firms as if they produced something useful, like food or steel. Certainly much of the health care "industry" has everything to do with extraction, and nothing to do with the provision of health care. The trick will be to figure out how much.
UPDATE Damn. Veblen had the answer. In future, I'll distinguish the health care "industry" from the health care "business." The health care industry is the part that actually delivers health care; the health care business handles the profits and rental extraction, and optimizes the health care industry, which it controls, for that purpose.
[2] Perhaps to "thick description."
[3] To be fair, that's one way to "bend the cost curve."
[4] One lesson from the last Greek crisis is that policies for which a case could otherwise be made can be ruled out by IT issues (given requirements for delivering a level of service in a given time frame). And since by Conway's Law, health care IT in a parasitic system will have parasitism built in, similar IT issues could arise. However, it's hard to believe this is likely. If you believe, for example, the United States should have a single payer program, there are already three, waiting to be scaled up: Medicare, Medicaid, and the Veterans Administration.
[5] Hopefully not by shilling for Big Pharma, or participating in corrupt studies, or peddling quack diets, or focusing on high-volume/high-margin services like MRI. I'd like to think well of doctors, and so I'd like to think that removing the dead weight of the insurance companies from their practices would enable them to practice medicine again which is, after all, the reason many of them entered the field in the first place.