By Lambert Strether of Corrente.
TPP/TTIP/TiSA
In Atlanta, "knotty differences persist, and antitrade blasts from American presidential candidates have not eased prospects for any deal" [New York Times, "Pacific Trade Deal Talks Resume, Under Fire From U.S. Presidential Hopefuls"]. Not to toot my own horn overmuch, but NC readers who read the Levin memo in Monday's Water Cooler are better informed on the actual "knotty differences" than the Times reporter.
Here's a handy chart on ISDS:
TPP trade talks narrow on tough auto, drug and dairy issues http://t.co/crLobJvs82 pic.twitter.com/xQj5Mw9Aiv

— FRANCE 24 (@FRANCE24) October 1, 2015
"A Commission status report, obtained by POLITICO, shows that on 10 of the 24 chapters of the so-called Transatlantic Trade and Investment Partnership (TTIP) agreement, the two sides haven't yet exchanged their positions, much less started to negotiate." [Politico].
2016
Policy
Hillary throws gays under the bus while at State [Los Angeles Times]. More email. This from 2011, however, is not a drip but a splash:

An email involving passport applications was notable for the raw nerve the issue of gay rights seemed to touch. Clinton expressed anger that the application form had been changed from its reference to traditional parents, and she demanded to know who was behind it.

"Who made the decision that State will not use the terms 'mother and father' and instead substitute 'parent one and two'?" she wrote.

"I am not defending that decision which I disagree w and knew nothing about in front of this Congress. … We need to address this today or we will be facing a huge Fox generated media storm led by Palin et al."

The form was changed.

Beyond the gays-as-unterbussen-yet-again aspect, by 2011 Palin was so over. And I thought the Clintons were about fighting the "vast right wing conspiracy," not caving to it. More pragmaticallly, I wonder how many of those not-necessarily-in-cash Clinton campaign contributions are from gays, especially activists, and what they feel about this.
The Voters
"Nations in which the president and the legislature have separate but equal claims to power and legitimacy have a bias for crisis. A government divided between a president of one party and a Congress of another may reach an impasse for which, as political scientist Juan Linz has written, "There is no democratic principle on the basis of which it can be resolved" [Harold Meyerson, WaPo]. The "Linzian Standoff."
Money
"Bernie Sanders's $26 million cash haul is a major problem for Hillary Clinton" [Chris Cilizza, WaPo].

Clinton held 58 fundraising events to raise her total; Sanders held seven. As of the end of September, Sanders had brought in 1.3 million total donations from 650,000 individuals since he began running. Clinton's campaign did not release how many total donors she has. And Sanders ended September with $25 million in the bank; Clinton did not release how much money her campaign had on hand.

Read between the lines, and you get this: Sanders is drawing huge amounts of small-dollar donations via the Web. That means two important things: (1) Sanders has been able to concentrate on meeting and greeting potential voters rather than spending his time courting donors, and (2) He has been able to conserve money because he isn't spending cash on lavish events for donors.

I guess laundering money through the Clinton Foundation is, by definition, about options on influence, rather than actual influence?
The Trail
Tavis Smiley interviews Jill Stein [PBS].

"Per­haps the most mem­or­able ex­change in the new email cache is one in which Clin­ton com­plains to aide Huma Abedin about a White House op­er­at­or not be­liev­ing they were ac­tu­ally talk­ing to Hil­lary Clin­ton" [National Journal]

"Right now I'm fight­ing w the WH op­er­at­or who doesn't be­lieve I am who I say and wants my dir­ect of­fice line even tho I'm not there," she wrote in the 2010 email. "I told him I had no idea what my dir­ect of­fice # was since I didn't call my­self and I just hung up and am call­ing through Ops like a prop­er and prop­erly de­pend­ent Sec­ret­ary of State—no in­de­pend­ent di­al­ing al­lowed."

Classic complaint from an entitled celebrity: "Don't they know who I am?"

Too meta [@mmasnick]. More Clinton mail:

Not knowing what "fubar" means should disqualify someone from government. pic.twitter.com/FL39cODBqa

— Mike Masnick (@mmasnick) September 30, 2015

"[Biden] is not preparing for the first Democratic debate on October 13 in Las Vegas and is not expected to participate, people close to him say, because he feels no pressure to reach a decision by then. He is likely to reveal his plans in the second half of October" [CNN]. "For more than two months, Biden has been studying the mechanics of what it would take to launch a candidacy. He and his team have been inundated by mounds of research and battle plans, but his original end-of-summer deadline passed without him reaching a conclusion." Biden's got to study this?
Stats Watch
Bloomberg Consumer Comfort Index, week of September 27, 2015: "Tuesday's startling rise in consumer confidence is now being confirmed by solid strength in the consumer comfort index" [Bloomberg]. "Volatility in the stock market and uncertainty over the global economy are apparently not holding down the U.S. consumer, which points to strength in household spending and perhaps the need for the Fed to announce liftoff sooner than later."
Motor Vehicle Sales, September 2015: "North American-made vehicles are at a 14.4 million annual rate, far above the Econoday consensus for 13.8 million and up from 14.1 million in August" [Econoday]. "Consumer confidence readings have not been lying… This result underscores the two-way economy: domestic-based which is rising and foreign-exposed which is declining."
Challenger Job-Cut Report, September 2015: "A mass 30,000 layoff announcement at Hewlett-Packard skewed Challenger's September count upward" [Econoday]. "The layoff count is now heading for the highest total since 2009 with the year-to-date count, at 493,431, already higher than all of last year. Challenger's data belie what are very low rates of unemployment and jobless claims."
Jobless Claims, week of September 2016: "Jobless claims continue to point to rare tightness in the labor market" [Econoday]. "In a special positive, continuing claims broke lower in the latest data which lag by a week."
PMI Manufacturing Index, September 2015: "Markit's sample is still in the growth column but, relative to its past performance, is signaling trouble in the manufacturing sector" [Econoday]. "New orders and production are slowing as is employment which, at a two-year low, is now slowing sharply. Input prices, pulled down by lower commodity prices and strength in the dollar, continue to fall while final prices, in a sign seen in many other September reports, showing its weakest result in three years."
ISM Mfg Index, September 2015: "The ISM index, like nearly all other September indications, is pointing to trouble for the factory sector. At 50.2, the index is at its lowest point since May 2013" [Econoday]. "Factory data in the government reports have been trending in slight contraction for the past year and today's reports point to the risk of accelerating contraction." But: "ISM employment index is not useful in understanding manufacturing jobsgrowth. The ISM employment index appears useful in predicting turning points which can lead the BLS data up to one year" [Econintersect].
Construction Spending, August 2015: "Construction spending is picking up, at plus 0.7 percent in August for a year-on-year gain of 13.7 percent" [Bloomberg]. "For the economy, strength in construction, including strength in new homes, looks to offset not only unevenness in existing home sales but also what appears to be an ongoing breakdown in the factory sector."
"The manufacturing sector remains exposed to the global situation, with both the stronger dollar and cooling demand in China and other places dampening activity for U.S. factories. The September ISM survey report recap is attached. Meanwhile, anything exposed mainly to the domestic economy and in particular to the U.S. household sector remains robust" [Across the Curve].
"An uncanny number of people woke up this week with the same thought – it's time to panic over the size, structure and illiquidity of the junk bond market" [Wall Street on Parade]. Icahn releases a video, IMF, WSJ, Bloomberg, Christine Lagarde, a professor….
"Financial markets may not be alert to the potential damage caused by drops in liquidity, according to stability officials at the Bank of England" [Bloomberg].
"Looking beyond this week's whipsaw swings in Glencore Plc's share price, the outlook for the embattled miner-cum-commodity trader will largely depend on the copper market" [Bloomberg]. See Yves on Glencore here.
Fear & Greed Index, October 1, 2015: 16 (+5); Extreme Fear [CNN]. Last week: 22 (Extreme Fear). (0 is Extreme Fear; 100 is Extreme Greed).
Corruption
"Film Review: '99 Homes' Is Compelling Tale Of Corruption Around Home Foreclosures" [Shadowproof]. "Like [Florida realtor] Carver says, "America doesn't bail out the losers. America was built by bailing out winners," and, "by rigging a nation, of the winners, by the winners, and for the winners."
"The rail industry is exploiting historic exemptions from state and local laws to build often-massive transfer and processing stations free from virtually any permit requirements and without regard for basic laws protecting the communities in which they are based. The Surface Transportation Board [which regulates the industry] has been quietly creating what some call a "regulation-free zone" and asserting a jurisdiction over railroads that trumps health and safety laws." [Center for Investigative Reporting]. "10 STB senior staff members had either left to work for railroads or had been hired from that industry and that from its inception to 2007, four of the six former STB board members had themselves left to work for railroads."
Gaia
"Joaquin Hammers Bahamas; Future Track Still Uncertain" [Jeff Masters, Weather Underground].
"A long-term shortfall in potash application has depleted soil nutrient levels in key markets, and will boost future demand for the nutrient, PotashCorp said" [Agrimoney].
"Children at high risk of getting asthma may be missing some important gut bacteria in their first few months of life" [Japan Times].
Guillotine Watch
"[Elon Musk's] new vehicle has such an intensely effective air filter for passengers that there's a 'bio weapon defense mode.' It's a button in the climate-control system, and it's labeled with the international biohazard symbol" [USA Today]. Is there an optional Zombie Infestation Package with Head Shot Module? If this is what the people who can afford Musk's cars are worried about… We have the wealthiest, and most panic-stricken elites in the history of the world.
Class Warfare
"Mexico's Missing Forty-Three: One Year, Many Lies, and a Theory That Might Make Sense" [New Yorker]. Excellent series.
News of the Wired
Silicon Valley: "Something is rotten in tech startup land" [Both Sides of the Table]. Well worth a read. "My concern is that culture of unicorns has created a generation of entrepreneurs & investors looking for short cuts. Do you know how many people I meet these days who are 'packaging up money in SPVs (special purpose vehicles),' or raising syndicates or doing secondaries or advising high-net-worth individuals how to get into unicorns? For a fee, of course."
This article is a froth indicator. And the author pretends that the bourgeois virtues of hard work and discipline are somehow essential to "startup culture," and all this "fee" stuff, this "packaging up money" crapola, is somehow accidental, a latecomer who crashed the party, as it were. In fact, he has essence and accident precisely reversed.
Sillicon Valley: "Times have changed — going after dollars vs minutes" [Medium]. Whereas the first generation of top-ranking VC-funded firms went after people's time (FaceBook, Instagram, Pintererest), the second generation is going after people's money (AirBnB, Uber). Still waiting for Frijjer, the app that will let me rent out a shelf on my fridge to homeless people who have no place to store their food, granted, for change out of a styrofoam cup, but pennies add up….
"The co-founder of Australian online retailer Shoes of Prey, which allows customers to design their own footwear, hopes to one day allow customers to print out pairs at home as technology improves and consumer demand grows for personalized products" [Reuters]. This actually sounds pretty neat. Of course, I'd rather go to the local printer at the post office with my own file….
"Urban mobility at a tipping point" [McKinsey]. "Four major technological trends are converging: in-vehicle connectivity, electrification, car sharing, and autonomous driving. If cities can figure out how to make these elements work together, mobile-productivity solutions could be substantially improved."
"Why the founder of #ShoutYourAbortion had to go into hiding" [Salon]. She's lucky her house didn't get bombed and she wasn't shot. Again, one-third of all U.S. women have had abortions, and 95% think it was the right decision.
"Among the spectacles of our sports-entertainment complex, there are only two in which people are regularly killed — not accidentally, but directly as a result of that sport's essential identity and, more ghoulishly, that sport's essential public appeal. One of them is auto racing. The other is American football. Of the two, there is only one in which children are now regularly killed. That sport is not auto racing. That sport is American football. This weekend, the sport killed another child" [Grantland].
"Your use of time is what defines who you are. Your parents gave you one gift greater than any other, the chance to live a life. Everything past that point is yours to spend as you see fit. Time is the only thing you can use to buy the life you want to live and the stories you want to tell" [Abby the IA]. Both more concrete and thought-provoking than one expects in a time-management piece.
"In Praise of Idleness" [Bertrand Russell].
* * *
Readers, feel free to contact me with (a) links, and even better (b) sources I should curate regularly, and (c) to find out how to send me images of plants. Vegetables are fine! Fungi are deemed to be honorary plants! See the previous Water Cooler (with plant) here. And here's today's plant (Pat):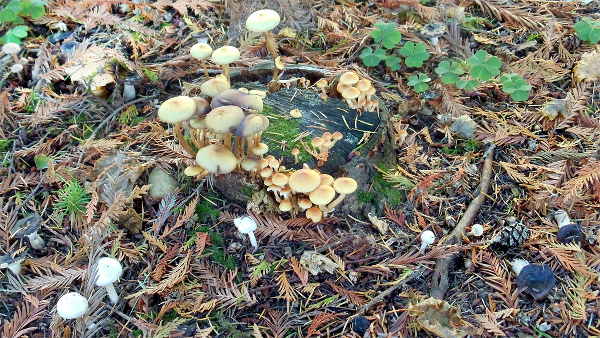 Backward mushrooms!
Readers, I'd also be interested in any projects you did this summer (now that the time to put the garden to bed is approaching)….
If you enjoy Water Cooler, please consider tipping and click the hat. Winter is coming, I need to fix my laptop, and I need to keep my server up, too.