This is Naked Capitalism fundraising week. 613 donors have already invested in our efforts to combat corruption and predatory conduct, particularly in financial realm. Please join us and participate via our Tip Jar, which shows how to give via check, credit card, debit card, or PayPal. Read about why we're doing this fundraiser, what we've accomplished in the last year, and our third target, funding our guest bloggers.
Whale Song Explained Medium. Developing a musical notation for whale songs!
Our Vanishing Flowers NYT (SF)
Holder Defends Record of Not Prosecuting Financial Fraud Dan Froomkin, The Intercept
Lawsuit Says Manhattan Real Estate Was Used to Launder Money WSJ. Your winnings, sir.
SEC's hedge fund reviews show advisors keeping trades for themselves Francine McKenna, Market Watch
The tangle of loose lending to tight oil Gillian Tett, FT. No derivatives, I trust.
The Financial Crisis: Lessons for the Next OneAlan S. Blinder and Mark Zandi, Center for Budget and Policy Priorities. Victory lap.
There's No Way to Avoid Default Without Raising the Debt Limit, Treasury Says WSJ. The nut graph:
"Third, Treasury dismisses again several outlandish ideas to continue borrowing money after running out of cash-management steps to remain under the debt limit, including one that would have President Barack Obama invoke the 14th amendment to issue debt above the limit or to mint a large-denomination platinum coin to raise cash without exceeding the debt limit. Neither of those steps are legal, the Treasury said."
Well, pace Citi's Jacob Lew, plenty of people found the platinum coin both "landish" and legal.
Fed Faces This Checklist of Hurdles for a December Rate Hike Bloomberg
Greek-owned fleet increases global market share, retains lead, as global fleet growth slows down International Shipping News
VW made several defeat devices to cheat emissions tests: sources Reuters
H&M Supplier Factories in Bangladesh Still Don't Meet Safety Requirements The Fashion Law
On the Statistical Properties and Tail Risk of Violent Conflicts Pasquale Cirillo and Nassim Nicholas Taleb, SSRN. Conflict investors need to know!
2016
Mulling 2016 run, Biden speaks with top labor leader CNN

Tycooniest LRB. On Trump.

Trump faces backlash for blaming ex-President George W. Bush for 9/11 USA Today. He transgressed the unwritten law, so they nailed his head to the floor. How soon we forget:

We've known for years now that George W. Bush received a presidential daily briefing on Aug. 6, 2001, in which he was warned: "Bin Laden Determined to Strike in U.S." We've known for almost as long that Bush went fishing afterward.

What we didn't know is what happened in between the briefing and the fishing, and now [Ron] Suskind is here to tell us. Bush listened to the briefing, Suskind says, then told the CIA briefer: "All right. You've covered your ass, now."

Of course, Bush doesn't deserve sole blame. But this "he kept us safe" talking point is such a steaming load.

Trump: Janet Yellen Keeping Interest Rates Low as Political Favor to Obama Bloomberg

Ted Cruz Says Trump Campaign Is 'Immensely Beneficial' to His Run Bloomberg

Among Christie donors, a slew of state contractors Philadelphia. Christie making Philly look clean…

What is a democratic socialist? Bernie Sanders tries to redefine the name. WaPo

Hillary Clinton dismisses Benghazi 'conspiracy theories' CNN
Kadner: The mayor who failed Chicago's children Chicago Tribune
Canada Election
This Monday.

Two new polls show Liberals headed toward win Montreal Gazette. The polls showed the same for Labour in the UK

The final push: How the leaders are spending the last weekend of the election campaign Globe and Mail

In Edmonton, federal election campaign an intriguing mix of local, national issues Edmonton Sun

'He's at peace': 'Zen' Stephen Harper is calm in the homestretch despite Trudeau emergence Vancouver Sun

In Unpredictable Canadian Elections, Plurality Is More Important Than Popularity NYT. First past the post again…
China?
Trade Traitors
#TPP will make it illegal to unlock or jail-break your phone https://t.co/6hJJl0r8OZ pic.twitter.com/gYQI19sXNG

— WikiLeaks (@wikileaks) October 17, 2015
Big Brother Is Watching You Watch
Drone users will have to register with the U.S. government Daily Dot. That was fast.

Can Facebook solve the family attribution gap? Venturebeat. That is, how can venture capital help to arrange for children to manipulate their parents into buying stuff?
Class Warfare
The subprime 'unicorns' that do not look a billion dollars FT
The Hostile Email Landscape Liminality. Emailer oligopoly rejects mail from self-hosted servers. "This isn't how the internet is supposed to work."
I Built a Botnet that Could Destroy Spotify with Fake Listens Motherboard
The Good, the Bad, and the Ugly The Power Of Narrative. Opera, then Alice Miller. Silber is always worth a read.
Relive the famed 'Bush Push' game with the USC and Notre Dame players on the field Los Angeles Times. I don't like football much, anymore, but this story weaves great quotes into a timeline beautifully.
Antidote du jour: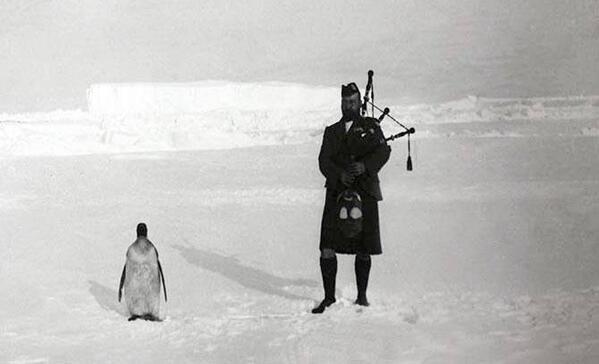 A member of the Scottish National Antarctic Expedition plays the bagpipe for a penguin, 1904.
See yesterday's Links and Antidote du Jour here.