This is Naked Capitalism fundraising week. 1133 donors have already invested in our efforts to combat corruption and predatory conduct, particularly in the financial realm. Please join us and participate via our donation page, which shows how to give via check, credit card, debit card, or PayPal. Read about why we're doing this fundraiser, what we've accomplished in the last year, and our fifth target, more original reporting.
Hurricane Patricia Strikes Mexico With 165 M.P.H. Winds New York Times
Flood threat from Hurricane Patricia BBC
Climate talks fail to break deadlock Financial Times. Subhead: "Emotional appeal on deal from Mexico as it braces for hurricane."
Is freshwater supply more dependent on good governance than geography? PhysOrg (Chuck L)
FCC Regulates Prison Phone Call Prices: No More $14 a Minute Rates Newsweek (Judy B)
Walgreens Scrutinizes Theranos Testing Wall Street Journal. I had wondered as soon as the negative news broke if the technology had always been vaporware….The quote "We need to understand the truth" from Walgreens, their "business partner," and equity investor, is NOT a good sign. Theranos is asserting the WSJ articles are inaccurate yet does not appear to have offered a substantive rebuttal and more important, has not gotten the WSJ to issue a correction or a retraction.
Wasted Drugs and the Creation of Superbugs Project Syndicate (David L)
102 countries pledge not to oppose UN action on genocide Associated Press (furzy mouse)
Bomb attacks in Bangladesh leave 1 dead, over 100 injured The Hindu (furzy mouse)
China?
Refugee Crisis
Germany tightens asylum rules from today to cope with record migrant influx Euronews

EU Plans to Slow Migrant Flow, Juncker Proposal Shows Wall Street Journal

Baby rescued alive hours after migrant boat sinks in Aegean Sea Euronews (furzy mouse). Apparently the parents are missing….
Portugal?
Eurozone crosses Rubicon as Portugal's anti-euro Left banned from power Ambrose Evans-Prichard, Telegraph. I was planning to post on this but it falls in the category of what Lambert calls "an overly dynamic situation". As much as the AEP write-up sounds credible, and may prove to be correct, he got out over his skis more than once on his Greek-related reporting, with his antipathy for the Eurocrats (which I sympathize with) leading him to read their opponents at the national level having more power than they possess.

Here is the disturbing core: the center-right government got 38% of the vote in the Oct. 4 election, making them the leading party. However the left is threatening to form an unprecedented coalition (Socialists and Communists teaming up, among other things), that would represent a majority in terms of the popular votes represented as well as Parliamentary votes. What appears to be in dispute in the Twitterverse is whether this coalition has actually been stitched up. Since the test of the coalition is a vote in 10 days on the center-right's austerity package, there is time to firm things up if they are not yet firmed up. But the threats from the incumbents are shocking, more than enough to justify AEP's consternation about the repudiation of democracy. Just read these quotes:

"In 40 years of democracy, no government in Portugal has ever depended on the support of anti-European forces, that is to say forces that campaigned to abrogate the Lisbon Treaty, the Fiscal Compact, the Growth and Stability Pact, as well as to dismantle monetary union and take Portugal out of the euro, in addition to wanting the dissolution of NATO," said Mr Cavaco Silva….

"After we carried out an onerous programme of financial assistance, entailing heavy sacrifices, it is my duty, within my constitutional powers, to do everything possible to prevent false signals being sent to financial institutions, investors and markets," he said.

With that large caveat, the AEP article has a very good wrap on the economic situation in Portugal, as well as the verbal jousting between the two camps. I'd very much appreciate reports from readers who know Portuguese politics, as well as can read reliable native language sources (calling IsabelPS, but other readers encouraged to pipe up too).

On the decision and announcement by the President of the Republic regarding the nomination of the Prime Minister Portuguese Communist Party

Portugal's Socialists threaten minority government plan France24

Portugal left vows to topple government with no-confidence vote Irish Times
Ukraine/Russia
Ukraine: Darth Vader runs for mayor Euronews (furzy mouse)
Syraqistan
Jimmy Carter: A Five-Nation Plan to End the Syrian Crisis New York Times. Important.Such a shame he is not in better health….and good to see him doing what he can.

US-Russia wrangle over Iraqi Sphere of influence: Parliament to Weigh In Juan Cole (resilc)

A Plea for Mideast Policy Realism Consortiumnews. Margarita: "Chas Freeman on US ME mis-adventures (in other words, pointless destruction w blowback)."

CIA-Armed Rebels March On Assad Homeland Daily Beast. Caveat from Oregoncharles: "No idea how reliable this is. It's certainly a counter to all the triumphalism about the Russian entry into the war."
Imperial Collapse Watch
Who will fight the next war? Economist

For want of some boots, etc., etc. Sic Semper Tyrannis (resilc)

Confidential files on El Salvador human rights stolen after legal action against CIA Guardian (resilc)
Trade Traitors
Don't Forget the National-Security Case for TPP Trade Deal WSJ Washington Wire. This falls in the camp of what Jeff W. calls an anti-link, as in it's noteworthy as being an output of the Mighty Wurlitzer and needs to be read as such.

Call to Action Against Global Corporate Domination: November 14-18 ← Flush the TPP!
2016
Because Benghazi Went So Well, We Have a New Planned Parenthood Committee Charles Pierce, Esquire (resilc)
Are Canadian progressives showing Americans the way? Economics for public policy
Wisconsin Governor Signs Bill Limiting Political Corruption Inquiries New York Times
Nevada Officials Investigate Radioactive Waste Dump Fire Firefighter Nation (furzy mouse)
Fire that shut down US 95 called hot, powerful Las Vegas Review-Journal (furzy mouse)
Police State Watch
F.B.I. Chief Links Scrutiny of Police With Rise in Violent Crime New York Times. "Violent crimes" are considerably below the rates in the 1970s and 1980s. The police are now orchestrating a messaging pushback. Plus we also have the self-licking ice-cream cone problem, since it is the police themselves that intercede in and report what constitutes "violent crime".
A Global Chill in Commodity Demand Hits America's Heartland New York Times, Deflation is a bitch.
Tech company layoffs are increasing Business Insider
Class Warfare
The CEO of Sears Fails His Company by Believing in the Invisible Hand Evonomics. There is a perverse sort of justice in this, although the wreckage of a company and collateral damage to employees is sad.

How the Global Financial Crisis Drove Down Collective Bargaining WSJ Economics
Antidote du jour. From Chet G:
Last week I photographed the release of a juvenile bald eagle (from Centre Wildlife Care, Pennsylvania), and three photos from the release are attached: Robyn Graboski (the director) about to capture the eagle for release; the eagle (who I had named Lana) leaving the crate; and Lana flying free.

Not too many people know about wildlife rehabbers (volunteer work which varies from person to person and from state to state; Robyn has one of the more extensive ones), but I find it an uplifting experience in this day and age.

A fuller web page about the release is on my site and and there is also a link on that page to a 12-photo album on the Centre Wildlife Care public FB page.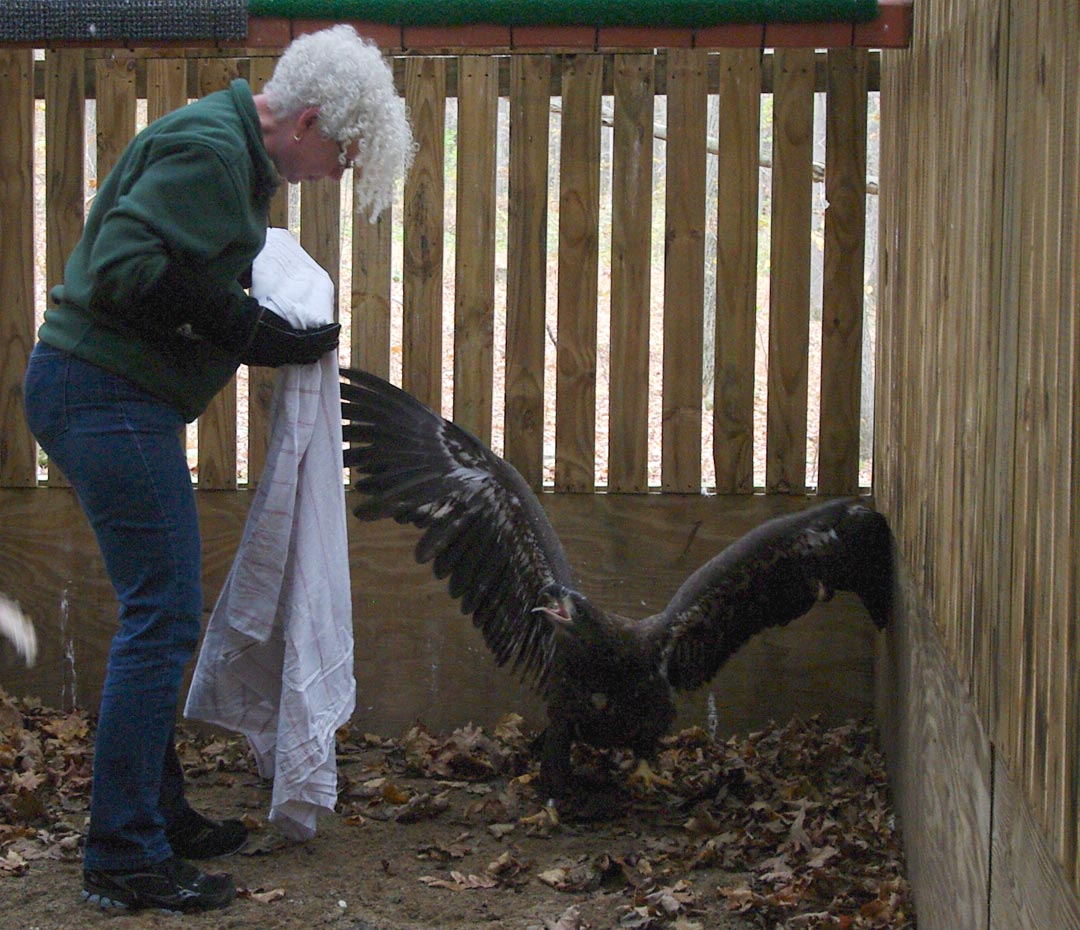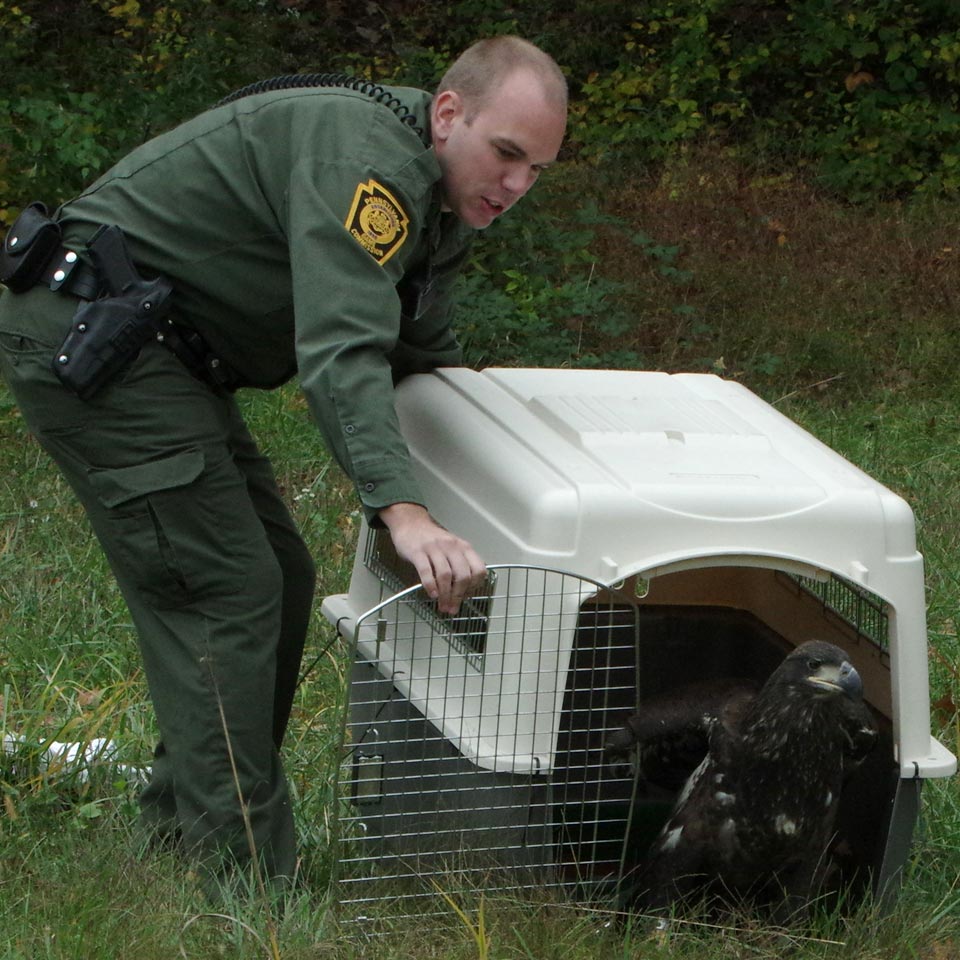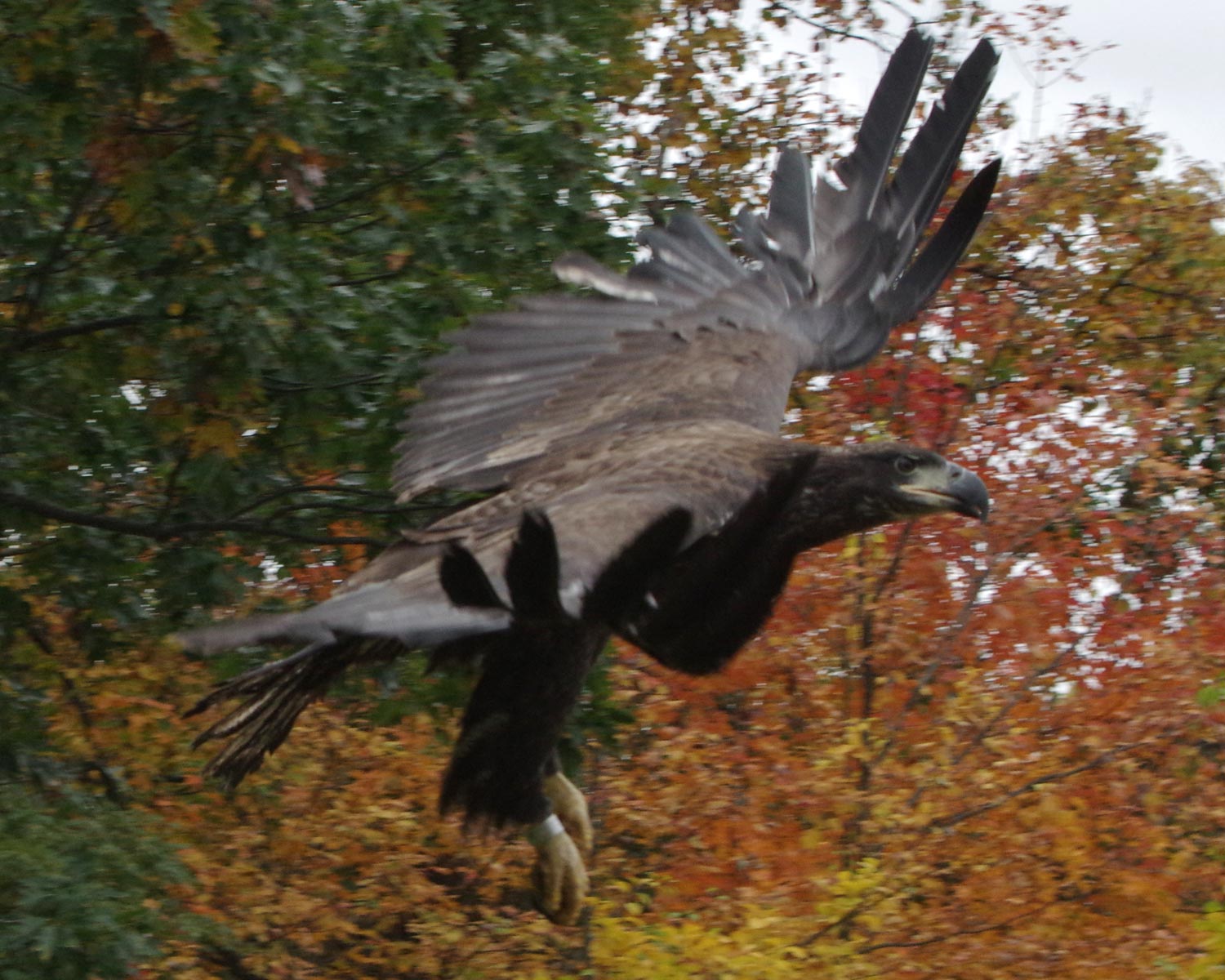 See yesterday's Links and Antidote du Jour here.