Feline tricks for National Cat Day CNN (furzy mouse)
World's biggest seabird tracking database shows their incredible journeys BirdLife (guurst)
Four UK bird species 'face extinction' BBC :-(
International Space Station may need unexpected tidying CNN (furzy mouse)
Drug Panic Time! Annual Halloween Fearmongering About Drugs in Treats Alternet. When I was a kid, it was razorblades in apples….
How Big Ag Stampeded Over Science and Reason to Keep Sustainability Out of Our Dietary Guidelines Pacific Standard (Chuck L)
The Narrative Frays for Theranos and Elizabeth Holmes New York Times (Scott)
US jets intercept Russian warplanes off Korean peninsula BBC
China?
It is already too late to scrap China's one-child policy Ambrose Evans-Pritchard, Telegraph

Credit Sleuths in China Uncover Bad Debt Dwarfing Official 1.5% Bloomberg (Scott). Quelle surprise!
Refugee Crisis
The endless humanitarian disaster in the Mediterranean sea grave failed evolution

The fight of Merkel's life Politico
Germany's Gathering Clouds of Discontent New York Times
Die ganz vergiftete Koalition n-tv
CIF Readers Demand Better Reporting on Corbyn OffGuardian (Chris G)
The Fall of Filat: Moldova's Crisis Deepens Carnegie Moscow Center. Richard Smith: "Moldova latest: government collapses, UK shell companies implicated."
THE SELLING OF TRUST — HOW RUSSIA'S LONGEST AND LARGEST BANK FRAUD HAS BEEN COVERED UP AS IT PASSED FROM ONE OWNER TO ANOTHER, STARTING WITH MIKHAIL KHODORKOVSKY AND ENDING WITH RUBEN AGANBEGYAN, ALEXANDER MAMUT, ET AL. John Helmer. Mark Ames: "Brilliant deep dive."
Syraqistan
The Caliph at the gates of Vienna Pepe Escobar. Margarita: "Pessimistic assessment – not the usual bubbly Pepe. Russia must win (or its entry on the world stage will be over before it started), but Daesh cannot afford to lose (or it's over once and for all) … does not look good."

Hillary Clinton's Failed Libya 'Doctrine' Consortium News (Judy B)

Iran returns to 'Vienna Talks' – as peacemaker Asia Times. Margarita: "Thus, in every sense, we are at a defining moment as the top diplomats of the US, Russia, Britain, France, Germany, Saudi Arabia, Iran, Turkey, Egypt, Jordan, Qatar and the UAE meet in Vienna – informally today (Oct 29) evening and formally tomorrow."
Big Brother is Watching You Watch
OK Google: Where Do You Store Recordings Of My Commands? NPR (David L). More confirmation re the wisdom of sticking to stupid phones….

EU Parliament votes to protect Edward Snowden CNN (furzy mouse)
Imperial Collapse Watch
Putin's Question and the Ambassador's Answer Counterpunch (Eric A)

Protesters clash with police over planned US airbase in Japan euronews
2016
Senate Passes Budget Bill, Averting Risk of Default Wall Street Journal
Harry Reid Says He Liked That John Boehner Told Him To Go F**k Himself Huffington Post
One Chart That Explains The Stupidity Of Congress' SPR Plan Oil Price
Police State Watch
Gunz
Inside Waco, Texas, biker shootout: Guns, blood and fear CNN (furzy mouse)
Comments on the blockbuster Valeant conference call John Hempton. Richard Smith: "Hempton amazing deep dive into US pharma bentness. One of his more exhausting reads but worth it."
Deutsche Bank to shed 35,000 jobs, exit 10 countries CNBC
Resurrecting Glass-Steagall Simon Johnson, Project Syndicate
Mutual Funds Flail at Valuing Startups Wall Street Journal
Class Warfare
Antidote du jour. Chris L: "My cute animal friend Duino, hanging around by a Tornado. He's a Peruvian Naked Dog."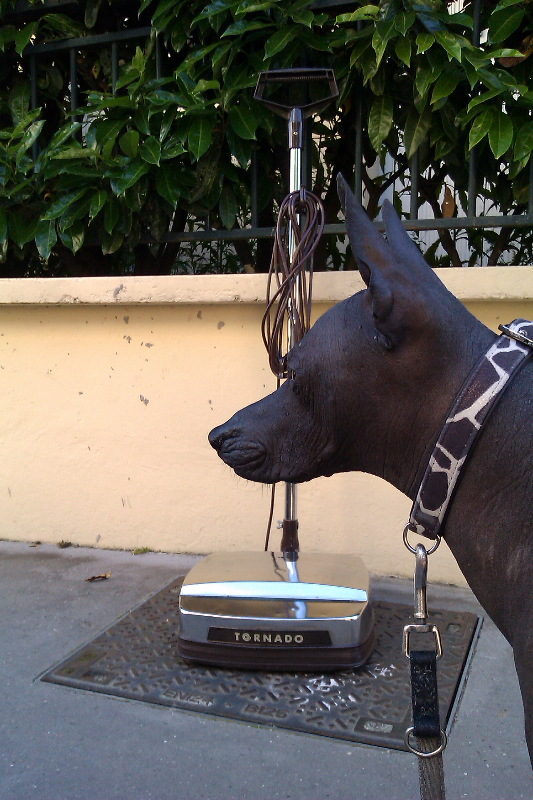 See yesterday's Links and Antidote du Jour here.