This is Naked Capitalism fundraising week. 1119 donors have already invested in our efforts to combat corruption and predatory conduct, particularly in the financial realm. Please join us and participate via our donation page, which shows how to give via check, credit card, debit card, or PayPal. Read about why we're doing this fundraiser, what we've accomplished in the last year, and our fifth target, more original reporting.
Yves here. Has the public become resigned to the great increase in wealth and power among the super rich? In recent years, the publication of an annual report on the state of the plutonomy garnered some chatter and wringing of hands in the press and econoblogoshere. The report was released earlier this month and got comparatively little notice. We're featuring a short post on it from last week to help fill this reporting gap.
By Mathias Vernengo, Professor of Economics at Bucknell University. Originally published at Naked Keynesianism
The new issue of the Credit Suisse Global Wealth Report (2015) has been published. Below is the distribution of global wealth.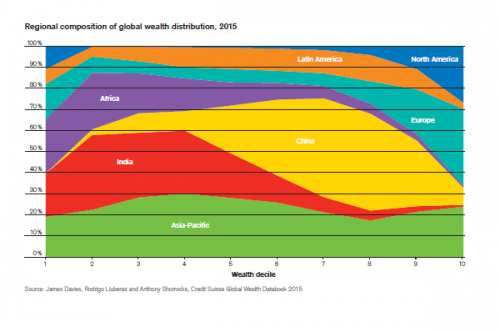 Nothing has changed much since we posted the previous version here. As I commented regarding the previous version, the poor are fundamentally in Africa, India, and Asia-Pacific (mainly Bangladesh, Indonesia, Pakistan, and Vietnam), while the wealthy are in the United States, Europe and Asia-Pacific (i.e. Japan). China has more people in the middle section of the wealth distribution than at the extremes.
Below is the Global Wealth Pyramid.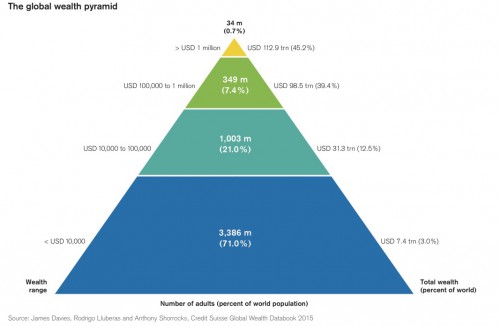 Not much difference from the previous one, but a bit worse. Now 71% of the population holds 3% of the wealth (before it was the 67% at the bottom who held 3.3% approximately). And the top 0.7% of the population holds slightly more than 45% of total wealth.
By the way, the U.S. has added more people at the top, while Japan and Europe have lost a few. If you are interested on how many really wealthy people there are (not the 34 million people at the top of the figure above, who are the ones worth more than 1 million), here is what the report says:
We estimate that there are 123,800 UHNW individuals worldwide, defined as those whose net worth exceeds USD 50 million. Of these, 44,900 are worth at least USD 100 million and 4,500 have assets above USD 500 million.
UHNW means Ultra-High Net Worth (or what a decade ago Citigroup analysts called the plutonomy). So about 4,500 with a net worth above $500 million.
Read the full report here.