By Lambert Strether of Corrente
2016
Paris
"Congressional Resolution Reinstates 'French' Fries, 'French' Toast" [Duffel Blog].

"This War Will Destabilize The Entire Mideast Region And Set Off A Global Shockwave Of Anti-Americanism vs. No It Won't" [The Onion]. 2003.
Money
"Money paid by 1MDB to the US company DuSable Capital Management, tasked with lobbying US Government support for its Kedah solar panel project, found its way into the the 2013/14 election campaigns of at least 7 Democrat candidates, according to official filings" [Sarawak Report (RS)]. "DuSable is headed by Frank White, who was President Obama's chief fundraiser during his  own election campaign in 2012 and known as a Democrat Party stalwart.So far, the only registered client has turned out to be 1MDB and the Government of Malaysia. This raises possible questions over indirect funding to American election campaigns by Malaysia in expectation of gaining influence, although it is not illegal for US registered companies to support candidates…. Fund managers say this appears to confirm that the entire joint venture investment was yet again a merely paper exercise by 1MDB, which Sarawak Report has already exposed for earlier channelling US$1.83 billion into a non-existent venture with the company PetroSaudi." (For "1MDB takes Manhattan", see here. For a review of the bidding on the IMDB scandal, see the Wall Street Journal, "Malaysia's 1MDB Scandal: Political Intrigue, Billions Missing and International Scrutiny.") The Sarawak Report concludes: "[A]lthough their dreams of private equity may have fallen through after just one year, President Obama's political friends can console themselves with a fine profit for their sparse consultancy work on a project that never took off for 1MDB and their lobbying work as a foreign agent for the Government of Malaysia." And what did the Obama Presidential Library get? Nothing. The Clinton Foundation? Nada. What's wrong with these people? And a "solar panel project" should cause a log of winger knees to jerk. Ka-ching.
The Debates
"Disappointing debate ratings spark Democratic campaign complaints" [Politico]. DNC: Mission accomplished!

"I'd say it's a win for Hillary Clinton – not because she necessarily did better than Sanders but because she's now ahead and I did not see anything happen that looks likely to change that dynamic" [Talking Points Memo].

"1 winner and 3 losers from the Democratic debate" [Vox]. Guess who?

"Hillary Clinton Botches Wall Street Questions" [Editorial, New York Times].

"Hillary Clinton's debate performance leaves trail of fodder for political adversaries" [Chicago Tribune]. Clinton didn't handle stress well. 

"[T]his debate will come and go without leaving a lasting effect on either the nomination or the general election, and there's no dishonor in saying so" [Honest Graft].
The Trail
"Paris Attacks Could Bolster Hillary Clinton's Support, Focus Group Indicates" [New York Times].

"Clinton's Wall Street Donors Say More Than 9/11 Built Their Bond" [Bloomberg]. So what was it? The cookies?

"Wall Street loved Hillary Clinton before 9/11, too" [WaPo].

"As Campaign Crumbles, Christie Hit with Epic BridgeGate Docu Dump" [Talking Points Memo].

"Ripped From Hillary's Emails: French Plot to Overthrow Gaddafi and Help Itself to Libya's Oil" [Foreign Policy in Focus].
Stats Watch
Empire State Manufacturing Survey, November 2015: "Negatives are beginning to run in Empire State with the index at minus 10.74 in November, right in line with the prior four readings and well below the Econoday consensus for minus 5.0o" [Econoday]. With unfilled orders down and the workweek down, it's no surprise that employment is down, at minus 7.27 for a third straight loss and the weakest streak since late 2009. … Manufacturers are keeping their inventories down while delivery times, reflecting the weakness in shipments, are speeding up." But, although it remains in contraction: "As this index is very noisy, it is hard to understand what these massive moves up or down mean – however this regional manufacturing survey is normally one of the more pessimistic" [Econintersect].
Retail: "Americans have more money in their wallets these days as wages grow, gas prices fall and inflation remains stagnant. But the share of their income available for retail spending is steadily dwindling, with a smaller percentage of discretionary dollars going to, say, clothing and food and a bigger percentage going to healthcare, education and the like" [Bloomberg].
"Overall, the median one-day loss (half are bigger, half are smaller) for the S&P 500 was 2.1% following terror attacks in the U.S. and Europe, as well as other market shocks dating back to the 1941 attack on Pearl Harbor" [USA Today]. Hmm.
"Debt Market Distortions Go Global as Nothing Makes Sense Anymore" [Bloomberg]. "It's hard to overstate how illogical it is when swap spreads are inverted. That's because it suggests that governments are less creditworthy than the very financial institutions they bailed out during the credit crisis just seven years ago." Unless the powers that be envision a Snow Crash scenario.
China: "Hong Kong-listed China Shanshui Cement Group filed for liquidation after the close of trading on Tuesday in Asia. Thursday, the company failed to make payments on 2 billion yuan of domestic obligations, the largest-ever corporate default in China's bond market. Cross-default provisions and covenant violations hit $500 million of bonds due 2020" [Forbes]. Oopsie.
Honey for the Bears: PPI-FD: "More deflation news. Nothing good here, and of course sales = income, so lower sales = lower incomes"; Retail Sales: "the boost to prior months from car sales looks like it's fading"; Manufacturing and Trade Inventories and Sales: "Looks to me like the excess inventory situation has gone from bad to worse, as sales continue to lag output" [Mosler Economics]. 
The Fed: "The data in the week ahead is unlikely to shake investors' confidence that the Fed will raise interest rates next month" [Brown Brothers Harriman, Across the Curve].
"Printing Money" [The New Yorker]. "A radical solution to the current economic malaise." Several mentions of MMT… 
"The study concluded that there is no correlation between customers' happiness and an airline's commercial success. In other words, airlines can do all they want to pamper travellers—provide friendlier service, roomier seats, more movie options, better food, greater punctuality—and none of it is likely to lead to higher profits" [The Economist, "Treating flyers well is bad for airlines' business"].
"Jobs [are now] outsourced not to India but to rural America" [Daily Beast (MR)]. "General Electric and General Motors are leaders in the trend to repatriate IT jobs, principally from India. The company's corporate clients are happy to contract out IT work to rural America. There are no time-zone challenges or language issues, and they get the same low costs as if they were offshoring." 
"Rising prosperity for the few means undue hardship for the many. That is the economy's underlying problem and it won't be solved until policymakers face up to it" [Teresa Tritch, New York Times, "The Real Problem With the Economy"]. Tritch is the Editorial Page Editor of the Times.
Today's Fear & Greed Index: 46 (-1); Neutral [CNN]. Last week: 68 (Greed). (0 is Extreme Fear; 100 is Extreme Greed). The needle slams back toward Fear. 
Black Injustice Tipping Point
"Killing of man who allegedly pointed a replica firearm at officers in California is 1,000th entry in Guardian database tracking police killings this year" [Guardian]. An order of magnitude more than Paris, one might add.
"Report: Video Of Chicago Police Shooting 'Shocks Conscience'" [CBS].
"This City Is Fining Black Residents For Having Weeds In Their Gardens" [HuffPo]. St Louis Country. Naturally.
Police State Watch
"Driven to hospital, Virginia man tased, shackled and dies in police custody" [MSNBC]. Oopsie.
"The Most Militarized Universities in America: A VICE News Investigation" [Vice]. There's a top 100 list: #1 is the University of America; interestingly, #3 is sleaze merchant University of Phoenix.  "[O]f the top 100 ranked liberal arts colleges in America, none appear on our list of the nation's 100 most militarized institutions." Well, somebody's got to handle the ideology… 
Health Care
"Consumer" Anne Cornwell: "When they said affordable, I thought they really meant affordable" [New York Times, "Many Say High Deductibles Make Their Health Law Insurance All but Useless"]. Of course, this isn't new to NC readers.
"Kentucky counties with highest Medicaid rates backed Matt Bevin, who plans to cut Medicaid" [Lexington Herald-Leader]. "'I'm just a die-hard Republican,' she said." Apparently so.
At Transylvania University, political scientist Andrea Malji said she has crunched state data and found a "99 percent confidence level" between the counties' Medicaid enrollment levels and their gubernatorial choices. The larger the Medicaid numbers, the more likely they were to back Bevin, she said. The lower the Medicaid numbers, the more likely they were to favor the Democratic nominee, Attorney General Jack Conway.
Corruption
"Thirteen Presidential Appointees (ten Obama, three Bush) are embroiled in a multi-billion dollar corruption scandal being probed by the US Department of Justice and four Inspector Generals. The appointees oversee the federal government's $3billion a year 'AbilityOne' program which is meant to pay for the employment of more than 50,000 disabled people–the largest such program in the United States" [WikiLeaks]. More from the Telegraph and the International Business Times: "The recordings appear to provide evidence of fraud within the administrations of George Bush and Barack Obama, with appointees to both presidents allegedly misappropriating funds in a government programme called AbilityOne." So it's bipartisan!
"In the past five years, public universities pumped more than $10.3 billion in mandatory student fees and other subsidies into their sports programs" [Chronicle of Higher Education, "The $10-Billion Sports Tab"]. "The average athletic subsidy that these colleges and their students have paid to their athletic departments increased 16 percent during that time. Student fees, which accounted for nearly half of all subsidies, increased by 10 percent." Ka-ching. Fire all the administrators, and gut the sports programs. Return universities to teaching and research.
"For TFA is it worse to be a charter critic or a Tea Party member?" [Gary Rubenstein].
Class Warfare
"Workplace systems that look more like the 'gig' economy of contractors are coming to traditional, full-time employers, and many workers seem to love it" [Wall Street Journal, "Companies Borrow Uber's Best Ideas"]. Uber's "best idea" is entering a market by breaking the law. That's why it has the valuation it has.
News of the Wired
"'Shrinking bull's-eye' algorithm speeds up complex modeling from days to hours" [MIT News].
"Is Hello Barbie every parent's worst nightmare?" [The Kernel]. "Now imagine that that doll was not only recording every one of your most intimate conversations and curious questions but learning how to respond to you."
"Since March, after abandoning a much-criticized plan to move the bulk of its research collection to New Jersey, the library has been working instead to create a high-tech space underground for the 2.5 million research works long held in its original stacks" [New York Times, "Beneath New York Public Library, Shelving Its Past for High-Tech Research Stacks"]. This is actually very good news.
"The messy reality of science revealed by the long hunt for a missing planet" [Ars Technica].
"Humans are not unitary individuals but superorganisms. A very large number of different human and non-human individuals are all incessantly struggling inside us for control" [BBC]. No we aren't. MR SUBLIMINAL Yes we are!
I might have to change my attitude about football:
Everyone isn't awful: The Green Bay Packers' quarterback responds to a fan's yelling 'Muslims suck.' ht @MattJ_onNFL pic.twitter.com/jqdcBN7O4q

— Saladin Ahmed (@saladinahmed) November 16, 2015
* * *
Readers, feel free to contact me with (a) links, and even better (b) sources I should curate regularly, and (c) to find out how to send me images of plants. Vegetables are fine! Fungi are deemed to be honorary plants! See the previous Water Cooler (with plant) here. And here's today's plant (Donna M):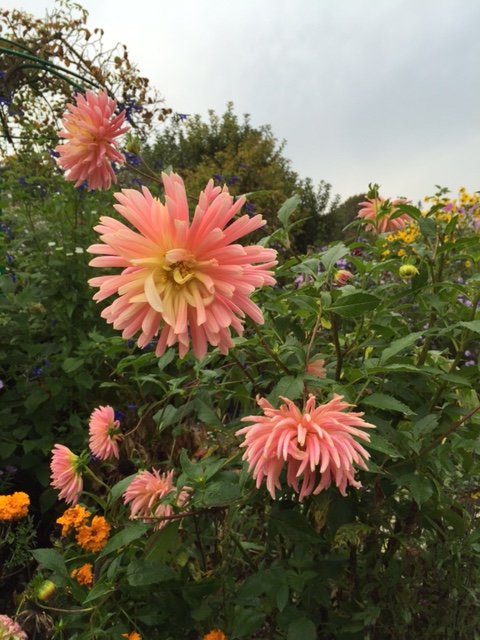 An orange Orange flower.
If you enjoy Water Cooler, please consider tipping and click the hat. Winter has come, I need to buy fuel, and I need to keep my server up, too.