By Lambert Strether of Corrente
TPP/TTiP/TISA
"States' Leadership On Healthy Food and Farming at Risk Under Proposed Trade Deals" [Institute for Agriculture and Trade Policy]. 
ISDS: "Under NAFTA, Canada has been hit by 70 percent of all NAFTA investor lawsuits. Yikes!" [Citizen Action Monitor (tegnost)]. And check this out: "Nova Scotia and Newfoundland and Labrador should stick to their position that the federal government alone must shoulder the costs of the NAFTA fines."
2016
The Voters
"Why Donald Trump's demagoguery is winning over GOP voters, in one chart" [WaPo].
Policy
"Obama: No credible intelligence about plot against US" [AP].

"GOP Candidate Marco Rubio's Tax Plan Has One Big Catch" [Wall Street Journal].
The Trail
I didn't know Donald Trump had a family crest [The Hill].

"The GOP is becoming fasco-curious. Max Boot, John Noonan, and Steve Deace—surrogates for Marco Rubio, Jeb! Bush, and Ted Cruz, respectively—are worried enough about Donald Trump's enduring poll lead that they've embraced the notion, propounded by liberals, that Trump is a fascist" [Brian Beutler, The New Republic]. I think Trump is an opportunist. But the playing field is tilted, all the nuts roll, the tilt is to the right, and there's no stopping place. So Trump, running (to mix metaphors) to daylight, runs right, right, right, and right again. And no matter how far and hard he runs, he's always on the field… On the other hand, anybody who runs left runs uphill and is gang-tackled immediately.

"Ben Carson set up a fund to help needy patients, but most of its money went to overhead" [Politico].

"Hillary Clinton skipped the MoveOn.org candidate forum, opting against answering questions from members of one of the nation's largest progressive groups" [The Hill]. Look, I can understand kicking the left. But kicking MoveOn?!
Stats Watch
Lots of releases today. Just in time for the tryptophan to kick in!
Bloomberg Consumer Comfort Index, week of November 22: "The consumer comfort index fell for the fourth time in five weeks" [Econoday].
Consumer Sentiment, November 2015: "Consumer sentiment fell back in the last half of November, and [the readings] unfortunately, point to a possible effect from the Paris attacks" [Econoday]. "Like yesterday's very disappointing consumer confidence report, weakness is centered in expectations with this component." And: "The latest sentiment number puts us 22.0 points above the average recession mindset and 3.8 points above the non-recession average" [Econintersect].
Personal Income and Outlays, October 2015: "The core PCE is the Fed's most important inflation reading and it is not showing rising pressure, coming in unchanged in October, vs an expected gain of 0.2 percent" [Econoday]. "Spending shows flat readings across categories including only a small gain for services which usually are strong." And: "The data this month showed stronger income growth (and at market expectations) – and spending growth remained weak (and was on the low side of expectations)" [Econintersect].
New Home Sales, October 2015: "New home sales are not surging, coming in near expectations" [Econoday]. "The median price, at $281,500, is down a very severe looking 8.5 percent in the month with the year-on-year rate at minus 6.0 percent." And: "[T]he improvement was less than last month's decline. The rolling averages smooth out much of the uneven data produced in this series – and this month there was a deceleration in the rolling averages" [Econintersect].
FHFA House Price Index, September 2015: "Yesterday's gains for Case-Shiller are now underpinned by a very strong FHFA house price report" [Econoday]. "Home-price appreciation is a central factor for household confidence and spending strength," heaven knows why.
MBA Mortgage Applications, week of November 20, 2015: "After spiking sharply in the prior week when rates jumped and triggered concern they would move even higher, mortgage application volumes eased" [Econoday].
Durable Goods Orders, October 2015: "The factory sector is showing life with new orders in October up a very solid 3.0 percent which just exceeds Econoday's high-end forecast"  [Econoday]. Excluding orders from the Dubai airshow, still up 0.5 percent. But: "The headlines say the durable goods new orders improved. The three month rolling average improved this month but remains in contraction" [Econintersect].
PMI Services Flash, November 2015: "New orders are the strongest since July with gains in both consumer and business categories" [Econoday]. "Strength is confirmed by a solid increase in employment."
Jobless Claims, week of November 21, 2015: "Initial claims fell 12,000 in the November 21 week to a lower-than-expected 260,000 level that is near 42-year lows" [Econoday]. But: "The 4-week average, however, is not pointing to outright improvement, unchanged at a 271,000 level that is trending more than 10,000 above the month-ago comparison. And continuing claims are backing up, at least in lagging data."
Ag: "Deere & Co unveiled a better-than-forecast finish to its 2015 financial year, and raised hopes for 2016 too, despite expectations of a continued decline in the world farm equipment market, particularly in the Americas" [Agrimoney]. I'm not sure heavy agricultural equipment is good for the soil… 
Shipping: "The Northwest Seaport Alliance of Seattle and Tacoma recorded modest growth in container volume in October, but it was sufficient to push the ports' year-to-date performance into positive territory" [Longshore & Shipping News].
Mosler on output, inventory build, and market clearing [Mosler Economics].
if agents spending more than their incomes weren't sufficient to offset agents spending less than their incomes the output didn't get sold, and inventories build. This leads to reduced production, reduced employment, and reduced income, in a downward spiral that only reverses via agents spending that much more than their incomes. With the private sector largely pro-cyclical, the reversal most often requires govt spending that much more than its income, either by reducing taxes or increasing spending. This can be done proactively, or the ugly way — via reduced tax collection due to the slow-down and rising unemployment benefits, as most often is the case, at least initially. With the currency itself a (simple) public monopoly, and in this case the currency monopolist is restricting the supply of net $US financial assets, and a necessarily pro-cyclical private sector, the idea of markets clearing on their own to restore output and employment is entirely inapplicable once the downturn is in progress.
That's the stuff to give the troops!
Today's Fear & Greed Index: 59 (+1); Greed [CNN]. Last week: 53 (Neutral). (0 is Extreme Fear; 100 is Extreme Greed).
Black Injustice Tipping Point
"Chicago releases dash-cam video of fatal shooting after cop charged with murder" [Chicago Tribune]. This is so appalling. First, the secret "interrogation center" at Homan Square; now this (and the CPD took a year to release the video). What kind of satrapy is Rahmn running? I mean, besides a deeply corrupt one?
"White Supremacists Shoot Five Protesters and MPD Attacks #Justice4Jamar Crowd" [Unicorn Riot]. I saw tweets to this effect in real time from Minneapolis, but no videos or photos. I don't have time to evaluate the provenance here. Ditto for this. Readers?
"Police arrested three suspects in connection with the [Minneapolis] Monday night shootings that wounded five protesters, and social media posts reveal a fascination with guns, video games, the Confederacy and right-wing militia groups" [Raw Story].
"White Dudes Shoot Up Black Lives Matter Crowd, Minneapolis PD Maces Them. All Lives Matter!" [Wonkette]. An accurate summary.
Big Brother Is Watching You Watch
"How Walmart Keeps an Eye on Its Massive Workforce" [Bloomberg]:
Internally, however, Walmart considered the group enough of a threat that it hired an intelligence-gathering service from Lockheed Martin, contacted the FBI, staffed up its labor hotline, ranked stores by labor activity, and kept eyes on employees (and activists) prominent in the group. During that time, about 100 workers were actively involved in recruiting for OUR Walmart, but employees (or associates, as they're called at Walmart) across the company were watched; the briefest conversations were reported to the "home office," as Walmart calls its headquarters in Bentonville, Ark.
Funny, Walmert management seems to think workers have a lot of leverage.
Police State Watch
"Confirmed cases of misuse of California's sprawling unified law enforcement information network have doubled over the last five years, according to records obtained by EFF under the California Public Records Act" [EFF].
Chicago police union contract requires misconduct records be destroyed. #LaquanMcDonald https://t.co/BMe8OC37iT pic.twitter.com/M7x5QfSQ69

— Samuel Sinyangwe (@samswey) November 25, 2015
Health Care
"To reduce turbulence in Obamacare's fledgling insurance markets, the Obama administration's top health official is pushing to get more information to consumers about what they'll actually pay for health care, which can include out-of-pocket costs as well as premiums" [Bloomberg]. Markets aren't "fledging," any more than democracies are "young," because neither are organic beings.
"Forty-five percent of Americans now say they have a negative view of the Affordable Care Act, while 38 percent have a positive view. This represents a reversal from earlier this year when, for the first time in three years, a greater number of Americans were in favor of the law than against it" [HuffPo]. "Americans also stand divided on what they want to see done with the law. Thirty percent want Congress to repeal the law, 12 percent would prefer them to just scale back on how much power the law has, 16 percent want it to remain as is, and 26 percent want Congress to expand it."
If insurance companies bail from ObamaCare, "there isn't likely to be a lot of sympathy from conservatives still sore at the industry for helping to push the ACA over the legislative hurdles five years ago. Republicans will of course still be willing to help those companies, but it will likely come at a higher lobbying price" [CNBC].
Gaia
"Earth Might Have Hairy Dark Matter" [NASA]. "[W]hen a dark matter stream goes through a planet, the stream particles focus into an ultra-dense filament, or 'hair,' of dark matter. In fact, there should be many such hairs sprouting from Earth."
"Age: It's All in Your Blood" [SAGE]. Epigenetics, among other things, which is why I'm filing it here. Readers may wish to pick apart the study.
"When the first farmers from the Near East plowed into Europe 8500 years ago, they brought with them more than a new lifestyle—they also set in motion changes in genes that altered the way Europeans looked, digested food, and adapted to disease" [Nature]. "The team reported earlier this year how natural selection favored the spread of genes for white skin, tallness, and to digest sugars in milk. For today's paper, the same researchers sequenced the DNA from additional skeletons and found that the transition to farming also favored genes to digest fats, as well as immune genes that protected against infectious diseases, such as tuberculosis and leprosy."
"100% global warming consensus in Exxon scientists' research contrasted its $31m campaign to cast doubt on that consensus" [Guardian].
Corruption
"Albany on Trial" [New York Times]. So much corruption, the Times creates a page for it.
"What You Missed in Sheldon Silver and Dean Skelos's Corruption Trials" [New York Magazine].
Guillotine Watch
This how one (reaosnably honorable) person who lives on Capitol Hill thinks about terror (Robert Bateman) [Esquire]. I've often wondered why America's elites think a tiny little military protectorate like Israel is a good model for a continental Federated systems security needs. Speculating freely: America's elites live close to each other in tiny little neighborhoods, and, given blowback, have very good reason to feel under threat. So here we are, trying to scale Israel, which is, basically, about the size of San Berdoo. Tile roofs aside, there aren't many other structural similarities. Again, except for elites!
"[T]he AFL-CIO has submitted shareholder proposals to six Wall Street banks and investment banks, asking for this practice of Government Service Golden Parachutes to end. The Wall Street firms involved are Bank of America, Goldman Sachs, Citigroup, JPMorgan Chase, Lazard and Morgan Stanley. In addition to Jack Lew's deal, the AFL-CIO states that Morgan Stanley's 'Chairman and CEO James Gorman was entitled to $9.35 million in vesting of equity awards if he had a government service termination on December 31, 2013′" [Wall Street on Parade]. So that's the oil that keeps the hinges on the revolving door working so smoothly and soundlessly!
News of the Wired 
"A Muslim woman has thanked the public for standing up to a man who racially abused her and her sister on a packed Newcastle train" [Guardian]. A war for civilization ("I think it would be a good idea," as Ghandi said).
"And as B.T. oscillated between identities, her vision flicked on and off like a light switch in her mind. The world would appear, then go dark"  [WaPo]. "Writing in PsyCh Journal, B.T.'s doctors say that her blindness wasn't caused by brain damage, her original diagnosis. It was instead something more akin to a brain directive, a psychological problem rather than a physiological one." One wonders about the implications for identity politics.
"Bertha: The big risks may lie ahead" [Crosscut]. Just in case Atrios didn't see this one.
"U.S. aviation infrastructure–including airports, air traffic controls, and aircraft–is a vital link in the U.S. transportation system. Its relative performance and outlook, though, is mixed. More people travel by air in the United States than on any other nation's system but the U.S. system ranks behind other major industrialized states in performance. Its airports perform poorly on international rankings, and no U.S. airline rates among the top performing global carriers" [CFR]. As readers who are flying this week are no doubt finding out!
* * *
Readers, feel free to contact me with (a) links, and even better (b) sources I should curate regularly, and (c) to find out how to send me images of plants. Vegetables are fine! Fungi are deemed to be honorary plants! See the previous Water Cooler (with plant) here. And here's today's plant (Marise):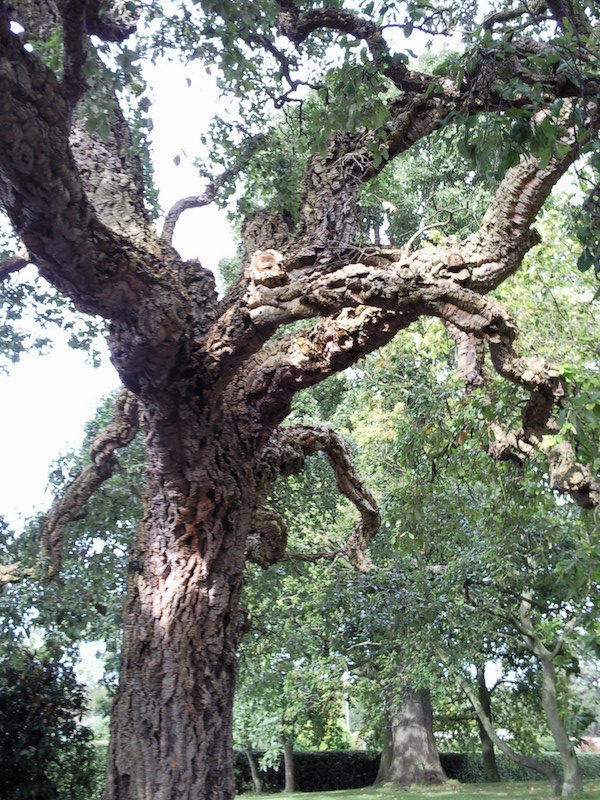 A cork oak in the Dublin Botanical Gardens.
* * *
If you enjoy Water Cooler, please consider tipping and click the hat. Winter has come, I need to buy fuel, and I need to keep my server up, too.