By Lambert Strether of Corrente
TPP/TTiP/TISA
The timeline [href="http://blogs.cfr.org/lindsay/2015/11/05/next-steps-for-the-tpp/">Council on Foreign Relations]. "The release, coupled with Obama's statement that he intends to sign the deal, triggers two of the timelines set up by Trade Promotion Authority (TPA) legislation that Congress passed back in June." (NOTE: TPA = "Trade Promotion Authority" = "Fast Track.")
The first is the ninety-day clock. TPA requires the president to wait ninety days after announcing his intent to sign a trade deal before actually signing it. So while the United States and its eleven negotiating partners announced exactly one month ago that they had struck a deal, it's still awaiting signatures. Indeed, the text is still being translated into French (for Canada) and Spanish (for Chile, Mexico, and Peru), and the lawyers might still make some technical corrections.

The second timeline is a sixty-day clock. TPA requires that the terms of any trade deal be made public for at least sixty days before Congress can consider it. Because the administration released the text at the same time it announced its intent to sign the deal, the sixty-day clock has no practical effect.

Does this mean that Congress will be taking up the legislation needed to implement TPP come early-February? Not quite. With the sixty-day clock already satisfied by then, Congress certainly could begin considering TPP once Obama signed it. But TPA does not require it to. Instead, the decision on when to formally begin deliberations rests with congressional leaders. Once they introduce the implementing legislation, Congress will have at most ninety days to hold an up-or-down vote. The legislation can't be filibustered or buried in committee, so the common ways in which legislation gets killed on Capitol Hill won't apply in this case.

How quickly congressional leaders will move on TPP will depend partly on when the administration will have the implementing legislation ready. TPP is a big, complex document, and the implementing legislation likely will be as well. Even more important, congressional leaders (and the administration) will be looking to see if the votes are there to pass TPP.

On that score, TPP is heading into the stiff political winds of Campaign 2016. Hillary Clinton, who once championed TPP, now opposes it, at least in its current version. Many Democratic lawmakers are feeling pressure to follow her lead. That pressure will likely grow as we move closer to Election Day. Republicans historically vote overwhelmingly for trade deals. But several GOP presidential candidates oppose TPP and the enthusiasm in GOP ranks for giving Obama a major legislative victory is low.

So don't be surprised if a vote on TPP gets kicked into a lame-duck session or even into next year and a new administration.
U.S.: "'The question is: will the White House demonstrate as much political will and determination as they did with the TPA (fast track) vote?' the trade lobbyist said" [Forbes]. "This being Obama's last big policy initiative, there's no reason to think they won't." Yes, Obama cares about this, unlike, say, health care. And they wouldn't do this in the middle of an election if they didn't think they had the muscle could pass it. But they've been wrong before, and could well be wrong again.
U.S.: "But U.S. Senate Finance Committee Chairman Orrin Hatch, a Republican whose support will be crucial to passing the deal, said that although he reserved judgment on the fine print, negotiators might have to go back to the table" [Reuters]. "While Hatch said he would carefully study the text, released on Thursday, he saw problems with provisions on tobacco, labor rules and dairy. 'We're losing votes as we speak for no good reason,' he told reporters. 'My suggestion is, get back to the bargaining table and let them know that this may not pass.'"
Japan: "Abe also said he would 'enthusiastically welcome' South Korea and Indonesia, which have signaled interest in joining the zone, so long as they 'accept the rules' that Tokyo helped to write" [Japan Times]. And: "'The TPP truly constitutes a grand plan for the long-term future of our nation,' [Abe] said" [Business Spectator].
Japan: "Japan has agreed with five of the 12 nations involved in the Trans-Pacific Partnership free trade initiative to launch talks, if requested, on their terms of agreement seven years after the pact's ratification, sources said Wednesday" [Japan Today]. "The draft of the broadly agreed free trade pact, which could be made public as early as Thursday, includes a provision to allow the United States, Canada, Australia, New Zealand and Chile to renegotiate (!!) terms of their trade agreements related to tariffs and other arrangements with Japan, they said." 
New Zealand: ["[Anti-TPP activist Jane] Kelsey has a grant for a team to analyse the text and will feed out those results as they're sifted through" [Newstalk ZB]. Kelsey's project is one to watch.
Canada: "'Trudeau is under a lot of pressure to adopt this deal as soon as possible, with calls already coming in from U.S. President Barack Obama and Japanese President Shinto Abe,' acknowledged the [Council of Canadians'] national chairperson, Maude Barlow'" [Truth Digest]
Canada: "How TPP will clobber Canada's municipal archives and galleries of historical city photos" [Boing Boing].
* * *
Here's the list of Democrats who voted to give Obama Fast Track Authority to pass TPP. Feel free to call them so share your views; there are so many reasons TPP is bad it's hard, at this point, to pick one, so name your poison. The links below should help, though I'm sure they only scratch the surface.
Government Procurement: "The Trans-Pacific Partnership (TPP) has removed the barriers from government procurement, opening up equal market access to tech companies from each of the 12 member countries" [ZDNet]. From the Government Procurement chapter:
With respect to any measure regarding covered procurement, each party, including its procuring entities, shall accord immediately and unconditionally to the goods and services of any other party and to the suppliers of any other party, treatment no less favourable than the treatment that the party, including its procuring entities, accords to: (a) domestic goods, services, and suppliers; and (b) goods, services and suppliers of any other party," Article 15.4(1) says
I note the weasel words "covered procurement," but if this means what I think it means, it makes H1B look like a sloppy wet kiss.
IP: "Little in the Trans-Pacific Partnership deal has generated more controversy than the chapter on intellectual property — and for good reason. The stakes in this chapter are literally life and death" [Vox]. "Supporters and opponents of the TPP's IP provisions are actually in broad agreement: The deal will mean that consumers pay more for drugs, movies, and other American-made products, producing larger profits for American companies."
IP: "KUALA LUMPUR: The government will be pronouncing a death sentence on sufferers of serious diseases if it signs the Trans-Pacific Partnership Agreement (TPPA), says Klang MP Charles Santiago" [Free Malaysia Today]. "'This is a warning to all Malaysians,' he said. 'If we don't oppose the TPPA, it will bring death to us, especially those who are ill.'" Directly opposite to what Hatch wants, FWIW.
IP: "[T]he newly released TPP.  It could have a big impact on cybersecurity.  That's because the deal prohibits nations from asking mass market software companies for access to their source code" by Article 14.17  [WaPo]. " If other countries can inspect US source code, they'll find it easier to spot security flaws, so the US government would like to keep other countries from doing that.  But I doubt US security agencies are comfortable letting Vietnam write apps that end up on the phones of their employees without the ability to inspect the source.  In short, this is a tough policy call that is likely to look quite different in five years than it does today…. [A]pproval of the TPP will depend almost entirely on Republican votes.  If the source code provision leads GOP national security hawks to rethink their support for the deal, the deal will be in real trouble on the Hill."
IP: "Under laws mandated by the treaty, ISPs will have to remove cached copies of infringing material and search results pointing to such material upon receipt of a complaint, and they will be required to enforce court orders by removing or disabling access to infringing material stored by others" [CIO]. "ISPs will also be required to take down infringing materials promptly if they become aware of an infringement — whether as a result of a court order, infringement notice or some other way. They will not be held liable if they take down allegedly infringing content in good faith." So that shows how the balance is tilted.
IP: "Despite earlier promises from both the USTR and Australia that intellectual property would not be subject to the "corporate sovereignty" provisions (which they call "investor state dispute settlement" or ISDS), they absolutely are. And this is a massive problem. It means that any country that's a member of the TPP can effectively never move its intellectual property rules in the direction of better benefiting the public — because some foreign company will claim that this takes away their expected profits. Section 9.1 lists "intellectual property" as the type of asset that is a part of the ISDS process" [Techdirt]. Yes, IP is a "covered asset"; see Article 9.1 [KEI Online].
Telecommunications: "The Trans-Pacific Partnership (TPP) is encouraging its 12 member states to promote more transparent and reasonable costs for international mobile roaming services in order to support the growth of trade and improve consumer interests, but has fallen short of explicitly requiring regulation" [ZDNet]. Well, roaming rates would benefit customers, not telcos. So… 
Environment: "After nearly six years of Trans-Pacific Partnership (TPP) negotiations conducted under  extraordinary  secrecy, the release of  the final text reveals that the TPP  environment  chapter  fails to protect our  environment. The chapter  excludes core environmental commitments  that have been included in all U.S. trade agreements since 2007 and fails to meet the minimum degree of environmental protection required  under  the Bipartisan Congressional Trade Priorities  and  Accountability Act of 2015, also referred to as 'fast  track'" [Sierra Club].
Tobacco: "This 'tobacco control' provision forces each TPP partner country to choose to exercise protection for tobacco control measures, instead of providing a guarantee under international law" [Cpath]. "By requiring each country to take unilateral action to elect to deny the use of the TPP's trade dispute mechanism, it leaves that country subject to charges that it is violating other agreements that include an investor-state dispute systems (ISDS), or violating WTO agreements." In "nudge theory" terms, then, TPP is an "opt out" instead of an "opt in" agreement. I wonder if Mitch McConnell, from the tobacco state of Kentucky, knows this? I'm guessing yes.
Development: "The 'development chapter' of the deal is almost embarrassingly contentless. It's like a parody of a treaty, using various formalities to dress up the fact that it does absolutely nothing. It mostly consists of the parties 'acknowledging' and 'recognizing' various banalities" [Vox].
* * *
"At the 4th Summit of the Americas 10 years ago in Mar del Plata, Argentina, the proposed Free Trade Area of the Americas was pronounced dead and buried. Today, 10 years on, the Democracy Center has interviewed three prominent social leaders who successfully fought, alongside hundreds of activists and organizations from across the continent, against what was intended to be the world's largest free trade area and the greatest corporate offensive in modern history" [Latin America in Movement]. In other words, victory for the trade traitors is not a foregone conclusion!
2016
Policy
Sanders to Boston Globe editorial board: "I disagree with Hillary Clinton on virtually everything" [Yahoo News]. "What is important is to look at is the record, the track record that Hillary Clinton has had for her long and distinguished career as a public figure."

"Sanders offers bill to legalize marijuana" [The Hill].

"Hillary Clinton: Raise Federal Minimum Wage To $12 Per Hour" [HuffPo]. I guess that's all the Walmart Board will allow… 
Voters
"I've seen America's future – and it's not Republican" [Stan Greenberg, Guardian]. Greenberg is a top Democratic pollster, and this is the argument that demographics will — eventually — do the Democrats work for them. Therefore, concrete material benefits to voters are not a priority, and gestures toward identity politics are. As I argued yesterday, the loss in Kentucky makes that assumption dubious.

"As the parties head into a new presidential year, the country's partisan divide has deepened. Republicans walked away from Tuesday with the big wins. Democrats walked away with fresh confidence that their map can win a third presidential election in a row" [WaPo].
Money
"Top Rubio campaign aides point to a February 2010 statement from a party spokeswoman who said at the time 'there are no formal party rules or bylaws that govern credit card expenses'" [CNN]. I think anybody with common sense knows you don't put personal expenses on the company card. Of course, lots of people think it's OK to set up a foundation to peddle influence by laundering money, so there's that.

Rubio, in New Hampshire: "I find it ironic that the only person running for president that's ever declared a bankruptcy, four times in the last 25 years, is attacking anyone on finances" [The Hill].

"Jeb Bush's decision to attack old friend and new rival Marco Rubio is backfiring, pushing important supporters to criticize the campaign's tactics and driving one of Florida's top fundraisers to officially quit and signal a shift in allegiance to the senator" [Politico].
The Trail
"Republicans give [Jebbie] high marks for being easygoing and likable and for possessing the experience and knowledge to handle the presidency. He also scores much higher than businessman Donald Trump on having the right temperament for the job, according to the latest Wall Street Journal/NBC News poll" [Wall Street Journal, "GOP Voters Find Jeb Bush Likable, But His Challenges Run Deep "]. "But the numbers get pretty grim from there. The share of Republican primary voters who said they are open to supporting Mr. Bush has dropped 10 percentage points since September. The drop has been twice as steep among self-described tea-party Republicans, with just 36% now saying they would be open to voting for him." Jebbie's likeable enough…

"Bernie Sanders's last stand?" [Greg Sargent, WaPo]. (If Sanders can keep filling halls and collecting small donations, why does he have to quit?) Suspicious and sudden unanimity among Democratic loyalists in our famously free press. Note Clinton's tack right to Bibi yesterday. Note Clinton's tack right to the $12 minimum wage today. Expect more. Like this:

UPDATE "Hillary Clinton accused of race smear against Bernie Sanders by hinting he is calling gun violence a 'black problem'" [Daily Mail]. Seems early to deploy racist smears, but it seems the Clinton faction is feeling triumphalist.

The Big Dog: "But people close to the Clintons tell POLITICO it's not unusual for him to sit in on big meetings or even participate in conference calls with senior staff from time to time. He's motivated by his belief that Hillary belongs in the Oval Office" [Politico].
Stats Watch
Employment Situation, October 2015: "Bring on that rate hike! Nonfarm payrolls surged 271,000 in October vs expectations for 190,000 and against Econoday's top-end forecast for 240,000. Revisions in prior months are not a factor. Among the superlatives, the 271,000 rise for nonfarm payrolls is the strongest since December last year. The 5.0 percent unemployment rate is the lowest since April 2008" [Econoday]. "Other readings include no change for average weekly hours at 34.5, , but a 1 tenth rise in the employment-to-population ratio to 59.3 percent." Here, after popping the champers, we pause to congratulate Obama for making a permanently shrunken American workforce a reality. And nevertheless: "The BLS job situation headlines from the establishment survey was very good. The unadjusted data shows growth is at the highest levels this century" [Econintersect].
Rail: " Rail Week Ending 31 October 2015: Monthly Data Now Contracting 4.3% Year-over-Year" [Econintersect].
The Fed: "The broad-based improvement checks all the boxes that the Fed will need to feel comfortable raising rates in December. We now see this as the most likely outcome and are formally shifting our forecast to expect the first rate hike at the next FOMC meeting" [TD Securities, Across the Curve].
The Fed: "The U.S. central bank has been saber-rattling for months regarding interest rate hikes but has yet to pull the trigger amid uneven economic data" [CNBC]. I'm only quoting this because it's the best mixed metaphor ever.
The Fed: "Federal Reserve Chair Janet Yellen and New York Fed President William Dudley both said the central bank could boost interest rates as soon as next month, while Fed Vice Chairman Stanley Fischer voiced confidence that inflation isn't too far below the central bank's goal" [Bloomberg].
The Fed: "Despite a steady job surge that makes a rate increase likely soon (the Labor Department reported Friday that the economy added another 271,000 jobs in October), what Yellen is offering is a deeper truth" [Politico].
It is looking increasingly unlikely that inflation, wages and labor markets are in a cyclical funk in the United States and increasingly likely that some fundamental structural shift has occurred.

That shift, of lower cost goods, less velocity of money, lower wages, gig employment, the disruptions of technology, globalized capital markets, evaporating inflation, invalidates many of the bedrock assumptions of central banks. Yellen and many others are working furiously to understand and not to make missteps born of rigid and false theories.
The Fed: "The idea that policies that depress the economy in the short run also inflict lasting damage is generally referred to as 'hysteresis'" [Paul Krugman, New York Times]. "One striking aspect of the past few years has been how few people are willing to admit having been wrong about anything. It seems all too possible that the Very Serious People who cheered on disastrous policies will learn nothing from the experience. And that is, in its own way, as scary as the economic outlook." For example, if some percentage of the workforce has decided that the jobs on offer are so crapified that they're not compatible with basic human dignity — and that the system is rigged against them — then it's going to be harder to lure them back into the workforce than it would otherwise be. In other words, there are problems that — contrary to neo-liberal dogma — cannot be solved by the market. Man does not live by price alone.
The Fed: "So, the biggest risk to the world, despite its growing seriousness, is not the deflation of a bubble. It is the risk of that becoming intertwined with geopolitics" [Paul Mason, Guardian]. Some damned thing in the South China Sea… Or the Mediterranean/Black Sea littoral… 
Today's Fear  & Greed Index: 71 (-1); Greed [CNN]. Last week: 70 (Greed). (0 is Extreme Fear; 100 is Extreme Greed)
Gaia
Obama set to reject Keystone [WaPo]. A sop to "progressives" to distract them from TPP. Of course, the proper response to any leftward movement by Democrats is "Great! But what have you done for me lately?" But this response is unlikely to be made.
"Global Warming's Fingerprints Are Found On 14 Extreme Weather Events From 2014, Report Finds" [Weather Underground].
Class Warfare
"'When cabbage and peas were often our best meal.' A Letter from an 18th-century Journeyman Cabinetmaker" [Lost Art Press]. Extraordinary cabinet work made by craftsman living on cabbages in the Little Ice Age.
Seattle City Councillor Kshama Sawant of the Socialist Alternative beats bank-backed Urban League President Pamela Banks [In These Times].
Sawant's campaign mobilized over 600 volunteers, knocked on more than 90,000 doors, placed more than 170,000 phone calls and raised more than $450,000, with no money from corporate backers. It also engaged in a sophisticated voter ID operation, slicing up the Capitol Hill district into scores of blocs according to turnout and what percentage voted for Sawant in the August primary. The campaign then identified likely voters, ranked them on their degree of support for Sawant, and engaged them multiple times to turn them into votes.

It was a concrete example of how labor, when well organized, can beat capital. Banks' campaign expenditures were mostly on consultants and advertising, while Sawant's went toward labor and literature.

Such intensive retail politics is a rare type of organizing experience for the radical left these days.
If Sanders really wants to build a movement, Seattle is one place to look.
The force that's killing poor White working class Americans is racism, says [The Week]. Not their own, the writer hastens to add, but systemic racism. You can bet that nuance will be left out when this article propagates, however. A handy rule of thumb for career "progressive" discourse: It's always OK to talk about race. It's often OK to talk about gender. It's never OK to talk about class. 
"Two weeks ago, [San Francisco's] city's mayor released a five-year plan to offer housing assistance to 500 San Francisco Unified teachers by 2020, to try to keep them in the city" [Los Angeles Times]. It's OK. They can sleep on couches like the tech bros, and leave for home on the weekend.
"[Albuquerque] says jobs for homeless program is working" [KOAT]. As Bill Mitchell points out, a mini-Jobs Guarantee!
News of the Wired
Novel writing computers [Safari Books Online]. Winston Smith's job, IIRC.
* * *
Readers, feel free to contact me with (a) links, and even better (b) sources I should curate regularly, and (c) to find out how to send me images of plants. Vegetables are fine! Fungi are deemed to be honorary plants! See the previous Water Cooler (with plant) here. And here's today's plant (Isabel):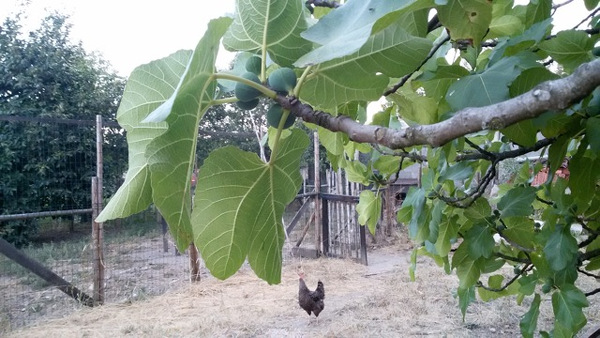 Continuing our fig motif, here is a fig tree with a chicken!
If you enjoy Water Cooler, please consider tipping and click the hat. Winter has come, I need to buy fuel, and I need to keep my server up, too. And thanks so much for the donations during the annual fundraiser. They are much appreciated, both practically, since I immediately socked them in to infrastructure, and as signs that you enjoy the work.