Rupert Murdoch Takes Over National Geographic, Then Lays Off Award-Winning Staff ReverbPress. Chuck L: "He trashed it on the first day he owned it."
Not Just Academics Fed Up With Elsevier: Entire Editorial Staff Resigns En Masse To Start Open Access Journal TechDirt (Chris G)
Garden bird survey aims to solve goldfinch mystery BBC
Kangaroo flatulence research points to new climate change strategy for farmers Guardian (Dr. Kevin). The 'roo photos are great. They look as if they are ready to fight off someone intent on giving them a proctological exam.
NASA releases HD sun video YouTube (David L)
Covering the deserts with solar will also change the climate ars technica (EM)
Paris climate deal to ignite a $90 trillion energy revolution Ambrose Evans-Pricthard, Telegraph. This seems inconsistent with China's use of coal-fired electrical plants…Put it another way, I'd love to think this were true, but it's utterly inconsistent with what we've seen heretofore.
The Brain's GPS May Also Help Us Map Our Memories NPR (David L)
A radical new drug therapy could clear up 'superbug' infections Business Insider (David L)
Corbis said to be cutting about 15% of workers amid photo price war Seattle Times (agreenie)
I'll eat my hat if we are anywhere near a global recession Ambrose Evans-Pritchard, Telegraph. As Warren Mosler said, "They all believe in the monetary policy fairy…"
House prices set for long period of 'stagnation': Barclays Sydney Morning Herald. EM: "Because ginormous bubbles never end in crashes but merely in 'secular stagnations' or – to put a mor optimistic spin on things – 'permanently high plateaus', dontchaknow, especially when it's hot money fleeing the deflation of even bigger bubble which is fueling the bubble in question."
China?
The Economics of War with China: This Will Hurt You More than It Hurts Me War on the Rocks (resilc)
EU Asks Whether Some National Antitrust Agencies Lack Teeth
WSJ Brussels. Quelle surprise!
Eurozone needs independent fiscal oversight, says Dijsselbloem Financial Times. Contradicts Ambrose Evans-Pritchard's optimism re more fiscal spending.
Legendary auto exec says VW was under a 'reign of terror' that led to emissions scandal Business Insider (David L)
FINANCIAL TIMES FRONT PAGE: "National Grid in emergency plea for heavy users to power down" @skynews. More infrastructure tsuris.
Syraqistan
Dialogue, ceasefire, escalation of war in Syria Asia Times (margarita)
Big Brother is Watching You Watch
Snowden inspires New Zealand 'protected disclosure' regime ZDNet (Chuck L)

Congressman introduces bill to end warrantless Stingray surveillance Guardian

TSA airport screeners' ability to detect weapons declared "pitiful" ars technica (Chuck L)
Imperial Collapse Watch
Michael Moore's gutsy new film: Our military has not won a war since World War II Salon (resilc). And the Russians did more to win WWII than we did. Some military historians contend that the US Third Army was the only operationally effective major unit in the Western European theater.

'Iron-ass' Cheney and 'arrogant' Rumsfeld damaged America, says George Bush Sr Guardian
Trade Traitors
Bringing in 1.5 million Bangladeshi workers due to need – Zahid astrowani. Moss: "Malaysian government is to approve bringing in 1.5 million Bangladeshi "workers" due to employer needs! Everyone family can rent one …"

Pacific trade deal targets Chinese hacking Financial Times. So get this straight….the other prospective signagtories are supposed to get excited about a measure that mainly benefits Hollywood and Silicon Valley? It's not as if the TPP give any enforcement powers against hacking that reach into China. This is basically asking OTHER countries to join the US criminalization effort.
2016
Confessions of a Paywall Journalist Washington Monthly (Eric A). Important.
Paul Ryan Unites House Republicans Under a Single Extremist Agenda Charles Pierce, Esquire (resilc)
How Democrats Suppress The Vote fivethrityeight (steve h). I find "suppress the vote" to be a dishonest framing. Voter suppression = denying people the right to vote or by setting up high barriers to voting. Not that I am a fan of the Democrats, but tactics need to be called by their proper names.
Buffett's BNSF helped lead fight to delay train safety technology Reuters (EM)
Ambling Through America's Most Stoned Suburbs New York Magazine
Spoofing verdict shocks futures trading industry Financial Times. Faking out other traders has long been seen as acceptable in the Wild West of foreign exchange and commodities markets. See Andy Krieger of Bankers Trust as a famous example of this sort of trader. But the use of HFT-type strategies to do it algorithmically is the new angle the regulators are attacking.
There's a new way traders are defrauding the market — and they're starting to get busted for it Business Insider
Class Warfare
Meet the Boston Lawyer Who's Putting Uber on Trial Wall Street Journal (Li). A must read, if nothing else because it's so rare to see someone this tenacious and effective on the anti-plutocrat side of the table. Google the headline if you are not a subscriber. But man, are the comments depressing.

Kraft Heinz to shutter 7 plants, build new facility in Davenport OCTimes. Troy: "Long story short – Kraft wants tax incentives to build a new plant that will eliminate 1000 jobs. They have no shame."

The Rigging of the American Market Robert Reich
Antidote du jour. After seeing our Antidote the day before yesterday, of a Siberian Forest Cat perched non-chalantly on a post in the snow, reader Maren, a writer and artist in Queens, sent this picture of her Siberians:
Their coats are not quite as spectacular yet, but they are both only kittens. That's Grape on the right and Oberon ("Bobo") on the left. Oberon is only 9 months old and already 17 pounds…
In other words, Oberon is on his way to being a small pony. I hope Maren has a big kibble budget!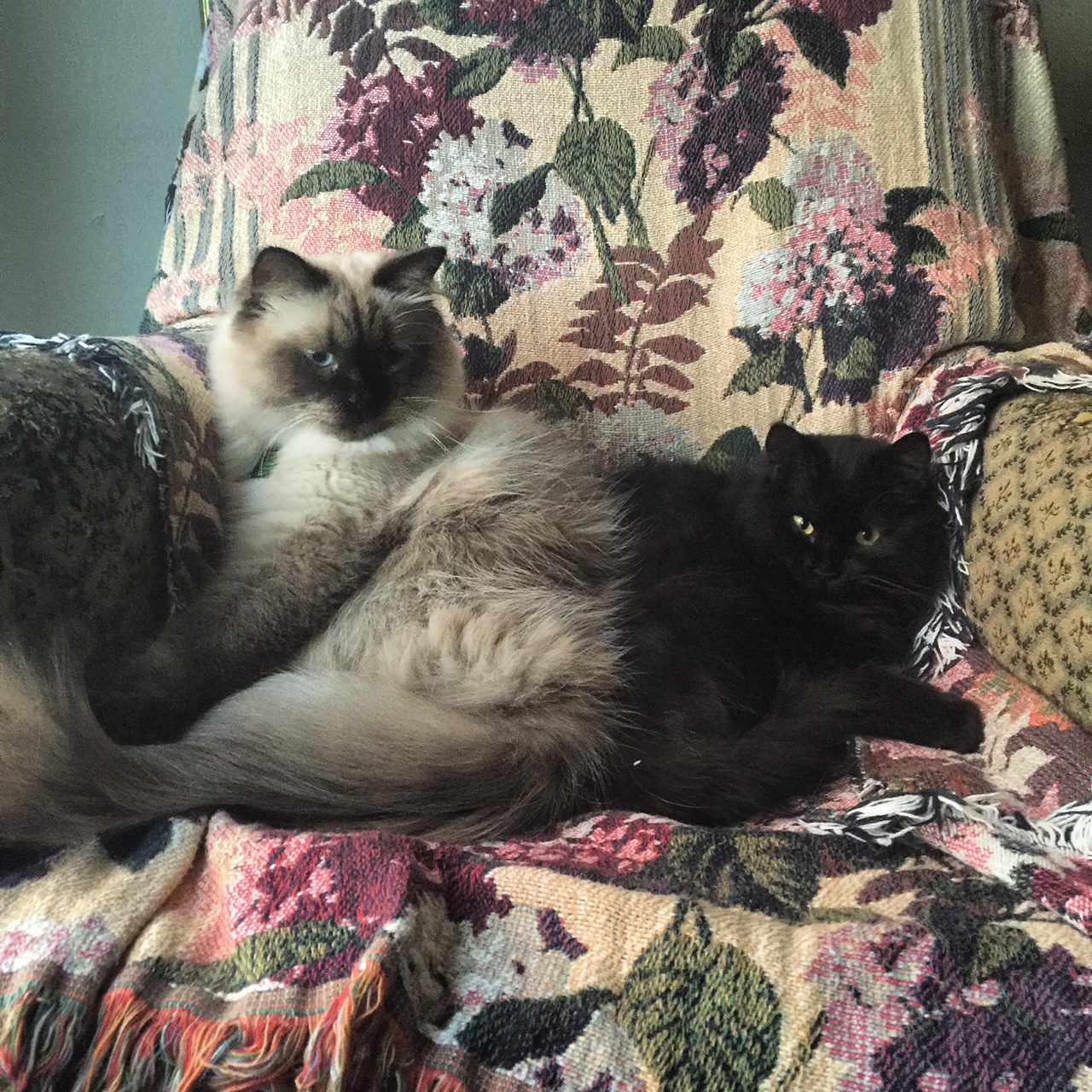 See yesterday's Links and Antidote du Jour here.