The Financial Times' Martin Wolf today pointed to the flagging US labor participation rate as a sign that all is not well with the US economy:
In 2014, 12 per cent — close to one in eight — of US men between the ages of 25 and 54 were neither in work nor looking for it. This was very close to the Italian ratio and far higher than in other members of the group of seven leading high-income countries: in the UK, it was 8 per cent; in Germany and France 7 per cent; and in Japan a mere 4 per cent.

In the same year, the proportion of US prime-age women neither in work nor looking for it was 26 per cent, much the same as in Japan and less only than Italy's. US labour market performance was strikingly poor for the men and women whose responsibilities should make earning a good income vital…

What might explain the extent to which prime-aged men and women have been withdrawing from the labour market in the US over a long period? The comforts of idleness cannot be a plausible explanation since the US has the least generous welfare state among high-income countries. High minimum wages cannot be blocking job creation and so persuading low-skilled workers to abandon the search for jobs. According to the Organisation for Economic Co-operation and Development, US minimum wages were 20 per cent below UK levels in real terms in 2014 and far further below the generous levels in France. Moreover, the US still has the OECD's least-regulated labour market…

So what might explain the trends? In the case of prime-aged women, the ab­sence of affordable childcare would seem a plausible explanation. Society has apparently decided it does not want to pay to keep women in the workforce.

Another possible explanation is that labour market flexibility allows emp­loyers to substitute the young and the old for prime-aged workers. The US has relatively high participation rates for people aged 15 to 24. It has also experienced a big rise in the participation rate for people over 65, from 13 per cent in 2000 to 19 per cent in 2014. The latter puts it behind only Japan in the G7. Low minimum wages and high transport costs for workers living in sprawling US conurbations might also make low-wage work unprofitable.
Despite Wolf's bloodless language, he clearly regards the issue as serious. He describes this withdrawal from work as a "dysfunction" and says it demands not just study but action as well.
The underlying pathology is not hard to describe: employers (enabled by the Fed which has since the 1980s been only too wiling to provide for higher levels of unemployment so as to curb labor bargaining power to keep inflation tame) have succeeded in eliminating labor bargaining power. That program has been aided and abetted by the popularization of libertarian ideologies, which encourage many to see themselves as more in charge of their destiny than they are and thus see success and failure as the result of talent and work, as opposed to circumstance. For instance, one group that could have disproportionate power if they chose to use it, tech workers (particularly systems administrators and key support personnel in large systems deployments) have never seemed inclined to find a way to use it.
And as we saw in the widely reported story yesterday, on rising death and morbidity rates in less-educated white men and women aged 45 to 54, the scarcity of jobs in some parts of the country and the erosion of low-end work conditions and pay is now doing damage on a societal level. And some of this is, as Wolf suggests, not just because candidates can't find jobs, but in many cases, the jobs just aren't good enough (or more accurately, the pay is not good enough; the fundamental rule of neoliberalism is that everything can be solved by prices, and higher pay makes a crappy job more bearable).
This is not just armchair theorizing. In 2014, the New York Times reported on the issue of how labor force participation had fallen among prime working age men since the 1960s and have been accompanied by a decline in the participation of women since 2000. The article focused on how some middle aged men were remaining unemployed even though there were jobs they could take because they felt the work didn't pay enough. From the story:
Frank Walsh still pays dues to the International Brotherhood of Electrical Workers, but more than four years have passed since his name was called at the union hall where the few available jobs are distributed. Mr. Walsh, his wife and two children live on her part-time income and a small inheritance from his mother, which is running out…

"I'd work for them, but they're only willing to pay $10 an hour," he said, pointing at a Chick-fil-A that probably pays most of its workers less than that. "I'm 49 with two kids — $10 just isn't going to cut it."
The article relied on a poll by the Times, CBS News, and the Kaiser Foundation. From its findings:
Many men, in particular, have decided that low-wage work will not improve their lives, in part because deep changes in American society have made it easier for them to live without working. These changes include the availability of federal disability benefits; the decline of marriage, which means fewer men provide for children; and the rise of the Internet, which has reduced the isolation of unemployment.

At the same time, it has become harder for men to find higher-paying jobs. Foreign competition and technological advances have eliminated many of the jobs in which high school graduates like Mr. Walsh once could earn $40 an hour, or more. The poll found that 85 percent of prime-age men without jobs do not have bachelor's degrees. And 34 percent said they had criminal records, making it hard to find any work.
This ties into the widely-reported story yesterday, of rising death rates among less-educated whites aged 45 to 54. Recall that the rising mortality and morbidity afflicted both men and women. And remember that work is important not just to provide income, and in the old days, health insurance, but as a way to organize one's time and to see people during the day, some of whom generally become at least social acquaintances. So the "oh I can busy myself on the Internet" may be true short-term, but over the long haul, it's not a substitute for seeing real people.
And these men recognize that they are paying a price for not taking work, yet a significant portion could take a job but can't stomach the pay and other terms of offer:
For most unemployed men, life without work is not easy. In follow-up interviews, about two dozen men described days spent mostly at home, chewing through dwindling resources, relying on friends, strangers and the federal government. The poll found that 30 percent had used food stamps, while 33 percent said they had taken food from a nonprofit or religious group.

They are unhappy to be out of work and eager to find new jobs. They are struggling both with the loss of income and a loss of dignity. Their mental and physical health is suffering.

Yet 44 percent of men in the survey said there were jobs in their area they could get but were not willing to take.
Recall that the study by Anne Case and Angus Deaton found that mortality and morbidity rates had risen among the less-educated middle aged whites all over the country, but the increases were worse in the South and West. Although this chart looks at a different cohort, prime aged men of all races, it could be viewed as a proxy for where the market for lower wage job is particularly unpromising. And it does appear to be generally worse in the South and West: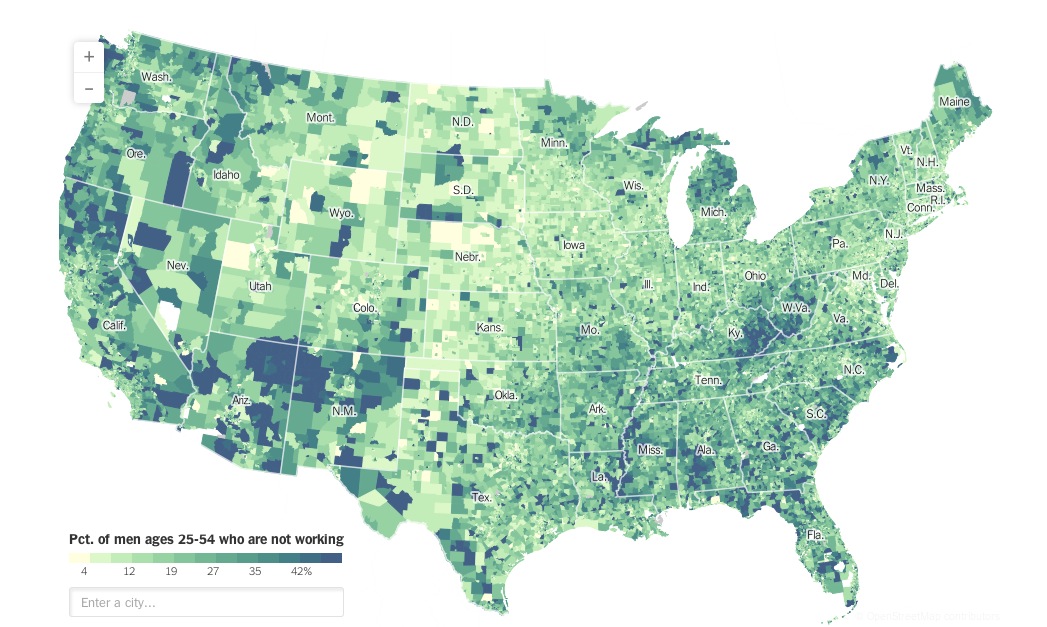 And with the loss of work deemed adequate comes at a considerable psychic cost:
Along the way, Mr. Walsh said he had drained the $15,000 in his union retirement account and run up about $20,000 in credit card debt. "We were constantly fighting because it's fear," he said of the toll on his marriage. "You don't have the $50 you need for the lights and you don't have the $300 you need for something else, and it gets kind of personal."

He keeps paying union dues to preserve his shot at a pension, but that also means he can't get nonunion work as an electrician. He says he would like a desk job instead. He used email for the first time last month, and he plans to return to community college in the spring to learn computer skills.

He says he is determined that his own children will attend college so their prospects will be better than his own.

"I lost my sense of worth, you know what I mean?" Mr. Walsh said. "Somebody asks you 'What do you do?' and I would say, 'I'm an electrician.'"

"But now I say nothing. I'm not an electrician anymore."
The refusal to take work that won't pay a living wage may reflect an unrealistic effort to keep hope alive, in that accepting a job that can't support his family means having to admit to how desperate his situation is and downsize even further, if that is even possible…to a trailer park? It's doubtful that Walsh could do much on this front.
And despite having lost his sense of self-worth, Walsh appears unwilling to accept a deal from employers that he regards as unfair. This video is a reminder of how deep the notion of equity runs in social species:
It's easy to laugh at this clip, but I lived in Australia in the early 2000, where the minimum wage was much higher than here (IIRC A$11.20/hour, and I think it either rose to or was soon scheduled to rise to over A$13.00/hour by the time I left in 2004. And in local purchasing power terms, one US dollar was pretty much equal to one Australian dollar then). Workers in low-wage jobs, like cashiers, seemed far more chipper than people in similar jobs in the US. In keeping, I knew people who had held professional jobs who were between gigs for complicated reasons, and they were willing to take jobs in retail stores at not much above the minimum wage because they could land them quickly and keep income coming in. How often do you see that in the US?
The broader issue seems to go unspoken: what we are willing to pay someone is a reflection of how much we value them, not just their work, but as people. And we are seeing that many are willing to risk a personal catastrophic failure rather than accept the certain subjugation of a badly-paid job.