By Lambert Strether of Corrente.
This Sunday morning, I thought I'd do an old-school media critique of the story the New York Times put up as this year's open enrollment season for ObamaCare was about to begin. For whose who came in late, "TINA" stands for "There Is No Alternative" — in this case, to the ObamaCare marketplace — a phrase invented long ago by Maggie Thatcher, bless her heart. This piece lives and breathes TINA, as we shall see. I'm just going to work through the whole story, and here's how it begins (the Times copy is indented throughout):
Many Need[1] to Shop[2] Around on HealthCare.gov[3] as Prices Jump[4], U.S. Says

By ROBERT PEAR and ABBY GOODNOUGH
[1] They may or may not "need" to (50% of the unenrolled believe ObamaCare would decrease their welfare, according an NBER study), but they are certainly mandated to; that's the whole point of Obama's program design.
[2] The "need" for shopping, and the value of shopping, goes unquestioned. (The Times reinforces this message with a second story, cheerfully headlined "Obamacare Shopping Is More Important Than Ever" — though the URL, "if-they-want-deals-obamacare-customers-will-need-to-switch-plans-again" shows the original headline must have been too over the top, even for The Upshot. I love "deals." Apparently, the reporter is under the impression that ObamaCare's open enrollment period is rather like "Black Friday," where throngs of excited shoppers bust down the doors in quest of loss-leading flat panel TVs, instead of the risky and stressful process that it actually is. All polices must go! To the bare walls!
[3] "HealthCare.gov" is a neat piece of TINA all in itself. First, healthCare.gov is not about health care but health insurance; so the domain name suggests that the only way to care is through insurance. Second, the domain extension ("gov") suggests that the only way for government to deliver health (care (insurance)) is through the ObamaCare marketplace, the resource to which the URL points. In fact, that's not so, as readers with international experience know, but it's not so even in the story's own terms, as we shall see when we get to California. Of course, the URL is what it is, and the reporters aren't culpable for using it, but since the URL was placed in the headline, it makes sense to give it due weight in our reading.
[4] The "jump" is spontaneous, it seems. Note the lack of agency.
WASHINGTON — In Tennessee, the state insurance commissioner approved a 36 percent rate increase for the largest health insurer in the state's individual marketplace. In Iowa, the commissioner approved rate increases averaging 29 percent for the state's dominant insurer.[1]
[1] Oddly, or not, the reporters don't mention the possibility of an ObamaCare actuarial death spiral, although they may assume the lash for the penalty will really begin to bite this year. (And do we really want a health care system where citizens consumers are "nudged" like this, rather like cattle through a chute?)
Health insurance consumers[1] logging into HealthCare.gov on Sunday for the first day of the Affordable Care Act's third open enrollment season may be in for sticker shock[2], unless they are willing to shop around[3]. Federal officials acknowledged on Friday that many people would need to pick new plans to avoid substantial increases in premiums[4].
[1] The use of "consumers," as opposed to "citizens," is by now pervasive and reinforced here.
[2] I love "sticker shock," is if purchasing health insurance were the same as buying a car. Of course, when you buy a car, you typically don't need to leave the car in the garage because co-pays and deductibles make it too expensive to turn the key. Or "shop" for a whole new model every year.
[3] Oddly, or not, "shopping" is always conceived of as a zero-time task. In fact, researching the policies,  guestimating your income, handling the complex eligibility determination process, managing the bills, and making sure your taxes are properly handled are all what Yves calls "taxes on time," but they're never factored in as opportunity costs by ObamaCare advocates (This study, on the opportunity costs of delivering ambulatory health care, might point the way to working out ObamaCare's tax on time.)
[4] Apparently, the "cost curve" isn't necessarily "bent" for citizens consumers. If indeed ObamaCare "bends the cost curve" at all.
But, they said, even with a number of companies leaving the marketplace for health insurance under President Obama's signature health care law, most people[1] around the country will still be able to choose from three or more insurers[2] in 2016.
[1] "Most people." Says who, and how many?
[2] First the metric was enrollment numbers. Now the metric is how many products the shoppers can buy. In neither case is the quality of the product to citizens consumers ever a consideration.
"Shopping can save you money," said Richard G. Frank, an assistant secretary of health and human services, who unveiled a huge collection of data on health plans that will go on sale on Sunday in the 38 states served by HealthCare.gov.
[1] Again, no word on quality. 
Consumers have until Jan. 31 to sign up, but must do so by Dec. 15[1] to obtain coverage starting on Jan. 1.
[1] Right in the middle of the holiday shopping season, too. So not only must consumers be the engine of the economy during the "Holiday Shopping Season," they have to run the ObamaCare guantlet, too!
Mr. Frank, on leave from his position as a professor of health economics at Harvard[1] , described the data in a positive light. "The Affordable Care Act has created a dynamic, competitive marketplace[2], with considerable choice and affordable premiums in 2016," he said.
[1] Frank was on the faculty of Harvard Medical School's Department of Health Care Policy.  The DHCP is a little cagey about its funding sources, at least on its site ("Research is supported by grants from the federal government (largely NIH), private foundations, and some endowment funds residing in HCP"), but among them we find hedgie squillionaire John Arnold. I think it's safe to say that evaluating the difference, say, between Conyer's HR 676, and Sanders SB703, both single payer proposals, isn't high on Arnold's list.
[2] Wait for California, below.
Consumers[1] are not so sure[2].
[1] Sigh…
[2] "ObamaCare enrollees are less satisfied with their plans than people with other types of health insurance, according to a new poll" (The Hill).
"It really shocks me to see these plans with $5,000 deductibles," [1] Belinda Greb, 56, of Vida, Ore., said in an interview. "It becomes an area of stress as opposed to making me feel secure[2]."
[1] And so it should.
[2] The ObamaCare marketplace is not "humane at the point of care." Every interaction between consumer citizen and the healh care system should be considered as an aspect of care, and be humane.
Federal subsidies for low- and moderate-income consumers will keep pace with premiums for a benchmark plan, the second-lowest-cost "silver" plan, Mr. Frank said, and consumers who choose that plan can protect themselves and their wallets.[1]
[1] This is disingenuous; what matters is how ObamaCare nets out. See the NBER study linked to above.
"The vast majority[1] of marketplace consumers receive tax credits that insulate them from premium increases,"2] Mr. Frank said.
[1] In other words, some significant minority are not insulated, and go to Pain City and not Happyville, for reasons that are random: Jurisdiction, age, income, and so forth.
[2] Again, this is disingenous. The key point isn't the subsidy, but how the product nets out for the citizem consumer.
A typical family of four with annual income of $60,000 will, on average, receive tax credits[1] totaling $5,570 in 2016, up from $4,850 this year, the administration said.
[1] Again, without calculating the net. Remember that 50% of those eligible for and unenrolled in ObamaCare think believe it nets out negative for them. They were smart shoppers who decided not to buy the product. The dogs won't buy the dog food!
But some consumers[1] who have recently received renewal notices have been shocked by the decisions[2] they face.
[1] "Some consumers." But we don't know how many, and for all the bloviating in the health care business about being evidence-driven, we're three years into the program, and it doesn't seem to have occurred to anybody to have produced even a fake, corrupt study.
[2] Like the decision to guestimate your income to calculate your subsidy, bad if your employment is precarious, or in a recession when job losses rise; or the decision, if you're on the bubble, whether to game your income figures, and, if so, which way. 
Ms. Greb said she was too upset to finish a letter she got recently from her insurer, Moda Health, that said her "bronze" health plan, for which she pays $213 a month after a subsidy of $175, would not be offered through the exchange in 2016. The company offered her a similar plan[1] that would cost $265 a month if her subsidy stays the same.
[1] Rather, a plan it claimed was similar. 
The new plan recommended by Moda has a deductible, the amount she must pay for care before the insurance begins to pay, of $5,500, up from $4,250 in her current plan, she said[1]. "People are putting off care[2] because of the expense."
[1] And, as NC readers know, Mrs. Moda should also check to decrease the likelihood that she'll be defrauded; she should check whether the network and formularies have been narrowed and, if so, whether her doctor is still in-network (assuming here directory is accurate; they often aren't), and whether any drugs she needs will be covered. 
[2] That's not a bug; it's a feature. It's taken me awhile to understand that when we talk about "bending the cost curve," we aren't talking about costs to citizens consumers; but the cost of the health care system as a whole (ludicrously large by world standards).
The Obama administration said nearly nine out of 10 consumers[1] with marketplace coverage would be able to choose from three or more insurers in 2016[2]. That is important, Mr. Frank said, because in insurance and other industries, "competition intensifies[3] when there are three or more firms in a market."[4]
[1] In other words, 10% of the eligible population is sh*t out of luck, and gets to take a ride to Pain City instead of Happyville, for entirely random reasons.
[2] So now we have a new arbitrary metric to put beside enrollment figures; note that neither have to do with citizen consumer welfare at all. 
[3] Absent collusion. 
[4] See Rule #1 of neo-liberalism.
In general, he said, "places with fewer insurers have higher premiums."[1]
[1] Again, to be meaningful, this statement would need to net out the value of the health insurance product to citizens consumers. I mean, a product isn't always better because it's cheaper, right? It's also curious that Frank doesn't seek to learn from the exceptions to his generalization. For example, below the story points out that the prices are lower in California. Perhaps there's a lesson here?
But the number of choices varies greatly. Consumers in the online marketplace can choose from 17 insurers in Ohio and Texas, 16 in Wisconsin, 15 in Michigan, 12 in Pennsylvania, 11 in Oregon and Virginia and 10 in Florida and Illinois.[1]
[1] So, again, the citizen's consumer's ride to HappyVille or Pain City is random with respect to jurisdiction.
But, an administration report said Friday, only one insurer is offering coverage in the marketplace in Wyoming, and consumers have a choice of just two insurers in Alaska, Hawaii, Oklahoma, South Dakota and West Virginia.[1] And that data, current as of Oct. 19, did not reflect the recent collapse of nonprofit insurance cooperatives in South Carolina and Utah.
[1] In other words, residents of Wyoming, Alaska, Hawaii, Oklahoma, South Dakota and West Virginia are second class citizens consumers with respect to the rest of the country. (And, assuming for a moment that health insurance equates directly to health care, disproportionately at risk for suffering or death; see Rule #2 of neo-liberalism.)
Brian Forrester, 48, of Punta Gorda, Fla., said he was pleased with the outlook for his coverage next year. HealthCare.gov indicated that the subsidy for his plan, provided by Blue Cross and Blue Shield of Florida[1], would increase more than the premium, so he would pay less: $98 a month, rather than $107.
[1] As we have seen, the experience of BCBS citizens consumers in North Carolina is very different, making North Carolina a second-class state with respect to Florida.
Mr. Forrester, a part-time driver for Uber[1], said he had used his insurance only to get a flu shot this year. "With my payment and subsidy," he said, "Blue Cross will receive a little over $4,000 this year[2], and all they had to pay out is $12.71 to the pharmacy at Publix for a flu shot. I am the kind of customer that they want[3]."
[1] 48 and a part-time Uber driver. Isn't this the greatest economy ever? (And is this a classic case of the reporter interviewing the cab driver?)
[2] Of course, Forrester's income as a part-timer will fluctuate; we can only hope that ObamaCare doesn't claw back more money on April 15 if his guestimate turns out to be too low and his subsidy was too high.) Amazingly, or not, the reporter doesn't raise this question.
[3] Indeed!
Nearly a third of the people insured through the federal marketplace switched[1] plans this year, and more will probably need to do so to avoid big price increases[2] in 2016.
[1] Why are these "switching costs" never accounted for or considered a cost? I'd argue that one reason is that the designers of ObamaCare never experience them personally; they are covered by their universities, think tanks, or industry, or they have people to do that. See context #1 of neoliberalism; rules never apply to the rulemakers. 
[2] But why? "Big" means the insurance companies aren't just tinkering round the margins with their products. So, if the insurance companies who jumped in last year raised rates this year to avoid an actuarial death spiral, what does that say about the companies who jumped in this year with lower rates? To me (and I would imagine to the 50% unenrolled who think ObamaCare is a bad deal) that means (a) the insurance companies will make their margin with crapified policies, or (b) they're trying to suck me in this year with low prices they'll jack up next year, or (c) they're incurably optimistic and filled with animal spirits, and don't know their business. Or maybe they have a secret sauce. None of these alternatives bode well for my future health care and coverage needs. Turning to the classic parable: There was a twenty dollar bill lying on the street called ObamaCare. Insurance company A picked it up, and discovered it was a counterfeit twenty they couldn't cash. So they dropped it. Now Insurance company B finds it, and says "Look! A twenty dollar bill!" Will their experience be different?
BlueCross BlueShield of Tennessee said the 36 percent rate increase was necessary because it had lost money on its marketplace[1] business[2] after underestimating the use of health care by its new customers.[3]
[1] An actuarial death spiral once again, unless the lash for the penalty really begins to bite. 
[2] That is, profit-making or rental extraction, not necessarily a function of the delivery of care. 
[3] The reporter writes "use of health care" like that's a bad thing!
In Minnesota, officials approved increases averaging 49[1] percent for Blue Cross and Blue Shield of Minnesota, the largest insurer in the market. Even with the increases, the company said, "Blue Cross is likely to experience continued significant financial losses through 2016."[2]
[1] 49% seems like rather a lot. I'm not sure why the reporter led with Tennessee's 36%.
[2] More support foe a death spiral scenario.
Gov. Mark Dayton of Minnesota, a Democrat, said he was "extremely unhappy"[1] with the high rate increases.
[1] I bet the people paying the bills for crapified policies are even more unhappy!
The Iowa insurance commissioner, Nick Gerhart, approved rate increases averaging 29 percent for Wellmark Blue Cross and Blue Shield, the state's dominant health insurer, and 20 percent for Coventry Health Care. The higher rates, he said, were justified based on the plans' experience.[1]
[1] The dominant insurer gets a bigger rate increase? WTF?
Rates will rise next year by an average of 4 percent in California, one of the few states that actively negotiate prices, state officials said. In New York, state officials said rates would rise by an average of 7 percent. In Florida, consumers will see increases averaging 9.5 percent, the state said.[1]
[1] I think this is the most deeply buried lead in the history of the universe. Before I call out the beauty of it, let me just list the rate increases in this story, starting with the highest:
49 percent
36 percent
36 percent
34 percent
29 percent
29 percent
27 percent
20 percent
9.5 percent
7 percent
4 percent
See the outlier? The lowest rate is ~60% lower than the next lowest! Why would that be? Well, that's the beauty part, the buried lead:
Rates will rise next year by an average of 4 percent in California,
In other words, California used its purchasing clout to beat better prices out of the health insurance business. So given that's the lead — the most important news element — we might rewrite the headline thus:
California Uses Purchasing Power to Deliver Cheaper Health Insurance Policies to Its Citizens
Of course, we can't have that; it's a camel's-nose-under-the-tent sort of thing. After all, if we admit that the State can use its clout to jawbone the insurance business, people might start asking awkward questions, like why the State can't do the same thing for pharmaceuticals, medical equipment, and hospital costs. And if we admit the State can do that, why not dispense with the health insurance companies entirely, and move to single payer, which maximizes the State's purchasing power across all sectors of the health care system? (Granted, that might be bad for the health care business — the extraction of profit and rent — but if you really want to bend the cost curve, in good faith, that's where the logic buried in this story takes you.)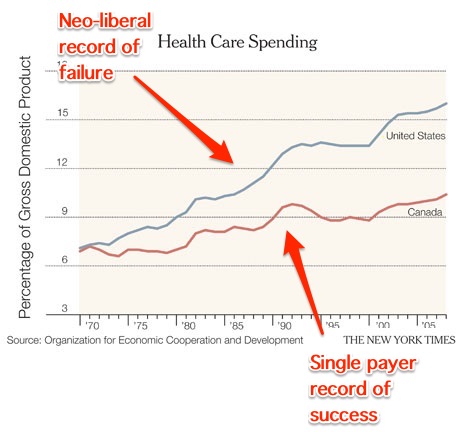 So you can see how important it was to bury that lead! TINA must be maintained at all costs.
But in Hawaii, the insurance commissioner this month approved rate increases averaging 27 percent[1] for the Hawaii Medical Service Association and 34 percent for Kaiser Permanente[2] health plans.[3]
[1] Back to the laundry list of percentages, with no rhyme of reason for the ordering.
[2] Last I checked, Kaiser was the paragon of efficiency and font of the HMO (now morphed into ACO) craze.
[3] And the story just trails off here; no peroration or summary or conclusion.
* * *
So that's a sample of how to sharpen up your critical thinking skills by doing a close reading of the Times on ObamaCare; the unconscious bias toward the neo-liberal's article of faith — "because markets" — is pervasive and just awful. If I were to suggest some topics where real reporting might be undertaken, the list would include:
Investigate people's actual experience with ObamaCare policy coverage over time;
Investigate people's opportunity cost in hours for navigating the ObamaCare marketplace, filing their taxes, and managing their claims;
Investigate why price increases vary so much from state to state (and with business reporting, not statistical studies);
Investigate whether ObamaCare really is "bending the cost curve," and, if so, whether this trickles down to consumers in terms of either decreased prices or increased coverage;
Investigate the differences between health care systems in other countries and health care systems in the US; compare for system cost, but especially for which systems are humane at the point of care.
And if you think burying the lead — as this story so clearly does — is sufficiently out-of-line, you might consider contacting the Times Public Editor, Margaret Sullivan. She's been doing good work.
NOTE
It's rather amazing that the only source quoted in the story is Richard Frank; surely the reporters' Rolodexes are fat enough to include, say, Stephanie Woolhandler — also of Harvard — or the PNHP? Could do better!