I am told by voters in San Francisco who are not fans of the sharing economy that the AirBnB measure suffered from a flaw common to most California ballot initiatives: that even though it attempted to address a legitimate issue, it was so overreaching in how it was drafted that it led some people who were philosophically sympathetic to nevertheless vote against it.
By way of background, some pro-AriBnB regulation went into effect last February; see here for an overview.
But I'm skeptical of the defenses, particularly since the ones I heard (from different people) seemed to contradict each other. One argues that the AirBnB proposal was addressed at people who were buying properties to rent them out via AirBnB. If so, that directly supports the charge made by critics, that AirBnB is taking housing out of the market for rental to residents, and moving it into the hotel market, reducing supply and therefore availability. Another person, who rents his residence out some of the year via AirBnB, argued that the proposed regs would have curbed his ability to rent his place out. If I were a landlord, I would not be happy about tenants that I had screened in order to rent to them then letting other people I had not vetted into my premises. In communist New York City, a landlord cannot unreasonably withhold a tenant's right to sublet for two years out of any four. The subtenant has to fill out an information form and submit it to the landlord, and also submit the form of the agreement with the subtenant. The tenant is restricted in how much rent he can charge his subtenant (no more than the rent amount if the apartment is rented unfurnished; he can charge 10% more for a furnished unit). The concept of the NYC law is to allow tenants to keep their rental and defray their costs if they will be away for a long period (as I did when I was in Australia) and not to arbitrage the landlord.
And the people who are seeking to supplement their incomes via AirBnB fail to understand that landlords will simply start demanding higher rents to reflect the higher incomes of their tenants by subletting. Any short-term gains will be quickly eroded by more aggressive rent increases (and the landlords can argue that they are justified by greater wear and tear on the apartment. Those who argued against the anti AirBnB bill effectively conceded the issue by arguing that the apartments will get higher use).
In fairness, San Francisco has an extraordinarily overpriced hotel market; it's hard to get a room even at what in the rest of the county are mid-priced chains for under $400 a night. And the campaign spending on this initiative was the hotel industry, which I am told spent $4 million, versus AirBnB, which the article below reports as having spent $8 million. It's not as if the hotel industry can credibly present itself as a good actor; pay increases to hotel workers have been minimal in recent years.
But I continue to be distressed at how people defend AirBnB and Uber as opportunities for them, as opposed to a way to ameliorate the diminished state of workers. People would not be renting out their homes to strangers if they were earning adequate wages. The middle of this short Bill Maher segment on the shafting, um, sharing economy, which we posted earlier, sums up the underlying issues well:
I encourage comments from people in the San Francisco area who know the peculiarities of the housing regulations, since you need to understand that to judge the impact of the proposed regulations properly.
By Steven Rosenfeld, who covers national political issues for AlterNet, including America's retirement crisis, democracy and voting rights, and campaigns and elections. He is the author of "Count My Vote: A Citizen's Guide to Voting" (AlterNet Books, 2008). Originally published at Alternet
San Francisco voters on Tuesday showed once again that making money is more important than preserving the city's bohemian and immigrant culture by rejecting one citywide ballot initiative that would have regulated homeowners who rent out units via Airbnb and rejecting a short development moratorium in the Mission District, a Latino neighborhood especially hard hit by gentrification.
Fifty-five percent of voters opposed the anti-Airbnb Proposition F and 57 percent opposed Proposition I, which would have imposed an 18-month moratorium on luxury condo development in the Mission. Meanwhile, other ballot measures allowing more housing pimarily targeting tech workers to be built, passed, notably a proposal by the S.F. Giants's owner to build a high rise district across from its ball park.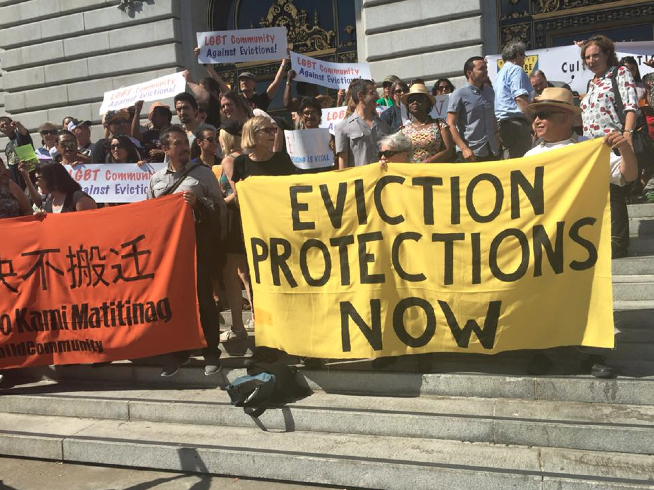 (image: San Francisco Tenants Union/Facebook)
In all these cases, those who stand to profit in small and large ways shamelessly claimed they were on the side of working-class San Franciscans. The most high-profile campaign surrounded the anti-Airbnb measure, where consultants for the multi-billion company said that they were fighting for people who were just trying to find a few more dollars to pay their bills. Airbnb, which is based in the city, spent more than $8 million to defeat Proposition F, compared to $482,000 for opponents led by housing and labor activists.
"Voters stood up for working families' right to share their homes and opposed an extreme, hotel-industry-backed measure," Airbnb spokesman Christopher Nulty told the San Francisco Chronicle, boasting they enlisted their homeowners to go door-to-door. "The effort showed that home sharing is both a community and a movement."
The dynamics of every city's affordable housing problems differ. In San Francisco, where the average home value reached $1 million in July, the influx of thousands of newly minted millionaires from technology companies buying homes and conversion of traditional rental properties into pricier vacation rentals has caused a shortage of affordable units and price spikes. An average one-bedroom apartment rents for about $3,000, double what it was seven years ago. Two-bedrooms average $3,900.
Measure F would have prevented rent-control apartments from being illegally converted to Airbnb hotels, would have prevented evictions so units could be converted to vacation rentals, and would have made Airbnb-members register with the city. Backers said that 70 percent of Airbnb's 10,000 units in the city were entire apartments, not one room in shared homes. Less than 10 percent were registered under newly passed city laws.
Their remedy was to limit vacation rentals to 75 days a year, beef up enforcement and penalties; and allow neighbors and others to sue violators. That last provision—allowing residents to report conversions to rental units and win monetary awards in court—became the linchpin of Airbnb's campaign against Proposition F. In addition to casting property owners with million-dollar homes as struggling working people, they portrayed the ballot measure as an Orwellian invitation to spy on neighbors and report them to a vengeful local government.
The vote-no flyer from the establishment-embracing local Democratic Party said, "Prop F encourages neighbor-on-neighbor lawsuits, requires people to report to the government when they sleep at home, bans short term-rental of in-law units, and takes away our property rights." Its headline said, "Housing is the most important issue facing San Francisco," followed by "the Democratic Party's endorsements to make housing more affordable."
All of this rhetoric — from Airbnb claiming their win is a victory for "working people" to the city's Democratic Party claiming voting no will make housing "more affordable" — is feel-good verbiage that allows people lucky enough to own property to put more money in the bank. It ignores that recent luxury housing developments and accompanying real estate speculation in neighborhoods that have long been home to artists and immigrants — such as the Mission District — has displaced more than 10,000 families and made San Francisco less-diverse and more of a tech monoculture.
As another election flyer put out by affordable housing advocates who lost read, "There is more luxury housing being built in San Francisco than at any time in the last 40 years. Meanwhile, the percentage of affordable housing in San Francisco is at a record low."
However, as a majority of San Francisco voters showed on Tuesday, what matters the most is not preserving the culture and vibrancy that attracted generations of people to this city in the first place, but the ability to make more money regardless of its costs.