Yves here. The key chart is impressive.
By Wolf Richter, a San Francisco based executive, entrepreneur, start up specialist, and author, with extensive international work experience. Originally published at Wolf Street.
No one in his right mind plays in commercial real estate with their own money. Other people's money is the key. Low interest rates make it happen. Banks are eager to lend. They repackage some of these loans into highly-rated Commercial Mortgage Backed Securities that yield-desperate investors are eager to gobble up, spreading the risk far and wide.
CMBS made the prior commercial real estate bubble possible, before it all blew up in 2008. And they're making it possible now. When it doesn't work out, as in 2008, it isn't that much of a problem because other people's capital gets destroyed.
And so prices have been bid up again over the years since the low of May 2009, and miracles have been performed after the crash, and construction cranes are dotting cities, and one of those forests of construction cranes must have triggered something funny in Boston Fed President Eric Rosengren. He opened his eyes and counted these cranes on a short walk in Boston, and for the first time saw what had been ballooning before him for years: a commercial real estate bubble.
Or at least now he admitted it, or a tiny part of it, rolled into a speech on Monday that confirmed, to the apparent shock of the stock market, which swooned, that December "could be the appropriate time for raising rates."
He then veered into "financial stability considerations" and his crane-count moment:
A qualitative indicator in a major city is a simple crane count. When the number of cranes observed on a short walk in a city such as Boston reaches double digits, as is the case today, it is worth reflecting on the sustainability of such growth.
It has been one heck of a party in commercial real estate. The Green Street Commercial Property Price Index edged up to 120.6 in October, having nearly doubled from its crash-low in May 2009. It's now 20.6% higher than it had been at the peak of the prior totally crazy bubble that blew up and collapsed with such spectacular financial pyrotechnics: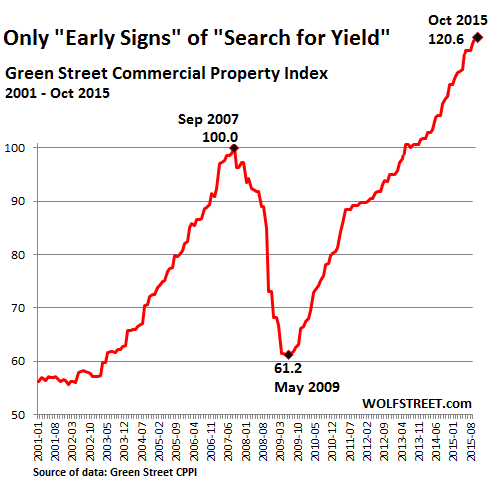 "Commercial property prices have increased 8% so far this year, and are on pace to equal the 10% appreciation that occurred in 2014," the report pointed out. And this miracle happens in an economy that has been barely creeping higher:
But it is unclear how long that momentum can be sustained. When compared to yields available in the corporate bond market, today's cap rates look low. The possibility of a modest decline in prices over the next year should not be ruled out.
Except, as the chart shows, there have been no "modest declines" on an annual basis this entire century. It's intoxicating boom and terrifying bust.
The commercial real estate bubble and the associated mountain of loans and CMBS have reached such proportions that in September Fitch Ratings began to fret about them out loud.
It found that "the average Fitch loan to value (LTV) in 2007 was 110.7% right on top of the 110.3% thus far in 2015." It worried about "weakening loan characteristics, declining underwriting quality, and concerns about originator, banker, and rating agency competition." And it warned: "CMBS cannot afford a repeat of the 2008-2009 experience."
The Fed, of course, has steadfastly refused to see any bubbles no matter how big and obvious they are until after they blow up and wreak havoc with other people's money. But Rosengren is suddenly onto something novel, something no one at the Fed had ever thought about: that commercial property prices "have grown quite rapidly, despite the only modest growth in real GDP over the recovery."
And so he mused about the costs of the Fed's policies that are responsible for the bubble and the crash that invariably comes afterwards:
One potential cost of maintaining the federal funds rate at the zero lower bound for a long time is that it may incent behavior that would be discouraged in a more normalized interest rate environment. Looking forward, a potential risk of a low-interest rate environment is that investors seeking a higher return may take on too much risk in order to improve returns, perhaps not fully taking into account the higher risk that normally accompanies higher yields.

Early signs of this "search for yield" may be showing up in the commercial real estate market.
Which is hilarious. "Early signs!" See chart above.
Commercial real estate has been going haywire for years, whipped into frenzy by cheap money and yield-desperate investors, all a product of the Fed's grand designs. So just now, Rosengren sees for the first time the forest of construction cranes and the soaring property prices, and maybe he's even thinking about the debt that is piled on top of all this, the CMBS, the 110% LTV, and it's all just the "early signs." Which makes you wonder how big a bubble has to get before these folks realize it's a bubble that will blow with the same or even more spectacular financial pyrotechnics as the last one.
Rosengren's Boston isn't the only city with forests of construction cranes. My beloved San Francisco has them too. But now the bottom is falling out of luxury real estate. Read… San Francisco's Luxury Condo Bubble Turns into Condo Glut