By Lambert Strether of Corrente
TPP/TTIP/TiSA
"But Congress has never rejected a trade agreement under fast-track authority, and some TPP opponents suspect that the administration gave a small group of Democrats a pass to vote no on fast track as long as they pledged to vote yes on the final agreement if needed. This is likely to be a close fight" [In These Times].
2016
Policy
"Is Denmark as great as Bernie Sanders says?" [McClatchy].
Money
"Last week, the president of Blackstone Group, Tony James, hosted a fundraiser for Clinton. The cash flowed to the Clinton campaign just two months after the private-equity giant settled with the Securities and Exchange Commission over charges that it used so-called monitoring fees to enrich the firm at the expense of investors" [David Sirota, International Business Times]. "Clinton accepted the money from executives at the sanctioned firm even as she has criticized the Obama administration for not punishing the perpetrators of financial crime more strenuously." Of course, the national unions endorsed Clinton, even though their pensions were hit.
The Voters
"For years I've heard the rumbles of the anxious class. I've listened to their growing anger – in union halls and bars, in coal mines and beauty parlors, on the Main Streets and byways of the washed-out backwaters of America." Which is pretty much every place you can't see from the Acela, or Silicon Valley [Robert Reich, Bill Moyers]. "When I visited so-called 'red' states this fall, I kept hearing angry complaints that government is run by Wall Street bankers who get bailed out after wreaking havoc on the economy, corporate titans who get cheap labor, and billionaires who get tax loopholes."

"Neither the sudden rise of Donald Trump nor the unspeakable crimes of Slobodan Milošević emerged from the mere will of either man. The slow fragmenting of ethnic self-identification was in both cases eroding the fabric of society for years prior to each" [The Leveller].

Carson: "Republicans have this mental disorder sometimes that says, 'A person doesn't agree with me 100%, I'm not with them, I'm going to go and sit down. You know, I believe that was a disease that was implanted by the Democrats. That's what they want you to do. As long as you feel that way they've got it, they've got it in the bag" [Wall Street Journal, " Ben Carson Vents a Bit About Political Process and GOP Voters"].

Trump: "I would like to see the Republican party come together, and I've been a little bit divisive in the sense of hitting people hard" [AP].
The Trail
Republican debate: "'Jeb doesn't really believe I'm unhinged,' [Trump] assured the audience at home. 'He said that very simply because he has failed in this campaign. It's been a total disaster. Nobody cares.'" [Guardian]. I hate it when Trump's right.

"Cruz's alternative strategy of ostentatiously flattering Trump is working wonders for him. Not only does "Nice Guy" Cruz lead Trump by 10 points [in Iowa], but he's managed to ingratiate himself to Trump's followers (whom he stands to inherit) while crafting an image with Republican caucus-goers that's completely at odds with his image in Washington as a narcissistic bomb-thrower who constantly undermines his party's agenda in Congress" [Bloomberg].
The Hill
"It's A Deal: Republicans Settle for Notable Omnibus Wins" [Roll Call]. However "Republicans didn't secure a policy rider curtailing the so-called "fiduciary rule" contained in the Dodd-Frank financial regulatory overhaul bill much maligned by the GOP. They weren't able to undo a recent National Labor Relations Board ruling related to joint employment status."
"[T]he broad sweeping $1.1 trillion [Omnibus Budget Deal] spending package lacks the riders that would prevent state GMO-labeling laws and block the EPA's Waters of the U.S. Rule" [AgWeb].
Stats Watch
Leading Indicators, November 2015: "Boosted by yesterday's strong showing for housing permits, the index of leading economic indicators rose a solid 0.4 percent in November on top of October's very strong 0.6 percent rise" [Econoday]. "Leading indicators had been dead flat since July until jumping 0.5 percent in October, in a gain helped by the month's rebound in the stock market and gains for housing permits. But October's jump aside, this index has been pointing to no more than sluggish growth for the economy."
Philadelphia Fed Business Outlook Survey. December 2015: Below consensus. "another rough month for the nation's factory sector" [Econoday]. "Ominously, price data are beginning to turn deeply negative, at minus 9.8 for inputs and minus 8.7 for final goods — the latter an indication of weakening demand." But: "This is a very noisy index which readers should be reminded is sentiment based" [Econintersect].
Jobless Claims, week of December 12, 2015: "Jobless claims are low and are pointing to stable and healthy conditions in the labor market" [Econoday]. "Initial claims data in today's report should confirm expectations for another healthy month of employment growth, right in line with Federal Reserve expectations."
Bloomberg Consumer Comfort Index, week of December 2013: "Moved up for a second week" [Econoday].
Current Account, Q3 2015: "Widened sharply," "pulled down by weak exports" [Econoday].
Shipping: "The data for [sea shipping containers] remains soft with the rolling averages remaining in contraction year-over-year – although imports did expand year-over-year comparing this month to the same month one year ago" [Econintersect]. After caveats, this: "Contracting imports historically is a recession marker, as consumers and businesses start to hunker down. Main Street and Wall Street are not necessarily in phase and imports can reflect the direction for Main Street when Wall Street may be saying something different."
Commodities: "$100 Billion Evaporates as World's Worst Oil Major Plunges 90%" [Bloomberg]. Looks like a bezzle, to me. (Idea: Given phishing equilibrium, "bubble" and "bezzle" are synonymous. Readers?)
The Fed: "fed funds are a quarter point higher which will will make no discernible difference to macroeconomic outcomes, including the Fed's employment and inflation mandates" [Mosler Economics].
The Fed: "What Happens When the Fed Raises Rates, In One Rube Goldberg Machine" [New York Times]. This is fun, but the beauty of the original Rube Goldberg device cartoons is that they put the entire machine in a single panel. The Times has clever animations of each piece of the machine, but no overview of the whole. Sympomatic of Times  coverage, somehow.
"Mankiw's Tenth Principle: Society Faces A Short-Run Trade-off Between Inflation and Unemployment" [Ed Walker, Emptywheel]. Part 10 (!) of an interesting series.
Today's Fear & Greed Index: 45 (+1); Neutral [CNN]. Last week: 36 (Fear). (0 is Extreme Fear; 100 is Extreme Greed). 
Black Injustice Tipping Point
"Students Chant '16 Shots!' As Emanuel Visits Urban Prep" [CBS Chicago]. Represent!
Police State Watch
"Video: Cop Shatters Window With Handcuffed Teen's Face" [Gothamist].
"Chicago Police Officer Jason Van Dyke has been formally indicted in the fatal shooting of 17-year-old Laquan McDonald, whose death was captured in a widely viewed police dashcam that sent thousands of protesters marching down Chicago streets" [Chicago Sun-Times].
"Baltimore Circuit Judge Barry Williams declared a mistrial [in the Freddie Gray case'] Wednesday after jurors made it clear they were hopelessly deadlocked over whether Officer William Porter had committed any crimes due to actions he didn't take prior to Gray's death" [AP].
"Prosecutors In Tamir Rice Case Bizarrely Pointed Toy Gun At Witness, Lawyers Allege " [HuffPo].
"The mother of Amadou Diallo reeled at the news: One of the four cops who killed her unarmed son in a 41-shot fusillade is set for an NYPD promotion — and a raise" [New York Daily News].
"Just as the nation has developed an increasingly stale ritual on mass shootings — one of shock, followed by mass grief, followed closely or sometimes concurrently by public statements about gun policy — there are now a series of cultural cliches and almost meaningless declarations that can be expected after yet another police officer, facing the rare event of criminal charges, manages to go home a free man or woman" [WaPo].
Corruption
"[Rahm] Emanuel's governing style has been all tactics, no strategy" [City Journal]. "[Rahm] also brought a Washington-style spin-control mindset to Chicago. In Washington, an army of apparatchiks and a compliant media lets politicians like Obama create a reality bubble. In national politics, perception is often reality. But in local government, reality is reality. The West Side isn't Benghazi. The people who live in Chicago can walk out their front doors and see for themselves what's going on." 
"The DC kleptocracy in two links" [Medium]. It's worth noting that both Chicago and DC are both controlled by Democrats, who have no monopoly on virtue whatever.
"Judge Faults Firm's Failure to Keep Notes in Christie Bridge Investigation" [New York Times]. The "firm" being Gibson, Dunn & Crutcher, who conducted the "independent" investigation.
Imperial Collapse Watch
Great, a new terror alert system, our third [CNN]. Except it's really a revision of the second, which wasn't used. 
[DHS Secretary Jeh] Johnson said the new alert system will reflect the current security environment when "not having a specific credible piece of intelligence specifying a plot isn't the end of the story."
Well, vague and incredible evidence seems to be standard operating procedure, so I'm not what's been changed, except the obvious determination of the political class to gaslight the 2016 election to death.
"The U.S. Sends Out Its First Official Terror-Warning 'Bulletin' and Asks You to Stay Vigilant for the Next 6 Months" [New York Magazine]. "Please remain in a heightened state of tension until we tell you to relax."
British Medical Journal study: "In conclusion we have shown that the oral health of Americans is not better than the English, and there are consistently wider educational and income related oral health inequalities in the US compared with England" [Sky News]. Ouch. We have worse teeth than the Brits. Joe Strummer! Thou shouldst be living at this hour….
Gaia
"Water industry wins round in fight against ban on plastic bottles in national parks" [WaPo].
"Hatred, Insults and Even Death Threats Over Climate Science?" [NBC Philadelphia]. "[S]ome colleagues in the TV weather field have gotten threats just by talking about climate change." Wow.
"Anyone celebrating 'cracks in the wall of Republican climate denial' (as journalists are wont to do periodically, and have for 20 years now) needs to grapple with this fact: It's the base and the donors that matter, and there are no cracks showing there" [Vox].
Guillotine Watch
"Shkreli, CEO Reviled for Drug Price Gouging, Arrested on Securities Fraud Charges" [Bloomberg]. Christmas came early!  From Shrelki's 8K, under "Litigation Update": "In December 2014, Mr. Shkreli filed an answer to the operative complaint, in which he, among other things, admitted to owing the Company over $600,000 in short-swing profits. The parties are currently engaged in discovery. "
Best Shrelki quote: ""If I hand you $2 million, fucking show me some respect" [HipHopDX].
"When I reached the actual party, the first thing I saw was CEO Marissa Mayer herself behind a series of velvet ropes, dressed in a long sequined gown and seated on a pure white arm chair. Attendees could sit next to her on an adjacent couch and pose for a photo" [Vice]. "She was very pregnant and ended up giving birth to twins less than a week later." Will nobody think of the children?
Class Warfare
"A letter to our daughter" [Mark Zuckerberg, Facebook]. But: "Peek inside the mind of the man in control of Facebook with the data of 1.55 billion people at his fingertips" [CCH Freedom]. "He calls for "'the talents, ideas and contributions of every person in the world' to be 'channeled.' For what purpose and by whom? Him?" A critique from the right.
"Men with moustaches outnumber women in top U.S. academic medical jobs-researchers" [Reuters].
News of the Wired
"This startup bets up to $10,000 that your marriage will end badly" [WaPo]. The "This ___" clickbait snowclone, plus "startup" to fill in the blank. Froth, I hope.
"Textio, A Startup That Analyzes Text Performance, Raises $8M" [TechCrunch]. Here's a quote from CEO Kieran Snyder. I've helpfully underlined some cliches and other problems:
"We had this premise that word processing in text hadn't been in a while, from command line to GUI. We had the internet come along, it was about social [not a noun] and sharing, and we think that AI and the set of related technologies is the of text. If you know the performance of a document before it's ever published then you can fix it before it's published."
The idea that "documents" have "performance" gives me the willies. Of course, if millions of people start scoring their documents using the same algorithms, then the algorithms won't "perform" any more, will they? I hope the investors in Textio lose a great deal of money.
Apparently, marginalia is having a moment MR SUBLIMINAL About time! [Los Angeles Review of Books].
* * *
Readers, feel free to contact me with (a) links, and even better (b) sources I should curate regularly, and (c) to find out how to send me images of plants. Vegetables are fine! Fungi are deemed to be honorary plants! See the previous Water Cooler (with plant) here. And here's today's plant (Rebecca Rojer):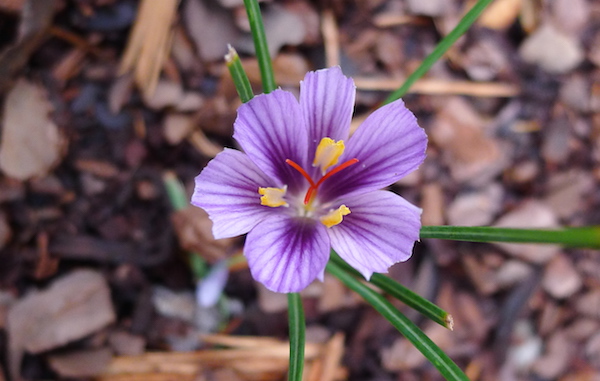 Rebecca writes: "From [Tuesday]! December in the Hudson Valley. Fall blooming saffron crocus." For some reason, my own forsythia decided to bloom in September…
* * *
If you enjoy Water Cooler, please consider tipping and click the hat. Winter has come, I need to buy fuel, and I need to keep my server up, too.