By Lambert Strether of Corrente
2016
Money
"Campaign 2016: Hillary Clinton Understates Her Wall Street Donations At Democratic Debate" [Business Insider].
The Voters
Sanders from the Democratic debate: " I believe we stand together to address the real issues facing this country, not allow them to divide us by race or where we come from" [Vox]. In other words, Sanders, unlike and equally threatening to both legacy parties, isn't playing identity politics.

He doesn't just want to mobilize the far left — his dream is to unite lower- and middle-income Americans on economic issues, winning their support to challenge the rich. Sanders doesn't just [?] want to condemn Trump's supporters as racist — he wants to convince them that Trump is misleading them, and perhaps win their support for himself and his economic policies.

Which gives me an opportunity to comment on Trump's supporters as well. Trump has been called a fascist, most recently by Martin O'Malley. Trump's polymorphically perverse views matter less than whether he's able to collect a fascist following. At least three fascist movements I can think of — the Nazis, Mussolini's National Fascist Party, and the former Confederate South — rose from what we might call severe "organic damage"; World War I in the first two cases, and the Civil War in the third. (Two other recent movements, at least, ACT-UP, and #BlackLivesMatter, have arisen from similar levels of trauma.)

Speculating freely, I'm guessing we've got several overlapping subsets in Trump's following, with damage common to them all. First overlap: The cohort described by Yves in this post: "'Stunning' Rise in Death Rate, Pain Levels for Middle-Aged, Less Educated Whites"; "488,500 deaths would have been avoided in the period 1999‒2013," had the death rate continued to fall at its previous rate of decline. That's a lot of organic damage. Second overlap: The "working class whites" whose jobs and communities were destroyed by the neo-liberal dispensation that began in the mid-70s, given that "less educated" is a proxy for working class. More damage there. Third overlap: Military personnel who were sent, by elites, to fight and lose the Iraq and Afghanistan wars, many of whom (thanks to the wonders of modern battlefield medicine) came back to their families and communities terribly wounded (not to mention with post-traumatic stress). More damage. Fourth overlap: The "bitter"/"cling to" voters (explicitly) thrown under the bus by Obama's faction when it took control of the Democratic Party in 2008 (with results that we saw in the failure to ameliorate the foreclosure crisis, and the administration's successful shrinkage of the workforce, as shown by the labor force participation rate). More damage. So Democratic apparatchiks can recycle 2008's racism tropes all they want — identity politics is all they know, after all — but at best they're over-simplifying, and at worst they're destroying the dream of "uniting lower- and middle-income Americans on economic issues." Again, add up the decades of organic damage. My anger would be bone deep. And justified. Wouldn't yours? Trump, and maybe Sanders, are speaking to that anger. Today's Democratic establishment is not. With bitter irony, this is the constituency that Clinton claimed in 2008, when she won the popular vote (if all the votes are counted) and all the big states. That was then. This is now.

"The old system began to change only after the war with the rise of the Populists, a genuine people's movement that challenged single-party dominance in Democratic Texas and the rest of the South — and in Kansas, Nebraska and other Republican strongholds on the Great Plains. The Populists were eventually lured into the Democratic Party by William Jennings Bryan, but the Progressive movement soon gave the Republicans their own house radicals" [New York Times].
The Trail
"Poll: Clinton leads in Iowa; Sanders leads in NH; Democrats like both [CBS]. Iowa: Clinton 50%, Sanders 45%; NH: Sanders, 56%, Clinton 42%.

And then there's this:

If you had to vote tonight & are a registered voter in the democratic primary, who would you vote for?

— deray mckesson (@deray) December 20, 2015

Granted, this is Twitter, and Sanders supporters are very active there. On the other hand, this is #BlackLivesMatter's @deray.

"Hillary Clinton drops the mic to end debate: 'May the Force be with you'" [Yahoo]. Product placement for Disney, who owns ABC, the debate sponsor, and the Star Wars director, a major contributor.

"For the most part, Mrs. Clinton reserved her sharpest criticism for the Republican candidates she might face in a general election next fall" [Wall Street Journal, "Hillary Clinton Keeps Rivals at Bay in Democratic Presidential Debate"] "Clinton no longer sees Sanders as her real adversary" [Mic]. Picking out the White House drapes already, I see.

"Here's what happened with NGP VAN, the Sanders Campaign, and the Clinton Campaign" [Amy Dacey, DNC CEO, Medium]. Oddly, or not, "what happened" doesn't include the Sanders lawsuit. (Here's a link to an image of the Hillary Bus "powered by NGP VAN.")

"Insiders: DNC data flap is overblown" [Politico]. And Clinton is, of course, the debate winner.

"Sanders says DNC's timing of Saturday night's debate was meant to 'protect' Clinton" [WaPo]. Water is wet…

"At the time, it struck me as curious that the local Democratic Party—particularly one in a key early voting state—would allow a primary candidate to run a campaign from their office, sharing resources and space in a place where caucus voters might come with the expectation of balanced information on all of the party's candidates" [Vice].

Hillary Clinton claimed ISIS used Donald Trump in a video. Her campaign is walking that back" [Vox]. "So far, according to a social media expert I spoke to, no one has been able to point to use of Trump videos on official ISIS accounts" [Reuters].

"Data Science Ethics: Who's Lying to Hillary Clinton?" [Another Word For It]. On encryption.
Stats Watch
Chicago Fed National Activity Index, November 2015: "Subdued inflation pressure over the coming year" [Econoday]. "The negative reading is consistent with below average economic growth, in a reminder that the Fed is raising rates at a time when the economy is far from booming." What punchbowl? And: "Econintersect considers the CFNAI one of the best single metrics to gauge the real economic activity for the U.S. – and puts the entire month's economic releases into their proper perspective, although it is almost a month after the fact. It correlates well and historically has lead GDP – however its correlation post 2007 recession (New Normal) is uncertain" [Econintersect]. "[B]elow the historical trend rate of growth (but still well above levels associated with recessions)." Still bumping along the bottom…
Shipping: "Strong November volumes were apparent at both the Port of Los Angeles (POLA) and the Port of Long Beach (POLB)" [Logistics Management]. "POLA imports, which are primarily comprised of consumer goods, were up 7.6 percent to 358,423 TEU, and exports declined 5.7 percent to 142,020 TEU. Empties increased 16.5 percent to 209,525 TEU…. POLB imports in October were up 4.3 percent annually to 306,654 TEU, with exports–still impacted by the strong U.S. dollar-were down 4 percent at 124,717 TEU. Empties rose 19.5 percent to 188,328 TEU in November."
"It would appear that the consumer psyche has not fully recovered from the financial near death experience of the Great Recession" [Across the Curve]. The dog won't drink the cheap gas…
Today's Fear & Greed Index: 32 (+2); Fear [CNN]. Last week: 29 (Fear). (0 is Extreme Fear; 100 is Extreme Greed).
Gunz
"Brave Lady's Guns Seized For Shooting Into Crowd, How Is That Even Fair?" [Wonkette].
Heatlh Care
Health Care's Price Conundrum [The New Yorker].
"Feds say Iowa not ready, must delay Medicaid privatization until March 1" [Bleeding Heartland]. One hopes the Democratic campaigns have something to say about this.
Corruption
"Five troubling aspects of the University of Iowa's no-bid contracts with Matt Strawn" [Bleeding Heartland]. The blogger comments: "I am guessing we haven't heard the last about the University of Iowa's no-bid contracts with the former Iowa GOP chair." Hopefully, the Democratic campaigns work out a way to weave these local corruption story into a larger narrative.
"Harry Reid Directly Solicited Contribution From Private Equity Giant Before Controversial Rider" [HuffPo]. Christmas came early in the Omnibus budget bill.
Gaia
"The North Carolina town that's scared of solar panels, revisited" [Vox]. They're ticked off because it's straightforward extraction: All the profits go out of state, and all the downsides are local. Exactly like Big Wind in Maine.
Our Famously Free Press
The Rise And Fall Of Venture-Backed News Readers In One Chart [CB Insights]. VCs fund aggregator parasites sucking content from real creators, lose a packet. More like this, please.
Gunz
Kurt Russell, actor: "We had our civil war. If that Second Amendment hadn't been there, those people wouldn't have had the opportunity to do what they considered defending their life, their way, their style of living" [The Hill].
Class Warfare
"Artificial-Intelligence Research Center Is Founded by Silicon Valley Investors" [New York Times]. Relentless self-promoter and squillionaire Elon Musk has thoughts:
[Mr. Musk] said that he has had longstanding concerns about the possibility that artificial intelligence could be used to create machines that might turn on humanity.

He began discussing the issue this year with Mr. Hoffman, Mr. Thiel and Sam Altman, president of the Y Combinator investment group.

"We discussed what is the best thing we can do to ensure the future is good?" he said. "[Door #1] We could sit on the sidelines or we can encourage [Door #2] regulatory [i.e., democratic] oversight, or we could participate with the right structure with [Door #3] people who care deeply about developing A.I. in a way that is safe and is beneficial to humanity."
So if you want to "ensure the future is good," you pick Door #3: Hand everything over to a small group of squillionaire oligarchs. Clearly, that's The Right Thing.
News of the Wired
"A pause to refresh the Web?" [O'Reilly].
"The Discovery of Roscoe Holcomb and the "High Lonesome Sound" [The New Yorker].
"How children lost the right to roam in four generations" [Daily Mail] (2007). This is old, but classic. My British railfan magazines are full of reminisences from boys who were taking the trains alone at 11, sneaking into railroad yards, catching rides with kind engine drivers, and trainspotting. Now they would be transfixed by tiny glass screens.
"Miss Philippines Crowned Miss Universe 2015 After Steve Harvey Mistakes Miss Colombia as the Winner" [E!] Harvey's apology: "I want to apologize emphatically to Miss Philippians…" And Miss Colossians. And Miss Corinthians… Subsquently corrected. An illustration of the idea that when things start going wrong, they keep going wrong. But anybody can have a bad day. And to be fair, the ballot might as well have been designed by Theresa LePore.
* * *
Readers, feel free to contact me with (a) links, and even better (b) sources I should curate regularly, and (c) to find out how to send me images of plants. Vegetables are fine! Fungi are deemed to be honorary plants! See the previous Water Cooler (with plant) here. And here's today's plant (RS):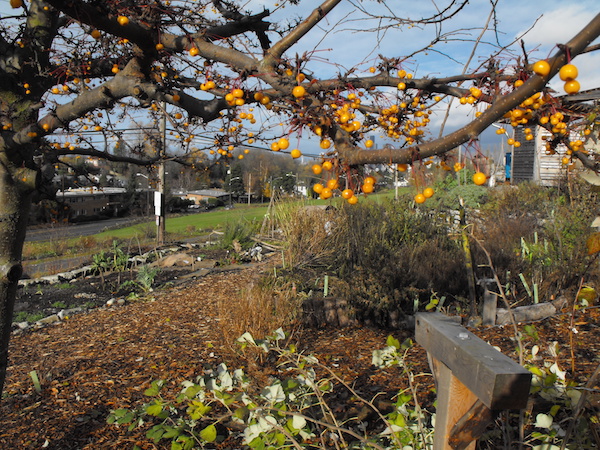 Another pleasant view of that Seattle food forest. RS writes:
On an additional note re city backed development, when I started landscaping in Seattle in the late '80's the utilities and city hired gardeners for substations and vacant corners, traffic circles, all those small plot urban landscapes that nobody notices, and each gardener was given a certain square footage and a plant budget and a truck and tools and within their prescribed time, 7-3 or whatever, not on your own schedule in other words, they would design and tend these plots pretty much autonomously. The jobs paid well and we at the nurseries were always a little jealous, really a great job. I'm not sure but I don't think those jobs survived the budgetary shredder. Right now the city pays to mow that huge lawn, buys pesticides and applies them, etc… The city could easily budget a crew to oversee a volunteer army but as learned on NC the gov't would have to take the lead and make the extreme move of spending money into the economy and re purposing that massive west facing hillside (great solar exposure, gets the late light in the summer) into a real forest with nut trees, fruit trees pathways, workstations, material repositories, rock piles and all that. Right now that looks to be not happening, instead a little token garden, albeit an obviously well designed young garden, whoever is doing it is doing it nicely, I would just like to see a lot more trees considering they take the longest time to be established.
One thing a Jobs Guarantee might take care of.
* * *
If you enjoy Water Cooler, please consider tipping and click the hat. Winter has come, I need to buy fuel, keep the boiler guy and the plumber happy, and keep my server up, too.