By Lambert Strether of Corrente
2016
Policy
Neera Tanden, Clinton advisor: "Everyone in Washington wants to say political leaders just don't listen. They are listening too much. The bases of the parties are moving in opposite directions" [Wall Street Journal, " Washington Doesn't Listen? Nah. Maybe Politicians Listen Too Much. "]. The root cause, she suggested, is 15 years of wage stagnation. 'The parties are responding in different ways. Republican base voters are more anxious about 'the other'–immigration, Islamophobia. Democrats are more concerned about rising inequality than at any point in the past 20 years.'"  2015 – 15 = 2000, meaning the start of the Bush administration. Tanden conveniently ignores the Democrats' own role in increasing inequality (i.e., class warfare) since the Crash. Shocking, I know. And there's plenty of "othering" going on with the Democrats, as well; after all, that's what identity politics is all about.

David Plouffe, "Uber's Chief Advisor Tells Seattleites That Uber Is a Dream Job, Calls Unionization Efforts 'Puzzling' [The Stranger]. Just in case you thought the Democratic inner party didn't hate working people.
The Voters
Sanders: "Republicans win when voter turnout is low. I see a future not just for my candidacy but for the Democratic Party" [WaPo]. Which would explain why Democrats have done squat on structural voter turnout issues since 2000.
Money
Trump: "I win at golf. I'm a club champion many times at different clubs. I win at golf. I can sink the three-footer on the 18th hole when others can't" [WaPo]. My personal view is that knowledge of, or participation in, the game of golf should be a barrier to public office. The golf course is where the deals are cut… 

Business as usual for Trump partners in Dubai, Istanbul despite anti-Muslim talk https://t.co/B4tM69DHME pic.twitter.com/VMbisoowFr

— AJE News (@AJENews) December 9, 2015

Ka-ching.
The Trail
Sanders: "What somebody like a Trump is trying to do is to divide us up — a few months ago, we're supposed to hate Mexicans. Now we're supposed to hate Muslims. That kind of crap is not going to work in the United States of America" [CNN]. Strategic hate management… 

"Two weeks after renouncing the conservative movement, teen Internet phenom CJ Pearson has swung to the opposite side of the political spectrum and is endorsing Bernie Sanders for president" [CNN]. "'This election will make a pivotal difference in the future of our nation. If it takes changing your mind to make the right choice as to who should lead our country, I am willing to do it. Screw the optics,' Pearson, the former chairman of Teens for Ted Cruz, told CNN."

"Clinton World wants to knock Bernie Sanders out of the Democratic presidential race with a resounding win in the Iowa caucuses" [The Hill]. That's not news. "If the threat from Sanders isn't neutralized by the Feb. 1 caucuses, allies of Hillary Clinton hope to finish off the liberal challenger on March 1, when 12 states hold contests on what's commonly called Super Tuesday." They're not mentioning New Hampshire?

"'This Will Be The End Of Trump's Campaign,' Says Increasingly Nervous Man For Seventh Time This Year'" [The Onion]

Trump: ""I. Will. Never. Leave. This. Race" [Politico].

Fiorina: "Donald Trump for example's been saying we're going to use a religious test and ban people from coming into this country. It's a violation of our Constitution, but it also undermines the character of our nation. We stand for religious liberty" [Des Moines Register].

Fiorina: "Because if [Trump] were to be our nominee — and I do not think he will be — Hillary Clinton will wipe the floor with him and we will lose the Senate, we may well lose the House. I am the lump of coal in her stocking. I can beat Hillary Clinton and I can turn this government into something competent that serves its people and protects its nation" [The Hill].

Jebbie: "Maybe Donald negotiated a deal with his buddy @HillaryClinton. Continuing this path will put her in the White House" [The Hill]. Says Mister 4%.

"Trump says soon off to Israel to meet Netanyahu" [Agence France Presse].

"Netanyahu's former chief of staff joins Carson campaign" [Politico]. 
The Hill
"[O]ur experts are betting that the government is more likely than not to stay open as Friday turns to Saturday" [Chris Cilizza, WaPo].
"Repeatedly yesterday, Congress members complained that [Financial Stability Oversight Council] members ignore their requests for documents or the documents are so redacted they make no sense, as well as condemning the secrecy in which FSOC operates" [The Hill].
Stats Watch
MBA Mortgage Applications, week of December 4, 2015: Little changed week-on-week, "robust" year-on-year [Econoday].
Wholesale Trade, October 2015:  "Wholesale inventories fell 0.1 percent in October against no change for sales, keeping the stock-to-sales ratio for this sector unchanged" [Econoday]. "Year-on-year, inventories are up 3.6 percent which is well ahead of a 3.7 percent decline for sales."
Commodities: "Commodity crunch: Brent crude oil plunges through $40 – as it happened" [Guardian].
Commodities: "Anglo American's painful deconstruction serves as notice of global mining's still brewing global financial crisis just as it announces tests both systemic and specific for those currently less existentially vulnerable to the sector's post-boom realities" [Australian Financial Review].
Commodities: "In a change in tack after years of fining rule-breaking firms, the government said on Wednesday it will pay bonuses from Jan. 1 to those meeting coal efficiency standards" [Reuters].
Commodities: "In Paris, Banks Pledge Cuts in Coal as Oil Financing Flows" [The Intercept]. COP21.
Commodities: "For commodities, the news has been so bad that the mood must change at some point. Investors have become convinced that the "supercycle" is in the down phase; abundant supply is overwhelming stagnant demand" [The Economist].
The Fed: "Layoffs have not risen, the rate of hiring has accelerated, and the share of people voluntarily quitting has climbed, according to an update today from the Labor Department's monthly Job Openings and Labor Turnover Survey, known as Jolts. The progress of the labor market along these dimensions underscores the central bank's confidence that the economy is finally healthy enough for the Fed to raise its target interest rate for the first time in nearly a decade" [Wall Street Journal, "Hiring, Firing and Quitting Have Finally Gotten Close to Where Janet Yellen Wants Them"].
The Fed: "While most indicators have been trending in the right direction, nominal wage growth and the prime-age employment-to-population ratio remain far outside of target ranges, and provide ample evidence that the economy has a way to go before reaching full employment" [Business Insider]. In other words, Yellen's definitinon of health is a new normal of crapified jobs and a permanently shrunken workforce. Thanks, Obama! Only Nixon can go to China…
Today's Fear & Greed Index: 43 (-5); Greed [CNN]. Last week: 55 (Neutral). (0 is Extreme Fear; 100 is Extreme Greed).
Black Injustice Tipping Point
"The Movement Lives in Ferguson" [Orchestrated Pulse]. A very important read; we're looking at the emergence of a new Black Misleadership class of neo-liberal Teach For America scabs and union-busters.
"[Michael] McBride had been spreading awareness about Ceasefire, a nearly two-decades-old strategy that had upended how police departments dealt with gang violence. Under Ceasefire, police teamed up with community leaders to identify the young men most at risk of shooting someone or being shot, talked to them directly about the risks they faced, offered them support, and promised a tough crackdown on the groups that continued shooting. In Boston, the city that developed Ceasefire, the average monthly number of youth homicides dropped by 63 percent in the two years after it was launched. The U.S. Department of Justice's "what works" website for crime policy had a green check mark next to Ceasefire, labeling it "effective" — the highest rating and one few programs received" [Pro Publica]. "McBride wanted President Obama to make Ceasefire and similar programs part of his post-Newtown push to reduce gun violence… Later, other ministers who worked with McBride would get an even blunter assessment from a White House staffer: There was no political will in the country to address inner-city violence." Amazingly, or not, Obama throws black constituents under the bus again. (And Sanders should consider highlighting the program.)
Health Care
"Congress is poised to delay the controversial "Cadillac tax" by two years." It's bipartisan [HuffPo]. See "ObamaCare to Crapify Health Insurance at 26% of Employers with 'Cadillac Tax'" for background.
"The share of gross domestic product devoted to health care spending was 17.5 percent, up from 17.3 percent in 2013. The faster growth in 2014 that followed five consecutive years of historically low growth was primarily due to the major coverage expansions under the Affordable Care Act, particularly for Medicaid and private health insurance, which contributed to an increase in the insured share of the population" [Health Affairs].
"To appreciate how one of the nation's best hospitals—US News & World Report regularly ranks UCSF among the top 10 — could give a patient a 39-fold overdose of a common antibiotic, one first needs to understand how medicines were ordered and administered in hospitals as recently as a few years ago, before the system went digital" [Medium]. Good series, of which this is the first part.
Police State Watch
"[Public health researchers at Harvard] propose making law enforcement-related deaths a 'notifiable' condition to be reported weekly to the Centers for Disease Control, alongside afflictions such as tuberculosis and syphilis" [Bloomberg]. So, no need for Federal action, or even cooperation from the police.
"Leaked Documents Reveal Dothan Police Department Planted Drugs on Young Black Men For Years, District Attorney Doug Valeska Complicit" [The Henry County Report].
"A widespread practice in the US known as 'pay to stay' charges jail inmates a daily fee while they are incarcerated" [BBC]. More law enforcement for profit.
Dear Old Blighty
"In defence of Blairism, by Tony Blair" [The Spectator]. Some mysterious force must be inflicting reputational damage on Blair, impacting his consulting fees.
"Do little, hide the evidence: the official neglect that caused these deadly floods" [George Monbiot, Guardian]. Incredibly, vegetation in upstream hills preserves soil, prevents downstream flooding.
Imperial Collapse Watch
"Raytheon Chief Executive Tom Kennedy also joined in the informal celebration, saying that his company was seeing 'a significant uptick for defense solutions across the board in multiple countries in the Middle East'" [Alternet]."'It's all the turmoil they have going on, whether the turmoil's occurring in Yemen, whether it's with the Houthis, whether it's occurring in Syria or Iraq, with ISIS,' Kennedy added." So, Raytheon is long turmoil. Unsurprising!
"[Trump Islam advisor and Center for Security Policy (CSP) head Frank] Gaffney's funders also include Boeing ($25,000); General Dynamics ($15,000); Lockheed Martin ($15,000); Northrup Grumman ($5,000); Raytheon ($20,000); and General Electric ($5,000)" [Foreign Policy]. Clearly, Boeing, General Dynamics, Lockheed Martin, Northrup Grumman, and General Electric are long turmoil, too.
CSP's misleading polling on American Muslims is now playing a central role in the national discourse on immigration policy and how to respond to the San Bernardino shooting attack.
Ka-ching. Your imperial self-licking ice cream cone in action!
"Across the American business world, the goal is to cut costs, consolidate, do more with less. You can literally feel it when you are shoved onto on a shrunken middle seat on a United Continental or American-US Airways flight. Or perhaps when you drink a future Budweiser-Miller brew. Or are left selecting health insurance among a dwindling set of megaproviders" [Wall Street Journal, "Dow-DuPont Merger: Better Living Through Layoffs"]. "The argot of American business has been reduced to 'sensible growth,' 'dividend return' and 'listening to shareholders.' This is not an America playing to win. It's an America playing not to lose."
Corruption
"While posing as representatives from oil and gas companies, the Greenpeace U.K. investigators struck deals with academics from Princeton and Penn State to publish academic articles that promoted the positive benefits of carbon dioxide and the positive impacts of coal for the poor" [Good]. "One of the academics exposed, William Happer of Princeton, is actually testifying at Ted Cruz's Senate hearing on protecting climate denial this afternoon.The details from the sting are a fascinating look into how academic credibility can be bought."
Gaia
"Three ways international finance could enforce a Paris climate deal" [The Conversation]. Trade sanctions on nations, emissions tied to border tax or foreign aid, and international deposit system.
Guillotine Watch
"AT&T Pretends It Was Just About To Offer A Bunch Of Awesome Services, But Then Net Neutrality Happened" [TechDirt].
Travis Kalanick: "I'm learning how to be as passionate as I am but understand that when you get bigger, you have to listen more and be more welcoming. And step on toes more lightly" [Business Insider]. "Passionate" is another one of those words. If anyone in your house uses it, count the spoons when they leave.
Class Warfare
"Real estate as a store of private wealth is the rotten tree that sprouts these diseased branches, and the solution is to quit pruning twigs and chop the sucker down" [The Nation]. "As long as land value is socially created and land ownership is duty-free, a theft is occurring." As I see in my own small town every day. See under Henry George.
"Lying to your customers is only a crime if it is fraud, and it is only fraud if the lies that you tell them are 'material,' and the lies are only material if there is 'a substantial likelihood that a reasonable investor would find' them 'important in making an investment decision'" [Bloomberg]. But isn't this a phishing equilibrium? Wouldn't the "reasonable investor" assume the trader is lying? In that case, is a lie ever material?
News of the Wired 
"Reed's passion is making Twitter bots, relatively simple computer programs that use algorithms to send out randomized tweets based on predetermined formulas" [Daily Dot]. And so Reed made a bot for Republican tropes. Worthy effort, but they don't call it a two-party system for nothing; there are pre-determined Democratic formulas as well.
* * *
Readers, feel free to contact me with (a) links, and even better (b) sources I should curate regularly, and (c) to find out how to send me images of plants. Vegetables are fine! Fungi are deemed to be honorary plants! See the previous Water Cooler (with plant) here. And here's today's plant (OregonCharles):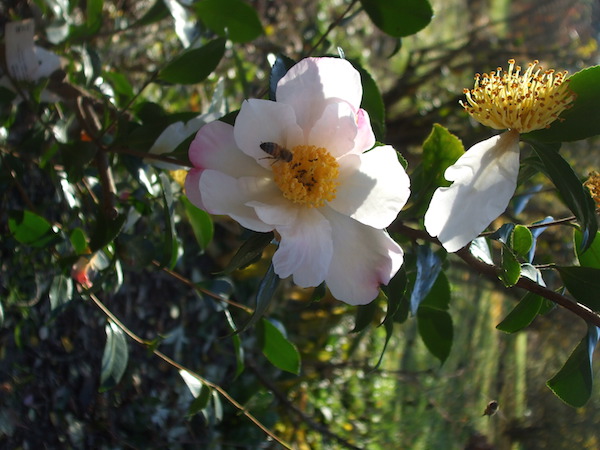 OregonCharles writes:
This is sasanqua camellia "Hana Jimon" – with pollinator. It's also covered with tiny ants. Extremely fragrant flowers, about 3 inches across.
I like images of plants that are more about whole systems: Plant, pollinators, ants, and so on.
* * *
If you enjoy Water Cooler, please consider tipping and click the hat. Winter has come, I need to buy fuel, and I need to keep my server up, too.