Photo: Northern copperhead in North Carolina Treehugger. Resilc: "Rep from 8th congressional district in NC."
Decapitated Rattlesnake Bites Itself Imgur (Chuck L). Anti-antidote, not for the squeamish.
COP21
What will not be addressed at the climate change conference in Paris Heiner Flassbeck. Guurst: ""Bleak' does not come close."

REDD+ Handed in Paris Project Syndicate (David L)
If Climate Change Is a Problem Then Lunar Helium-3 Fueled Fusion Is the Solution Slashdot
Denmark, a Green Energy Leader, Slows Pace of Its Spending New York Times (David L)
70 years after the Nuremberg trials: "Report makes case for prosecuting US war criminals" WSWS (Judy B)
China?
In Nigeria, Chinese Investment Comes With a Downside New York Times

Myanmar general backs Suu Kyi BBC

Hong Kong housing bubble threatens to bust MacroBusiness
"To the Lefts of Europe and the World" Transform Network (Sid S)
Far-right eyes big gains in French regional elections Reuters
Portugal divided by austerity and Portugal: backlash against austerity unites divided left IsabelPS
Another Obama Clean Energy Fiasco, Potentially Involving Largest Bankruptcy in Spanish History; Appeal of Clean Energy Michael Shedlock
Imperial Collapse Watch
President Obama to Make Primetime Statement on Terrorism on Sunday Wall Street Journal

The spread of Wahhabism, and the West's responsibility to the world New Statesman (Steven D)
2016
GOP Candidates Jewsplain Jewing To Jewishes. Goes Well As You'd Expect, Only Worse Wonkette (furzy mouse)

Trump repeatedly interrupted by protesters at campaign rally Th eHill (furzy mouse). I don't understand why the Republican establishment that is desperate to get Trump out of the picture haven't figured out that the way to dent him is to get him to react badly (which he has done occasionally. A way to do that is get protestors to push Republican hot button issues where Trump is on the wrong side. They need to get some bad video clips out of Trump on which they can capitalize.

Donald Trump ends speech after 10 protest interruptions MSNBC. A bit too much schadenfreude…..Also notice how Trump supporters swarmed the comments section.

95,000 Words, Many Ominous, From Trump's Tongue New York Times

Trump calls for Macy's Christmas boycott The Hill (furzy mouse). You cannot make this stuff up.

Top Jeb Bush political donor in Miami: I'll vote for Hillary Clinton over Donald Trump Miami Herald
Muslims in America Condemn Extremists and Fear Anew for Their Lives New York Times
Republicans reject Texas secession and Lone Star loons The Star-Telegram
Black Injustice Tipping Point
One Elected Southern Politician's Struggle to Reverse Entrenched Racism and Police-State Mentality Alternet
Gunz
Europe drops CDS market probe into banks Financial Times
There's finally a limit to how much people put in hedge funds Business Insider
Fed Finds Fault With Its Stress Tests Wall Street Journal
Wal-Mart Sues Puerto Rico Over 'Astonishing' Tax Increases Bloomberg
Class Warfare
Homeless Couple Found Living In Walmart Attic With Hot Plate, Meth Lab, And 42″ LED TV Now8TV (Dan K)

Macy's Imprisons Minority Customers and Extorts Them for Bogus Fines: Suit DNAinfo. Lambert: "And not for the first time!"
Peter Frankopan Tank Magazine (guurst). Trust me. Read this.
Antidote du jour. From a series sent by Diane P:
31-year-old Luiz Higa Junior of São Paulo , Brazil , tells PetaPixel that his golden retriever, Bob, is a little less than two years old. In the beginning, he just had Bob, a cockatiel and a parakeet.

"Since the beginning I put them together to see their behavior," he tells us. "It was nice, so I decided to have them play together sometimes during my free time."

He then added more birds and a hamster to the group, and his Instagram account has been steadily growing in popularity since. Higa's photos show the group posing, playing, exploring, and resting together.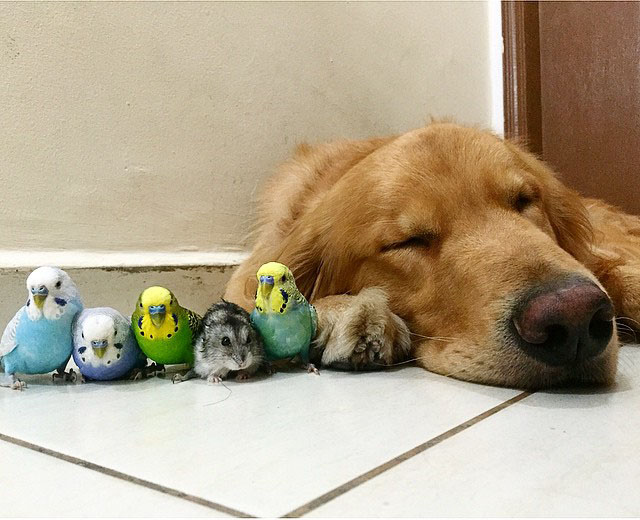 See yesterday's Links and Antidote du Jour here.