2016
Policy
Clinton, in Iowa: ""You know, I think Bernie's giving a speech today in New York about what he wants to do to shut down the big banks. Everybody who's looked at my proposals says my proposals are tougher, more effective, more comprehensive. Because, yeah, I take on the banks, but remember, part of what caused the mess we had in '07-'08 were not the big banks. It was Lehman Brothers. It was Bear Stearns. It was AIG, the giant insurance company. I want to go after everybody who poses a risk to our financial system," Clinton said to applause from the more than 500 people crowded into the lobby of Sioux City's historic Orpheum Theater" [Des Moines Register]. Chutzpah! And very Rovian: Assault your enemy's strength.

Clinton: "There needs to be a rival organization to the NRA of responsible gun owners" [Raw Story].
The Voters
"POLITICO has learned that his campaign several months ago assembled an experienced data team to build sophisticated models to transform fervor into votes" [Politico]. "The team is led by two low-profile former Republican National Committee data strategists, Matt Braynard and Witold Chrabaszcz, and includes assistance from the political data outfit L2."
Money
"Mr. Sanders's fundraising has surpassed expectations. Lacking the donor network the Clinton family built over a quarter century on the national stage, Mr. Sanders has nearly matched her fundraising haul. In the final quarter of 2015, he raised more than $33 million, compared to her $37 million. In the third quarter, the Sanders campaign collected $26 million; the Clinton campaign, $28 million" [Wall Street Journal]. Without PAC and SuperPAC money, or the "ginormous and ever-evolving hairball of tangled and conflicted personal and institutional relationships" that you get with the corrupt Clinton dynasty, either.
The Trail
"The [Illinois] Sanders delegate [slate], taken as a whole, could be considered the Democrats who Howard Dean famously called members of the "Democratic wing of the Democratic party" during his 2004 Democratic presidential campaign" [Chicago Sun-Times]. "That the Sanders slate brings him organization expertise is important because under Illinois Democratic delegate selection rules, delegate positions will be allocated to "fairly reflect" the preference of primary voters for president."

"…. Trump then polled the audience on the issue…." [WaPo]. That's amazing. I'm trying to recall another case in a Presidential campaign.

"Republican presidential candidate Jeb Bush said on Tuesday that his brother, George W. Bush, is still 'very popular' and could join his struggling campaign" [Raw Story]. Another dynasty to vote for….

"Donald Trump Shouldn't Have Bothered Buying Airtime. Cable News Ran His Ad 60 Times For Free" [HuffPo].
Stats Watch
ADP Employment Report, December 2015: "ADP is calling for unusual strength in Friday's employment report, at 257,000 for private payrolls which is far outside Econoday's consensus at 190,000 and well outside the high estimate for 227,000" [Econoday]. And "well above expectations [Econintersect]. "The rolling averages of year-over-year jobs growth rate remains strong but the rate of growth continues in a downtrend (although insignificant this month)."
Gallup U.S. Job Creation Index, December 2015: "December's job creation index averaged plus 30, down slightly from the monthly record high of plus 32 recorded for six consecutive months in 2015. The plus 30 yearly average for 2015 set a new high" [Econoday]. "Government hiring increased two points from November to plus 27, tying the record high found in October 2015."
Factory Orders, November 2015: "Flat is a good description of the nation's factory sector as factory orders slipped 0.2 percent in November, making October's revised 1.3 percent gain look like a rare outlier" [Econoday]. "A 13.6 percent monthly plunge in orders for mining & oil field machinery."
ISM Non-Mfg Index, December 2015: "This report continues to be consistent and solid, underscoring the strength of the nation's domestic-based economy" [Econoday]. And "Important internals improved, however, and remain in expansion" [Econintersect].
PMI Services Index, December 2015: "Growth in new orders came in at its slowest rate since the weather disruptions in January last year" [Econoday].
MBA Mortgage Applications, week of January 1, 2016: "Mortgage application activity fell sharply in the two weeks ended January 1, down 15 percent for home purchases and down 37 percent for refinancing" [Econoday].
Honey for the Bears: "I expect the U.S. economy to sputter in 2016. That's because the economy faces a deep structural problem: not enough demand for all the goods and services it's capable of producing" [Robert Reich, LA Progressive]. "I'd feel more optimistic if I thought government was ready to spring into action to stimulate demand, but the opposite is true. The Federal Reserve has started to raise interest rates—spooked by an inflationary ghost that shows no sign of appearing. And Congress, notwithstanding its end-of-year tax-cutting binge, is still in the thralls of austerity economics." Isn't "spooked" making an assumption about good faith on the part of the Fed?
Shipping: "[state-backed Shanghai International Shipping Institute (SIS)] stated that more than 60% of the 50 dry bulk shipping firms it surveyed were struggling with long-term losses, while approximately 40% faced liquidity problems" [Splash247].
The Fed: "5 Things to Watch in the Fed's December Minutes" [Wall Street Journal]. The minutes drop at 2:00PM, my deadline. So I guess people can see if these 5 things came true! Also: "fed minutes preview (dec 2015)" [Livesquawk].
Today's Fear & Greed Index: 41 (-1); Fear [CNN]. Last week: 51 (Neutral). (0 is Extreme Fear; 100 is Extreme Greed).
Police State Watch
" When a prison closes, what happens to the prison town?" [Christian Science Monitor].
"Entire Florida police department busted for laundering millions for international drug cartels" [Raw Story].
"It is unlikely that Officer Jason Van Dyke would have been charged with murder if there weren't video of him shooting Laquan McDonald sixteen times as he walked away. In large part, that's because fellow police officers appear to have lied to cover it up" [Salon].
"It is a systematic problem," says Craig Futterman, a University of Chicago Law School professor and civil rights attorney. "When there's a police shooting, or when there's an allegation of misconduct or brutality, the institutional response is to circle the wagons, denial, and cover up. And it's throughout the entire organization. It's not just sort of a code of silence" amongst officers but "really a phenomenon of narrative control and lying" from the top down.
And we're not seeing a lot of whistleblowers, either.
"Strip away the rhetoric, and [Cuyahoga County prosecutor Timothy McGinty] has made a clear statement about police conduct: If police perceive a threat to their lives then they've de facto justified their actions regardless of context, even if it ends with taking the life of a child. That includes situations like the Rice shooting, where police chose to create a confrontation, rather than manage an encounter" [Business Insider]. The problem here is that racist perceptions can also be perceptions of threat where none exists, so you can see what we just legalized here.
"Since 2005, Kansas City police have been involved in 47 fatal shootings, or about four a year, according to an analysis by The Star, which began compiling a database of the shootings 11 years ago" [Kansas City Star]. "When The Star recently compared Kansas City to 11 other cities, including larger ones like Denver and Milwaukee, it found that Kansas City had the third-most officer-involved fatal shootings per capita from 2005 through 2014. Only St. Louis and Cleveland recorded more."
"The Chicago shootings and why so many police calls involving the mentally ill end in death" [WaPo]. The idea is that cops are "poorly trained," but it seems to me they are doing what they were trained to do.
Corruption
" Emanuel hires connected D.C. law firm for Justice probe" [Crain's Business Review]. " Wilmer Hale is one of the 25 largest firms in the country and is representing Baltimore in that city's investigation by the Justice Department. The Washington D.C. firm has 14 offices but no presence in Chicago."
Chicago is hiring the same lead partner as Baltimore: Jamie Gorelick, chair of Wilmer Hale's regulatory and government affairs practice, who knows Mayor Rahm Emanuel from the years they both worked in the Clinton administration. She was deputy attorney general between 1994 and 1997 and before that general counsel for the Defense Department. Later, she became vice chairwoman at mortgage lender Fannie Mae. She's no stranger to high-profile investigations: before Baltimore, she represented Puerto Rico's police department when the feds investigated civil rights abuses there and Duke University when players on its lacrosse team were accused of rape.
Ah yes, Jamie Gorelick; a Flexian of the first water. See NC commenters in 2008 and 2010.
"George Lucas' banker wife is top Mayor Rahm backer; Rahm gave prime lakefront Chicago property to Lucas for $10" [Pando Daily]. Unlocked for only 22 hours from post time!
Dear Old Blighty
Tories slammed for 'appalling' decision to push through crucial housing law at 3am [Mirror].
"Labour revolt: Shadow minister quits on live TV in fury over Jeremy Corbyn's revenge reshuffle – live" [Daily Telegraph]. Torygraph lives up to its name. "Finally the Whinging Stops as Corbyn Sacks Blairite War Criminals" would be, well, more fair, don't you agree?
Gunz
"President Obama's move to tighten gun restrictions follows a string of high-profile shootings and surging sales of firearms — and some experts believe Tuesday's executive action will only heighten demand" [The Hill]. "Gun manufacturers have seen their stocks climb in recent days as sales pick up." Self-licking ice cream cone…
"Obama measures wouldn't have kept guns from mass shooters" [WBAL]. So, the only real effect is to further empower the gun complex?
"Gun Trace: Where criminals get their guns" [Baltimore]. Very nice interactive feature, state-by-state. In states where gun laws are lax (like Texas), criminals by guns in their home states. In states were gun laws are tighter (like New York), criminals get them from closely adjoining lax states.
On Obama's tears (full transcript) [The New Yorker]. "[T]he President started to tear up…. He wiped away a tear, this one from below his left eye, and then he pressed his lips with his thumb and forefinger… [He] gesticulated with his index finger and brushing away another tear, this one from below his right eye." I can't make up my mind whether this is hagiopgraphic, pornographic, or both. Anyhow, heck, John Boehner cried all the time, about anything or nothing, and the question of the sincerity of his "display of emotion" never arose. And if Boehner was sincere, so what?
Our Famously Free Press
"Media companies linked to the Murdochs pay the least tax" [Australian Financial Review]. "The data also shows companies linked to News were significantly less profitable than most other media rivals, with interest payments on loans from associated companies helping to reduce profit margins and taxable income." Hmm…
"Twitter Considering 10,000-Character Limit for Tweets" [Re/Code]. Re/Code broke the story
"Twitter shares hit new low on rumored shift to 10,000-character tweets" [Guardian]. That's about three pages of text. I can't decide whether this is the stupidest idea ever or a wonderful opportunity for long-form tweeting. Or, alternatively, it could be evil…
"Twitter reinstates Politiwoops, account that tracked politicians' gaffes" [Boing Boing]. Excellent!
"Twitter Isn't Raising the Character Limit. It's Becoming a Walled Garden" [Slate].
What's really changing here, then, is not the length of the tweet. It's where that link at the bottom takes you when you click on it—or, rather, where it doesn't take you. Instead of funneling traffic to blogs, news sites, and other sites around the Web, the "read more" button will keep you playing in Twitter's own garden
"Facebook has taken over from Google as a traffic source for news" [Fortune].
"Who Controls Your Facebook Feed" [Slate]. The news feed isn't entirely algorithmic; the Facebook process includes a panel of live humans.
Militia Watch
Jacobin interviews Ammon Bundy (nice get!) [Jacobin]. Bundy: "We are people taking a stand for our land rights."
"Required Reading: The Malheur National Wildlife Refuge Was Taken Over Once Before, Back in the 19th Century" [The Stranger]. And the Paiutes weren't happy when the ranchers did it, either.
"The [Southern Poverty Law] Center is an Alabama-based nonprofit which is actively and vociferously loathed in certain conservative circles. However, it is one of the best sources of empirical data and information about extremist political activity in the United States because the discrimination watchdog agency and think tank employs former reporters and editors, investigators, law enforcement and security analysts" [WaPo]. "Loathed"? One can only wonder why….
Gaia
"In its first scientific risk assessment of the much-debated class of pesticides called neonicotinoids and how they affect bees on a chronic long-term basis, the EPA found in some cases the chemical didn't harm bees or their hives but in other cases it posed a significant risk. It mostly depended on the crop" [ABC]. All I know is that eight or nine years ago I saw honeybees regularly, and now I hardly see any. Could be a local effect, of course.
"How much of the mainstream media coverage given to COP21 and the Paris Agreement mentioned the mysterious exemption given to the US's massive military and security machine? None" [The Ecologist]. "Not only are these emissions entirely outside the UNFCCC process, but a 'cone of sillence' somehow prevents them from even forming part of the climate change discourse."
Class Warfare
"The CEO of your company has probably already earned your 2016 salary this year" [WaPo].
"The Market Socialist Idea" [London School of Economics]. "The key idea, according to British political scientists such as Julian Le Grand and David Miller, is that market socialism retains the market mechanism while socializing the ownership of capital. The thrust of this social-democratic approach is that markets not only promote efficiency but also freedom and democracy thus giving wide political appeal."
"Wage Gap May Help Explain Why More Women Are Anxious and Depressed Than Men" [Mailman School of Public Health].
News of the Wired
"Oculus Rift inventor Palmer Luckey says virtual reality was never really about gaming" [Daily Dot]. I really don't get the use case of a virtual reality wedding. Why not just video it?
Cringeley's 2015 and 2016 predictions, including the end of engineering workstations in favor of the cloud [Cringely].
* * *
Readers, feel free to contact me with (a) links, and even better (b) sources I should curate regularly, and (c) to find out how to send me images of plants. Vegetables are fine! Fungi are deemed to be honorary plants! See the previous Water Cooler (with plant) here. And here's today's plant (PP):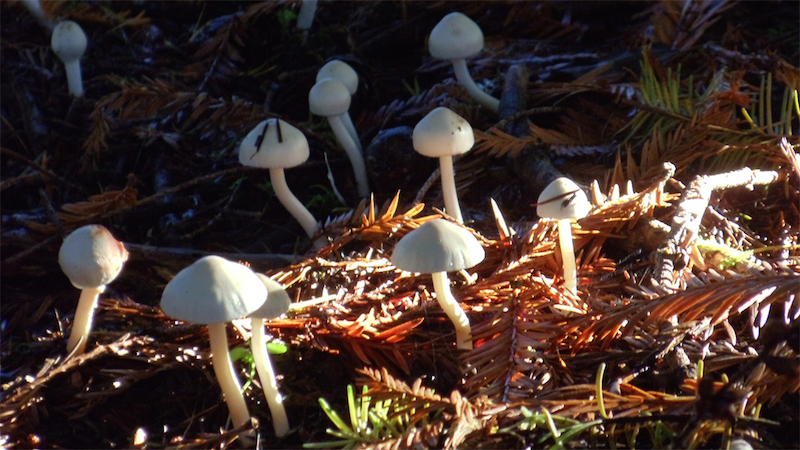 Mushrooms in the light! But I don't know what they're being fed…
Also, I'm still a bit short on winter plants. In fact, plants in general! Readers?
* * *
If you enjoy Water Cooler, please consider tipping and click the hat. Winter has come, I need to buy fuel, keep the boiler guy and a very unhappy plumber happy, and keep my server up, too.