TPP/TTIP/TiSA
"Just Because Australia Won Its Plain Packaging Case Against Philip Morris Doesn't Mean Corporate Sovereignty Isn't A Threat" [TechDirt].
"The Chilean government announced that it would sign the Trans-Pacific Partnership Agreement (TPP) in February in New Zealand" [Fresh Plaza]. "For this purpose, the Minister of Foreign Affairs, Heraldo Munoz, will travel to New Zealand to complete the processing of an arrangement that involves 12 countries, including the United States, Japan, Mexico, Canada, and Peru."
"The National Association of Manufacturers (NAM) said it will support the 12-nation Trans-Pacific Partnership (TPP), which was finalized in October after more than five years of negotiations" [The Hill].
"Canada and many other countries wanted to ensure that the lens promoted maintaining a balance between rights holders and users on all IP provisions. The exclusion from the objectives provision sets the tone for the IP chapter and highlights how user interests and the priorities of countries such as Canada were given limited weight within the final text" [Michael Geist]. First in a series of posts. About Geist, Boing Boing has this to say: " Michael Geist has rung in the new year with the first in a series of posts that set out, in eye-watering detail, the bowel-loosening terror of the effects that the secretly negotiated Trans Pacific Partnership would have on Canada if the country ratifies it."
"One of the biggest problems for deal advocates is timing: the Obama administration initially planned to send the deal to Capitol Hill for a vote in the spring or summer of 2016. But there's one big vote of no confidence on this election-year plan: Senate Majority Leader Mitch McConnell, R-Ky., said in December that the deal is unlikely to come before Congress prior to the election. But new Speaker Paul Ryan, R-Wis., was a big ally to the White House in pushing fast-track trade promotion authority and could help Presdient Barack Obama if he supports TPP (which is now unclear). The agreement is complicated by the fact that several leading presidential contenders oppose it, including Hillary Clinton, Donald Trump, and Sen. Ted Cruz, R-Texas" [Atlanta Journal-Constitution]. I dunno. I thought that domestic politics in both the U.S., Japan, and Malaysia would make signing the deal difficult. They did, but in retrospect the correllation of forces included international relations invisible to me, and Obama showed impressive determination to muscle the deal through, ka-ching; the man can get the job done when he wants to.
"In Pennsylvania, Philadelphia and Pittsburgh offer a snapshot of some of the reasons the TPP has become so divisive entering an election year. … As a center for international trade, Philadelphia stands to benefit from a deal that provides easier access to global markets. … In Pittsburgh, however, where Mayor Bill Peduto faces reelection in 2017, the TPP could cripple the city's already unstable steel industry" [Philadelphia Voice]. As if the TPP were a trade deal….
2016
Policy
"Democratic presidential candidate Bernie Sanders says 'let's be clear': proposal to reinstate Glass-Steagall, 'introduced by my colleague Senator Elizabeth Warren, aims at the heart of the shadow banking system;" [Bloomberg].

"Clinton and Summers are wrong on Sanders's Glass-Steagall proposal" [The Hill]. Nice explainer. And "Clinton campaign launches preemptive strike on Sanders Wall Street plan" [The Hill]. Can't the Clinton campaign even wait for Sanders to release his proposal before lying about it?

Saudis sign with Podesta Group for PR, and boy howdy, do they need some [The Intercept]. "The Podesta Group is a lobbying firm founded by Tony Podesta, a major fundraiser for the Hillary Clinton presidential campaign." Well, I'm sure a Clinton administration would not let that affect their Middle East policy in any way. I crack myself up sometimes!
The Voters
"Americans say their own government was the nation's biggest problem in 2015, according to Gallup, though the number giving that response has dropped slightly" [The Hill]. And Obama hasn't changed that, obviously. Why would that be?

"Fully 7-in-10 (70%) Americans say that the world's climate is undergoing a change leading to more extreme weather patterns and sea level rise, including 41% who call climate change a very serious problem" [Monmouth Poll].

"Trust the state polls" [FiveThirtyEight]. That means Cruz (Iowa) and Christie (New Hampshire), not Trump.
The Trail
Missed this one from Nooners: "I have not seen a political cycle so confounding in my lifetime, and it could continue into a year of the most historic kind. If you love politics—the excitement, the unknowability, the to-and-fro—this is the year for you" [Peggy Noonan, Wall Street Journal, "Will the New Year's Tumult Trump the Old?"]. "We could see a great party split in two. That, I think, is what I'm seeing among the Republicans, a slow-motion break."

"Bill Clinton Is to Campaign in Iowa" [New York Times]. So if you want a dynasty, vote for it. It couldn't be more clear.

"But despite his outward displays of his belief, Cruz, the favorite in Iowa, is facing a whisper campaign of sorts from his Republican opponents: He's Christian, but not Christian enough" [CNN]. Fighting breaks out among the Pharisees….

"G.O.P. Presidential Hopefuls Gird for a Month of Mud-Flinging" [New York Times]. Should be fun!
Stats Watch
Gallup US Economic Confidence Indicator, December 2015: " December's economic confidence index averaged minus 11 in December, slightly better than averages from July through November. Confidence was a bit lower in December than in early 2015, but better than it's been for most of the time since 2008″ [Econoday]. "39 percent of Americans [say] the economy is 'getting better' and 57 percent saying it is 'getting worse.'" Where the heck is that darn punch bowll? Did Janet donate it to Goodwill or something?
Motor Vehicle Sales, December 2015: Within consensus [Econoday].
"Who is Driving the Recent Decline in Consumer Inflation Expectations?" [Liberty Street]. "[T]he recent decline in inflation expectations is fairly homogenous across demographic groups." Interesting to see "who" in the headline, and not "what." But what did Janet do with that punch bowl? Maybe she accidentally put it out in the driveway for the yard sale?
Atlanta Fed's GDPNow model forecast for real GDP growth drops off a cliff (well below mainstream consensus) [Center for Quantitative Research].
"The U.S. Justice Department has sued Volkswagen for up to $90 billion for allegedly violating environmental laws – five times regulators' initial estimate and a reminder of the carmaker's problems nearly four months after its emissions scandal broke" [Reuters]. No executives going to jail, of course.
Today's Fear & Greed Index: 42 (0); Fear [CNN]. Last week: 51 (Neutral). (0 is Extreme Fear; 100 is Extreme Greed).
Corruption
"Senior city lawyer quits after judge rules he hid evidence in fatal police shooting " [Chicago Tribune].
"[Illinois squillionaire and Governor Bruce] Rauner told reporters he would sign a bill allowing Chicago voters to recall their mayor from office if it reaches his desk" [Chicago Sun-Times]. That crunching sound you heard was the bus driving over Rahm.
Water
"Scott Slater [CEO of Cadiz Inc] has a plan. It is not a popular plan, but he wants to pump 814bn gallons of water from under the Mojave desert to Los Angeles and other drought-stricken communities in southern California, and make more than $2bn (£1.3bn) doing so" [Guardian]. Maybe Slater and that Shkreli dude could get together? It sounds like they have a lot in common.
"Last week, Gov. Rick Snyder said he was sorry for Flint's lead in water crisis" [MLive]. "Now, he must decide whether the situation amounts to a man-made disaster, created while the city was being run by emergency managers that he appointed."
Gaia
"Since October, [Sempra's Porter Ranch gas] leak has spewed at least 1.6 million metric tons of carbon dioxide into the atmosphere, equivalent to 200,000 vehicles driving for a year, said Dave Clegern, a spokesman for the California Air Resources Board" [Bloomberg]. "'I put my life savings into this home because it's behind gates, and I felt safe there,' Hemmis said. 'I don't anymore.'"
Militia Watch
"The White House on Monday referred to an armed occupation of a federal wildlife refuge in Oregon as a 'local law enforcement matter'" [The Hill]. Occupy BFE is kinda self-cancelling tactically, isn't it? Starve 'em out, including starving 'em of publicity (which not even Cruz seems willing to give them).
"10 other federal government stand-offs like the one in Oregon" [WaPo].
Imperial Collapse Watch
"The secrets the world's top experts use to make really good predictions" [WaPo]. Sounds interesting, until we get to this:
The Good Judgment Project competed as one of five teams in a forecasting tournament sponsored by American intelligence agencies, who funded the competition in an effort to learn how to make better predictions after the intelligence failures in 2006, when .
No, no, no, no, no. The United States did no such thing. It did not invade Iraq "believing" that Saddam had WMDS; see the Downing Street Memo: "But the intelligence and facts were being fixed around the policy." Call me crazy, but I'd say that "Good Judgment" starts with not lying to yourself. Or others. Not so easy as it sounds, I know, but still.
Class Warfare
"'Horrific' Construction Revealed in Texas Post-Christmas Tornado Damage Survey" [Weather]. Reader ambrit comments:
I caught this because I have worked on just such kinds of job. This cheapening out of construction in public buildings is all too common. I have only seen proper Quality Control on some large jobs, and Federal Projects. Most mid and small level projects were, even twenty years ago, run on a primitive 'honour system.' The picture showing the base plate bolted to the slab with nails sticking up where the studs had been "connected" will bring a frisson of fear to any good carpenter.
At some point, I would think the curves of weirder and weirder weather, and crappier and crappier construction, would have to intersect, in a bad way. Have others noticed what ambrit has?
"[P]eople in more economically unequal societies live shorter lives. What was startling was that this was true even for the rich" [Yes!].
"The children of the affluent are becoming increasingly troubled, reckless, and self-destructive" [Reuters]. And the solution is quite simple…
"In some circumstances, even wealth created in a non-zero-sum way has the practical effect of making the poor poorer" [Inc]. On Silicon Valley venture capitalist Paul Graham.
News of the Wired
I'll just leave this here: "The CEO of Google's £400 million AI startup is going to meet with tech leaders to discuss ethics" [Business Insider].
"[A] fresh wave of automation would at least give us the opportunity to leave the robotic jobs to the robots, and find more fulfilling work for humans to do" [FT, "Leave robotic jobs to robots and improve humans' lives"]. 'Tis a consummation devoutly to be wished. Then again, suppose robots solve the servant problem for elites in a severely depopupulated world. Eh?
"PayPal, Square and big banking's war on the sex industry" [Engadget]. Of course, if they were selling guns instead of pr0n, everything would be jake.
"The Developer Formerly Known as FreeBSDGirl" [Randi.io]. Ugh.
"Across the USA by Train for Just $213" [Stumbleupon (Paul Tioxon]. If Amtrak WiFI was reliable the whole way, I'd try the digital nomad route. And if one must cut ties to a physical dwelling, Amtrak might beat a Winnebago….
"Pranav Dhanawade: 15-year-old schoolboy becomes first batsman to score over 1,000 runs" [Independent]. "Mumbai school cricket is notoriously competitive."
"In its most recent MacBook redesign, Apple took the bold step of abandoning the [breakaway] MagSafe charging cable in favor of a more standard USB-C design. MagSafe, the fancy name for the magnetic cables that MacBook users have become familiar with since their 2006 debut, were largely beloved and often considered a defining feature of Apple's notebooks" [Daily Dot]. The Cook and Ive regime continues its slow and stealthy crapification of the Mac. I can't tell you how often I've tripped on a power cord and thanked Apple because because the MagSafe plug pulled loose, and my laptop didn't end up on the floor with a cracked screen or worse. Over my life as a Mac owner, the MagSafe could literally have saved me thousands of dollars and untold agony. Now that functionality has been pencilled out by some MBA or, worse, some goateed iOS designer who types with their thumbs. It's still too much to say that Apple is running on brand fumes, but what's wrong with these people? Oh, and read this, too, if you haven't already. Crapification is never "bold."
* * *
Readers, feel free to contact me with (a) links, and even better (b) sources I should curate regularly, and (c) to find out how to send me images of plants. Vegetables are fine! Fungi are deemed to be honorary plants! See the previous Water Cooler (with plant) here. And here's today's plant (PP):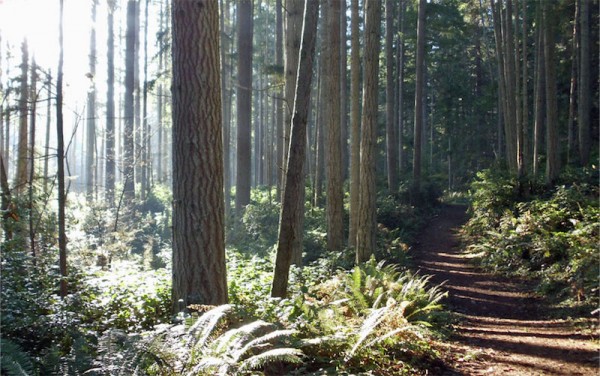 Yet another inviting path (Fisher Pond Trail).
Also, I'm a bit short on winter plants. In fact, plants in general! Readers?
* * *
If you enjoy Water Cooler, please consider tipping and click the hat. Winter has come, I need to buy fuel, keep the boiler guy and a very unhappy plumber happy, and keep my server up, too.