By Lambert Strether of Corrente.

Readers, this is longer than it should be, but there was too much 2016 material!
TPP/TTIP/TiSA
"Independent economists: TPP will kill 450,000 US jobs; 75,000 Japanese jobs, 58,000 Canadian jobs" [Boing Boing].
But a new working paper from Jerome Capaldo and Alex Izurieta, economists from Tufts University's Global Development and Environment Institute and Jomo Kwame Sundaram — formerly the United Nations Assistant Secretary-General for Economic Development takes a critical, independent look at the economic modeling performed by the TPP's proponents and finds it based on a set of nonsensical, nonstandard assumptions about how economies perform.
2016
Money
"[B]illionaire investor Warren Buffett is scheduled to host a $33,400-a-head fundraiser for Clinton and Democratic Party groups in Washington on Jan. 31, the day before the crucial Iowa caucuses" [International Business Times]. I like the timing. Classy. "Buffett's fundraiser for Clinton — which follows previous Clinton fundraisers he's appeared at — will occur just weeks after senior Democratic lawmakers on the House Financial Services Committee excoriated him over a joint report by the Seattle Times and Buzzfeed about a mobile home company owned by his investment firm, Berkshire Hathaway. The report alleged that Berkshire's subsidiary, Clayton Homes, 'systematically pursues unwitting minority homebuyers and baits them into costly subprime loans, many of which are doomed to fail.'" Pragmatic! And whenever you hear "pragmatic," think "ka-ching."

"Exclusive: Billionaire green activist Steyer not ready to back Clinton, open to Sanders" [Reuters]. Best thing he could do is give Sanders $30 and encourage everyone else to do the same thing.
The Trail
"Bernie Sanders Does His Own Laundry (and Grocery Shopping): Inside the Family Life of the Down-to-Earth Democratic Candidate" [People (!)].

"But more than any other topic on Tuesday, [Sanders] sought to wind up his backers with talk of Wall Street, specifically zeroing in on Goldman Sachs, which he in Fort Dodge called a 'zillion-dollar institution.' That emphasis was rivaled only by his familiar criticism of super PACs. When he started his go-to riff on the topic in Underwood, he was interrupted by a voter who yelled, "Crooks!" [Politico]. Sanders smiled and said, "I have no comment on that," before demurring."

"Can 'socialist' Bernie Sanders win a general election? It's a fair question" [Greg Sargent, WaPo]. "The Sanders campaign argues that head-to-head polling matchups show him performing better against the GOP candidates than Clinton does, and that only he can win over independents in the necessary numbers. But head-to-head general election polling right now is meaningless; Sanders has not been subjected to sustained attacks; and the general election audience knows Clinton far better than it knows Sanders…. The Sanders camp points out that only he can motivate younger and newer voters, as evidenced by what we're seeing in the Democratic primary. The question of whether Clinton can motivate those voters is a very serious concern, one that has been raised by veteran Democratic pollsters such as Stan Greenberg, and one that really does call into question whether Clinton will be able to win in November. Meanwhile, to my knowledge the Clinton camp has not meaningfully addressed the fair point that she made similar 'electability' arguments against Barack Obama in 2008, which turned out (obviously) to be very wrong."

"[Sanders'] favorability ratings are over 90 percent in the state, which is basically where Michael Jordan's favorability ratings would have been in Chicago in 1993" [WaPo]. You know, the People's Republic of New Hampshire? The state with "Live Free or Die" on its license plates?

"Debunking the case against Sanders: Bernie's liberal critics, like Jonathan Chait, resort to fatalism and blind trust in the status quo" [Ben Norton, Salon]. Imagine if politics were football: "This forward pass thing is a flash in the pan. My advice: Stay pragmatic and stick with what you know!" Or "Sure, helmets will prevent brain damage, but the owners just won't accept it. It's not politically feasible!"

"How Bernie Sanders could win it all: What it would take for a democratic socialist to become president" [Bob Cesca, Salon]. "One thing we can predict with 100 percent certainty: In addition to other lines of attack, the GOP will deploy every red-baiting hellfire missile in its arsenal against Sanders, and it'll be relentless about it." Which is why the Clinton campaign has already deployed that particular demonizing tactic.

"Said Sen. Claire McCaskill (D-MO): "The Republicans won't touch him because they can't wait to run an ad with a hammer and sickle" [New York Times]. Let 'em try. And I like the way McCaskill shifts responsibility for her own red-baiting onto the Republicans. Can't Democratic regulars take responsibility for anything?

"Hillary Clinton's Communications Director Jennifer Palmieri, responding to reports that GOP operatives are trying to help Bernie Sanders, says he is "taking his cues from them, using a Karl Rove attack to go after her," according to e-mail statement" [Bloomberg]. Well, Sanders can't be the second coming of Karl Marx and Karl Rove's acolyte at the same time. Could be the Clinton campaign is throwing all the mud it can in the hope that some will stick, or they're panicked and flailing. Or both!

"Hillary Clinton's national lead is slipping faster in 2016 than it did in 2008" [WaPo]. With handy chart:

"But at an Upper East Side dinner party a few months back, Ms. [Lena] Dunham expressed more conflicted feelings [than she did on the campaign trail]. She told the guests, at the Park Avenue apartment of Richard Plepler, the chief executive of HBO, that she was disturbed by how, in the 1990s, the Clintons and their allies discredited women who said they had had sexual encounters with or been sexually assaulted by former President Bill Clinton" [New York Times].

"In an added sign of bonhomie between Clinton and the top Planned Parenthood executive, [Cecile] Richards' daughter, former Democratic National Committee spokeswoman Lily Adams, signed up last spring with the Clinton campaign as Iowa press secretary, a high-profile portfolio for a campaign eager to shore up support in the important early state that rejected Clinton in 2008" "[Politico]. Not that there's anything wrong with being part of the Democratic establishment.

"Clinton Library set to release Donald Trump records" [Politico]. "The files could revive questions about the friendly relationship Trump had with President Clinton and Hillary Clinton before Trump launched his presidential bid last year and began taking a withering line against the Clintons." The records come in response to a FOIA request. Politico does not name the requester.

"Trump Touts 'A Good Day' After Palin Endorsement" [ABC]. "In the statement announcing the endorsement, Trump's campaign described Palin as a conservative who 'helped launch the careers of several key future leaders of the Republican Party and conservative movement.' The statement also quoted Cruz as once saying he 'would not be in the United States Senate were it not for Gov. Sarah Palin. … She can pick winners.'" Ouch!

"'Palin's brand among evangelicals is as gold as the faucets in Trump tower,' Ralph Reed, the chairman of the Faith and Freedom Coalition, told the New York Times. 'Endorsements alone don't guarantee victory, but Palin's embrace of Trump may turn the fight over the evangelical vote into a war for the soul of the party.'" Hilarious, when you think about it, since Palin was made a national figure by none other than John McCain, establishment Republican.

"Evangelicals who revere Palin may not be the dominant force in American politics. But they know the locations of the auditoriums and halls where Iowa Republicans will be caucusing in short order" [The Nation].

The full text of Palin's Trump endorsement [Buzzfeed]. Please don't ask me to break out my Magic Markers. But keying off a link in yesterday's Water Cooler: "Trump rambles. Trump steps on lines that could, untrammeled, become applause lines. This is not because he is bad at speaking, and from time to time, he obviously is repeating a thought to make sure it connects." So I wonder if Trump is risking brand confusion, because Palin has the same issue with loggorhea: "[R]ambling, pandering, chock full of empty catchphrases" [The Federalist]. And part of Trump's appeal is that he is The Donald; unique, sui generis. I don't think voters want to see Trump and Mini-Trump, and if they do, it will diminish Trump, and not enhance Palin.

"While criticizing President Obama and his wife, Michelle Obama, on Tuesday, former Florida Gov. Jeb Bush incorrectly pronounced Malia Obama's name as "Malayla" [Talking Points Memo]. Poor Jebbie. I have pity for the guy, I really do.
Stats Watch
I know I should be excited when the market goes down, because the market is always supposed to go up, but where's the link to the real economy? It's hard to fall down when you're flat on your back. [Financial Times, "Free Lunch: Market mayhem mystery"]:
"Olivier Blanchard, the former chief economist at the International Monetary Fund who is now free to share his personal thoughts on the economy, argues that there is nothing "fundamental" that can justify the market rout. There is 'no evidence' of a collapse in Chinese growth; and it's 'difficult to think' that any negative effects of lower oil prices outweigh the positive ones. Here, Blanchard strikes a slightly different note than his IMF successor Maurice Obstfeld and Paul Krugman, as we discussed yesterday. But these are shades of nuance, not categorical differences.

Instead, Blanchard puts the market turmoil down to "herding", or financial markets' tendency to self-fulfilling dynamics.
Hmm. I'm not sure that "herding" is really an appropriate metaphor.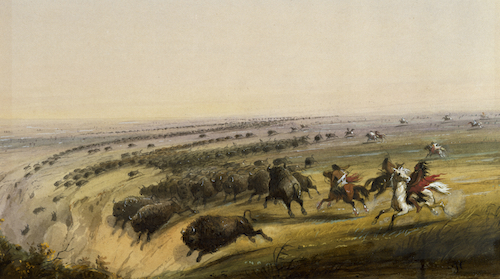 Or perhaps it is!
MBA Mortgage Applications, week of January 15, 2016: "A drop in rates during the January 15 week fed a sharp jump in refinancing applications, which rose 19 percent, but not for purchase applications which fell 2 percent. But purchase applications did surge in the prior week and remain 17 percent higher than a year ago which is a positive indication for underlying home sales" [Econoday].
Consumer Price Index, December 2015: "Consumer prices are showing a little pressure but not a great deal. Though the CPI slipped 0.1 percent in December, the core rate did edge 1 tenth higher" [Econoday]. "Lack of inflation, the result of both falling energy and commodity prices and also general weakness in demand, is a major policy risk for the FOMC which meets later this month. Some FOMC members have been expressing doubts that inflation will begin to move to target, and today's report does little to allay those concerns." But: "The year-over-year core inflation (excludes energy and food) rate grew 0.1% to 2.1 %, and now is slightly above the target set by the Federal Reserve" [Econoday].
Housing Starts, December 2015: "Housing starts and permits both fell back in December but follow large gains in November" [Econoday]. "This report is below expectations and soft on a historical basis, but readings still point to respectable strength underway for new housing." And: "Looks to have stopped growing about 10 months ago" (handy chart) [Mosler Economics].
"Royal Dutch Shell plans to make a total of 10,000 staff and direct contractors redundant as it continues its efforts to reduce its operational costs, and will step up sales of its assets to generate cash over the next two years" [Splash247].
"Gas Price Hits 47 Cents a Gallon in Michigan After Price War" [ABC]. Probably cheaper than lead-free water.
Shipping: "In July, Amazon proposed methods for regulating the kind of commercial drone use it intends to get involved in. It suggested that the government set aside a 200-foot-high stretch of sky for the vehicles to transit through. Misener reiterated the company was still backing this idea, and said the FAA and NASA both welcomed "the thinking that had gone into it" [CNet].
Shipping: "The world fleet doubled in size from 2010 to 2013. At the same time, China doubled its shipyard capacity and took huge orders for new ships as it sought to control the commodities trade" [Business Insider]. "In a normal market the rational decision would be to remove loss-making ships from the fleet, but this is anything but a normal market. The world shipping fleet is drowning in debt. [James Kidwell, chief executive of the London-listed broker Braemar Shipping] describes how ship owners who have financed their fleets with 60% debt and 40% equity have seen that equity become worthless. Meanwhile, the banks that provided the debt won't pull the plug, as they would be forced to recognize the losses."
"The U.S. Treasury Department wants to know if you're worried about bond-market liquidity. Also, how you even define it" [Bloomberg]. "The agency released a request for information Tuesday — part of its first significant review of the market in almost two decades — where questions range from the technical to the philosophical." Does this strike any other readers as odd, and oddly timed?
The Fed: " Fed's $216 Billion Treasuries Rollover Recalls Crisis Era Buying" [Bloomberg].
Today's Fear & Greed Index: 8, Extreme Fear (previous close: 11) [CNN]. One week ago: 14 (Extreme Fear). (0 is Extreme Fear; 100 is Extreme Greed).
Davos
Maybe I should just file all this stuff under "Guillotine Watch"….
"Climate change fails to top list of threats for business leaders at Davos" [Guardian].
"A mixture of corporate jargon, future-fixation and deployment of airy concepts intended to convey prescient wisdom is a linguistic hallmark of the World Economic Forum. In ambition and ambiguity, Davos-speak easily outdoes the quotidian office jargon, mocked by the television satire "The Office" in both its British and American incarnations" [The Economist, "The language of power"]. "The future will be contribution-defined, not benefit-specific." Well, for some people.
Corruption
"Legislation to allow an emergency oversight board appointed by the state to take over CPS – and also allow CPS to declare a Chapter 9 bankruptcy – is intended to save the school system, GOP leaders said Wednesday" [Chicago Sun-Times]. Oh, totally. Why am I suddenly reminded of those "Lucky millionaire wants to share the wealth" ads?
"Almost every year California's labor unions are forced to spend millions of dollars fighting essentially defensive battles against right-wing corporate interests that engage in class warfare and seek to hobble workers' rights. The money often flows in from Texas and other states with an agenda behind it that is clearly anti-California" [LA Progressive].
Gaia
"The Walls Have Compound Eyes: Most Households Teem with Insect Life" [Scientific American]. "Yet the vast majority of bugs in what the scientists described as the "great indoors" are considered benign and go largely unnoticed by their human co-habitants. 'I like to think of them as good roommates,' says study co-author Michelle Trautwein, an entomologist at the California Academy of Sciences in San Francisco. "They're quiet and unobtrusive.'"
Guillotine Watch
"University president's plan to cut struggling freshmen: 'You just have to drown the bunnies'" [Raw Story].
"Uber CEO's eight traits of great entrepreneurs" [MIT Sloan School]. Travis Kalanick: "Uber delivers 'magic' to consumers, he said, by giving people calm, joyful rides that save time and money. But, he said, 'We get used to magic. There was a time when running water was magic.'" Not in Flint, eh?
"This photographer takes $150,000 portraits of Silicon Valley's most powerful people" [Business Insider]. Court photographer…
Class Warfare
"With volatility and devaluation at home, Chinese investors have become the No. 1 foreign purchasers of U.S. real estate, and interest in the Seattle area is said to be running high" [Seattle Times]. It's like the United States is a drain, around which global squillionaires are circling.
"[C]apitalism can't run on pessimism" [The New Yorker].
"Eight years after the financial crisis, a full 63 percent of chief executive officers told PriceWaterhouseCoopers researchers that a lack of trust in business has become a significant worry — double the number who said the same in 2013" [Bloomberg].
News of the Wired
"After hospital care, elderly Siberian hermit to return home" [AP].
"[O]n Twitter, you cannot assume that you know the audience. In particular, you cannot assume that an audience beyond the one you intend will recognize the difference between sarcasm and sincerity" [James Fallows, The Atlantic].
"Everything should tweet, including your front door bell, your car, your printer, and the speakers on you desk. Everything. Twitter should be the notification system for everything and everyone. The company should stick with short messages as the best differentiator, but take it to a global scale and own the short message market" [Inc]. Twitter controls a global tuple space. That ought to be good for something.
"Open Source at the US Census Bureau" [github.com/uscensusbureau].
* * *
Readers, feel free to contact me with (a) links, and even better (b) sources I should curate regularly, and (c) to find out how to send me images of plants. Vegetables are fine! Fungi are deemed to be honorary plants! See the previous Water Cooler (with plant) here. And here's today's plant (Isolato):

Like a tapestry!
* * *
If you enjoy Water Cooler, please consider tipping and click the hat. Winter has come, I need to buy fuel, keep the boiler guy and a very unhappy and importunate plumber happy, and keep my server up, too.