"I love the smell of deflation in the morning" doesn't have quite the right ring to it. But that's the sort of carnage we are seeing. From the Wall Street Journal:
The selloff in oil prices accelerated Wednesday, intensifying a slide in global financial markets as investors worried that oil's relentless downdraft signaled global economic gloom.

The front-month U.S. oil contract settled down 6.7%, posting the biggest one-day loss since September. Oil prices have dropped more than 25% this year.

Much of the 19-month oil-market selloff has been driven by concerns about ample supplies. What's increasingly weighing on investors is the fear that demand growth is wilting, particularly in China, which could reflect deeper economic woes….

Oil investors fear that demand in China, which consumes about 12% of world's crude, may falter as the country shifts to a less energy-intensive economic model. On Tuesday, the Chinese authorities announced the country's gross domestic product rose 6.9% in 2015, its slowest pace in 25 years.

ESAI Energy LLC said Wednesday that the pace of demand growth in China from 2015 to 2030 will be 60% slower than the pace of demand growth from 2000 to 2015.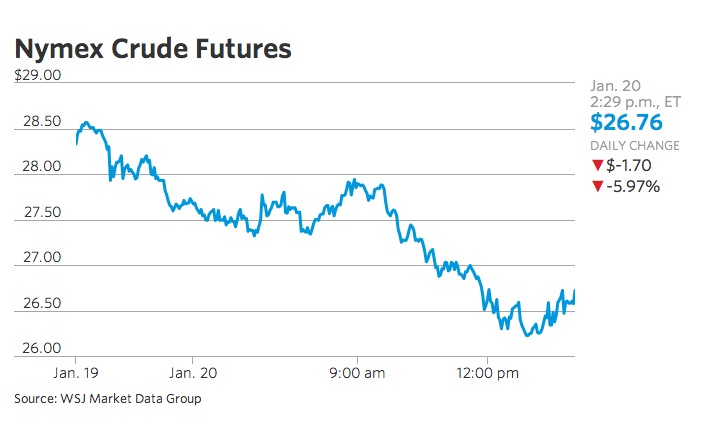 Brent was not hit as hard. Again from the Journal:
Brent, the global benchmark, fell 82 cents, or 2.9%, to $27.94 a barrel on ICE Futures Europe, also on track for the lowest settlement since 2003.
Crude sank the most in more than four months, dragging down shares of oil and gas producers to the lowest in almost seven years.

Futures fell as much as 8 percent to the lowest since May 2003. Royal Dutch Shell Plc, the first global major oil company to report fourth-quarter earnings, said Wednesday it expects profit to drop at least 42 percent. Markets could "drown in oversupply," sending prices even lower as oil demand growth slows and Iran boosts exports, the International Energy Agency said Tuesday.

"At this point things are ugly and there's no reason to buy into this market," said Stephen Schork, president of the Schork Group Inc. in Villanova, Pennsylvania.
And the Bloomberg update on stock and currency markets:
Turmoil returned to financial markets as oil plunged past $27 a barrel, the Dow Jones Industrial Average sank as much as 565 points and global equities approached a bear market that is fueling a rush into haven assets.

The Dow and Standard & Poor's 500 Index slid to lows last seen in early 2014, though selling eased in afternoon trading as the 30-stock gauge cut its decline to under 400 points. MSCI Inc.'s gauge of global equities fell to 19.8 percent below its May record and emerging shares plunged 3.2 percent. Russia's ruble and Mexico's peso fell to records, while bets mounted on an end to Hong Kong's dollar peg. A measure of default risk for junk-rated U.S. companies surged to the highest in three years. Yields on 10-year Treasuries dropped below 2 percent and the yen jumped to a one-year high.
The global equity rout accelerated on Wednesday, sending the FTSE All-World index into bear market territory as oil prices slid to new lows and investors fled for the safety of high-rated government bonds.

Fear rippled through global markets, taking the UK, French and Japanese stocks to more than 20 per cent below their 2015 highs — the common definition of a bear market — and compounding equities' worst start to a year on record.

The US S&P 500, the Dow Jones Industrial Average and the Nasdaq briefly fell more than 3 per cent to more than 10 per cent below their prior peaks, meaning they entered a market "correction", but rallied in early afternoon trading, with the S&P 500 down 1.95 per cent.

Equities have been dragged down by rising concerns over China, global economic growth prospects, sliding commodity prices and questions over whether central banks remain willing to act as a backstop.

Investors rushed for safer government debt on Wednesday, crimping the yields of 10-year US Treasuries, UK Gilts, German Bunds and Japanese bonds to just 1.96 per cent, 1.62 per cent, 0.48 per cent and 0.21 per cent respectively. The price of gold also rose sharply.
The remark about central banks is important. Under QE and ZIRP, and conditioned by over 20 years of the Greenspan/Bernanke/Yellen put, investors had assumed the Fed would always watch their back. But Fed officials have stays mum as the markets have careened downward. Whatever mojo the famed Plunge Protection Team had no longer seems to be working now. And even though economists have been trying to legitimate the idea of negative interest rates, the Fed is already unpopular in America. If citizens had to pay interest, as opposed to fees, to keep money in the bank, the public backlash would virtually guarantee that the ultimate result would be a reduction of the central bank's power.