By Lambert Strether of Corrente.

TPP/TTIP/TiSA
"The ability to make policy and to enforce it at the national level is essential to combat the slide towards plutocracy, under which society is controlled by the wealthiest citizens" [HuffPo]. Hmm. [Hums an old tune, The Internationale…]. Usefully, however, the article includes links to the following two studies:
"Who Has Benefited Financially from Investment Treaty Arbitration? An Evaluation of the Size and Wealth of Claimants" (PDF) [Gus Van Harten and Pavel Malysheuski, SSRN]. From the abstract:
We collected data on the size and wealth of the foreign investors that have brought claims and received compensation due to ISDS. Our main findings are that the beneficiaries of ISDS, in the aggregate, have overwhelmingly been companies with more than USD1 billion in annual revenue – especially extra-large companies with more than USD10 billion – and individuals with more than USD100 million in net wealth. ISDS has produced monetary benefits primarily for those companies or individuals at the expense of respondent states. Incidentally, we also found that extra-large companies' success rates in ISDS, especially at the merits stage, exceeded by a large margin the success rates of other claimants. It was evident that ISDS has also delivered substantial monetary benefits for the ISDS legal industry.
"Investment Treaties and the Internal Vetting of Regulatory Proposals: A Case Study from Canada" [Gus Van Harten and Dayna Nadine Scott, SSRN].
"The TPP features a ban on the ability of member countries to establish restrictions on data transfers" [The Tyee]. "[Some] TPP countries appear to have … obtained additional privacy assurances from the U.S. For example, a TPP side letter between the U.S. and Australia features a U.S. promise to extend any privacy commitments in other trade agreements to Australia. Moreover, the same side letter promises to work to extend privacy protections to Australian data held by the U.S. government." Wait, what? "Side letters"? Can we read them?
Latin American marches against TPP (map) [Participaccion].
2016
Money
"Unhappy Anniversary: How Anthony Kennedy Flooded Democracy With 'Sewer Money'" [Joe Conason, National Memo]. I didn't know Kennedy's family history. Ugh.
Policy
"During his landmark Georgetown University address, Bernie did much more than explain the meaning of "democratic socialism." Quoting both Dr. Martin Luther King, Jr. and President Franklin D. Roosevelt, Bernie openly recognized that there can be no "liberty" without "economic security" — the very thing that has been denied to millions of Americans by an increasingly oppressive oligarchy. Our political revolution is the answer to a system that denies liberty to so many" [LA Progressive].

"Put Bernie Sanders' 'Medicare For All' To The Test With This Online Healthcare Calculator" [Inquisitr (KatieBird)]. The calculator itself.

"Clinton-Sanders battle puts spotlight on Amtrak gun rules" [The Hill]. Presumably, there will be no gunz in the Quiet Car? I don't care so much about checked luggage.
The Trail
"The G.O.P. establishment is at a disadvantage against outsiders across nearly every dimension of primary strength, even on the matters where the establishment usually has an edge, like fund-raising, media coverage and support from moderate voters in blue states" [New York Times]. "What's even more remarkable is that the party's weakness comes when it would seem to have tremendous incentives to coalesce behind a single mainstream option. Rarely, if ever, has a party faced such a credible threat from true outsiders, and yet the Republican establishment is both split and on the sidelines."

"GOP Strategist: Trump Supporters Are 'Single Men Who Masturbate To Anime'" [Reuters]. Truly the party of stupid: Real single men masturbate to hentai, not anime [ducks, as Japan experts in the readership start throwing objects]. Seriously, though…. That's what the Republican establishment thinks of their base, and they're refreshingly open about it, aren't they? The Democratic establishment would want to have a "conversation," but the hate is the same.

"Palin Links Son's Arrest to PTSD, Obama Policies" [military.com]. "She went on to criticize the GOP establishment as well as Obama's foreign policies." Ya know, if I were living in a flyover state in a town where the mill closed, and the only jobs were at Hefty Mart, and the only exit was the military, and my child went to Iraq or Afghanistan and came back maimed and broken — and here comes the truth that must never be spoken and perhaps has never been said — from a war the Beltway elites lost, I'd be mightily pissed off at the Republican establishment and Obama too. And I would have every right to be.

"But looking through Palin's words, there's sometimes more to her teleprompter-free, shoot-from-the-hip speaking style than meets the ear" [Independent Journal]. "[On paper, her speech] resembles chiasmus, a Hebrew form of parallelism where phrases are repeated in an a-b-b-a pattern." With examples. The important point is that many parts of America hear that style of phrase-making from the pulpit every Sunday morning.

"Limbaugh explained, the 'glue' sticking conservatives together is 'virulent opposition to the left and the Democrat Party and Barack Obama. And I, for the life of me, don't know what's so hard to understand about that" [Politico]. Atrios has been saying the same thing in different words for years. What's interesting is that "conservative" "glue" is a lot like "'progressive'" "glue,'" only compounded out of different class and cultural markers.

Trump on Cruz: "He said with him being a Canadian citizen, 'Oh, I didn't know that.' How did he not know that? Then he said with the loans, 'Oh, I didn't know that.' Smart guy. He doesn't know that? Yeah, that's worse than Hillary, when you think about it" [Politico]. Well-crafted!

"Bill Clinton, according to a source with firsthand knowledge of the situation, has been phoning campaign manager Robby Mook almost daily to express concerns about the campaign's organization in the March voting states, which includes delegate bonanzas in Florida, Illinois, Ohio and Texas" [Politico]. In other words, the Big Dog doesn't believe in the South Caroline "firewall" any more than I do — or Bernie does, since he's got the financial muscle from small contributors to keep going 'til the convention (especially if the Clintons keep helping him fundraise by smearing him).

I seem to have repressed the fact thast Clinton supported debunked conservative abstinence programs:

More on Hillary Clinton's unimpeachable record on reproductive rights: pic.twitter.com/Vu7iznwlfU

— Amber A'Lee Frost (@AmberALeeFrost) January 20, 2016

"Should the Largest LGBT Organization Really Have Endorsed Hillary Clinton?" [Teen Vogue].

"Behind Lena Dunham's Hillary Clinton Campaign Looks: How a New Generation Is Reinventing Political Style" [Vogue].

Before speaking with Iowan HRC supporters over a four-day stop, the Girls creator and actress and her stylist, Shirley Kurata, began devising customized 'Hillary' monogrammed frocks and knits from a network of knitwear designers. Inspired by vintage silhouettes, centuries-old campaign paraphernalia, and, of course, the pantsuit savant herself, Kurata tells us how the patriotic looks all came together. And with the election just heating up, there is no telling what's up Dunham's 'Hillary'-emblazoned sleeve next.

I'm no fashionista, but I'd rate this look close, but no cigar. Then again: "I'm With the Headband: An '80s Accessory Favorite Makes a Chic Comeback" [Vogue].

"PolitiFact is calling out Democratic National Committee (DNC) chair Debbie Wasserman Schultz for her claim that her party's presidential debate schedule was designed to "maximize the opportunity for voters to see our candidates" [The Hill]. "The fact-checking website on Wednesday rated Wasserman Schultz's statements 'false,' calling her defenses 'very disingenuous.'" Wait, what? That's the DNC chair you're talking about! Srsly?

"Clinton's Bizarre Attack on Her Husband's 1992 Credentials to Be Elected Commander in Chief" [Angry Bear]. "This is someone whose husband was elected president in 1992 with government experience only as governor of Arkansas, against a sitting president who also attended military funerals, in his capacity as Commander in Chief, and who was a former CIA chief."
Stats Watch
Jobless Claims, week of January 16, 2016: "Jobless claims may have already hit their lows, at least that's the emerging trend for initial claims which posted a sizable 10,000 rise in the January 16 week to a much higher-than-expected 293,000. This is the highest reading since July" [Econoday]. "But continuing claims aren't yet confirming any slowing in the jobs market." But: "The four week rolling average of initial claims are 4.4 % lower (degradation from the 4.8 % for last week) than they were in this same week in 2015" [Econintersect]. And: "Possible bottom and now moving higher" [Mosler Economics].
Philadelphia Fed Business Outlook Survey, January 2016: "The factory sector continues to slow this month though, in good news, the rate of contraction is flattening out" [Econoday]. "And this is the clear theme from this report, that the factory sector may be beginning to level out following a very flat 2015." Huh? How is "level out" different from already "flat" This is "clear"? And: In "contraction," but "noisy" and "sentiment-based" [Econintersect].
Bloomberg Consumer Comfort Index, week of January 17, 2016: "Losses in the stock market aren't yet depressing the consumer" [Econoday].
Shipping: Rail contraction continues (with coal and grain backed out) [Econintersect].
Swaps: "This year has been had for rockers in their 60s, anyone with assets in the ground or in the stock market or those who believed the Fed would be initiating a series of rate hikes in 2016" [Across the Curve]. Followed by verbiage so arcane I hesitate to quote it. Readers?
"Last year was the most profitable ever for short sellers, by one measure. And 2016 is starting off even better for bears" [Bloomberg].
Today's Fear & Greed Index: 17, Extreme Fear (previous close: 9) [CNN]. One week ago: 17 (Extreme Fear). (0 is Extreme Fear; 100 is Extreme Greed).
Health Care
"[UnitedHealthCare Group, the nation's largest insurer] lost $720 million on the newly established ObamaCare exchanges last year, according to a much-anticipated earnings report released Tuesday. About one-third of those losses are due to 'advance recognition' of 2016 losses, the company said" [The Hill]. "'By mid-2016 we will determine to what extent, if any, we will continue to offer products in the exchange market in 2017, [CFO David] Wichmann said during a conference call with investors."
Police State Watch
Baltimore police use of force policies essentially advise officers to shoot to kill. https://t.co/XbC5xOhZW6 pic.twitter.com/jI5aehBDrh

— Samuel Sinyangwe (@samswey) January 20, 2016
From the Police Use of Force project.
Water
"Snyder Concedes Flint is His "Katrina," a Failure of Leadership" [National Journal]. And as a first step…
No joke, the entire first email released by Michigan Gov. Rick Snyder is redacted. pic.twitter.com/RzPif77UET

— Kyle Feldscher (@Kyle_Feldscher) January 20, 2016
"Governor's Emails Show Debate Over Blame for Flint Water" [AP]. Note the phrase "emergency manager" doesn't appear in the story. Here's a link to the emails.
"It was only after Flint residents organized their own campaign—attracting experts and activists and national media—that the state acknowledged the scale of the problem" [The New Yorker]. Interesting comparison to Charleston, West Virginia, when Freedom Industries (love the name) polluted the Elk River with ten thousand gallons of PPH and MCHM a mile upstream from the largest water-treatment plant in West Virginia. So, I'm long bottled water.
"Tonko: Water main break symptom of national problem" [Troy Record]. Water mains are so 19th Century. Idea: Have Amazon deliver bottled water with their new drones! All we have to do is dedicate 200 vertical feet of airspace to them, over the entire continent. Problem solved!
"Concerned citizens pack Hoosick Falls water hearing" [Albany Times-Union]. "Residents in this factory village packed the high school Thursday night to learn more about a dangerous chemical that contaminated their water system and stoked fears about whether it's caused what many believe is a high rate of unusual and aggressive forms of cancer."
"City: Carlyle, Mountain Water officials should appear in court to discuss sale " [Missoulian (diptherio)]. Carylle sold the water company to a Canadian firm, Liberty Utilities of Algonquin Power and Utilities Corp. "The only reasonable inference from Algonquin/Liberty's glaring disregard of the Montana legal system is that they plan to pillage Mountain Water assets, including cash assets, with intent to defraud the city," read the brief. "Thus, injunctive relief is appropriate." (Whenever you see a company with "Freedom" or "Liberty" in their name, put your hand on your wallet, or clutch your purse.)
Gaia
"Almost every group [in canine genetics] has a different origination hypothesis" [New York Times]. "[M]any researchers find it much more plausible that dogs, in effect, invented themselves."
"Wärtsilä To Design World's Biggest Krill Fishing Factory Vessel for Antarctic Waters" [gCaptain (guurst)]. What could go wrong?
Guillotine Watch
"How the Kochs Tried (and Failed) to Discredit Reporter Jane Mayer After She Exposed their Empire" [Democracy Now!].
Class Warfare
"Bank Leader Sounds Warning: Culture Message Isn't Filtering Down" [Bloomberg]. Since none of the crooks in charge were jailed? Could that be it? (And note the proliferation of the word "leader," which dissolves all functional distinctions between offices, as we saw in the Times's Davos coverage.)
"Disturbing images of the mold, mushrooms, and bullet holes in Detroit's schools that led to teachers' massive 'sickout'" [Business Insider]. Neoliberal privatization end game.
"Why George Ingle Finch, an Australian climber from the 1920s, deserves to be far better known than he is" [The Economist, "Onwards and upwards"].
""Trump is right now busy chasing the Mexicans," T.K. Kurien, the chief executive officer of Indian information-technology services firm Wipro Ltd., said in an interview at the Swiss mountain resort, where the World Economic Forum meets this week. 'But after he finishes with the Mexican story, I am pretty sure he'll train his guns on us'" [Bloomberg].
News of the Wired
"Linux Foundation quietly drops community representation" [Matthew Garrett]
"UK Government Voice Encryption Standard Built for Key Escrow, Surveillance" [On the Wire].
"Weibo Shows Us What a 10,000-Character Twitter Might Look Like" [New York Magazine].
Hold my beer while I tweet this number:
Supercomputer identifies largest known prime number consisting of 22,338,618 digits. https://t.co/IKZ4CbIM38 pic.twitter.com/YDthORRB00

— ABC News (@ABC) January 21, 2016
The 10K character limit will help a little. But not much!
"While stories such as Beauty and the Beast and Rumplestiltskin were first written down in the 17th and 18th century, the researchers found they originated 'significantly earlier.' 'Both tales can be securely traced back to the emergence of the major western Indo-European subfamilies as distinct lineages between 2,500 and 6,000 years ago,' they write" [Guardian]. "Analysis showed Jack and the Beanstalk was rooted in a group of stories classified as The Boy Who Stole Ogre's Treasure, and could be traced back to when eastern and western Indo-European languages split – more than 5,000 years ago. Beauty and the Beast and Rumpelstiltskin to be about 4,000 years old. A folk tale called The Smith and the Devil was estimated to date back 6,000 years to the bronze age."
* * *
Readers, feel free to contact me with (a) links, and even better (b) sources I should curate regularly, and (c) to find out how to send me images of plants. Vegetables are fine! Fungi are deemed to be honorary plants! See the previous Water Cooler (with plant) here. And here's today's plant (PP):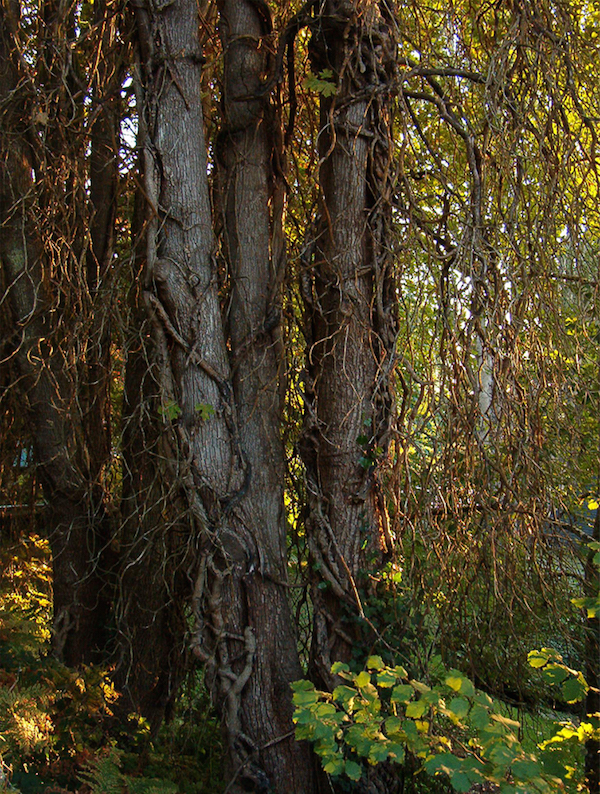 * * *
If you enjoy Water Cooler, please consider tipping and click the hat. Winter has come, I need to buy fuel, keep the boiler guy and a very unhappy and importunate obstreperous plumber happy, and keep my server up, too.