By Lambert Strether of Corrente.
Readers, I must apologize for this initially sketchy Water Cooler (I'll add some UPDATEs after posting). I went to a movie, and I had no idea a movie with a running time of two hours would take more than three, from ticket to exit. –lambert
TPP/TTIP/TiSA
UPDATE "A transfer of nearly $700 million to Prime Minister Najib Razak's alleged private bank account before a 2013 election was a "personal donation" from Saudi Arabia's royal family and not illegal, a Malaysian investigating body said" [Wall Street Journal, "Malaysia Says Saudis Gave Prime Minister Najib Razak a $681 Million 'Donation'"]. "The nation's top prosecutor, Attorney General Mohamed Apandi Ali, said on Tuesday all but $61 million of the $681 million transferred in March of that year was returned to the Saudis five months later." So that's alright then. I'm filing this under TPP, with no evidence at all that our friends, the Saudis, would have acted for any motives other than total altruism (or possibly religious injunction; whatever Islam's equivalent of a mitsvah is.)
2016
Basically, this is all UPDATEs, with the exception of the link I will place immediately below, so I won't mark them individually.
• "Clinton: Obama would be a great Supreme Court justice" [Des Moines Register]. That's a bribe; Clinton is openly offering to trade an office for political favors. Clinton must be desperate indeed, to stoop to a quid pro quo.
Democratic Town Hall
"[T]he fact that a presidential candidate [Clinton] would imply that Jim Crow and Reconstruction were equal, that the era of lynching and white supremacist violence would have been prevented had that same violence not killed Lincoln, and that the violence was simply the result of rancor, the absence of a forgiving spirit, and an understandably 'discouraged' South is chilling" [Ta-Nehisi Coates, The Atlantic].

"CNN Iowa Democratic Presidential Town Hall: RUSH TRANSCRIPT" [CNN]. No time to get out my Magic Markers, but readers, if you spot anything especially juicy, please post in comments!
Policy
"5 questions Sanders owes it to Democratic Party progressives to answer" [Lanny Davis, The Hill]. BWA-HA-HA-HA!!!! Lanny Davis!

"President Barack Obama's nominee to head the Food and Drug Administration is facing friendly fire, with Democratic presidential candidate Bernard Sanders and Massachusetts Democrat Edward J. Markey both placing a hold on the nomination" [Roll Call]. "Sanders said Tuesday that Robert Califf, currently serving as deputy commissioner at the FDA, is too closely tied to the pharmaceutical industry. Califf ran a research operation while at Duke University that received funding from that industry." Cronyists everywhere have a sad.

"But [Adair Turner's] conclusions—that the banking system needs to be fundamentally restructured, and that periodically, instead of a government running up debt, the central bank should just print money for the government to spend—are far from conventional" [Quartz]. Of course, Democrats would rather live in the cage contructed for them by neoliberal orthodoxy over the last forty years. It's comfortable in there! From the interview:

So who's in charge of the printing press?

And that's why I argue that the most logical thing to do is to give it to an inflation-targeting central bank. So that you say the central bank has the authority to recommend a certain element of money finance but without that authority, the government can't do it.

Wait, what? Why are we rewarding central bank failure?
Money
"Democratic presidential candidate Hillary Clinton will visit Philadelphia on Jan. 27 for a fund-raiser hosted by a group that includes lawyer-turned-investment mogul Michael C. Forman and former State Rep. Michael Gerber (D., Mont.) at their $17 billion 'alternative investments' firm, Franklin Square Capital Partners" [Philadelphia Inquirer]. Lie down with dogs, get up with fleas. But Clinton says she wears a flea collar. So that's alright, then.
The Trail
""There is nothing more in this world that I would like to take on more than Donald Trump," Sanders added. "We would beat him, and we would beat him badly" [The Hill]. Who would have thought Bernie was a brawler?

"I have had it with naive Bernie Sanders idealists" [Salon]. That reads like one of those confessional Kos headlines. Apparently what we're seeing in Sanders is a "quixotic insurgent campaigns based on ideological purity." Well, I'm no purist; a return to "honest graft" would, in my view, be the political equivalent of a cleanse. That said, "purist" is just a word. The reality is that Sanders doesn't have to argue that it's OK to take Wall Street's money and then claim he's going to be tough on it because he's done a very simple thing: He's not taking Wall Street's money. And as it turns out, that works just fine. Totally pragmatic. So what's the issue? Why on earth do Democratic loyalists have such a problem with candidates who don't take Wall Street money?

"Bernie Sanders is the realist we should elect" [Katrina vanden Heuvel, WaPo].

Clinton, like every Democratic politician, decries the big money that is corrupting our politics. But though she offers a reform agenda, she vacuums up big contributions and dark money in a complex of super PACs, saying she can't "unilaterally disarm."

But that's bullshit. Sanders "unilaterally disarmed," and he vacuums up small contributions whenever the flailing Clinton campaign attacks him. If there's a reason that wouldn't work for Clinton, what is it?

And then there's this:

This is it. This is *the* moment of the entire 2016 Democratic primary season. https://t.co/AR2M0wmuxi pic.twitter.com/YFVzGY5uGT

— Connor Kilpatrick (@ckilpatrick) January 26, 2016

"'[Clinton] was a very good candidate in 2008, after she got knocked back,' David Axelrod, a former senior adviser to President Obama, said of Mrs. Clinton. 'She got down on the ground and really, I thought, really connected to the middle class and people who were struggling.'" [New York Times]. That's true; see here. We should also remember, altthough the winners have erased this history, that Clinton won the popular vote in 2008 (if all the votes are counted) and all the large states. Axelrod's comment reminds me of Clinton's initial foray into Iowa: She drove a van, "got down on the ground," as Axelrod said. But she flew back. Which says it all.

"So my guess is [Clinton will] take a narrow but persistent lead across most of the country, winning steadily, if slowly. She'll take the South, including South Carolina, Florida, and Texas. She'll take New York, Michigan, Illinois, Indiana, and California. And she won't neglect the caucus states, where she was so embarrassingly outplayed in 2008. She'll come out fine, if she plays it cool" [Vanity Fair]. I wonder if Clinton will allow Sanders to be placed in nomination? Thinking back to Denver…

Finally, another good post on "theories of change" from Greg Sargent [WaPo, "Make no mistake: Obama just tried to undercut Bernie Sanders"].

Obama is basically trying to pour cold water on the loftiness of Sanders' argument, by nodding to the "appeal" of promising another transformative moment, while suggesting that Clinton's more constrained view of what can be 'delivered' is more realistic, and that this is actually an attribute that recommends her for the presidency.

Here an important distinction needs to be made. In one key respect, Sanders is not making Candidate Obama's argument. Sanders is not arguing that the sheer force of persuasion can win over Republicans to compromise, a key element of Obama's promise of transformation. Rather,

Sargent is too gentle on Obama, who did not organize to a "lesser" "degree" than anybody. He dismantled Obama for America, and with unseemly haste. He prevented himself from organizing at all. He affirmatively rejected the Sanders approach.

Dueling evangelicals: Trump lands Falwell [The Hill]. Tony Perkins endorses Cruz [The Hill].

"Donald Trump took to Twitter Tuesday to attack one of rival Ted Cruz's more influential Iowa endorsers, Christian conservative leader Bob Vander Plaats" [Des Moines Register].

"With less than a week until the first votes are cast, a group of social conservative leaders are targeting Republican frontrunner Donald Trump — and warning Iowans that the billionaire "cannot be trusted" [Politico].
Stats Watch
MBA Mortgage Applications, week of January 22, 2016: "Weekly mortgage applications have been very volatile so far this year but mostly to the upside. Purchase applications jumped 5.0 percent in the January 22 week with refinancing applications up 11.0 percent. Low mortgage rates [***cough *** manipulation ***cough***] are driving the activity" [Econoday].
New Home Sales, December 2015: "The outlook for the housing sector just got a boost from a sharp jump in new home sales, up 10.8 percent to a 544,000 annualized rate that is 44,000 over the Econoday consensus and 24,000 over the high estimate" [Econoday].
"Less than 15 percent of overall U.S. stock volume takes place at the New York Stock Exchange, though its sister market, NYSE Arca, pushes NYSE Group's total share of U.S. volume to almost 25 percent. Transactions are now spread across a total of 12 exchanges and dozens of alternative venues in the U.S." [Bloomberg].
UPDATE Honey for the Bears: "Mr. Xu [an economics professor at Beijing Normal University and the University of Western Ontario] told reporters at a briefing this week that the focus of his concern is the growth rate for China's manufacturing sector, which according to official figures grew 6.0% last year and accounts for 40.5% of the economy" [Wall Street Journal, "China GDP Growth Could Be as Low as 4.3%, Chinese Professor Says"]. "A closer look at underlying indicators, however, including thermal power generation, railway freight volume, and output from the iron ore, plate glass, cement and steel industries released monthly by the National Bureau of Statistics paint a different picture, he said. Of some 60 major industrial products, nearly half saw output contract in the January to November period, while railway cargo volume fell 11.9% for all of last year, according to official sources."
Honey for the Bears: "Tim Cook: We're Seeing 'Extreme Conditions Unlike Anything We've Experienced Before' in the Global Economy" [Bloomberg].
Honey for the Bears: "Global Stock Market's Recession Fears Not Yet Self-Fulfilling" [Simon Johnson, Bloomberg]. Swell headline. But:
[Deutsche Bank AG economists] say while shifts in the S&P 500 often drive consumer sentiment surveys, that doesn't translate through to actual spending. That's because 80 percent of U.S. equities are owned by the richest third of households, who spend only 65 percent of their pre-tax income compared to lower paid families who spend 1.7 times their income.
Fodder for the Bulls, kinda: "Anyone who's worried about a bear market should see these 3 charts" [Business Insider]. Global manufacturing activity, earnings revisions, and credit spreads.
"The destructive effect of a down market is intensified for activist hedge funds because they tend to herd" [Dealb%k, New York Times]. "This degree of concentration is one reason 2015 was an annus horribilis for many big hedge funds…. All this has come as a shock to investors who have poured billions of dollars into this strategy."
UPDATE "Swiss watch exports posted their first annual drop in six years, hurt by slumping demand for less-expensive timepieces that are competing for buyers with Apple Inc. and other smartwatch makers" [Bloomberg].
Today's Fear & Greed Index: 21, Extreme Fear (previous close: 17) [CNN]. One week ago: 9 (Extreme Fear). (0 is Extreme Fear; 100 is Extreme Greed).
Water
The movie was The Big Short. The Trailer was interesting. Question: Guess what commodity Michael Burry (the Christian Bale character), whose short was the biggest of all, is into now?
"'It was us or nobody': Meet the heroic professor who helped uncover the Flint lead water crisis​" [WaPo]. The locals were important, as usual:
[Marc Edwards'] phone rang in April 2015. It was a woman named Leeanne Walters, a Flint, Mich., stay-at-home mother who was getting nowhere convincing state and local officials that there was something seriously wrong with the orange-tinted water coming out of her tap. Her family's hair was thinning. Her son's skin was red and irritated. They told her the water was perfectly safe. And even months later, when it had been determined there were high traces of lead in her water, the officials shrugged it off as an isolated problem.

Desperately, she called [Edwards, Virginia Tech's environmental engineering professor], whom she had read about online. Over the phone, he walked her through how to take her own water samples.

Walters, who leads a group of residents who call themselves the "Water Warriors," said the mistrust is so deep that they won't let the city's chosen company come test their water. They only want Edward's team.
More on the locals from [FiveThirtyEight, "What Went Wrong In Flint"].
Also worthy of examination is how a wealth of other data and information, gathered by the city's residents, was largely ignored. When the county declared a public health emergency on Oct. 1, 2015, it was not a revelation for many residents. They had been fighting for months to convince officials that something was wrong.

If it weren't for a few dozen residents and a handful of crusading experts who pushed back against the official narrative, we still wouldn't know the truth.
Exactly my experience fighting the landfills. Citizen expertise can be developed and plays a crucial role. (Often, this is stigmatized as NIMBYism, but what that really means is that those who are directly impacted have incentives to pay the cost of citizenship.)
UPDATE "Flint May Be Ordered By a Federal Court to Replace Its Lead Pipes" [Gizmodo]. And in the meantime?
UPDATE "Should The Times Have Been a Tougher Watchdog in Flint?" [Margaret Sullivan, New York Times]. "Imagine if The Times really had taken on the Flint outrage with energy and persistence many months ago. With its powerful pulpit and reach, The Times could have held public officials accountable and prevented human suffering. That's what journalistic watchdogs are supposed to do." Times management should crawl on their hands and knees to Sullivan and beg her to stay.
"Last week, The Carlyle Group appeared to sell Mountain Water to Liberty Utilities, surprising the hell out of everybody. A judge ruled in June that Missoula is the rightful owner of Mountain Water. So how could Carlyle sell it to someone else?" [Missoula News]. "So Carlyle sold Mountain Water's parent company to trigger a series of potential new suits to go along with its Supreme Court appeal. … That is a war we will not win, even though we are in the right. Our legal bill currently amounts to $57 for every man, woman and child in the city. When it hits $100, do we quit? How about $500?"
Answer: That's right: water.
Health Care
"Bernie Sanders is right about Obamacare: Here's why it's time to talk about single-payer" [Salon].
The case for single-payer isn't that it can be passed tomorrow. Rather, the left needs to fight for single-payer now to build momentum and a movement: Healthcare and economic crises will persist, American politics will continue to change in unpredictable ways, and a new policy regime will at some point become both possible and necessary.
Of course, if career "progressives" runnning interference for Obama in 2009 hadn't (along with the administration itself) suppressed all discussion of single payer in 2009, we'd be building momentum already. And, with a few honorable exceptions, these are the people who tell us "trust us, change is incremental" now. Why believe them? (Atrios makes the same "it's time to talk about single payer" argument as well.)
"Spiriva – Half the Medicine Provided is Wasted" [Mouseprint]. The people who implemented this "inhalation therapy drug" are as twisty as corkscrews. I can't possibly summarize it; read for yourself.
The 420
"Two former Winston County deputies who say the sheriff asked them to get marijuana for his aunt who has cancer are now suing for wrongful termination" [WBRC]. "The two former deputies believe they were fired because they didn't follow orders from Sheriff Hobby Walker." Showing how nutty our marijuana laws are. Can't even help out a sick old lady. Sheesh.
Gunz
UPDATE "Alleged Accidental Benghazi Movie Shooter Told Police He Had a Gun Because He Was Afraid of Mass Shootings" [Gawker].
UPDATE "Gun shop owner's husband and son killed in shootout with customer over $25 repair fee" [Raw Story].
UPDATE "The mother and stepfather had gone inside to pay a bill. One of the children found a loaded gun in the mother's purse" [WBIR]. "Police said the child tried to unload the gun. The weapon went off and hit the boy in the head."
Militia Watch
OK, this is in bad taste, but what happens to the 55-gallon drum of lube?
"FBI blockades Oregon wildlife refuge, urges remaining occupiers to leave" [WaPo]. Not happy some FBI dude or dudette got to notch their gun.
Corruption
"The [Chicago Tribune] lawsuit centers on Emanuel's use of personal phones and devices, contending that the mayor's practice of using a non-city phone and personal email allows him to conduct the public's business without scrutiny and contributes to a 'lack of transparency'" [Chicago Tribune]. Gee, that sounds familiar…..
"He brokered deals for an empire of California charter schools — and now faces a felony charge" [Los Angeles Times].
"36 best quotes from Davos 2016" [World Economic Forum]. Meg Whitman: "You can always go faster than you think you can." Especially downhill.
Class Warfare
"Amid a price war with rival Lyft, the ride-hailing leader reduced its rates by 10 percent to 45 percent in 100 cities across North America. In Detroit, Uber drivers' per-mile rate is less than it takes to cover their gas and the depreciation of their cars, according to IRS figures. 'It's depressing,' says Bill Scroggins, an Uber driver in Indianapolis. "I'm not even sure I want to drive anymore. It feels like I'm doing it for free'" [Bloomberg]. So that's what Silicon Valley valuations come down to, besides crime: Free labor.
"The profit margin of the average convenience store, gas station, or supermarket, for example, is under 2%. Credit card fees are 2% or more of nearly pure profit. The results can be absurd: banks and credit card issuers making more from a restaurant's burgers, a bookstores books, or a corner store's groceries than the store owners and employees" [Priceonomics].
"Financial Times journalists want to strike over a multimillion 'pensions robbery' after Nikkei bought the company for $1.3 billion" [Business Insider].
"When collectors call, demand proof of your debt" [Los Angeles Times].
News of the Wired
"Google turns the lights out on Glass' social media channels" [Ars Technica]. " A 9to5Google report pointed to Glass' official statement to the Glass Explorers group on Google Plus, which directed any remaining Glassholes Glass wearers to a new support page with little more than a phone number and a Web contact form." That's the Google customer service we know and love!
"New app sends push notifications whenever police kill someone" [Daily Dot].
"On the Viability of Conspiratorial Beliefs" [PLOS One]. "Simulations of these claims predict that intrinsic failure would be imminent even with the most generous estimates for the secret-keeping ability of active participants—the results of this model suggest that large conspiracies (≥1000 agents) quickly become untenable and prone to failure." Hmm. The Manhattan Project?
* * *
Readers, feel free to contact me with (a) links, and even better (b) sources I should curate regularly, and (c) to find out how to send me images of plants. Vegetables are fine! Fungi are deemed to be honorary plants! See the previous Water Cooler (with plant) here. And here's today's plant (pq):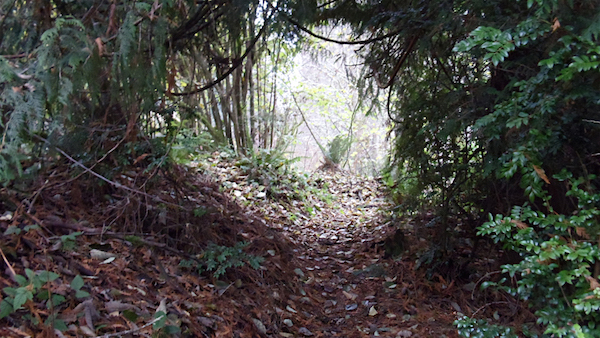 Light at the end of the tunnel?
* * *
If you enjoy Water Cooler, please consider tipping and click the hat. Winter has come, I need to buy fuel, make a happy plumber happier, and keep my server up, too. Water Cooler could not exist without your support.