Thank you for all your heartfelt messages, both on the site and by e-mail, expressing your sympathies over the death of my cat and good friend Blake (see post here). Many of you told me about the animals you'd lost and the ones you have now, and how much they mean to you. I hope you are not offended by my not responding to individual stories in the comments section, since it would seem to single out some experiences as more important than others, when most people become deeply attached to pets that are loyal to them and these relationships are as unique as the beings that establish them.
Barbara B sent this reminder:
We need another and a wiser and perhaps a more mystical concept of animals. Remote from universal nature, and living by complicated artifice, man in civilization surveys the creatures through the glass of his knowledge and sees thereby a feather magnified and the whole image in distortion. We patronize them for their incompleteness, for their tragic fate of having taken form so far below ourselves. And therein we err, and greatly err. For the animal shall not be measured by man. In a world older and more complete than ours they move finished and complete, gifted with extensions of the senses we have lost or never attained, living by voices we shall never hear. They're not brethren; they're not underlings; they are other nations, caught with ourselves in the net of life and time, fellow prisoners of the splendour and travail of the earth.

Henry Beston, The Outermost House
Bend and a beer: Yoga classes and craft breweries team up Associated Press (David L)
Naughty America's virtual reality videos made me feel like a real-life porn star PCWorld (David L)
Apple May Be Using Congo Cobalt Mined by Children, Amnesty Says Bloomberg (resilc)
World's Most Brazen Starbucks Computer User Grub Street
Normalization of Deviance in Software: How Completely Messed Up Practices Become Normal Patrick Durusau (martha r)
The Muscular Dystrophy Patient and Olympic Medalist with the Same Genetic Disorder ProPublica (Chuck L)
China?
Getting Money out of China China Law Blog (Steve Keen)

China GDP growth lowest since 1990 Financial Times

Almond prices crushed by demand slump Financial Times. The emerging Chinese middle classes were big almond importers. Since conventionally-grown almonds are profligate in terms of water consumption (no joke, one gallon per almond), the demand collapse s entirely a good thing.
A Hint of Trouble in European Debt Wall Street Journal
Europe's future is bleak with an ageing population and policy failure Bill Mitchell
Mervyn King Puts Sweden in the Dock as Price Regime Queried Bloomberg. Swedish Lex: "One of the advantages of not having the euro, Sweden has much larger possibilities to set its own Central Bank policies."
Refugee Crisis
Davos Boss Warns Refugee Crisis Could Be Precursor to Something Much Bigger Bloomberg (David L)
Noam Chomsky Responds to Turkish President's Bizarre Smear Attack, Calls out His Brutality to Civilians Alternet
Syraqistan
2016
The Presidential Candidates Ranked By Their Usefulness In A Bar Fight Bitter Empire (Scott)

Trump, Cruz, And Evangelical 'Vanity' American Conservative

Hillary Clinton Gets Set for a Long Slog Against Bernie Sanders New York Times. Note assumption in the headline that she will prevail…yet she is so arrogant that she has not built an operation in anything but the earliest states! Key para:

For all its institutional advantages, the Clinton campaign lags behind the Sanders operation in deploying paid staff members: For example, Mr. Sanders has campaign workers installed in all 11 of the states that vote on Super Tuesday. Mrs. Clinton does not, and is relying on union volunteers and members of supportive organizations such as Planned Parenthood to help her.

2008 memories haunt Clinton campaign Financial Times. Subhead: "TV celebrities and pop stars drafted in to boost appeal in Iowa." Wow, she is desperate.

Nurses Applaud New Sanders Plan for Healthcare for All Common Dreams (Carla)

Are Americans Willing to Hear "No" on Health Care? Washington Monthly. This is SO dishonest. It's the updated "Harry and Loise" scare tactic.

A great deal of the current high cost of American medical care is due to upselling, as in doctors being highly interventionist and signaling to patients that they need it (as well as very high cost end of life care, when families are often unable to overrule the doctors even when they have a recent medical power of attorney). As readers who have had health care in France or Canada will attest, they don't perceive it to be inferior. In fact, virtually all expats and people I know how have had to have emergency care were very satisfied. When I was in Oz, I experienced what would be characterized as saying "no" under this framework. First, doctors were vastly more inclined to adopt a "wait and see" attitude (and they'd keep on top of the situation; Australia had a regime that allowed doctors to deal with established patients much more on the phone and by e-mail than here for follow-up and monitoring) and they were extremely aggressive about drug prices. The Therapeutic Goods Administration would read the medical research on various new drugs, and was generally loath to buy them, since over 85% of all "new drug applications" are reformulations of existing drugs (like a med you had to take once a day reformulated to be twice a week) with big upcharges for marginal improvements. Because the public was not told to push their doctor for the latest, greatest med on TV, I never encountered or read in the papers about a single person in Oz who complained about not being able to get drugs they needed, or for that matter any aspect of medical service. Indeed, I knew a dual passport couple with good US insurance (this was in 2002 when there still was such a thing a "good private insurance) and they chose for her to spend the latter part of her pregnancy and give birth in Australia because they deemed the care to be better there.

Democratic Debate in Charleston, South Carolina Recap – Eventually the Real Issues Bubble Up Charles Pierce, Esquire
Obama declares emergency in Michigan over bad water: White House Reuters
This is actually what America would look like without gerrymandering Washington Post (resilc)
Obama unveils wage insurance plan to spur job seekers Reuters
Exclusive: Pentagon May Demote David Petraeus Daily Beast (resilc)
Propaganda "Has Rendered the Constitutional Right of Free Press Ineffectual" George Washington
Volkswagen, Johnson & Johnson, and Corporate Responsibility Atlantic
Why markets fear stuttering US factories Financial Times
$20 Oil No Longer Seen As Good For The Economy OilPrice. Now I don't recall anyone anticipating $20 a barrel oil, even the worst bears, until very recently. However, we argued that the "cheap oil is good for the economy" was going to prove untrue, as in the loss of high-paying oil/fracking jobs and the knock-on impact to communities would more than offset the gain in consumer spending. And that's proven to be true. Consumers have saved more of their "oil savings" than the pundits anticipated.
Oil market could 'drown in oversupply' — IEA Financial Times. I just booked some airfare. On the route to Birmingham it seemed to be the same but was markedly cheaper to Dallas than it had been in the recent past. Not clear how much airlines had been gouging v. locked into bad oil bets (or could be both: the ones who traded correctly enjoying the price umbrella of those who didn't) but wonder if others are seeing cheaper airfares on any other routes.
Class Warfare
And get a load of this:
Antidote du jour. Ishmael:
I am attaching a picture of the two ginger kittens we saved. The front one is Lucy and the back is Lion. We were fostering them so they did not have their shots so we kept them away from the "big girls." That ended up with them staying in my office and I ended up sleeping in there with them and spent practically 24 hours a day with them for 8 weeks and ended up saying I would not give them up. Lucy loved to sleep in my arm pit also. I have been on the road a lot this year and miss them. When I am there working Lion loves to jump in my lap and be held like a baby. I also call him Lover Boy because if a women comes over and he comes out from hiding then after a little while they will want to take him home with them.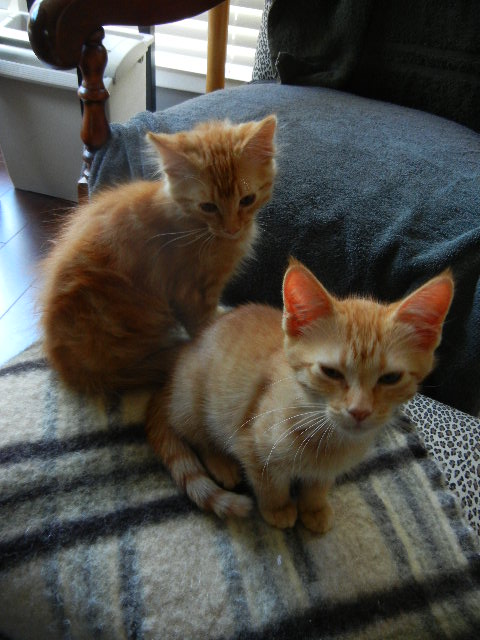 See yesterday's Links and Antidote du Jour here.