We've written off and on how the supposedly non-partisan Congressional Budget Office is a major promoter of deficit hawkery, to the extent of violating its own rules for making forecasts and cooking forecasts to produce super-scary outcomes. One of the most egregious was its projection of Medicare spending increases, which was so indefensible that two senior budget forecasting experts at the Fed roused themselves to call out the chicanery. Their paper was written in proper economese but was nevertheless devastating. I'll feature a long excerpt so you can get a flavor of the sort of tricks that were played and why they matter:
A remarkably important and persuasive paper that calls into question the need for "reforming" Medicare has not gotten the attention it warrants. "An Examination of Health-Spending Growth In The United States: Past Trends And Future Prospects" (hat tip nathan) by Glenn Follette and Louise Sheiner looks at the model used by the Congressional Budgetary Office to estimate long term health care cost increases. Bear in mind that this model is THE driver of virtually all forecasts of future budget deficits…

The argument made by the opponents of the plans to cut Social Security and Medicare generally take this form: concerns about Social Security are greatly exaggerated. They are based on long-term forecasts, which are notoriously inaccurate in outlying years. The most commonly cited, by the Trustees of the Social Security system, projects the exahustion of the famous trust fund in 2033. As several analysts have observed, if Social Security really has a problem, we'll know it in plenty of time; there's no need to do anything immediately.

By contrast, conventional wisdom is that Medicare does have a long term cost predicament, but the problem is not demographic, but that of the steep rise of health care costs in general.

The fundamental beef of Follette and Sheiner with the CBO model is that it naively assumes past growth in health care spending as the basis for its long-term projections. The result is that it shows that trees will grow to the sky. One of the things anyone who has built forecasting models will tell you is you come up with assumptions that look reasonable and then sanity check the output (for instance, does your model say in year 10 that your revenues will be 3x what you can produce given your forecast level in plant and investment? If so, you need to make some revisions). The Fed economists point out numerous ways that the model output flies in the face of what amounts to common sense in the world of long term budget forecasting. From the opening of the paper (emphasis ours):

Long-run projections of the U.S. federal budget have played a prominent role in discussions about fiscal policy and the design of major transfer programs for several decades. The projections typically show large fiscal imbalances owing to ramping up of retirement and health care costs relative to GDP. Health care costs are the key factor in these projections for two reasons. First, in current projections they are the prime source of growth of spending as a share of GDP. Second, they are the most uncertain part of the forecast. For example, the Congressional Budget Office's most recent long run outlook shows spending on Medicare and Medicaid, the governments health programs for the old and poor, respectively, rising from 4.1 per cent of GDP in 2007 to 19.1 per cent of GDP in 2082.1 By contrast, Social Security benefits (the government's main old-age pension program) increase only 2 percentage points, from 4.3 per cent of GDP in 2007 to 6.4 per cent in 2082. Another analysis by CBO suggests that an 80 per cent confidence band around the Social Security projection would be from 51⁄2 to 91⁄2 per cent of GDP.2 CBO did not present similar calculations for health spending; instead, they projected health spending under three different assumptions about the rate of growth of age-adjusted health care spending in excess of per capita income. Their projections show health spending ranging from 7 to nearly 40 per cent of GDP by 2082.

By comparison, defense spending as a percent of GDP peaked at 42% of GDP in World War II. A model that presents as a possible outcome that the US will devote nearly 40% of GDP to health care spending a long-term, sustained outcome, is ludicrous on its face. The CBO assuming public health care spending will sustain its growth rate of the last 50 years for as long as they do (see further discussion below) with no policy changes is like budget analysts in 1946 assuming that military spending will grow at the same rate it did during World War II without any policy changes. Yet they further assume that, having reached this crushing level, Medicare costs in 2082 will still be growing faster than GDP!
Dean Baker has been been on the trail of CBO exaggerations for years, and revealed another form of gamesmanship yesterday. The CBO has been providing excessively high inflation forecasts. Those have the effect of increasing government borrowing costs and over time leading to a budgetary feedback loop of rising interest costs constituting a bigger and bigger percent of spending.
Now one can argue that forecasters are often wrong. But one expects them to learn from their experience. But the CBO has been wrong for years, and always in the same manner. One can thus no longer charitably call this an error. It's a well-established institutional bias.
The CBO clings, despite years of evidence, that deficit spending leads to inflation. That did happen, in the US, in the 1960w, when the economy was at full employment and Johnson, despite the advice of even Democratic-party aligned economists like Walter Heller, refused to raise taxes because it would be perceived as a consequence of the already-unpopular War in Vietnam. But the US has fewer people aged 25-54 working than in 2008, and a troublingly high proportion of jobs created are McJobs with low pay and lousy security. And on top of that, the Fed has been undershooting its inflation targets, commodity prices are in a major downdraft and other major economies are in or at risk of slipping into deflation. So the CBO's inflation fixation does not look to come about by an intellectually honest process.
I strongly urge you to read Baker's post in full. Key sections:
I thought it was worth showing why CBO is projecting that deficits will rise over the next decade. If we turn to Table 1-2 of the latest CBO Budget and Economic Outlook, we find that the deficit for this year is projected to be 2.9 percent of GDP. This should leave the ratio of debt-to-GDP more or less constant, depending on the exact growth and inflation numbers for the year.

However if we look out to 2026, the end of the CBO projection period, the deficit is projected to be 4.9 percent of GDP. At that level, the debt-to-GDP ratio would be rising, and we would be down the road toward higher interest payments leading to higher deficits, leading to higher interest payments and pretty soon, Zimbabwe.

The Peterson folks have made a big point of touting this 4.9 percent figure and the higher debt and interest payments associated with it, so it is worth asking how we get there. If we look at the CBO projections, they project that mandatory spending on items like Social Security and Medicare will rise by 1.7 percentage points of GDP. This is large the result of baby boomers reaching retirement age, but also includes some excess cost growth for health care in programs like Medicare, Medicaid, and the subsidies in the exchanges.
Yves here. The Fed paper we referred to above goes into gory detail about how the CBO gamed the "excess cost" estimates. Back to Baker:
But the projected increase in mandatory spending is largely offset by a projected decline of 1.3 percentage points in the discretionary portion of the budget. This is the category of spending that includes the military, along with spending on infrastructure, health care research, national parks, and just about everything else we see the government do.
Let's leave aside whether the projected cuts to this area of the budget is a good idea and just do the arithmetic. The net effect of projected changes in spending is an increase in the annual deficit of 0.4 percentage points of GDP, well short of the 2.0 percentage point rise from 2.9 percent of GDP in 2016 to 4.9 percent of GDP in 2026. The rest of the rise is due to an increase in projected interest payments from 1.4 percentage points of GDP to 3.0 percentage points of GDP. (CBO also assumes that revenue will fall by 0.4 percentage points of GDP due to the Fed rebating less money to the Treasury from its holdings of assets [see Table 4-1]).
But the higher interest payments are not due to a soaring debt to GDP ratio, rather the projections of higher interest payments are due almost entirely to CBO's assumption that interest rates will be much higher in the decade ahead than they are today….As the figures below show, ever since 2010 CBO has consistently shown a sharp rise in interest rates for the later years in its forecast.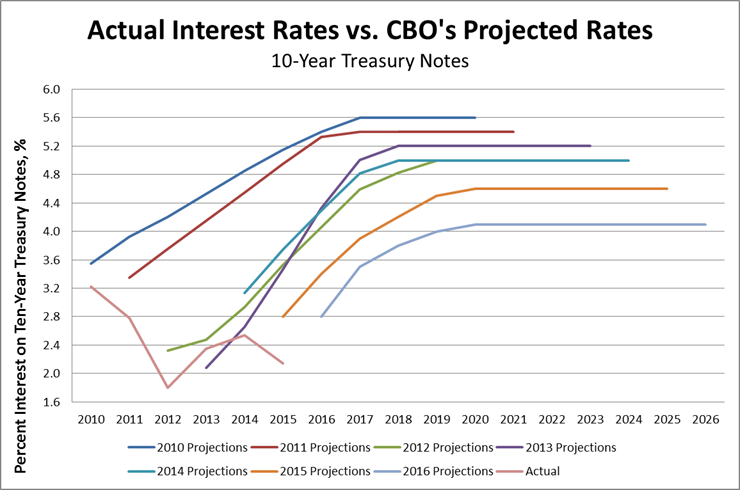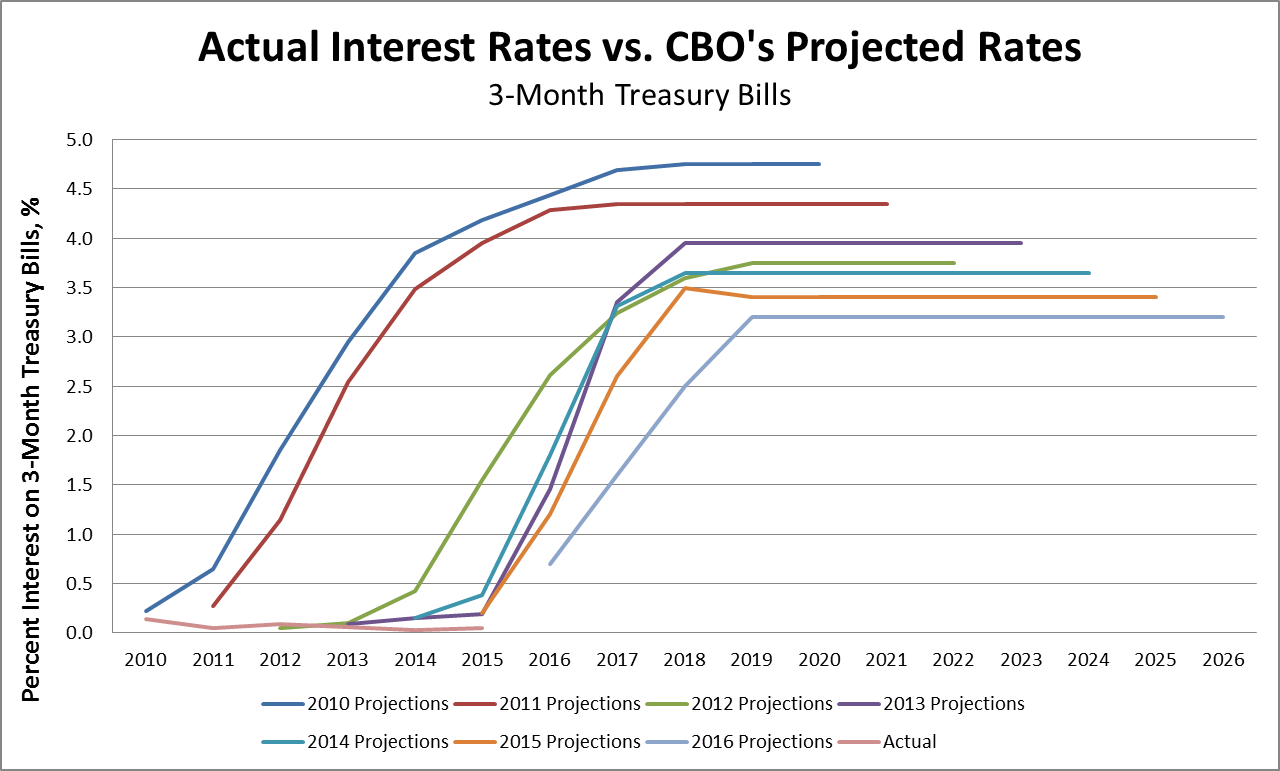 We can now say that for six consecutive years it has grossly overstated the future rise in interest rates, for at least the years that have passed to date. This doesn't rule out that CBO might finally get it right, but it does suggest treating these projections as something less than the Holy Grail. And, if interest rates in 2026 look something like interest rates today, then we lose altogether the story of rising debt and deficits.

There is one other point worth making. If at some future point we find that deficits really are pulling resources away from the rest of the economy, it is not that difficult to raise taxes. In 2013, the payroll tax was raised by two full percentage points, as the payroll tax holiday put in place in 2011 ended. Less than 30 percent of the people survey in an online poll even realized that their Social Security taxes had been raised that year.
This is yet another example of how orthodox economics thinking and scaremongering serves to keep unemployment much higher than it needs to be. And as a guest writer pointed out in a recent post on Donald Trump:
[Michal] Kalecki's insight…is that for big business, unemployment is first and foremost a mechanism for disciplining workers. Under full employment "the 'sack' would cease to play its role as a 'disciplinary measure,'" and "the social position of the boss would be undermined." Discipline and political stability, he argued, "are more appreciated than profits by business leaders."
Once you understand that, our policy malaise makes a lot more sense.