By Lambert Strether of Corrente.
Readers, this is too long. But I got seduced by the Iowa caucus story. –lambert
TPP/TTIP/TiSA
"Yet More TPP Studies Predict Slim Economic Gains, Highlight Dubious Underlying Assumptions" [TechDirt].
It's striking that from a situation where there were very few studies of the likely effects of the TPP agreement, we've moved to one where they are appearing almost every week. Recently Techdirt wrote about a World Bank study, and one from Tufts University; now we have one from the Peterson Institute for International Economics, which calls itself "a private, nonprofit, nonpartisan research institution devoted to the study of international economic policy." Here's its summary of the results:
"One of the most serious is something we've noted before: despite attempts to present them as otherwise, the predicted gains are extremely small." An excellent review of the bidding; must read. Why, it's almost as if TPP isn't about trade at all….
"TTIP transparency 'farce' as Germany opens MP reading room" [War on Want]. Naturally, the MPs have to sign a confidentiality agreement before reading. Good to see democracy is in good shape on the other side of the pond, too…
2016
Policy
"Paid leave will be a hot issue in the 2016 campaign" [Brookings]. Good policy, but it's a Clinton/Dick Morris "bite-sized achievement" — like Clinton's school uniforms speech —compared to single payer. So this article is really just another establishment institution explaining why we can't have nice things that the rest of the world has.

"'Guantanámo continues to serve as a recruitment tool for jihadists, it is something we need to stop,' Obama said. 'I will make this argument until my very last day as president.'" [The Hill]. This from the guy who implemented parallel judicial branch inside the executive, all so he could whack people on his kill list disposition matrix with no checks and balances. But that's our Democrats. Perpetually "making the argument." Perpetually "fighting." Never winning. Purest kayfabe.
Money
"O'Malley meltdown: $169,442 cash on hand, $535,477 in debt. Owes staffers salary & has $500K outstanding bank loan" (@davelevinthal) [Federal Election Commission]. Well, he might have lasted long enough to take a few votes from Sanders, and that's got to be worth something. So I hope Hillary's straw gets a nice job at The Clinton Foundation.

Clinton's squillionaires: Soros, $8 million, Haim and Cheryl Saban, $3 million; Sandler and Donald Sussman, $1.5 million each [Politico]. And millionaires: "The top 10 employers of her contributors were the law firms Paul Weiss, Kirkland & Ellis, Jenner & Block and Sidley Austin; Cantor Fitzgerald, Lazard and Morgan Stanley; Stanford; Google; and healthcare company Centene, according to the FEC report [Politico].

Sanders small contributors: "More than 770,000 people gave to the Vermont senator's bid in January, with online contributions averaging just $27, the campaign said. And Sanders has so far received more than 3.25 million contributions — more than any presidential campaign at this point in the cycle ever" [Politico]. "More than 99.9 percent of donors are able to give to Sanders again because they haven't reached the limit, unlike other campaigns whose contributors are maxed out, the campaign said." Ya know, you'd think Soros could at least have given Sanders $27 bucks. How hard would that have been?
The Voters
"Sanders's strength with voters making less than $50,000 a year  —  and his relative lack of appeal among voters making above $100,000  —  sets him apart from Democratic primary challengers in years past like Bill Bradley, Howard Dean, and Barack Obama. All these "progressive" underdogs attracted their strongest support from wealthier voters, while struggling, in relative terms, to win lower-income support" [Jacobin].

How can Sanders, whose campaign program obviously leans much farther to the left than Clinton, have won so much "moderate" and even "conservative" support? The simplest answer points to the fuzziness of the ideological descriptors so beloved by the national media. "Liberal," "moderate," and "conservative" may well seem like stable identities among the pundit and professional class, but for many Americans  —  and perhaps especially for lower-income Americans  —  they are much more arbitrary, at once too narrow and too ambiguous to be of real use.

Category errors? From our political class? Say it's not so!

"The "Bernie Bros" Narrative: a Cheap Campaign Tactic Masquerading as Journalism and Social Activism" [The Intercept]. "There are literally millions of women who support Sanders over Clinton. A new Iowa poll yesterday shows Sanders with a 15-point lead over Clinton among women under 45, while one-third of Iowa women over 45 support him." Funny to see the supposedly feminist Clinton campaign smearing women as "bros." I guess that's what they mean by "pragmatic"?

"[Y]et the same people who were making those arguments against Elizabeth [Warren] running are now Clintonsplaining to me that I'm a self-hating woman and a bad feminist. They say that I'm so blinded by my devotion to economic justice that I'm willing to miss this historic opportunity to lift up my sisters (well, just this one very special sister)" [Kate Albright-Hanna]. "To which I say: Patriarchal countries around the world have been passing the baton to the female relatives of male leaders for centuries. But I don't want to just slip through a crack. I want to break BroWorld into a million pieces. That's why this BernieLady is on board for the revolution."

Moreover:

It says "Bernie Bro" in pink sparkly letters.

— BernieBro Fairbanks (@CassandraRules) February 1, 2016

What Atrios said [Eschaton].

To me one of the weirdest things is when people in professional politics lash out at people who don't bother to vote. I mean, ok, it's one thing for the rest of us to say "vote, ********!" but it isn't actually our job to get people to vote…. Saying "people suck" or "liberals suck" or "young people suck" because they don't vote might make you feel better about your failure, but it's your failure. … Promoting bland candidates who blur the differences instead of accentuating the distinctions doesn't work very well. Failing to nationalize congressional elections doesn't work very well. Republicans nationalize every election. Wonder why Dems don't vote in non-presidential years? Could be because you aren't telling them why they should vote.

"What do GOP voters want? 'Testicular fortitude,' among other things. Conversations with 100 Republicans in Iowa and New Hampshire" [New York Magazine]. What Atrios says applies to the Republican establishment as well.
The Trail
The Iowa caucuses start at 7PM today. A blizzard is on the way, but won't arrive 'til after the caucuses conclude. On the Republican side, I have no idea who will win. But even if Trump loses, I don't think it will be by much, and I can't see him giving up. Why would he? (Although it will be interesting to see how he redefines a loss into not being a loser.) On the Democratic side, I don't have any idea either, and although the headline is that Clinton is in the lead, in fact, Sanders and Clinton are in a statistical dead heat. It's worth noting, though, that even if Clinton does win, it took the entire political class acting collectively to heave her over the finish line, and she will have done so at the cost of "never, ever" being seen as "progressive" again. And Sanders can keep going until the FBI indictment convention, with his small donor base. Why wouldn't he? So I expect the race to remain interesting for some time to come.

"In a somewhat ominous sign for [Trump and Sanders], the registration numbers have not increased much for either party, and although there is same day registration, the Iowa hands all point out that the Obama upset was presaged by very substantial registrations of new Democrats for months ahead of time" [Digby, Salon]. Sketchy sourcing, though…

And here's one reason why: Microsoft wrote really bad software that will keep new voters from registering [ABC]:

Three days before voting begins, residents around Iowa are making plans to caucus, but new online tools launched by both the state Democratic and Republican parties designed to inform people where to go Monday evening were built with one major hole, the parties confirmed to ABC News.

The systems were only built off the list of registered voters' addresses. As a result, for .

"[Daniel] Lewin, Microsoft's vice president, … said " [The Hill]. Who controls the spec controls the software. And who controls the software controls the vote (or, in this case, the registration). Since it would be irresponsible not to speculate, one can only wonder if the Iowa Democrat controlling the spec took her cue from Debbie Wasserman-Schultz's manipulation of the debate schedule. Meanwhile, the Sanders campaign wrote its own vote-counting software, but I'm not seeing evidence they wrote their own registration software. Which means all that work with young, first-time voters could go for naught. Yikes!

* * *

"Donald Trump tries to put money on Communion plate" [The Telegraph]. So two Corinthians walk into a bar…

And then there's this:

Lolhttps://t.co/fIDAV3zSCO pic.twitter.com/8gDygthF1b

— Comfortably Smug (@ComfortablySmug) January 31, 2016

Trump was planning to run in 2013 [Politico].

And this is from Cruz is appalling. Read the image:

Cruz campaign mailer tries to motivate caucus-goers with shame and suspicious voting grades: https://t.co/UYjelAxVLr pic.twitter.com/a64lsdoPVY

— New York Magazine (@NYMag) February 1, 2016

Tragic. It's like Cruz is exposing his very soul for all to see.

* * *

"The margins between Sanders and Clinton in the caucuses look likely to be quite close. That means how the O'Malley supporters choose between the two front-runners could be decisive" [Chris Cilizza, WaPo]. If I were Governor Jawline, I'd tell Clinton to forget about the Foundation no-show job, and start talking Supreme Court nominations. Since the door is open…

"All politicians repeat good lines, but Mr. Sanders — lampooned as a freewheeling radical or rumpled professor who impulsively speaks his mind — is turning out to be perhaps the most on-message and disciplined of the candidates in the 2016 field" [New York Times]. "But everything, from the pithy recurring phrases to the thoughtfully placed pauses and seemingly folksy anecdotes are actually well-planned-out, crowd-tested presentations. And he rarely veers from them or strays into gaffe-making territory." The political class, slowly and patronizingly, comes to realize that Sanders is a skilled politician.

"10 questions that will be answered by Iowa caucuses" [Des Moines Register].

"With all three Clintons in Iowa, a glimpse at the fire that has eluded Hillary Clinton's campaign" [WaPo]. Bill Clinton: "'There are certain, almost intangible qualities that determine whether a president succeeds or not,' Clinton said, his voice raspy, even and low. 'You need a sticker. A sticker: someone who won't quit on you.'" This is true, and in fact I really and truly admire Clinton's persistence and determination (especially in 2008, when she faced a wave of vile misogyny). That said, Sanders is clearly a "sticker," too. So Bill Clinton hasn't presented a unique selling proposition.

"The State Department released a new batch of emails from former Secretary of State Hillary Clinton" [The Hill]. "Administration officials had promised to release roughly 2,000 pages of Clinton's emails on Friday, but said they would not meet a court deadline for releasing the final 7,000 pages." Well, look. Who said a Clinton had to obey a court order?
Stats Watch
ISM Mfg Index, January 2016: "Employment sank the ISM index in January which could muster no better than a 48.2 for what, following annual revisions to 2015, is the fourth sub-50 reading in a row. This is by far the worst run for this closely watched indicator since the Great Recession days of 2009" [Econoday]. When Janet took away the punchbowl, what did she use to pick it up? Tweezers?
PMI Manufacturing Index, January 2016: "The manufacturing PMI runs hot compared to other data on the sector and, at a solidly plus 50 reading of 52.4 in January, may be overstating the momentum of the sector." [Econoday]. "Job creation slipped amid caution on the outlook with inventories steady to slightly lower and input buying, in a telling sign of defensiveness, near a 2-year low."
Construction Spending, December 2015: "Held down by weakness in the nonresidential component, construction spending didn't get a lift at all from the mild weather late last year, rising only 0.1 percent in December following a downwardly revised 0.6 percent decline in November and a 0.1 percent contraction in October" [Econoday].
Personal Income and Outlays, December 2015: "Consumers had a healthy December but kept the money to themselves. Personal income rose a solid 0.3 percent with the savings rate moving 2 tenths higher to 5.5 percent, its strongest level since December 2012" [Econoday]. "Spending, as retailers already know, was very soft, unchanged with only services showing a gain. … Income strength is a big plus but the consumer, perhaps, needs more confidence in the outlook in order to spend. Continued strength in the labor market would give the greatest boost of all to confidence though Friday's employment report for January is expected to show substantially less strength than December."
Neoliberal Infestation in China: "The western educated kids/monetarists who've taken control don't seem to be doing all that well, as China begins to look like the other countries they've taken over, like the EU, US, etc. etc. etc. What they learned is that it's about balancing the federal budget and using monetary policy to support growth and employment as needed, allowing 'free markets' to 'clear' as per their general equilibrium models that earned them advanced degrees. Unfortunately they fail to recognize the currency itself is a (simple) public monopoly which obviates all those 'market clearing' assumptions in their model" [Mosler Economics].
Gentlemen Prefer Bonds: "[E]uropean legislation known as Mifid II … would force asset managers trying to sell a liquid bond instrument to disclose what price they are seeking ahead of its sale" [Across the Curve]. "Traders have likened the rules to playing poker with their cards on show, which could result in markets becoming more illiquid and investors paying more for their trades."
Commodities: "'Many of the [mining] structures are no longer assets but rather liabilities due to environmental regulations,' write Goldman analysts led by Head of Commodities Research Jeffrey Currie" [Bloomberg]. "'This suggests that, in order to delay the environmental costs of mine rehabilitation, the penalties associated with employee layoff and non-performance of commercial obligations, owners will operate the facilities until they run out of cash and are obliged to suspend operations.'"
Shipping: "Amazon to delivery companies: Yes, we're building our own service but don't worry" [Business Insider]. So Amazon should be valued like a trucking company, then?
"Volkswagen May Buy Back Diesel Cars It Can't Fix" [New York Times]. To bad Gaia can't sue for Volkswagen trying to choke her to death.
"Banks reach $154.3 million settlement on 'dark pool' fraud" [AP]. Just another cost-of-doing business fine.
"Iraqis seeking to withdraw money from banks are told there is not enough cash" [New York Times]. Because freedom. There really isn't a circle of hell deep enough for the members of the political class — most of whom you can see on the teebee every day, smiling or shouting, depending — who made this situation, and profited and still profit from it.
Today's Fear & Greed Index: 27, Extreme Fear (previous close: 26) [CNN]. One week ago: 15 (Extreme Fear). (0 is Extreme Fear; 100 is Extreme Greed).
Water
"Flint hopes to know health of water system 'come mid-April'" [Chicago Tribune]. No hurry…
Health Care
"The third open-enrollment season for health plans under the Affordable Care Act moved into its final hours Sunday night with little fanfare from Obama administration officials who had been urging consumers to buy insurance" [WaPo]. "[O]n Sunday, the officials provided no figures about the final weekend's volume of traffic on the federal insurance website." I can't imagine why…. Oh wait, WaPo buried the lead: "Congressional budget analysts had predicted that 21 million people would have the plans this year — double what HHS has forecast — but they lowered their numbers last week to 13 million." You know if the numbers were good, the White House would be trumpeting them. So they aren't. The only question is how awful they are, and how long the White House can avoid releasing them.
"The Effect of Smoking on Obesity: Evidence from a Randomized Trial" [NBER Working Paper No. 21937]. From the abstract: "Our results imply that the drop in smoking in recent decades explains 14% of the concurrent rise in obesity. Semi-parametric models provide evidence of a diminishing marginal effect of smoking on BMI, while subsample regressions show that the impact is largest for younger individuals, females, those with no college degree, and those with healthy baseline BMI levels."
Police State Watch
"A gun and knife fight at a Denver motorcycle show that left one person dead and seven wounded was between an outlaw biker gang and a club with many law enforcement members, lawyers for both groups said on Sunday" [Reuters]. "Lawyers for the Iron Order Motorcycle Club, whose members include large numbers of law enforcement and the military, and the Mongols Motorcycle Club, which federal authorities deem an "outlaw motorcycle gang", each blamed the other side for starting Saturday's brawl." Please don't tell me Trump is seeking the Iron Order's endorsement. That would be bad.
Gaia
"Solar sector needs better power storage, grid infrastructure and government support to meet bullish growth predictions" [Guardian].
"Sempra's [Porter Ranch gas leak] may be erasing, at the least, a year or two from what counts as progress under California's effort to overhaul its energy industry, a program that's cost consumers tens of billions of dollars since 2006" [San Diego Tribune].
"Couple surrounds eco-home with greenhouse to keep it warm (Video)" [Treehugger]. And what a gorgeous house!
"Scientists get 'gene editing' go-ahead" [BBC]. What could go wrong?
Militia Watch
"[T]hose supporting the [Malheur] occupation [in Harney County] found themselves staring across a social chasm at friends and neighbors who abhorred Bundy's arrival and his tactics. Community members couldn't even agree on how to gather in public to hear information and share opinions without fear, insults and holstered guns dominating" [Oregonian]. "That deep canyon won't be bridged soon, local residents say. Hurtful words, often entombed forever on social media, still rattle through the community, which seemed under siege for almost an entire month."
"'Where's all our Americans?' David Fry, a 27-year-old dental technician from Ohio, shouted in a video streamed live. 'Where's all our supporters? We didn't get much!'" [Los Angeles Times].
Class Warfare
"Rigged Justice: 2016 How Weak Enforcement Lets Corporate Offenders Off Easy" (PDF) [Prepared by the Office of Senator Elizabeth Warren]. I know the title restricts the scope to corporate abuse, but both Ferguson and Flint have a strong financial component, and I could wish the focus of "Rigged Justice" was broadened to finance generally, and not merely in the corporate context (especially given that malefactors holding office are getting away with murder).
"The water crisis in Flint has whipped America into a state of righteous outrage, but dear God, look at the rest of Michigan: In at least 30 zip codes in more than 13 cities across the state, elevated levels of lead have been detected in a shocking percentage of local children — sometimes at almost five times the rate of kids in Flint" [Mic]. I'd like to take this opportunity to thank private equity for turning the "Rust Belt" into a sacrifice zone. Thanks, guys. I knew you had it in you.
"Michael Moore: 10 Things They Won't Tell You About the Flint Water Tragedy, But I Will" [EcoWatch]. I bet you didn't know this: "Actual unannounced military exercises—complete with live ammo and explosives – were conducted last year inside the city of Flint. The army decided to practice urban warfare on Flint, making use of the thousands of abandoned homes which they could drop bombs on. Streets with dilapidated homes had rocket-propelled grenades fired upon them." Wow. "Unannounced."
"A United Drivers Network representative told Business Insider the group expected more than 1,000 drivers to protest in front of Uber's Long Island City offices from noon to 2 p.m. ET on Monday. About 10,000 drivers were expected to shut off their phones and not drive for the company in solidarity" [Business Insider]. Billable hours for David Plouffe, Obama's one-time campaign manager, now "Senior Vice President for Strategy and Policy" at Uber. Ka-ching.
"[T]he poorest American households, the bottom fifth, received just 32 cents of every dollar of government benefits distributed in 2010" [New York Times]. "the distribution of benefits no longer aligns with the demography of poverty. African-Americans, who make up 22 percent of the poor, receive 14 percent of government benefits, close to their 12 percent population share. White non-Hispanics, who make up 42 percent of the poor, receive 69 percent of government benefits – again, much closer to their 64 percent population share."
News of the Wired
"We've made a habit out of telling people not to read the comments online. But what started as a cynical in-joke has become a bad habit, and an excuse for enabling abuse across the web." [Medium].
"Behind the scenes a battle is under way over who should control these [Internet] protocols and domain names. This is not only relevant to technical folks: the story of Icann might give Washington a well-timed opportunity to defuse some of the anger that European and Asian governments feel about US internet policy. " [Gillian Tett, Financial Times, "Why Icann and internet governance are no longer America's domain"].
"This Model Deals With Unwanted Dick Pics by Contacting the Dicks' Girlfriends" [New York Magazine]. Good for her. I'm not a prude, but I can't even. (I actual misread "model" as "economic model." But perhaps I should have read it as "business model"?)
"The head scarf, modern Turkey, and me" [The New Yorker].
"Investigators are scratching their heads over the theft of hundreds of hand straps from Tokyo commuter trains" [Japan Times].
"As a first step in boycotting the publisher, the Association of Universities in the Netherlands (VSNU) has asked all scientists that are editor in chief of a journal published by Elsevier to give up their post. If this way of putting pressure on the publishers does not work, the next step would be to ask reviewers to stop working for Elsevier. After that, scientists could be asked to stop publishing in Elsevier journals" [London School of Economics Blog].
"The directness and power at the heart of Twitter—short bursts of information that can make you feel that you're plugged into a hulking hive mind—are still its greatest asset" [New Yorker]. Of course, that is an asset that Facebook cannot have, but the stupid money that Twitter's management chases doesn't understand that. And of course the management doesn't use the platform and hates its users. So there's that.
"From the archives: the open society and its enemies revisited" [Karl Popper, The Economist].
* * *
Readers, feel free to contact me with (a) links, and even better (b) sources I should curate regularly, and (c) to find out how to send me images of plants. Vegetables are fine! Fungi are deemed to be honorary plants! See the previous Water Cooler (with plant) here. And here's today's plant (Tia):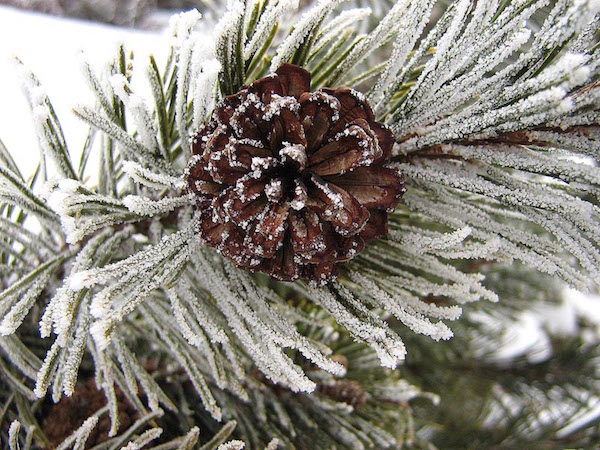 A Mugo pine (cone).
* * *
If you enjoy Water Cooler, please consider tipping and click the hat. Winter has come, I need to buy fuel, make a happy plumber happier, and keep my server up, too. Water Cooler could not exist without your support.