John Dizard of the Financial Times sounded an alarm over the weekend. Central clearinghouses, also known as central counterparties ("CCP"), which were implemented on a large-scale basis to reduce the risk of clearing standard derivatives, may not be working as advertised.
The high concept was that by having dealers all interact with a single counterparty, it would reduce the opacity and complexity of counterparty risk, thus making it easier to manage.* This chart which the Chicago Fed cribbed from the Reserve Bank of Australia illustrates how the world of central clearing is perceived to be an improvement over the old regime: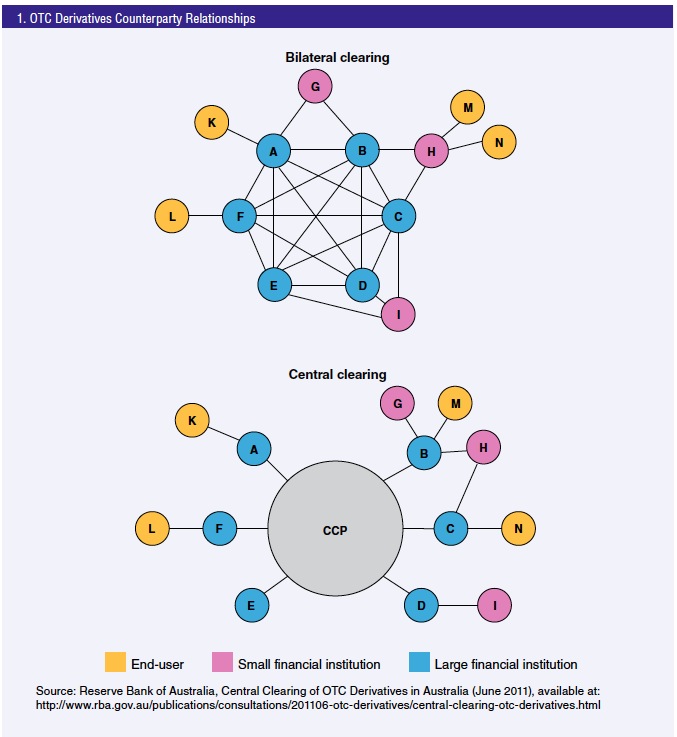 The theory of the advantage of central counterparties was that it reduces risk by reducing opacity. And a further assumption was that because the central counterparty would be owned by the entities for which it was providing clearing services, their incentives would be aligned.
However, those assumptions may not be as valid as the proponents of central clearing believed, or to put it another way, they appear to have overestimated the amount of risk reduction that would result. From the Chicago Fed primer (emphasis original):
As pointed out in CPSS-IOSCO (2012):

A CCP has the potential to reduce its participants' risks significantly by multilaterally netting trades and imposing more-effective risk controls on all participants.

Furthermore,

A CCP's risk reduction mechanisms can also reduce systemic risk in the markets it serves depending on the effectiveness of the CCP's risk controls and the adequacy of its financial resources.

Nevertheless, the CPSS-IOSCO also recognizes that CCPs and other financial market infrastructures concentrate risk:

If not properly managed, [CCPs] can be sources of financial shocks, such as liquidity dislocations and credit losses, or a major channel through which these shocks are transmitted across domestic and international financial markets.
Reading between the lines, there are still credit and counterparty risks that remain with centralized clearing. If one side of a trade fails, the central counterparty has to have the wherewithal to step into the breach. In addition, while the central counterparty will make the exposures to it more transparent and hence amenable to better risk management, there are credit risks that are part of this type of arrangement that remain opaque. An illustration from the Chicago Fed:
For example, members A and B may be settlement banks for the CCP and its other members and, possibly in addition to that role, may act as backup liquidity providers to the CCP and other participants in the market. Members A and B may also have noncleared credit relationships with others, including but not limited to, members X and Z; and these credit relationships, like the "credit chains" I described earlier, are completely opaque.
Shorter: banks that provide critical support to the CCP have their own credit exposures; they can become impaired or liquidity constrained and hence fail as major counterparties or as critical backstops in times of stress.
So the high-level conclusion is that CCPs in theory are an improvement over the old status quo, but they need to be implemented well to achieve their promise. Most important, they need to have strong enough capital buffers. Even then, they are not a magic bullet.
Now aside from Dizard's warning, there was reason to be concerned about the motivation for creating central counterparties, in that it was to reduce the "too big to fail" problem. In other words, given the limited, conditional risk reduction that would result, the idea of moving more credit risk to central counterparties was more than anything else to solve a political problem: to get the government out of the liquidity provider of last resort game. If you look at the chart above, those little blue circle in the first chart would be banks that would almost certainly get government support, particularly given that the authorities have allowed banks to use taxpayer deposits to fund derivatives exposures. By contrast, the central counterparty is in theory a more robust entity and does not have direct access to the government drip feed.
But an inadequately capitalized CCP is just another "too big to fail" entity. And since the CCPs are private, there would be motivation for the participants to have the CCP be underresourced, since higher margins mean higher transaction costs and therefore lower trading volumes. And although no one would admit to this, bankers know full well that no financial regulator is willing to let markets seize up in our brave new world of market-based credit, as opposed to bank-loan-based credit.
Dizard is particularly worried that China is increasing its capital control and other countries are informally following suit. The reduction in international liquidity could blow back to the central counterparties in a nasty way.
Dizard may be right about capital controls serving as the trigger for a crisis, but it could be any event that leads to market discontinuity…say strong evidence that a Brexit is in or an assassination of a political leader.
A key section of Dizard's article:
US officialdom is admitting that it needs to give some thought to what could possibly go wrong with the clockwork of the securities and derivatives clearing houses, or CCPs, that process trades on behalf of financial institutions.

The reformers among them had been convinced that forcing banks to move uncollateralised, trust-me, bilateral swaps transactions into collateralised, marketable instruments traded on CCP platforms would do much to end systemic risk.

Now they are beginning to see that there are some unforeseen consequences to their attempt to shift risks from taxpayer-underwritten banks to "the market".

There is already too little speculative capital available to moderate the volatility in fixed income, currency, and commodities prices. It is dawning on the regulators that in any serious financial crisis, the shortage of dealer capital would make it very difficult for the securities and derivatives clearing systems to work effectively..

The problem, as this column and others have pointed out, is that in volatile or discontinuous markets, clearing houses do not eliminate risks, but rather concentrate them on the clearinghouses' own balance sheets.

In orderly markets with prices that trend in a relatively smooth way from day to day or hour to hour, the margin postings that are the real basis for CCP stability can be met with calls on clients for cash or liquid securities. In disorderly markets, though, there can be a problem getting money-losing customers to provide margin quickly enough.
.
This takes a little unpacking. It isn't just the availability of collateral for margin loans that is an issue. Margin requirements are a function of counterparty risk and market volatility. So when markets are heaving, a counterparty will want more collateral both due to greater market risk and to cover for the risk of worsening conditions at specific firms.
And Dizard's passing swipe at the idea that the risk of trading markets now deemed to be essential for commerce could be shifted from the government to "the market" is correct. Economist Paul Davidson explained the issue long form in a 2008 article. He was discussing securitizations, but the same logic applies here:
In the EMT [Efficient Market Theory], any observed market price variation around the actuarial value (price) of the traded liquid assets representing these debt instruments in the aforementioned markets is presumed to be statistical "white noise"….If, therefore, you believe in the EMT, then permitting computers to organize the market will decease significantly the variance and therefore increase the probability of a more well organized and orderly market than existed in the pre-computer era….

For believers in EMT, the presumption that there is a plethora of market participants buyers and sellers that can be collected by a computer assures that the assets being traded are very liquid. In a world of efficient financial markets, holders of market traded assets can readily liquidate their position at a price close to the previously announced market price whenever any holder wishes to reduce his/her position in that asset…

Keynes's LPT [liquidity preference theory] can provide the explanation. LPT presumes that the economic future is uncertain. Consequently, the classical ergodic axiom2 that is fundamental to any efficient market theory is not applicable3 to real world financial markets. Keynes's analysis presumes that, in the real world of experience, the macroeconomic and financial systems are determined by a nonergodic stochastic system. In a nonergodic world, current or past probability distribution functions are not reliable guides to the probability of future outcomes [Davidson, 1982-3, 2007]. If future outcomes can not be reliably predicted on the basis of existing past and present data, then there is no actuarial basis for insurance companies to provide holders of these assets protection against unfavorable outcomes.
Yves here. The focus on insurers made sense in 2008 given that collateralized debt obligations had become essential to the subprime market, and collateralized debt obligations in turn depended on guarantees from insurers like AIG and the monolines. But the same logic applies to a central counterparty. It is effectively guaranteeing against the failure of a counterparty. Ergo, it must be have enough in the way of reserves (actual resources on hand plus the ability if needed to call capital from third parties) to withstand defaults. That means it needs to be able to measure its exposure to know how much it needs in the way of reserves. But Davidson says that that can't be done reliably.
In addition, Davidson argues there needs to be a market maker somewhere in the mix, and that market marker ultimately has to have government support:
In other words, in our world of nonergodic uncertainty, for an orderly liquid resale market to exist, there must be a "market maker" who assures the public that he/she will swim against any rip-tide of sell orders. The market maker must therefore be very wealthy, or at least have access to significant quantities of cash if needed. Nevertheless, any private market maker could exhaust his/her cash reserve in fighting against a cascade of sell orders from holders. Liquidity can be guaranteed under the most harshest of market conditions only if the market maker has easy direct or indirect access to the Central Bank to obtain all the funds necessary to maintain financial market orderliness. Only market makers having such preferred access to the Central Bank can be reasonably certain they always can obtain enough cash to stem any potential disastrous financial market collapse.
Recall what Dizard said earlier: he warned, as others have, that dealers are committing less capital to market making and hence trading is less liquid. It's reasonable to take this crying about liquidity with a fistful of salt, since investors have become habituated to having a level of liquidity that is well in excess of what they need in order to perform well (for instance, bond markets were vastly less liquid in the 1980s, yet investors didn't complain about it, they managed their buying and selling accordingly). However, we now have lots of institutions that run big complex dealing books with lots of hedges that are dynamic, meaning they need to keep adjusting the hedges as the prices of the underlying move. Markets with unpredictable liquidity greatly increase the odds of a big risk management mess.
And even putting aside Davidson's worries as overwrought, Dizard points out that there are reasons to worry about how resilient the central counterparties are:
Over the past couple of years, large banks have been arguing that for-profit CCPs are not as well capitalised as they should be to deal with the potential failure of large participants. The CCPs pushed back, replying that their risk management is perfectly adequate, and that the banks just want to hold on to their profitable intermediation of custom swaps trades.
Careful readers may recall that one of the assumptions was that the central counterparties would have the same incentives as their sponsors. But someone had the bright idea to set them up to make profits, say as opposed to operating as utilities. Dizard also flags other problems the central counterparties are having, such as difficulty in getting enough safe collateral like Treasuries from clients since central banks have hoovered so many up. And the scarcity is being made worse by new rules imposed on the dealers that require them to hold more capital and obtain collateral from their clients faster than in the past.
Dizard finally warns that executives of banks and money managers were pressing for action by bank regulators last fall. All they got was lip service. There is no willingness to take action prior to the 2016 Presidential elections. The Bush Administration also thought it could keep the subprime crisis at bay and dump the mess on the next Administration. We know how that movie ended.
____
* Lisa Pollack gave a great example, admittedly using a case that is analogous, that of ongoing counterparty risk exposures in the credit default swaps market. She showed how a default by one counterparty can lead to cascading failures. Bear in mind that the default risk of clearing is much lower, since the exposure is over the settlement time period of a mere few days. However, the general mechanics of how the domino effect works is applicable. And notice that one of her examples is the failure of a central counterparty.