By Lambert Strether of Corrente.
TTP/TTIP/TiSA
"TTIP will trigger action wave against states in Europe" [Deutsche Wirtschafts Nachrichten, via Google Translate]. "Essentially, there are two explanations for the increase in [ISDS] lawsuits. First, the system in the corporate world has become known. You know that so can attack up to public health measures just about everything with environmental laws. And that the system is financially lucrative. Second, investor-state lawsuits have become a separate business area. Estates, referees and litigation funder earn so much money and head up the machine to continue, by encouraging companies to sue." If you want to see lawsuits, make sure there are two lawyers in town…
"[TPP] should not be adopted without a full, independent health assessment" [New Zealand Medical Association]. "Evidence-based WHO and UN international agreements reflect the cooperation of many governments to limit disease by protecting the physical environment, and controlling hazardous products or behaviours. The only health-related international agreement explicitly supported in the TPPA is the Montreal Protocol on Substances that Deplete the Ozone Layer (Environment Chapter 20). Its inclusion is a 'win for health' (eg, skin cancer and cataracts), and demonstrates that the TPPA could recognise other health-related agreements. The text is totally silent on other health-protecting UN/WHO agreements."
"TTIP: Secret document reveals in detail the EU offer to drop 97 percent of its tariffs on US goods" [TTIP: The Deal]. "Four days before the next negotiation round starts, the EU Commission has now indicated that they don't expect a comprehensive offer from the US side. Sources said, that the US haven't sent their offer yet and that talks about public procurement will be held after the official negotiation week." Public procurement" is what the Europeans want in exchange.
2016
Readers, 2016 today will be a little bit light. I overdosed on Links and the post on "The Obama Coalition."
Policy
"Neither Clinton nor Sanders has a welfare-reform proposal, despite the raft of options they have floated for helping lower-income families. Neither Clinton nor Sanders brings up welfare when discussing what good they would do for the poor. Neither campaign even bothered to get back to me when I requested comment for this piece" [New York Magazine]. "So here is my humble suggestion for the Clinton and Sanders campaigns: If you really want to help low-income families, bring back welfare. Make it easier to get and easier to keep. Rename it, rework it, and destigmatize it."
Money
Of the $215 million super PACs have spent on behalf of candidates in 2016, just $9 million has been spent attacking Trump [Wall Street Journal, "Donald Trump, Hillary Clinton Seize Leads for Their Parties' Nominations"]. Hmm.
The Trail
"Britney Spears removes endorsement for Hillary" [Bizpac Review].

"Only if the self-avowed Democratic socialist Bernie Sanders were to cop the Democratic nomination and square off against reality-TV star Trump could these would-be Bloomberg supporters imagine him making the race — and even then, there were doubts" [Politico]. Still, we can picture the centrist Democrats agonizing over their crises of conscience before ultimately backing him.

"Yes, Bernie Sanders Wanted Obama Primaried in 2012. Here's Why" [The Nation]. " The episode is a Rorschach test for Democrats. Clinton supporters clearly look at Sanders's remarks and see a disloyal sometimes-Democrat who will pick up his ball and go home when tough compromises are at hand. Many of the same center-left pundits who are now blasting Sanders for being unrealistic were writing in 2011 about how Democrats would have to suck it up and accept Social Security cuts. Sanders represented the other view—that there were certain red lines Democrats shouldn't cross, and that elite opinion had wandered far astray from where most voters actually were."

"'Turn off the lights!': Donald Trump leads unusual chant after 'protester' turns off lights at rally" [Business Insider]. Brilliant kayfabe, whether the protester was real or not:

Trump repeatedly told the crowd that he enjoyed the low lighting. When the lights came back on, the real-estate magnate began waving his arms. He led the crowd in a chant to turn the lights back off.

"No! Get those lights off! Off! They're too bright, turn them off!" Trump told the event's staff. "Ready? Turn off the lights! Turn off the lights! Turn off the lights!"

After the stage crew yielded to Trump's call for dimmer lighting, he said the moment demonstrated how he would negotiate for the US as president.

"And because the lights didn't work, I won't pay the rent, so we get better lighting, and we don't pay the rent, right?" Trump said to cheers. "That's the way we have to negotiate for our country."

I remember the Grateful Dead demanding the same thing from the stage. Not, I think, for the same reason…

"Social media has turned Republican & Democratic Parties into host bodies for 3rd party candidates." [Clay Shirky].

"Is Bernie Sanders's 'Political Revolution' Fading?" [New York Magazine]. A compendium.
Stats Watch
Chicago Fed National Activity Index, January 2016: "Doubts over the outlook may be building but January was a solid month for the economy as the national activity index rose to plus 0.28 from a revised minus 0.34 in December" [Econoday]. "Gains in vehicle production were a highlight of the industrial production report which also got a boost from a weather-related swing higher for utility output. Employment also added to January's headline." More: "The readings in this report, though in general favorable, are mixed with the current month pointing to above-trend historical growth but not the 3-month average which points to below average growth." But: "This is volatile so best to go by the 3 mo moving average" [Mosler Economics].
PMI Manufacturing Index Flash, February 2016: " Weak orders and a drop in selling prices are among the striking negatives in the February flash PMI which, at 51.0, is still in the plus-50 expansion column but only barely. This is the lowest reading in three years and is below Econoday's low estimate" [Econoday]. "Production is slowing and growth in new orders and employment have only been marginal so far this month. And, in a special negative that points to more trouble ahead for employment, backlog orders are contracting at the steepest pace since September 2009. Respondents are blaming lack of demand for the trouble, specifically delays in customer spending. The report says weather is not a factor in the readings." And: "Worse than expected again. And this is the one that's be overstating things" [Mosler Economics].
Honey for the Bears: "Pessimism among investors reflects not just the indicators pointing towards recession. There is a deeper concern that, if or when that recession comes, policymakers will have very few options for dealing with it" [The Economist, "Unfamiliar ways forward"]. "Since the existence of cash is a limit on how low interest rates can go, Andy Haldane, the chief economist of the Bank of England, and Ken Rogoff of Harvard University have proposed abolishing it altogether. But even if such radicalism were to prove feasible in a few countries, its effects might be limited. Savers would find alternative stores of value, such as precious metals or foreign banknotes, or pass on the cost of having money in the bank to others by making payments early."
"LONDON — HSBC said on Monday that it lost money in the fourth quarter and warned that it was being investigated for hiring candidates with ties to government officials in the Asia-Pacific region" [New York Times].
"Central bankers are paying closer attention to core inflation, even as they continue to fret about headline numbers. Core inflation figures track the prices that people pay for everyday goods and services like shoes or haircuts. They can be a better indication of economic trends than overall inflation numbers, which get distorted by one-off spikes in oil or food prices. Recently, for instance, headline inflation has tanked largely due to the collapse in oil prices" [Wall Street Journal, "Deflation Fears Dim as Consumer Prices Strengthen"].
And speaking of trustworthy data:
Superb use of FOI by @alexralph … RT Treasury broke rules to make OBR change its forecast https://t.co/fxYLOvzQ8X pic.twitter.com/PFD1Xf2y6W

— Richard Fletcher (@fletcherr) February 22, 2016
The Times story is behind a paywall, unfortunately.
Today's Fear & Greed Index: 54, Neutral (previous close: 48) [CNN]. One week ago: 21 (Extreme Fear). (0 is Extreme Fear; 100 is Extreme Greed). Last updated Feb 22 at 12:31pm. So, the visit to the Nineteenth Hole on Sunday took place, and yes, the needle is on the greed side, albeit still in neutral territory.
Dear Old Blighty
"The pound fell the most since the U.K.'s 2009 banking crisis after London Mayor Boris Johnson, one of the nation's most popular politicians, said he'll campaign for Britain to leave the European Union in a June referendum" [Bloomberg].
"A summit-weary David Cameron had barely caught up on his sleep on Saturday morning when the Mayor of London emailed to let his old pal know he would take the opposite side. There was no reply. Less than 10 minutes before going public, Mr Johnson sent the British prime minister a 'courtesy' text" [Financial Times, "Brussels Briefing: The Outer Boris]. A very, very good roundup
"Of almost 70 constituency parties contacted, only two reported a majority of party members are in favour of remaining in the European Union. Many others were reluctant to hazard a guess as to the how opinion divided in their constituency parties, but among those who did offer breakdowns, more than half a dozen reported a 50/50 split and 17 a majority in favour of leaving" [Guardian]. So the Tories have fallen to fighting among themselves, while Labour is busy unifying itself by purging the Blairites.
"North London A&E tells patients to 'go home unless you're dying'" [Evening Standard]. Rule #2 of neoliberalism…
Our Famously Free Press
"Why America turned off Al Aazeera" [John Brown's Public Diplomacy Press and Blog Review] (Re Silc).
Gaia
"The Pacific Northwest could become a major hub for methanol production if three proposed refineries are built along the Columbia River and Puget Sound" [Seattle Post-Intelligencer]. "A China-backed consortium, Northwest Innovation Works, has proposed two plants in Washington and a third in Oregon to convert natural gas to methanol, which would be shipped to China to make plastics and other consumer goods." The correllation between anything with the word "innovation" in it and crapification and corruption is uncomfortably high.
"The Benicia city planning commission, voting unanimously, dealt a dramatic setback Thursday to an oil company's plans to ship crude oil via train through Northern California, including downtown Sacramento, to its local refinery" [Longshore and Shipping News].
Militia Watch
"The Oregon occupation is over, but standoffs among nearby residents continue " [Los Angeles Times]. "'There's a lot of people who have been here a long time and lost friendships over it,' said Nicole Davis, 45, a third-generation Harney County resident who has stopped going to church because she's so afraid of getting drawn into a personal fight over the armed occupation."
Guillotine Watch
Too late, alas: "Scalia described himself as an advocate of judicial restraint, who believed that the courts should defer to the democratically elected branches of government. In reality, he lunged at opportunities to overrule the work of Presidents and of legislators, especially Democrats" [The New Yorker]. "Scalia helped gut the Voting Rights Act, overturn McCain-Feingold and other campaign-finance rules, and, in his last official act, block President Obama's climate-change regulations. Scalia's reputation, like the Supreme Court's, is also stained by his role in the majority in Bush v. Gore. His oft-repeated advice to critics of the decision was 'Get over it.'"
"Some affluent parents are buying and building homes in which almost every room is a classroom—for everything from math to music" [Wall Street Journal, "Haute Home Schools Designed to Give Kids a Bespoke Education"]. "Ms. Taylor says her younger kids work in a large room with educational toys displayed on open shelving; meanwhile, the older boys work independently in their study. Ms. Taylor teaches math on a white board in her office, and, when the weather is nice, the kids do art projects on the outdoor lanai. Piano classes, which each child takes three times a week, are given in a loft." Sounds great. Why not all children?
Class Warfare
"Increasingly, luck will matter a lot more, no matter how much education kids get. The winners and losers in today's economic sweepstakes will look a lot more alike: bright, well-educated, sincere. But the rewards and the losses are now more fickle, and meritocracy will ring hollow for those who did get an education but not quite in the right field, or from the right university, or happen to live in the wrong place, or did not have the contacts from parents and friends to land that crucial first job. All that tuition paid, and for what? Another coffee-shop job?" [Economics for Public Policy]. "Sincere."
"Mr. Meyer, the entrepreneur behind Shake Shack, the Modern and Blue Smoke, has recently embraced this cause, pledging to do away with tipping at his restaurants, as a means to combat income inequality. He contends that paying workers well is not only the right thing to do, but is also good for business — well-compensated employees, the thinking goes, will be happy, loyal and hard-working" [New York Times]. IIRC, there's a hard core of people, perhaps as much as a third of the population, who prefer tipping, and complain at its absence, because tipping gives them a pleasant feeling of power over the servers.
News of the Wired
"Why Violins Have F-Holes: The Science & History of a Remarkable Renaissance Design" [Open Culture]. Beautiful!
"Citizen Science: In the Shadows of Volcán Tungurahua" [Nature]. Hopeful!
"How this company tracked 16,000 Iowa caucus-goers via their phones" [Fusion]. Horrifying!
"Mini Object Lesson: Still a Staple of Modern Life" [The Atlantic].
I, for one, welcome our new overlord:
This photo of our new overlord marching amongst his plugged in subjects is really something pic.twitter.com/VP3iB6rfws

— Owen Williams ⚡️ (@ow) February 21, 2016
And illustrating the art of juxtaposition:
Celebrating the life of Hieronymus Bosch in 's-Hertogenbosch https://t.co/er3SWKIPXJ

— The Guardian (@guardian) February 22, 2016
* * *
Readers, feel free to contact me with (a) links, and even better (b) sources I should curate regularly, and (c) to find out how to send me images of plants. Vegetables are fine! Fungi are deemed to be honorary plants! See the previous Water Cooler (with plant) here. And here's today's plant (Kurt):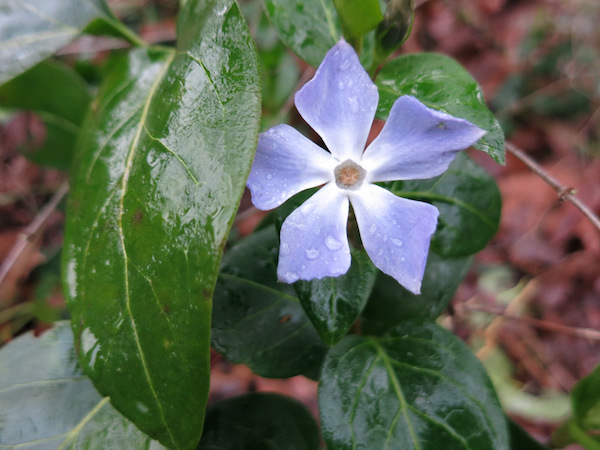 Again, so unfair!
* * *
If you enjoy Water Cooler, please consider tipping and click the hat. Water Cooler would not exist without your support.