By Lambert Strether of Corrente.
TTP/TTIP/TiSA
"A Comparison between TiSA and GATS" (PDF) [Cartel Intersyndical]. Handy chart, sadly with no visible author.
"NFU Contests TPP's Benefits for U.S. Agriculture" [National Farmer's Union].
"Aside from the actual negotiators, Bernd Lange is one of the few who has access to the secret documents of the free trade negotiations between the European Union (EU) and the USA. It is fair to say that Lange is well informed. He chairs the European Parliament's International Trade Committee and is the official rapporteur for the controversial Transatlantic Trade and Investment Partnership (TTIP)" [Deutsche Welle]. " This week, the 12th round of negotiations is taking place in Brussels. Lange, a Social Democrat from the German state of Lower Saxony, believes the talks are not making much headway. Of the 25 chapters up for negotiation, the Americans have taken a clear position on less than half, Lange told DW."
"[Speaker of the House Paul] Ryan is saying that there aren't enough votes in the House to ratify the TPP, while suggesting that the USTR has to go back and renegotiate the deal" [TechDirt]. " The whole basis of TPA ["Fast Track"] was that once the USTR concluded a deal, Congress couldn't nitpick it. That was Ryan's entire argument. And now that the deal is done… he wants to nitpick it?"
2016
Policy
"[A] new poll from the Kaiser Family Foundation shows views of 'Medicare for all' are significantly more favorable than 'single-payer' health care" [WaPo].

"[H]ealthcare stakeholders would go all out against Sanders' single-payer plan because "they would view it as a threat to their existence. Insurers would go to the mat on that. All the providers and many of the business groups would be concerned about disruption in the current system. Device manufacturers, wholesalers, pharmacies and others would be very concerned about reimbursement rates. This would make the fight against the Health Security Act (the 1993 Clinton administration health reform bill) look like a birthday party" [Modern Health Care]. It's like we're assuming these people are legitimate, that they deserve "a seat at the table." They aren't and they don't. You don't compromise with a tapeworm. You kill it.

"This Is What A Real Wall Street Shill Sounds Like" [Paul Krugman, New York Times]. Let me guess. Bob Rubin?
Money
"Billionaire self-funding front runner Trump apparently has ZERO TV ads on in Super Tuesday states. Today sorta last day to add buys" [Mark Halperin]. It's hard to imagine a more ginormous upraised middle finger to the political class than that. Lotta rice bowls being broken, there.
Voters
"Hillary Clinton is winning among voters who don't want Sanders's revolution" [WaPo]. "In Nevada, more voters wanted to 'generally continue Barack Obama's policies' than wanted to 'change to more liberal policies' by a 50-41 margin. Clinton won among that former group, by 75-22, while Sanders won among the latter group by 77-21."

"Black Feminists Are Divided Over Which Presidential Candidate To Support" [Hello Beautiful]. The candidate can quote Kimberlé Crenshaw to her purpose.
The Trail
"I'm not a Superpredator, Hillary!": Black Lives Matter protestors confront Clinton at South Carolina fundraiser [Salon]. "Ashley Williams donated $500 to deliver a message directly to Clinton."

"Can you apologize to black people for mass incarceration?" the activist asked Clinton.

"Can I talk and then maybe you can listen to what I say," Clinton replied, as the mostly white crowd began hissing at the heckler.

"My very first speech back in April was about criminal justice reform," Clinton explained to the audience.

But "you called black kids Superpredators," the activist shot back.

"Do you want to hear the facts or do you just want to talk," a clearly frustrated Clinton asked, as supporters yelled "you're being rude" to the young woman.

"I know that you called black people Superpredators in 1994 … please explain your record."

"You owe black people an apology," the activist demanded before being escorted out by Secret Service.

"You know what?" Clinton said, leaning closer to the woman as she was being pushed out. "Nobody has ever asked me before. You are the first person to ask me and I am happy to address it."

"OK, ," Clinton said to shouts of "thank you" from the crowd as the young woman was finally removed from the residence.

"OK, back to the issues." Here's the video:

So Clinton didn't give Madison the mic, then?

Ashley Williams interviewed [HuffPo].

"Hillary Clinton has a pattern of throwing the Black community under the bus when it serves her politically," Williams said in a statement before the event. "She called our boys 'super-predators' in '96, then she race-baited when running against Obama in '08, now she's a lifelong civil rights activist. I just want to know which Hillary is running for President, the one from '96, '08, or the new Hillary?"

"How Cory Booker handles haters on Twitter" [WaPo]. I read this as the opening move in a Booker VP boomlet, despite, or perhaps because of, his neo-con connections.

"Sanders has emerged as far more gifted at the politics of personal charm than the popular image of him as a cantankerous crank suggests. He's shown a real pleasure for campaigning that's obvious to anyone, managed to turn a career of stubborn commitment to his chosen policy issues into a convincing argument for the sincerity of his convictions, and learned to benefit from the caustic-septuagenarian caricature of himself" [New York Magazine]. Personally, I'd like to see Sanders turn the cantankerous knob up to 11. He could start by blowing away the Democrat establishment sycophants — sorry for the redundancy — who insist that Obama's record is beyond criticism (except by Clinton, of course). Because you know what's coming…

"The Only Strategy For Hillary Clinton Is To Scorch The Earth" [Buzzfeed].

"[Cthulhu's] bid for the White House has gotten further than most other imaginary candidacies, and I've long thought that the secret behind that success is Cthulhu's campaign slogan: 'Why settle for the lesser evil?"" [The Archdruid Report].

"Why Isn't the G.O.P. Trying Harder to Beat Donald Trump?" [The New Yorker]. Essentially an interview with Romney's chief strategist, Stuart Stevens. "'Donald Trump has not tapped into something mystical,' Stevens said, before he got off the phone. 'He's just running against campaigns that aren't running against him. Bet on the guy who's in the race.'"
Clinton Email Server Hairball
"Attorney General Loretta Lynch on Wednesday promised that any Justice Department review of possible criminal charges connected to Hillary Clinton's handling of classified information would be "independent," without regard to politics or outside influence" [The Hill]. So Lynch is ruling out a Special Prosecutor.

"Most observers are focused on an ongoing FBI investigation of the role of classified information in Clinton's private email transmissions. But the State Department's inspector general is also on the case, and an IG spokesman told Government Executive on Tuesday his office "plans to issue another report on records management and security issues related to the use of non-departmental systems" [Government Executive]. This article also reminds us that one of those who could be deposed is Bryan Pagliano, "a technologist on Clinton's 2008 presidential campaign who helped set up the private server and last September before the special House panel probing the 2012 Benghazi attacks." Hmm.

"In an email with the subject 'bravo!' sent on March 19, 2011—the day the United States and its allies began bombing Libya—Clinton confidant and former employee Anne-Marie Slaughter appears to praise then-Secretary of State Clinton for convincing a reluctant President Obama to take military action in Libya" [In These Times].

"I cannot imagine how exhausted you must be after this week, but I have NEVER been prouder of having worked for you," writes Slaughter, who worked as an advisor to Clinton in the State Department from 2009 to February 3, 2011, and then remained a consultant to the policy planning bureau. "Turning POTUS around on this is a major win for everything we have worked for." An earlier email release, which I reported on previously, showed that Slaughter had spent February 2011 imploring Clinton to involve the United States militarily in Libya, insisting that it would "change the image of the United States overnight."
Stats Watch
Jobless Claims, week of February 20: "Initial jobless claims did rise 10,000 in the February 20 week but remain near historic lows" [Econoday]. "Likely to firm expectations for a solid February employment report."
Durable Goods Orders, January 2016: "The factory sector bounced back strongly in January, indicated first by last week's industrial production report and now by durable goods orders which are up a very strong 4.9 percent" [Econoday]. "Aircraft did add to the gain but when excluding transportation equipment, durable orders still rose 1.8 percent. And core capital goods orders, which had been weakening, bounced back strongly with a 3.9 percent gain." And: "The headlines say the durable goods new orders improved. The three month rolling average improved this month and now is slightly in expansion" [Econintersect].
Kansas City Fed Manufacturing Index, February2016: "Once again minus signs sweep across the Kansas City Fed manufacturing report, coming in at minus 12 for the February headline" [Econoday]. "This is the 12th contraction in a row for this report with only the Dallas Fed, which like Kansas City also covers an energy-dependent sector, posting an even longer and more dismal run. Today's report extends an uninterrupted string of negative regional reports on manufacturing, all for February that cast a cold shadow over strength in today's durable goods report for January."
FHFA House Price Index, December 2015: "Home-price appreciation is solid but did slow going into year end" [Econoday]. "The housing sector is uneven, putting home prices at risk where appreciation, given limited wage gains, is a key source of homeowner wealth." I don't know where to begin on that concept of "wealth"….
Bloomberg Consumer Comfort Index, week of February 21, 2016: "There's plenty of uncertainty, both economic and political, but the consumer comfort index has been holding steady, at 44.2 for only a 1 tenth downtick from the prior week" [Econoday].
Shipping: "In revealing annual results that saw net losses more than double, Angeliki Frangou, chairman and ceo of Navios Maritime Holdings, described yesterday dry bulk "as difficult a market as ever existed in shipping" [Splash247].
Honey for the Bears: "Raising Money at a $1 Billion Valuation Has Been a Lot Easier Than Exiting for One" [Bloomberg]. "According to its 'Global Tech Exits Report' for 2015, 70 members were catapulted into the exulted 'unicorn' club of startups with valuations of $1 billion or higher, but only 11 such unicorns exited through IPOs or acquisitions in the same year." So, crudely then, 11/70, 85% of Silicon Valley valuations were bullshit? Is this normal?
Honey for the Bears: "Energy XXI Ltd. and SandRidge Energy Inc., oil and gas drillers with a combined $7.6 billion of debt, didn't pay interest on their bonds last week. They have until the middle of next month to either pay the interest, work out a deal with their creditors or face a default that could tip them into bankruptcy" [Bloomberg]. "The U.S. shale boom was fueled by junk debt. Companies spent more on drilling than they earned selling oil and gas, plugging the difference with other peoples' money. Drillers piled up a staggering $237 billion of borrowings at the end of September, according to data compiled on the 61 companies in the Bloomberg Intelligence index of North American independent oil and gas producers." $237 doesn't seem systemic, though.
Today's Fear & Greed Index: 49, Neutral (previous close: 48) [CNN]. One week ago: 48 (Neutral). (0 is Extreme Fear; 100 is Extreme Greed). Last updated Feb 25 at 10:09am. Testing greed once again.
Imperial Collapse Watch
"Afghanistan war: Just what was the point?" [CNN]. "Then the bizarre happened. Eyjafjallajökull, a volcano in Iceland erupted in 2010, scattering ash into the atmosphere and grounding aircraft. McChrystal and his team were among those delayed, along with a Rolling Stone reporter. They spoke their minds, found themselves in print, and McChrystal was fired. From that point, the war felt like it changed. Forever." Nice work, Gaia. Maybe I'm forgetting, but this seems like the first MSM piece I've read that outright said we lost the Afghan War. Maybe Trump broke the taboo?
Big Brother is Watching You
"Are "Backdoors" Real or Virtual? The Logical Flaw in #AppleVsFBI" [Uncomputing]. "If you think government should not exist (a view I find largely incoherent, but we need to talk about that on its own terms), we should have that political discussion. We should not be having companies build tools whose partly-stated reason for being is to disable vital functions of government without quite saying so." Watch for the glibertarian concepts being smuggled into the Apple vs. FBI discussion
"Confirmed: Carnegie Mellon University Attacked Tor, Was Subpoenaed By Feds" [Vice].
Health Care
Shocker: Adminstration gives Iowa the go-ahead to privatize Medicaid [Des Moines Register].
"How about Medicare for all?" [Science Blogs (BEast)]. From 2007, and still true. "I've got my Medicare card. But I had to wait until I was old to get it. In the meantime I spent a huge amount of money getting coverage. I'd have gladly paid for it in my taxes. I wouldn't have had to pay 50% more for the same coverage because of the 30% portion of my private health insurance premiums are administrative costs to a health insurance company whose every incentive is to deny me coverage."
Dear Old Blighty
"Corbyn: I've Got To Do My Tie Up For The PM" [Sky News]. Full of the finest British snark, with Corbyn, to my mind, coming out the winner.
"Savile report: key points of Janet Smith's independent inquiry" [Guardian]. "Dame Janet Smith identified 72 people who were the victims of sexual crimes by the late Jimmy Savile in connection with his work at the BBC, including eight rapes. … The earliest known incident was the rape of a 13-year-old girl at Lime Grove studios in 1959 and the last known incident was in 2006 at the last recording of Top of the Pops. … No evidence that the BBC as a corporate body was aware of Savile's conduct. … An atmosphere of fear still exists today in the BBC, possibly because obtaining work in the BBC is highly competitive and many people no longer have the security on an employment contract." Ugly.
"Jimmy Savile report: Victims' lawyer calls Dame Janet Smith report on BBC 'an expensive whitewash'" [Independent]. "It is unfortunate that Dame Janet had no power to compel senior managers to give evidence, giving the impression that the whole picture of who knew what has not been revealed." I love the understatement: "Unfortunate."
Gaia
"Global warming 'hiatus' debate flares up again" [Nature]. "'There is this mismatch between what the climate models are producing and what the observations are showing,' says lead author John Fyfe, a climate modeller at the Canadian Centre for Climate Modelling and Analysis in Victoria, British Columbia. 'We can't ignore it.' Fyfe uses the term 'slowdown' rather than 'hiatus' and stresses that it does not in any way undermine global-warming theory. Gavin Schmidt, director of NASA's Goddard Institute for Space Studies in New York, is tired of the entire discussion, which he says comes down to definitions and academic bickering. There is no evidence for a change in the long-term warming trend, he says, and there are always a host of reasons why a short-term trend might diverge — and why the climate models might not capture that divergence. 'A little bit of turf-protecting and self-promotion I think is the most parsimonious explanation,' Schmidt says. 'Not that there's anything wrong with that.'"
"[A]uthors calculated sea levels over thousands of years by analyzing cores of sediment from the salt marshes and 23 other geological sites around the world" [Philadelphia Inquirer]. "The research team found it "extremely likely" that average sea levels rose faster in the 20th century than in any previous century since at least 800 B.C. … 'It clearly illustrates that we're living in an unusual time,' said Rutgers University professor Benjamin P. Horton, one of the authors. 'The paper also shows we're the cause of this.'"
"The 13 activists who chained themselves to Heathrow's northern runway are likely to become the first climate change protesters to be jailed in the UK when they are sentenced on Wednesday morning, despite the support of prominent politicians." [Guardian]. "During the trial, the 13 argued that their actions were reasonable, proportionate and necessary to prevent death and serious injury via air pollution and climate change, saying that 31 people a year die prematurely around Heathrow due to its pollution, and thousands die due to the effects of climate change."
Class Warfare
"San Jose, in the heart of Silicon Valley, used to be the best place in the country for kids to experience a Horatio Alger, rags-to-riches life. Is it still?" [The Atlantic]. Hahahahahaha. No.
"Debtors' Prison in 21st-Century America" [The Atlantic]. "Thousands of people throughout the St. Louis metropolitan area are routinely sent to jail because they cannot pay local court fines and fees. These people are poor, and they tend to be black. While there are many terms to describe this—including, importantly, unconstitutional—there is one with historical resonance reserved for such a practice: debtors' prison."
"Nudges Aren't Enough for Problems Like Retirement Savings" [Eduardo Porter, New York Times]. So, the 401(k) scam puts a whole generations retirement down the tubes, except for those collecting the fees (ka-ching), and here we are!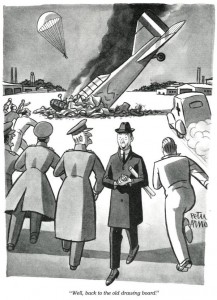 Well, back to the old drawing board!
"Organizers of a graduate student unionization effort confirmed the campaign has reached a critical point: a majority of graduate students employed by [Harvard] University have signed authorization cards in support of unionization, which satisfies the threshold to call an election to form a union." [Harvard Crimson].
"The $100,000 job: Garbage workers" [CNN].
News of the Wired
"Alcohol use among Native Americans compared to whites: Examining the veracity of the 'Native American elevated alcohol consumption' belief" [Drug and Alchohol Dependence].
"A new generation of airship engineers, some backed by significant government and private investment, is convinced that, given new technologies and new materials, the public can be sold on airships" [The New Yorker].
"The Visual Series Of Malay Proverb" [Tumblr]. Gorgeous!
"The Unsettling Mystery of the Creepiest Channel on YouTube" [Atlas Obscura]. Very much like "the footage" in William Gibson's Pattern Recognition.
* * *
Readers, feel free to contact me with (a) links, and even better (b) sources I should curate regularly, and (c) to find out how to send me images of plants. Vegetables are fine! Fungi are deemed to be honorary plants! See the previous Water Cooler (with plant) here. And here's today's plant (Tia):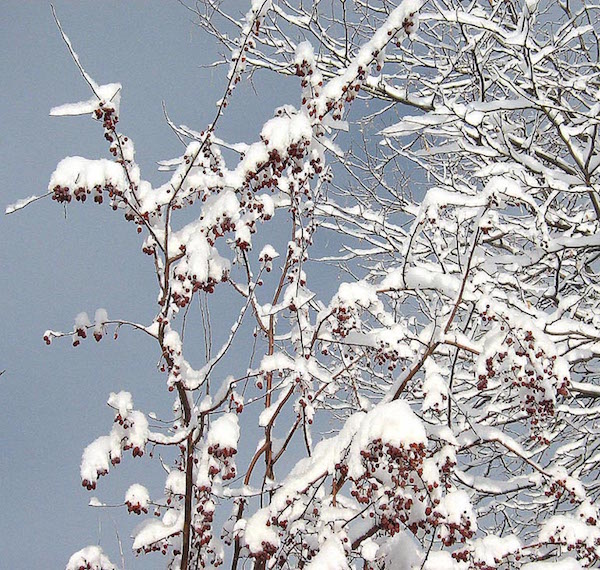 Crabapple Floribunda.
* * *
If you enjoy Water Cooler, please consider tipping and click the hat. Water Cooler would not exist without your support.