By Lambert Strether of Corrente.
TTP/TTIP/TiSA
"In a Broadway-style performance of a parody version of the Frozen anthem, Fair Trade Princess Ilsa kicked off 48 hours of national and international anti-TPP demonstrations with her rendition of 'TPP: Let It Go'" [Eyes on Trade]. Royalty-free video; royalty-free photos.
"It already seems too late for passage before November's presidential and congressional elections. So TPP's fate may hinge on American voters" [The Economist, "The dotted line: trade in the Pacific"].
Elizabeth Warren: "I hope Congress will use its constitutional authority to stop this deal before it makes things even worse and even more dangerous for America's hardest-working families" [The Hill]. "She added that the agreement 'would tilt the playing field even more in favor of a big multinational corporations and against working families.'"
"Clinton also stated that she will not lobby against TPP, leaving many to wonder if her statement of opposition, coming just before the first debate, was serious or only for election purposes because of the unpopularity of the agreement. Then Chamber of Commerce President Tom Donohue said in a recent Bloomberg TV interview that he believes Clinton will switch to supporting TPP after the election. Inside Trade (paywall) reported that Donohue said that Clinton has publicly opposed the deal chiefly because Sen. Bernie Sanders opposes it" [Our Future].
"Last week Mexican civil society groups convened organizations from the NAFTA countries plus Peru and Chile to reenergize that collaboration in the context of TPP and build an action plan moving forward." [Institute for Agriculture and Trade Policy].
2016
Money
"The Daily 202: Hillary Clinton makes her Wall Street problem worse" [WaPo]. "That's what they offered." And as Tammany Hall's George Washington Plunkitt said: "I seen my opportunities and I took 'em." Here's the video:

And here's the transcript:

COOPER: But did you have to be paid $675,000?

CLINTON: Well, I don't know. That's what they offered, so…

You know every secretary of State that I know has done that.

COOPER: But (inaudible) for office they're not running for an office…

CLINTON: Well, I didn't know…

COOPER: … have known.

CLINTON: I wasn't – I wasn't committed to running. I didn't know whether I would or not.

COOPER: You didn't think you were going to run for president again?

CLINTON: I didn't.

Wowsers. Oddly, there isn't any laughter after "To be honest," but maybe the audience had been stunned into silence. What I can't figure out is whether Clinton's answer was scripted or not. On the one hand, doing anything not scripted would be uncharacteristic for such a disciplined candidate. But accidents happen. On the other, fire the scriptwriter. Then again, perhaps the entire Clinton operation is such a cesspoll of corruption that everything seemed

"Through the end of December, donors at hedge funds, banks, insurance companies and other financial-services firms had given at least $21.4 million to support Clinton's 2016 presidential run — more than one of every 10 dollars of the $157.8 million contributed to back her bid, according to an analysis of Federal Election Commission filings" [Washington Post]. "The contributions helped Clinton reach a fundraising milestone: By the end of 2015, she had brought in more money from the financial sector during her four federal campaigns than her husband did during his quarter-century political career." Ka-ching.

"Wealthy Donors Pump Millions Into Sanders' Campaign In Last-Ditch Effort To Destroy His Credibility" [The Onion].
The Voters
"Indeed, towering mid-twentieth-century liberal and radical left intellectuals and activists such as A. Philip Randolph, John P. Davis, Esther Cooper Jackson, John Jackson, Bayard Rustin, and scores of others would have found themselves quite at odds with [Ta-Nahesi] Coates's liberal antiracist viewpoint that working-class-centered, anticapitalist political projects are patently inadequate for addressing the concerns of black voters" [Jacobin]. "The reparations argument is rooted in black nationalist politics, which traditionally elides class and neglects the way that race-first politics are often the means for advancing discrete, bourgeois class interests."

Adolph Reed (transcript here):

Adolph Reed's contempt for Ta-Nehisi Coates is pure https://t.co/QQEKksUCGy pic.twitter.com/7p5fFwSr4Z

— Mark Ames (@MarkAmesExiled) February 4, 2016

Ouch!

"Barack Obama's presidency has been a very good thing for Republicans" (with maps) [WaPo]. "From 2008 to 2015, Democrats went from a 30-state lead to a six-state deficit when it comes to states solidly or leaning their way on party affiliation. That is simply stunning." And the Democratic Party establishment that engineered this debacle want us to reward them for their good work because they're "pragmatic" and "experienced"! What the Democratic Party needs is a hostile takeover, followed by a thorough housecleaning, and a management shake-up.

"With talk of bridging partisan divides, the Democratic frontrunner is adopting a tone she once mocked in 2008" [The Atlantic]. That was then… This is now…

"I am breaking rank and going rogue by warning with blunt and uncompromising words that the Hillary Clinton campaign has gone astray by failing to offer a clear and inspiring vision about the kind of presidency she dreams of and lapsing into attacks against Bernie Sanders for advocating powerful change and progressive reforms that many liberals and independents believe in" [Brent Budowsky, The Hill]. "Instead of attacking Sanders for having dreams too great, the former first lady should share with the nation the dreams she has, without fear or favor about which interest group might be offended. She should speak of her dreams with passion, principle, courage and authenticity with her voice, as Sanders does with his." Assumes facts not in evidence. Very unfortunately.

"[Green Presidential candidate Dr. Jill] Stein still faces the daunting challenge of ballot access. A Green presidential candidate has never been on the ballot in all 50 states (in 2000, Nader appeared in 43). Approximating that goal is essential to mitigating concerns about wasted votes, and in 2012 Stein only reached 36, not counting the District of Columbia. According to a Green Party statement, it starts this year with only 22 in hand" [Politico]. "Lacking complete unity on the farthest left flank, Stein sees a huge bounty just around the corner in the form of soon-to-be disgruntled Sanders voters. She is careful not to seem like she is breaking out the popcorn as he suffers the digs and jabs from the Clinton behemoth, genially 'wishing' her nominal rival, 'all the luck in the world.' But she fully expects him to lose. And when he does, she plans to 'let this be a learning experience, the teachable moment' for Sanders backers, so they will discover that "political revolutions that start in the Democratic Party, unfortunately, they die in the Democratic Party.'"

"It seems that decades of isolation and insularity have made the US far left forget a cardinal principle of politics — that it is fundamentally about embedding yourself in mass work, not maneuvering among small groups of like-minded activists" [Jacobin]. "Sanders's campaign should be welcomed by the radical left because it provides us with a spectacular opportunity for organizing. Hundreds of thousands of people are coming out to meetings and rallies because he has tapped into a deep revulsion at the ruling class."

"What Companies Should Learn About Social Media From American Politics" [MIT Sloan Management Review]. "The Internet provides a nearly limitless ability to connect with almost anyone online, and research has long shown that the types of "weak ties" we establish on these platforms can be very valuable for finding information. On the other hand, we are also likely to use this unparalleled networking ability to connect mostly with people who are most like ourselves, which compounds the effects of content filtering. … This tendency for social media to support our existing views and preferences is no accident. It's what users want."
The Trail
"Editorial: Something smells in the Democratic Party" (!!) [Des Moines Register]. Yikes:

, period. Democracy, particularly at the local party level, can be slow, messy and obscure. But the refusal to undergo scrutiny or allow for an appeal reeks of autocracy.

The Iowa Democratic Party must act quickly to assure the accuracy of the caucus results, beyond a shadow of a doubt.

First of all, the results were too close not to do a complete audit of results. Two-tenths of 1 percent separated Bernie Sanders and Hillary Clinton. A caucus should not be confused with an election, but it's worth noting that much larger margins trigger automatic recounts in other states.

And:

The Sanders campaign is rechecking results on its own, going precinct by precinct, and is already finding inconsistencies, said Rania Batrice, a Sanders spokeswoman. The campaign seeks the math sheets or other paperwork that precinct chairs filled out and were supposed to return to the state party. They want to compare those documents to the results entered into a Microsoft app and sent to the party.

Dr. Andy McGuire, chairwoman of the Iowa Democratic Party, dug in her heels and said no. She said the three campaigns had representatives in a room in the hours after the caucuses and went over the discrepancies.

McGuire knows what's at stake. Her actions only confirm the suspicions, wild as they might be, of Sanders supporters.

Readers will remember that NC posts and commenters collected many dots about issues with caucus procedures and problems on caucus night itself, but it's a little amazing to see all those dots connected in a Des Moines Register editorial. "Debacle" isn't exactly Iowa nice, so it must have been really bad. And let us remember that party chair Dr. Andy McGuire has a "known allegiance" to Clinton, and is therefore conflicted; she is in no sense a neutral arbitrer or honest broker and should recuse herself from this issue. As I said yesterday: "if Iowa reminded you of Ohio in 2004, perhaps there's a reason for that."

"Clinton is likely to pick up the endorsement of Rep. Nancy Pelosi (D-Calif.), who was the first female Speaker. Pelosi, who is revered by progressives, told The Hill on Tuesday she will endorse in the primary, and all indications suggest she will back the former first lady" [The Hill]. Pelosi? Who took impeaching Bush off the table? "Revered" by progressives? Wher e does The Hill find these writers?

"Donald Trump's plane makes emergency landing in Nashville" [AP]. I assume the staff is checking under the seats…

"Why Don't Ted Cruz's Clothes Fit Him?" [Jezebel].

"But from the February 20 South Carolina primary through March 15, there are nine states (South Carolina, Alabama, Arkansas, Georgia, Oklahoma, Tennessee, Kentucky, Mississippi, and North Carolina) with an estimated white-Evangelical percentage of the GOP electorate over 60 percent, and another four (Texas, Kansas, Louisiana, and Missouri) that come in over 50 percent. That's quite a potential hunting ground for Ted Cruz. But he'd better bag the limit, since after March 15 there are only four states, none of them all that large, with estimated white-Evangelical majorities of the primary vote: Indiana, West Virginia, Montana, and South Dakota" [New York Magazine].

"Fully 71% of the delegates from states with 50% or more white evangelical electorates will have their delegations determined by proportional rules of some kind before March 8. Some of these contests will have winner-take-all triggers, but the field may still be too crowded to activate them. Conversely, 81% of the delegates determined after March 8 will come from states with less than 50% white evangelical electorates" [Center for Politics].
New Hampshire
"[Trump] leads the GOP field [in New Hampshire], with 36 percent support, according to the WHDH/UMass Lowell [daily tracking] poll, followed by Rubio, with 15 percent support; Sen. Ted Cruz (R-Texas), with 14 percent support; former Florida Gov. Jeb Bush, with 8 percent support; and Ohio Gov. John Kasich, with 7 percent support" [The Hill].

UMass Lowell/7 News tracking poll: "Sanders leads the race with 58 percent support, followed by Clinton's 36 percent support ahead of the Feb. 9 primary" [The Hill]. "But Clinton gained 4 points overnight, the biggest single gain in the daily poll since it began tracking, while Sanders dropped 3 points."

"Before the state's new voter ID law went into effect in 2013, voters could just give their name and address, get checked off the roll, and vote. Now voters will be asked to show photo identification, such as a driver's license or military ID, before they can obtain a ballot" [WBUR]. Works against students and the poor (i.e., for Clinton).

Cold, maybe snow, expected [Accuweather]. Film at 11.

"Thanks to New Hampshire primary, 12-year-old gets to cover prez politics" [Boston Herald]. Awww!
South Carolina
"'Hillary is not an agent of change – I mean, her campaign slogan should be, 'It's my turn," said Mr. Harpootlian, a lawyer who was state party leader from 1998 to 2003 and again from 2011 to 2013. 'It's hard for me to listen to how Hillary says she would fight Wall Street when she took hundreds of thousands of dollars in speaking fees from Goldman Sachs – not 20 years ago, but a couple years ago. She's talking the talk, but not walking the walk'" [New York Times, "Richard Harpootlian, Sharp-Tongued South Carolina Democrat, Endorses Bernie Sanders"]. "The endorsement is something of a reversal for Mr. Harpootlian, who said last year that he did not see himself supporting Mr. Sanders because the senator was a "socialist." Since then, Mr. Harpootlian said, he has become comfortable with Mr. Sanders's philosophy of democratic socialism 'since it does not involve government control of the economy. He said he supported the senator's plan for broad-based tax increases to finance a single-payer health care system because, according to Mr. Sanders, the tax increases would be offset by savings in health care costs.'" Harpootlian has quite a history, but and was a Biden ally.

"Sanders' South Carolina Communications Director Aneesa McMillan said the [Harpootlian] endorsement will help the campaign build momentum in the state, where Sanders trails Clinton by an average of 29.5 points in the polls" [The State]. Time to play the expectations game…

"Sanders still trails Clinton in South Carolina polls, but his modest numbers are climbing at a steady clip. Chris Covert, Sanders' South Carolina state director, said it was a testament to the campaign's strategy of introducing Sanders to voters through a slower, more deliberate process. "We're not rushing in to do a typical field program. We're establishing relationships," he said" [Post and Courier].
Stats Watch
Factory Orders, December 2015: "Factory orders sank a very sharp 2.9 percent in December after falling a sizable and downwardly revised 0.7 percent in November." [Econoday]. "Headline swings for order data are the norm but details inside the report point straight at weakness. Core orders for capital goods fell a very steep 4.3 percent in the month reflecting wide declines for machinery especially mining & oil field machinery. Computers including communications equipment also show wide declines." And: "So with manufacturing having gone negative, which is about 15% of the economy, stands to reason some of those people are probably customers of the service sector?" [Mosler Economics].
Jobless Claims, week of January 30, 2016: "Initial jobless claims fell back sharply in the January 23 week, down 16,000 to 278,000 and helping to make the prior week's six-month high at 294,000 an outlier, at least hopefully [!!] an outlier" [Econoday]. "Continuing claims in this report did not fall back, hitting a 5-month high at 2.268 million and, together with the trend for initial claims, are pointing at less strength for the January employment report."
Challenger Job-Cut Report, January 2016: "Wal-Mart's announcement last month that it is closing 154 U.S. stores drove Challenger's layoff count to an outsized 75,114 in January. This is the highest total since July last year" [Econoday]. "Retail, where holiday sales proved soft, leads the month's list of layoff announcements at 22,246 followed by the hard-hit energy sector at 20,103."
Gallup Good Jobs Rate, January 2016: "The good jobs (GGJ) rate was 44.7 percent in January. This is down from the rate measured in December (45.3 percent) but higher than in any January since Gallup began measuring it in 2010" [Econoday].
Bloomberg Consumer Comfort Index, week of January 31, 2017: "The consumer comfort index slipped 4 tenths in the January 31 week to a still respectable 44.2." [Econoday].
Chain Store Sales, January 2016: "January was weak for retail sales based on chain stores which are reporting wide declines in the month, declines that for some are triggering cuts in quarterly forecasts" [Econoday]. "Heavy weather is widely cited as a negative in the month with pharmacies reporting unusual weakness in seasonal flu shots." Flu shots a discretionary, luxury item?!
Productivity and Costs, Q4 2015: "non-farm productivity is expected to move back into the minus column for the fourth quarter, to a minus 1.8 percent annualized rate" [Econoday]. "And low productivity makes for high labor costs which are expected to rise at a steep 4.4 percent rate."
Shipping: Rail contraction continues, although containers show year-on-year improvement on the week [Econintersect].
"Leading Indicators Bottom Line: No recession in the next six months but most suggesting moderate but flat economic growth" [Econintersect]. "The leading indicators are to a large extent monetary based. Econintersect's primary worry in using monetary based methodologies to forecast the economy is the current extraordinary monetary policy which may (or may not) be affecting historical relationships. This will only be known at some point in the future. Econintersect does not use any portion of the leading indicators in its economic index. All leading indices in this post look ahead six months – and are all subject to backward revision."'
Honey for the Bears: "Appetite for action-sports cameras appears to have waned, with camera maker GoPro reporting a surprise fourth-quarter loss Wednesday" [Los Angeles Times]. I wonder what wave of froth GoPro was riding…
Honey for the Bears: "The word 'Google' is not mentioned in the book. So it's definitely not about Google, just so everyone is clear!" [Business Insider]. "The most interesting parts of the book are the sections that deal with the company's in-house drug dealers, 'the drug lords,' and ." Hmm. Another bezzle?
The Fed: "Traders in futures markets now put a low probability on the central bank raising rates at all this year" [Across the Curve (WSJ repost)].
Today's Fear & Greed Index: 25, Extreme Fear (previous close: 24) [CNN]. One week ago: 19 (Extreme Fear). (0 is Extreme Fear; 100 is Extreme Greed).
Black Injustice Tipping Point
"I Am Running for Mayor of Baltimore" [@Deray, Medium]. So, I wonder which private equity firm will do the charters deal?
Gaia
"Native American depopulation, reforestation, and fire regimes in the Southwest United States, 1492–1900 CE" [Proceedings of the National Academy of Sciences]. Fascinating paper; apparently, the Native American dieback didn't begin immediately with the Conquest, but 100 years after, with the missions; and the resulting reforestation and increased both forest fires and carbon sequestration. Summarized: "The aftermath of 1492: Study shows how Native American depopulation impacted ecology" [Phys.org].
"Climate change and pets: More fleas, more heartworm" [AP].
"While projects in the U.K. and the U.S. are experimenting with biomass, Japan is giving favorable tariffs to power producers who burn leftover wood as a way to cut the country's dependence on imported fossil fuels" [Bloomberg]. In my experience with landfilles, "biomass" is what we think of as "wood" at all, unless we include construction materials.
Water
"[Zambia's Kariba dam's] collapse, like Mosul's, would constitute an epochal event in the history of energy development—the dam industry's Chernobyl. The ensuing torrent would be four times bigger than the Zambezi's biggest recorded flood, in 1958, and would release enough water to knock over another major dam three hundred miles downstream, in Mozambique" [The New Yorker]. "It's the trap of Industrial Age technology: once mechanized systems supplant natural ones, they must be managed in perpetuity, or else they break down."
"Bottling Himalayan water could be bad for the region's environment" [The Economist, "High-altitude thirst"]. Shaking my head…
Corruption
"Disgraced former IMF chief Dominique Strauss-Kahn has been appointed to the supervisory board of a bank owned by Ukraine's second-richest businessman Viktor Pinchuk." [France24].
Class Warfare
"Food apps, after a boom in start-ups over the past three years, have been failing or scaling back in India. They are no match for the famed tiffin-delivery business that has been in operation for decades" (great photos) [Bloomberg]. Cool. I imagine the next predator to have a go will be Amazon, with drones.
"Food Stamps Still Feed One in Seven Americans Despite Recovery" [Bloomberg]. "About 45.4 million Americans, roughly one-seventh of the population, received nutrition aid last October, the most recent month of data. Unemployment was 5 percent that month. The last time joblessness fell to that level, in April 2008, 28 million Americans used food stamps, and the program cost less than half of what the government paid out last year." Yeah, remember 2008? Good times.
"The conditions that Mubarak deliberately engineered to elongate his rule — an excessively powerful military, a weak opposition without governing experience, corrupt security services, hollowed-out civil society, and no effective democratic institutions — have all remained after his fall, and have undermined successive governments as much as they eventually undermined his own" [Al Jazeera]. "[D]emocratic rule requires something a lot more important, if less obviously visible, than having a good-guy democrat at the top of the government. It requires the institutions of democracy: political parties capable of winning elections, politicians capable of governing, a bureaucracy capable of implementing that governance, and civil society groups able to provide support and stability to those institutions."
"Puddle of Mudd lead singer accused of vandalizing his foreclosed home" [Los Angeles Times]. Wait, I thought the foreclosure crisis was over?
News of the Wired
"On the universal structure of human lexical semantics" [Proceedings of the National Academy of Sciences]. A very, very bold claim!
Some damn thing in cladistics… [Wired]. "Phylogenetic data sets submitted to this journal should be analysed using parsimony." And then.. Boom!
"The CEO of Hootsuite is now selling $25 cardboard standing desks" [Business Insider].
"The US is still slipping behind the rest of the world when it comes to download speeds, with an average of 10 Mbps — ranking it 55th worldwide. It does much better when it comes to coverage (subscribers get an LTE signal 81 percent of the time — seventh best in the world), but it's still suffering from the first mover disadvantage" [The Verge]. We're right between Argentina and Russia. Which seems very right somehow.
* * *
Readers, feel free to contact me with (a) links, and even better (b) sources I should curate regularly, and (c) to find out how to send me images of plants. Vegetables are fine! Fungi are deemed to be honorary plants! See the previous Water Cooler (with plant) here. And here's today's plant (Rex):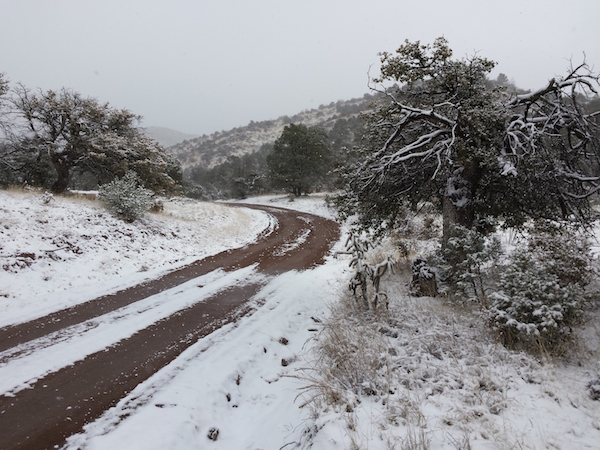 Alligator Bark Juniper Gray Oak, southwest New Mexico, altitude 6800 feet.
* * *
If you enjoy Water Cooler, please consider tipping and click the hat. Winter has come, I need to buy fuel, make a happy plumber happier, and keep my server up, too. Water Cooler could not exist without your support.