By Lambert Strether of Corrente.
Not yet. But they can if they want to. They might. And it's complicated. Let's start by noting that even though Clinton and Sanders tied for the popular vote in Iowa, and Sanders won decisively in New Hampshire, the delegate counts — that is, the delegates who will ultimately nominate the Democratic Presidential candidate – don't reflect the popular vote. Nate Silver explains the discrepancy and gives a little history:
While Sanders does have a modest 36-32 lead among elected delegates — those that are bound to the candidates based on the results of voting in primaries and caucuses — Clinton leads 362-8 among superdelegates, who are Democratic elected officials and other party insiders allowed to support whichever candidate they like.

If you're a Sanders supporter, you might think this seems profoundly unfair. And you'd be right: It's profoundly unfair. Superdelegates were created in part to give Democratic party elites the opportunity to put their finger on the scale and prevent nominations like those of George McGovern in 1972 or Jimmy Carter in 1976, which displeased party insiders.
American governance is chock full of such undemocratic structures and procedures, of which the superdelegate system is only one. Take the Senate — please!
There is a tradition that Jefferson coming home from France, called Washington to account at the breakfast-table for having agreed to a second, and, as Jefferson thought, unnecessary legislative Chamber.

"Why," asked Washington, "did you just now pour that coffee into your saucer, before drinking?"

"To cool it," answered Jefferson, "my throat is not made of brass."

"Even so," rejoined Washington, "we pour our legislation into the senatorial saucer to cool it."
Oddly, however, when we look at how today's party leaders justify the superdelegate systems, they don't use Washingtonian saucer arguments at all; they are clear neither on the purpose of the superdelegate system nor its history. From Democratic National Committee Chair Debbie Wasserman Schultz — you might want to put your coffee down, now — we get this, in answer to a (February 12) question by Jake Tapper:
WASSERMAN SCHULTZ: Well, let me just make sure that I can clarify exactly what was available during the primaries in Iowa and in New Hampshire. The unpledged delegates are a separate category. The only thing available on the ballot in a primary and a caucus is the pledged delegates, those that are tied to the candidate that they are pledged to support. And they receive a proportional number of delegates going into the — going into our convention.

We are, as a Democratic Party, really highlight and emphasize inclusiveness and diversity at our convention, and so we want to give every opportunity to grass-roots activists and diverse committed Democrats to be able to participate, attend and be a delegate at the convention. And so we separate out those unpledged delegates to make sure that there isn't competition between them.
The above is the quote everybody seems to be using, so let me present Wasserman Schultz's B side, given to FOX (also February 12):
[WASSERMAN SCHULTZ:' Unpledged delegates are our party leaders and elected officials who actually can make up their mind at any point and change their mind. We separate those so that we don't have elected officials and party leaders running against the activists, but want to make sure are helping to diversify our convention. That is something we take great pride in. Those people should have an opportunity to be delegates, too. And they shouldn't have to deal with very well-known officials and party leaders. And that's why we separate them.
Wasserman Schultz is stunning in her effrontery[1], both for her fabrication — does anybody really believe that the superdelegate system was set up so that Native-American cancer survivors could run? — and for her paternalism: Does she really think that "Native-American cancer survivors" want to sit at the kid's table, and don't want to "deal with" "very well-known officials and party leaders"? Personally, I'd like to deal with them very much, and even have some ideas about how to go about doing it.
And here's Harry Reid on the same topic, interviewed by Andrea Mitchell (February 11):
ANDREA MITCHELL, NBC: There are a lot of concerns among people about the role of the super delegates. Here you've got Hillary Clinton getting clobbered in New Hampshire, 22-point landslide by Bernie Sanders, and yet, they divided the delegates 15-15 because she had so many super delegates, so many members of Congress and Senators and the governor of course. Is that a fair process?

SEN. HARRY REID (D-NV): Well, the process was totally unfair before — eight years ago. Eight years ago, I looked at this and I thought, how in the world could we have the future of this country be dependent on Iowa, which is 93% white, and we have New Hampshire which is 97% white, no diversity, no diversity in Iowa. And have the final decision made as to who is going to be the president of the United States based on those two states, it was wrong. We now have Nevada and South Carolina before we get into the rest of the country as to who's chosen where.
Reid seems to have rolled the wrong tape; he's not answering the superdelegates question at all; he's answering the "Why Iowa and New Hampshire?" question. Which is a good question, but not the one Mitchell asked.
So here we have two elite establishment figures — both superdelegates — butchering their explanations of the superdelegate system. Wasserman Schultz brazenly lying and patronizing into the bargain, and Reid not answering at all. I find that concerning, not to say creepy, because none of the reasons I can come up with for why they would do this are good, even starting with ignorance, which is highly unlikely.
So, from the history and purpose of the superdelegate system, and how party establishment figures are erasing both, let us turn to the state of play today. How many delegates are there, and how many superdelegates does each candidate have? From the Guardian:
The Democratic party's nomination will ultimately be decided by more than 4,700 delegates at its nominating convention in the summer. Most of those delegates are allocated based on votes in each state's primary or caucus. However, the party also assigns what are known as 'superdelegates" – 700 or so people who aren't elected by anyone during the primary process and are free to vote any way they want at the convention. They are made up of members of Congress and members of the Democratic National Committee – which is made up of much of the establishment that Sanders is implicitly running against.

Party elites who have announced who they are supporting have almost universally broken towards Clinton's camp. A recent unofficial count put Clinton's advantage at a staggering 355-14. And given how Sanders falls well outside the establishment compared with Obama in 2008, it's hard to see how he can gain a significant number to make up for Clinton's lead – meaning it's more likely that superdelegates would at least want to tip the scales in favor of Clinton, even if he ends up winning more primaries.
So, how likely is it that Clinton could lose the popular vote, but be nominated because the superdelegates threw the nomination to her? Joshua Holland in Alternet argues very unlikely indeed:
[P]eople only become super delegates because they have a longstanding affinity for, and loyalty toward the Democratic Party. Some may be total hacks, but they're party hacks, and that makes them unlikely candidates to completely rip apart the Democratic coalition for a generation or two, which would be the only possible result of these unelected delegates overturning the will of primary voters. They share a common sense of duty to the best interests of the institution.
Holland's "they're hacks, but they're party hacks" is supported by many other more polite descriptions, some in this post: "Democratic elected officials and other party insiders," "party leaders and elected officials," "members of Congress and Senators and the governor of course," "members of Congress and members of the Democratic National Committee," and "the establishment." And Holland's answer, in essence, is "Win the primaries, and the superdelegates will come round." [2] That appears to be Sanders' view as well, as he explained on Face the Nation:
SANDERS: I think if we continue to do well around the country and if superdelegates – whose main interest in life is to make sure that we do not have a Republican in the White House – if they understand that I am the candidate and I believe that I am who is best suited to defeat the Republican nominee I think they will start coming over to us.
(And Sanders noted that he had just met with a few superdelegates Saturday evening.) History provides some support for this thesis. Clinton, in 2008, was ahead in superdelegates, but as the campaign progressed, they jumped the sinking ship to sail with the winner: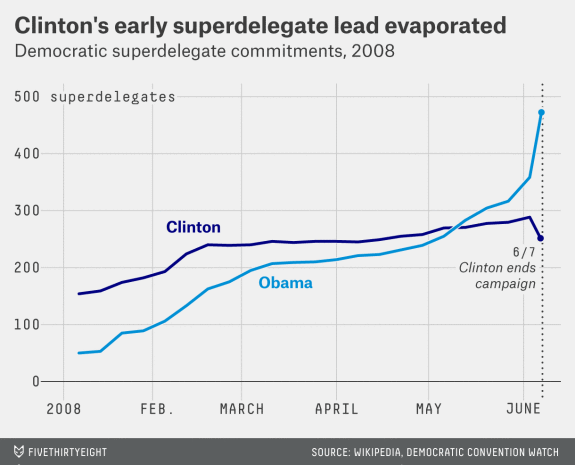 But is 2016 really 2008 all over again? If you're an establishment type, it might be one thing to jump from Clinton to America's (potentially) first black President, especially when he's got Paul Volcker advising him and a proven afffinity for Goldman Sachs. It's quite another thing to jump ship to a candidate promising "a political revolution." And campaigns 2010 and 2014 prove the Democratic establishment has no problem losing. In any case, do "affinity" and "loyalty" really drive the Democratic superdelegates?[4] Could there be… other motivations? Prelimimary research from the Intercept's Lee Fang suggests so. I've put a superdelegate tweetstorm from Fang in the form of a table.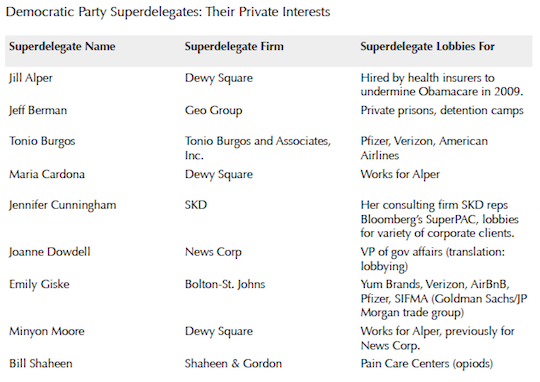 Of course, this is just a small sample of the 700-odd superdelegates, but it's certainly suggestive. It's hard to imagine that the superdelegates would outright steal the nomination from Sanders if he won the popular vote by, say, 10%. But it's certainly possible to imagine them demanding a high and not at all metaphorical price for their support if the Sanders margin of victory was much smaller. (What would Big Pharma give, for example, to avoid a Sanders victory, or cripple his single payer initiative?) Nate Silver gives the most benign prediction:
What you're likely to see in close cases like these is competing claims to legitimacy, with Democratic party elites showing their bias by interpreting the evidence in favor of Clinton.

It's hard to know the exact point at which such claims go from laughable to credible, but my guess is that it's somewhere around the 5 percentage point gap… So superdelegates do provide some advantage to Clinton: They'll break a true tie in her favor, and perhaps anything that can reasonably be described as a tie in her favor also. It's just not the massive advantage implied by the delegate count so far.
(And at this point I remember that Clinton has also been sharing fundraising money with the State parties, and Sanders small contributions have not been devoted to that, so a lot of those superdelegates may feel honor-bound to reciprocate for their walking around money. And I also remember that when the DNC took Michigan delegates away from Clinton and gave them to Obama, they violated procedural rules to do so; like changing the agenda during lunch, IIRC. So these are people not necessarily concerned with the niceties.)
* * *
What to do if you're a worried Sanders supporter, or a Democrat who doesn't want Chicago 1968 all over again, or just a voter who likes to see systems in place that are fair? What if you're concerned that winning the popular vote might not be enough? Bring pressure to bear, one would think. Therefore the first question is data: WikiPedia maintains a list of superdelegate names and districts. And MoveOn is running a petition drive that demands that superdelegates respect the popular vote. I've heard there's an effort on Reddit, but I can't find out. Other thoughts?
NOTES
[1] Most of the memes on this quote propagate the idea that Wasserman Schultz is trying to suppress the grass roots; that's undoubtedly true, but she cannot be quoted directly to that effect. Her story is that she's trying to protect the grass roots, and as we've seen, she's sticking to it.
[2] Meaning, of course, that there's no reason for the superdelegates to exist in the first place!
[3] At least Sanders frames his answer in terms of "interest."
[4] When I hear words like "loyalty" and "affilliation," a tear comes to my eye, undoubtedly, but I'm also reminded of the old saying: "If you want a friend in Washington, get a dog."