Undoubtedly Unexpected: A New Goat Cart Record Isidor's Fugue
Thirteen Bald Eagles Mysteriously Drop Dead in Heavy-Handed Symbolic Performance Gawker (resilc) :-(
Seas Are Rising at Fastest Rate in Last 28 Centuries New York Times
Terrafugia's flying cars to be a reality by 2018 Inhabitat (David L). I prefer the Pal-V.
Drinking more coffee may lessen liver damage caused by booze USA Today (Chuck L)
Urging Openness About Superbug Infections, Doctor Omits Cases In Own Hospital Kaiser Health News
China?
China's 'trilemma' makes it vulnerable to more shocks George Magnus, Financial Times

China Appears to Have Built Radar Facilities on South China Sea Islands Wall Street Journal. Not good.
India caste unrest: Ten million without water in Delhi BBC
Negative rates: ECB seeks ways to ease pain for banks Financial Times
What is Missing in Flassbeck & Lapavitsas Servaas Storm, Institute for New Economic Thinking. A bit technical for most NC readers, otherwise I would have cross posted it. But this article nukes the Flassbeck/Lapavitas argument that divergences in labor cost competitiveness caused the European crisis.
Brexit?
Sterling sinks after London mayor joins 'Brexit' camp Times of Malta

Mayoral maths: why backing Brexit was the only option for Boris Johnson The Conversation

If I was in Britain I would not want to be in the EU Bill Mitchell
Syraquistan
Saudi Arabia leads surge in arms imports by Middle East states Guardian

We Asked an Expert What the 'Ceasefire' Between the US and Russia in Syria Really Means Vice (resilc)
Imperial Collapse Watch
Why NATO Expected to Lose Most of Europe to Russia National Interest
Big Brother is Watching You Watch
Supreme Court Trench Warfare
Scalia's absence to be felt as U.S. Supreme Court returns Reuters
2016
Hillary Clinton's Latest Attack on Bernie Sanders Sounds a Lot Like Mitt Romney Policy.mic (Angry Bear)

The Agony of Hillary Clinton Project Syndicate (David L)

Hillary Clinton Is Backed by Major Republican Donors George Washington

Bernie Sanders' Populist Movement Is Being Splintered on Racial Lines Charles Pierce, Esquire (resilc)

Bernie's Army of Coders Politico

Billionaire-Owned Observer Whines About Democratization of Media and Bernie Sanders in 2016's Worst Op-ed FAIR

Many U.S. Catholics unfazed by pope's clash with Trump Reuters (EM)

When Will Republicans Start Recognizing How Screwed They Are? New Republic. Not so sure about that. Reslic says: "I am voting bernie in NC primary. I will vote Trump over Clinton LLC." Other people I regard as very hard core leftists are saying the same thing.

The Election Pileup by Elizabeth Drew New York Review of Books (resilc)
U.S. official never disclosed wife's Northrop account -documents Reuters (EM)
Virginia's voter ID law challenged in federal trial Reuters (EM)
MSNBC Cuts Away From Bernie Sanders as He Condemns Trans-Pacific Partnership Intercept (rich)
Oil
Who Will Be Left Standing At The End Of The Oil War OilPrice

Opec has failed to stop US shale revolution admits energy watchdog Ambrose Evans-Prictchard, Telegraph

Why crude oil prices keep defying all predictions Vox (resilc). Including this because they manage to write an entire article about pricing and miss the elephant in the room: frackers have to keep pumping to service debt, and oil producing state, to meet national budgets. Wowsers.
Fed
Use of Fed's Foreign Repo Program Grows Wall Street Journal

N.Y. Fed Having A Little Fun At Expense Of Money Managers Dealbreaker
US Treasury Will Ask Governments to Use Fiscal Policy not FX Manipulation at G20 MarketPulse
Class Warfare
Obama advisers see steady economic growth and widening inequality Washington Post

Rockefeller Really Was Way Richer Than You Are Bloomberg (resilc)

I'll Be So Proud When My Daughter Is President and Runs a Corrupt Oligarchy Guardian
Nor a Lender Be: Hillary Clinton, liberal virtue, and the cult of the microloan Thomas Frank, Harpers. Today's must read. Brutal.
The flow towards Europe Lucify (Gabriel U). Today's must watch. An amazing visualization.
Antidote du jour. Kittie Wilson via Lawrence R: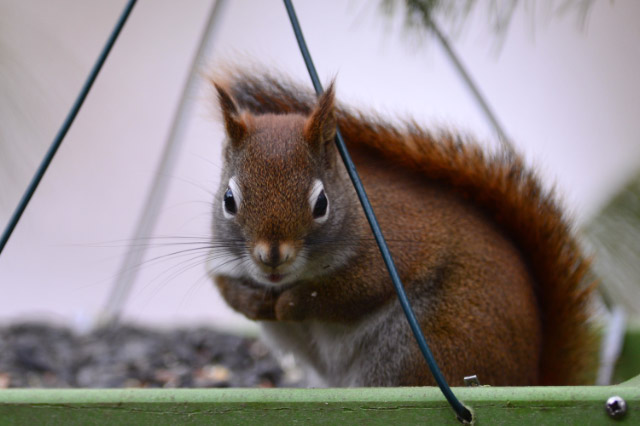 And a bonus video: Richmond Zoo via Slate. Martha r: "Famous cheetah and dog pair playing in snow."
See yesterday's Links and Antidote du Jour here.