By Lambert Strether of Corrente.
TPP/TTiP/TISA
"[TPP] at risk as the US political pendulum swings towards trade isolationism" [Business Day]. "[T]he sometimes pro-trade Democratic candidate front-runner, Hillary Clinton, is rushing to burnish her protectionist credentials." Nonsense. Clinton is lying. As I showed Wednesday, her surrogates are still swanning about, making pro-TPP noises. If she were serious about not passing TPP, she'd slap them down. She hasn't.
"Has The Election Finally Killed TPP And Corporate "Free Trade"?" [Dave Johnson, CAF]. Not at all, and not merely by Betteridge's Law: See above.
" The European Commission will be obliged to consult with US authorities before adopting new legislative proposals following passage of a controversial series of trade negotiations being carried out mostly in secret" [Belfast Telegraph]. "A leaked document obtained by campaign group the Independent and Corporate Europe Observatory (CEO) from the ongoing EU-US Transatlantic Trade and Investment Partnership (TTIP) negotiations reveals the unelected Commission will have authority to decide in which areas there should be cooperation with the US – leaving EU member states and the European Parliament further sidelined."
"Even if trade talks for a Transatlantic Trade and Investment Partnership (TTIP) are accelerating, reaching a deal by the end of the year is unlikely, Joseph Quinlan, Senior Fellow, Center for Transatlantic Relations, Johns Hopkins University said in an interview with EurActiv" [Euractiv]. ""I think TTIP is a deal for between now and 2020," he stressed, saying the US presidential elections has hit the pause button for TTIP." Good. Now let's hit Eject.
2016
Policy
Will Clinton or Trump be the more effective evil? Discuss.

* * *

"Postal Banking Didn't Work in 1910 — and It Won't Now" [American Banker].

"Clinton's Bold Vision, Hidden in Plain Sight?" [Jacob S. Hacker* And Paul Pierson, New York Times]. And here it is! (I'm so excited.) "Moreover, unlike Mr. Sanders, she sees [government's] role as primarily focused on correcting the shortcomings of weakly regulated markets rather than redistributing income and wealth." In other words, she's a neoliberal (see here). * I remember Hacker very well; he was the author of a book on the "public option," which career "progressives" used to run a bait and switch operation against single payer.
The Scorps
One more look at "Were Changes to Sanders Article 'Stealth Editing'?" [Margaret Sullivan, New York Times]. Hoisted from the comments section:

That is, the Times is no longer a newspaper of record.

If there is a record, it will be found in contemporaneous fair-use quotation, as for example in this blog.

Further, there's no point in sharing material from the Times on social media.

Finally, the Sanders campaign actually redistributed a link to the Times story, and then the Times Editors changed it to trash him. I won't use the word "ratfucking," but feel free to think it. To my mind, the Orwellian rewriting of the story under the same URL is even bigger than "Stealth editing." If you don't feel this issue is closed, you can contact the Margaret Sullivan, the Times Public editor, here. If, like many others in the comments section, you're cancelling your subscription, do feel free to let her know.
Money
"Democratic presidential candidate Hillary Clinton has been bashing Johnson Controls Inc. in speeches and television ads for moving its corporate headquarters to Ireland as part of a planned merger with Tyco International. Meanwhile, her husband Bill Clinton said the firm is 'one of my favorite companies' and praised the work it had done in the clean energy sector during an event in North Carolina this week" [Biz Journals]. Maybe if they write Hillary Clinton a check they'll be one of her favorite companies too?
The Voters
"The Democratic Party is acting like the political parties we have traditionally known in American politics: It is backing familiar politicians with deep institutional ties and, amidst divided government, nominating compromise figures with the potential for bipartisan appeal" [Ezra Klein, Vox]. Well, no, they don't have the "potential for bipartisan appeal" if or when the Republicans are crazypants fascists, and the weasel word "potential" doesn't help the thesis. In fact, the Democratic Party is repeating the same strategic blunder — if blunder it was — that Obama committed in 2008. Eight years later.

"Since the 18th century revolutions have been fueled by the abuse and corruption rampant in monarchies and family dynasties. When democracy took place, the people were heard and be represented. The Bush and Clinton families have since circumvented what democracy, in theory, is supposed to accomplish: Although they were elected, their rise to power was ensured by the influence of George H. W. Bush and Bill Clinton. Each presidency built the foundation for another Bush and another Clinton to reach the White House" [New York Observer]. Oh, and "Hillary Clinton and Jeb Bush also shared many of the same wealthy donors—more than 60 of whom contributed to both campaigns." So, the hug.

"As an angry base rejects establishment candidates in favor of you-know-who, a significant part of the party's elite blames not itself, but the moral and character failings of the voters" [Paul Krugman, New York Times]. Exactly as the Democratic establishment does with Sanders voters (assuming it wants their votes, which it doesn't). But never mind that.
Trump Panic
"5,000 people aim to 'crush' Donald Trump with march on Trump Tower in NYC" [Daily Dot]. I'm picturing a debacle where the Black Bloc crashes the party, the media blames the Democrats for the ensuing melee, and the moderate Republicans rush straight back to Trump's arms (after Clinton throws the Sanders supporters under the bus, so she loses both ways).

"A pair of super PACs loyal to Mrs. Clinton have already accumulated a vast trove of research on Mr. Trump's business dealings. Using financial experts, Correct the Record and American Bridge have dug into his business career and pored over his personal-disclosure forms looking for material to exploit in a general election." [Wall Street Journal, "Hillary Clinton's Allies Launch Plan to Undercut Donald Trump Now"]. "The groups haven't released any of this research as the GOP primaries have unfolded. They didn't want to assist Mr. Trump's GOP rivals, whom they believed would give Mrs. Clinton a tougher challenge in November, according to a person familiar with their work. Now, they will look for an opportune time to try to put Mr. Trump on the defensive." Read the whole article. What nobody realized, I think, was that the sheepdogging wil be institutional, not personal.
The Trail
"Debriefing Mike Murphy" is a must-read if you want to understand our political class [The Weekly Standard (of all places)]. Murphy ran Bush's SuperPac, "right to rise." This paragraph caught my eye:

[Murphy] says a lot of the anger is springing from people's fears and hard realities — the middle class not getting a raise in a decade. Generally pessimistic older white voters see the demographic shifts and don't like it. The media are incessantly "sticking red-hot thermometers in lukewarm water and saying, 'Wow, that water's pretty hot!' " He then adds, in what you don't expect the capo of a $118 million super-PAC who spends his days begging hedge-fund managers for dough to say: "There is the Wall Street stuff — rich guys who win either way. When things go south, they get bailed out. When things go right, they get billions. There's legit anger at that. And there should be. Income inequality stuff is real."

The weird thing, Murphy says, is even the rich guys he speaks to know it. One of them, a Right to Rise donor, gave Murphy a hop from New York back to L.A. on his brand new Gulfstream. Murphy calls it a "G-a-lot," as in, "it was bigger than a G-V." Upon deplaning, "the hedge-fund zillionaire pulls me aside, and says, 'I paid $55 million for this, and the government gave me most of it in tax breaks. I don't know if people ask for things from Jeb. But here's what I want: Tell him to get rid of that shit.' Because even the guys in that world feel crappy about it. It was an interesting moment."

"I stand between you and the pitchforks." This was Obama's finest hour.
Stats Watch
Consumer Sentiment, March 2016: "Consumer sentiment remains solid but has definitely fallen back, to 90.0 for the March flash for the least optimistic readings since October" [Econoday]. "Weakness is centered in expectations, down 1.9 points to 80.0 which is the lowest reading since September for this component. Declines in expectations point to weakening confidence in the jobs and income outlook."
Atlanta Fed Business Inflation Expectations, March 2016: "Business inflation expectations remain flat, unchanged in March" [Econoday]. "Unlike this report, inflation expectations on the consumer side, posted this morning with the consumer sentiment index, are showing some life."
Philadelphia Fed Business Outlook Survey, March 2016 (yesterday): "A nice positive print that hopefully signals a turn around, but I need to see at least one more before taking it seriously, as volatility is common with this series" [Mosler Economics].
Shipping: "Rail Returns To Its Slide Into The Abyss" [Econintersect]. Oopsie.
Honey for the Bears: "This article [Wall Street Journal, "Global Currencies Soar, Defying Central Bankers"] reminded me of these couple of lines from a Yeats poem (on Saint Patrick's Day) which I posted regularly at the height of the crisis in 2008 and 2009″ [Across the Curve].
Things fall apart; the centre cannot hold;
Mere anarchy is loosed upon the world,
The blood-dimmed tide is loosed, and everywhere
The ceremony of innocence is drowned;
A "ceremony of innocence" wouldn't be my first metaphor of choice for the financial markets, but I get the point.
Honey for the Bears:
The mystery of America's missing capital investment https://t.co/7xb3GW6vVX pic.twitter.com/2yheXJE1ym

— Bloomberg Business (@business) March 18, 2016
Gentlemen Prefer Bonds: "Treasuries headed for the biggest weekly advance since January after the Federal Reserve lowered its forecast for interest-rate increases this year, citing the potential impact from weaker global growth on the U.S. economy" [Bloomberg].
The Fed: "Former Chicago Fed Employee Guilty of Theft of Secret Documents" [New York Times]. And there's never one roach in the kitchen.
"Dow's Freakish Bounce Makes Investors Whole, Can't Erase Doubts" [Bloomberg]. "Makes investors whole."
Today's Fear & Greed Index: 79, Extreme Greed (previous close: 78, Extreme Greed) [CNN]. One week ago: 75 (Extreme Greed). (0 is Extreme Fear; 100 is Extreme Greed). Last updated Mar 18 at 12:43pm. Not quite a scorcher, but improving…
Water
"Vietnam's Mekong Delta hit by worst drought in years" [Asian Correspondent].
" Worst Mediterranean drought in 900 years has human fingerprints all over it" [Guardian].
"Flint Whistleblower: Health Impact of DC Water 20-30 Times Worse than Flint" [Inside Sources]. Yikes! First, I thought of the poor. Then, of the political class.
Imperial Collapse Watch
"At this point, abandoning the F-35 is politically impossible. Producing the jet reportedly involves 1,300 suppliers supporting 133,000 jobs in 45 states. The Marine Corps declared its first squadron of F-35s war-ready in July 2015. The Air Force expects to make its own declaration of combat-readiness by December this year, with the Navy following two years later" [The Daily Beast]. Again, our military lacks operational competence (at anything other than creating self-licking ice cream cones).
"'Insider Threat' program, based largely on Manning's WikiLeaks disclosures, targets government employees for 'continuous evaulation' using a variety of subjective labels" [Ed Pilkington, Guardian]. If you're "disgruntled," you could be an "insider threat." So be sure to maintain an actively gruntled state at all times!
Class Warfare
"Story of cities #4: Beijing and the earliest planning document in history" [Guardian]. Awesome article. "Beijing was conceived as a diagram of an organised, harmonious society, designed to bind the citizens together in bricks and mortar under the supreme rule of the emperor. It was to be an expression of absolute power like no other city in the world."
"Last month, Y-Combinator, Silicon Valley's blue-chip startup fund, announced a request for proposal to study a universal basic income. Sam Altman, the President of Y-Combinator, wrote in a separate essay that in the future, we will have a 'smaller and smaller number of people creating more and more of the wealth. And we need a new solution for the people not creating most of the wealth — many of the minimum wage jobs are going to get innovated away anyway'" [Medium]. "The people without jobs will be an 'idle class' — and the obvious conclusion, to Altman, 'is that the government will just have to give these people money." (Emphasis ours.)" This is what you should think of whenever you hear the words "innovation," "disruption," "startup"… Any of that.
"The three highest valued U.S. companies with immigrant founders include car-hailing service Uber Technologies Inc., data-software company Palantir Technologies Inc. and rocket maker Space Exploration Technologies Inc." [Wall Street Journal, "Study: Immigrants Founded 51% of U.S. Billion-Dollar Startups"] And see above.
"Google Puts Boston Dynamics Up for Sale in Robotics Retreat" [Bloomberg]. Boston Dynamics put out the famous videos of humanoid and dog-like robots. Reaction from Alphabet's PR Department: "'There's excitement from the tech press, but we're also starting to see some negative threads about it being terrifying, ready to take humans' jobs,' wrote Courtney Hohne, a director of communications at Google and the spokeswoman for Google X…. 'We're not going to comment on this video because there's really not a lot we can add, and ,' she wrote." No. I wouldn't think so.
Gentrification: "The moving truck showed up a few nights before Christmas. We were coming home from dinner when Anita saw me. Across the fence, she wept while recalling her wedding in the backyard, her mom's glorious rose bushes, and how her dad used to drink coffee in his shed—his sanctuary—all year long. And then she mentioned, for the first time, that my land—a lot that used to belong to Anna and her husband—had once been a bountiful urban farm. The farm had been a food source for families that had fallen on hard times, which were many during Kirkwood's post–Jim Crow nadir" [Atlanta Magazine].
"Britain Obtains European Arrest Warrants for 5 Bankers in Euribor Case" [New York Times]. It can't happen here.
News of the Wired
"Memorable events in decade of Twitter" [Agence France Presse]. Good list, but nothing about hash tags or #BlackLivesMatter? Sad!
"MIT scientists find evidence that Alzheimer's 'lost memories' may one day be recoverable" [WaPo]. Only mice. Nevertheless…
* * *
Readers, feel free to contact me with (a) links, and even better (b) sources I should curate regularly, and (c) to find out how to send me images of plants. Vegetables are fine! Fungi are deemed to be honorary plants! See the previous Water Cooler (with plant) here. And here's today's plant (tractorparts):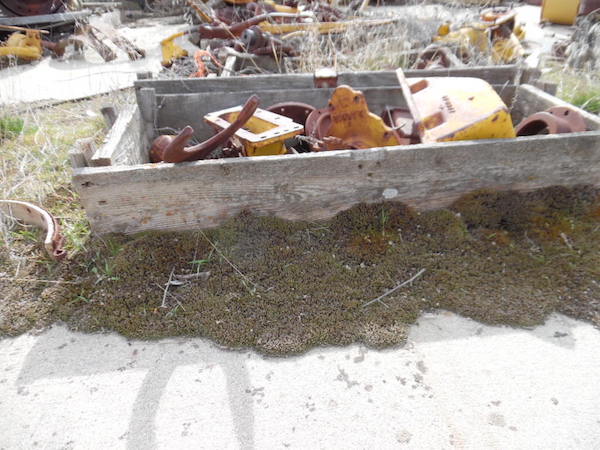 Moss and tractor parts: certainly a unique combination. (I love moss; I wish I knew how to transplant it.)
* * *
If you enjoy Water Cooler, please consider tipping and click the hat. Water Cooler would not exist without your support.