By Lambert Strether of Corrente.
Struggling out of my Campaign 2016 yellow waders…
TPP/TTiP/TISA
"President Obama's allies in the media are working hard laying the groundwork for Congressional approval of the Trans-Pacific Partnership (TPP)" [CEPR]. "Robert Samuelson did his part with a column warning that it would be "dangerous" if the next president repudiated the TPP. I suppose the piece is worth some brownie points with the administration, but it doesn't make much sense." Shocker.
"Why Vietnam Loves the Trans-Pacific Partnership" [The Diplomat]. "In China's shadow, Hanoi is biting on the trade pact and swallowing its bitter past with the United States." Wait, doesn't that imply TPP isn't a "trade pact"?
2016
Policy
"Kasich's Contradictory Foreign Policy" [The National Interest].
Money
"These ZIP codes give the most to Hillary Clinton and Bernie Sanders" [USA Today]. "Six of the 10 ZIP codes providing the most campaign cash to Clinton sit in Manhattan." Sanders gets college towns.

"During last month's critical phase of the Democratic presidential campaign, Sen. Bernie Sanders (I-Vt.) raised $14 million more than former secretary of state Hillary Clinton, according to reports filed Sunday with the Federal Election Commission. In that same month, Sanders spent $9.4 million more than his rival" [Seven Days]. And all without any negotiable affection with lobbyists and squillionaires!

"Some 82% of her funds raised through January were for more than $200, compared to 29% for Mr. Sanders. He [xic!!] also has a well funded super PAC, Priorities USA Action, supporting her." [Wall Street Journal, "Hillary Clinton Touts One Million Donors, While Bernie Sanders Approaches Two"]

"Bernie Sanders and the Democratic National Convention" [Observer]. "Led by Sanders, progressives should form a People's PAC to elect liberals." No. Not liberals. Leftists, including socialists. No neoliberals allowed.
The Voters
"How the Media Gets the Narrative on the White Working Class Totally Wrong" [In These Times]. "[T]he assumption [is] that white people who have graduated from college are less racist, less anti-immigrant, less anti-feminist, less homophobic, and generally more tolerant of diversity than people who have not. As a college professor, I very much hope this assumption is valid, but I could find no solid evidence that it is. At least in political commentary, the question is never asked, and you have to wonder why not."

"Who Is the Hillary Voter?" [The New Republic]. "This, then, is the one thing the Clinton voter has in common with the Trump voter: a refusal to buy into the prevailing wisdom about their candidate."

"Sanders Voters in MA to Sue Bill Clinton for Trampling on Voting Rights – Seek Delegates be Awarded to Bernie" [Ralph Lopez (MR)]. Interesting but only a draft. No complainants.

"That establishment Republicans such as Williamson are deluded enough to believe that the last 40 years haven't been an economic disaster for working class Americans, and that therefore their personal struggles provide an appropriate occasion for sanctimonious moralizing, helps explain why Donald Trump is winning the battle for the Republican nomination" [Alternet].

"Beyond the Bern: How Progressive Movements Leap Ahead of Electoral Politics" [Truthout].
The Trail
"Breaking: Report Of High Level DNC Infiltration In N. Carolina Sanders Campaign" [Wall Street $Shill].

"For Republicans, the Senate May Be the Price for SCOTUS Blockade" [Washington Monthly (ReSilc)]. "The [Republican] seven senators who signaled their willingness to meet with Garland are heading into tough fights in November."

"We're Still in Nixonland: 20 theses about the state of politics today" [Corey Robin]. Must read; very astute.
Clinton Email Hairball
Fact checking the Hillary Clinton email controversy WaPo. A bit stale, but a worthwhlie roundup for an issue that seems unlikely to die.
Stats Watch
Chicago Fed National Activity Index, February 2016: "A warm weather drop in utility output is a major factor behind a much lower-than-expected reading for the national activity index" [Econoday].
Existing Home Sales, February 2016: "Housing demand continues to soften with existing home sales down a surprising 7.1 percent in February" [Econoday]. "Another month of price concession did not boost sales. The weakness in this report, described as "meaningful" by the usually upbeat National Association of Realtors, is substantial and, like last week's drop in housing permits, represents a downgrade for housing, a sector that was supposed to be a leader of the 2016 economy."
Today's Fear & Greed Index: 78, Extreme Greed (previous close: 79, Extreme Greed) [CNN]. One week ago: 75 (Extreme Greed). (0 is Extreme Fear; 100 is Extreme Greed). Last updated Mar 21 at 1:10pm.
Police State Watch
"Professional liability insurance sales among policemen jumps 15% in one year – report " [Russia Today]. The magic of the marketplace!
"Last year, US government lawyers, long loath to admit to the programme's existence, admitted to the existence of 14,000 photographs of prisoners being transported on planes and held in secret locations." [Financial Times, "The appearance of disappearance: the CIA's secret black sites"]
"Owning Up to Torture" [New York Times]. Come on. Torturers have impunity just as much as banksters.
"Obama Administration Breaks Record in Rejecting FOIA Requests" [AP].
"Orange County district attorney's office can stay on case despite courthouse brawl" [Los Angeles Times]. Weird violience-in-the-establishment story #1.
"Illinois Lawmaker's Daughter Charged In Staple-Gun Attack On Mom's Opponent" [Talking Points Memo]. Weird violience-in-the-establishment story #2.
Gaia
"A Chinese factory is breeding 20 million male mosquitoes a week, and releasing them into nature to copulate with wild female mosquitoes. Its aim—culling the population, and eradicating disease" [Quartz].
Class Warfare
"BREAKING: Duke Non-Tenure-Track Professors Unionize" [Inside Higher Ed].
"Why we should fear a cashless world" [Guardian]. "Cash, on the other hand, empowers its users. It enables them to buy and sell, and store their wealth, without being dependent on anyone else. They can stay outside the financial system, if so desired."
"How your taxes ended up enriching coal executives who are betraying their workers" [Vox (ReSilc)]. My taxes? How about our labor?
News of the Wired
"Fluid dynamics explain how quickly a vampire could drain your blood" [Phys.org (CL)]. I should really file this under class warfare.
"The Deep History of Your Apps: Steve Jobs, NeXTSTEP, and Early Object-Oriented Programming" [Computer History Museum]. This is a terrific article, but it also shows how slow progress in software engineering has really been. After all, we're still living in Doug Engelbart's world!
"Video: Mobile phone apparently causes fire at Thai petrol station" [Asian Correspondent].
"America, Regulate Drones Now or Get Left Behind" [Wired].
Liquor licensing in Boston is a total mess [Dig Boston (Judy B)]. "All politics is local…"
* * *
Readers, feel free to contact me with (a) links, and even better (b) sources I should curate regularly, and (c) to find out how to send me images of plants. Vegetables are fine! Fungi are deemed to be honorary plants! See the previous Water Cooler (with plant) here. And here's today's plant (Fred H):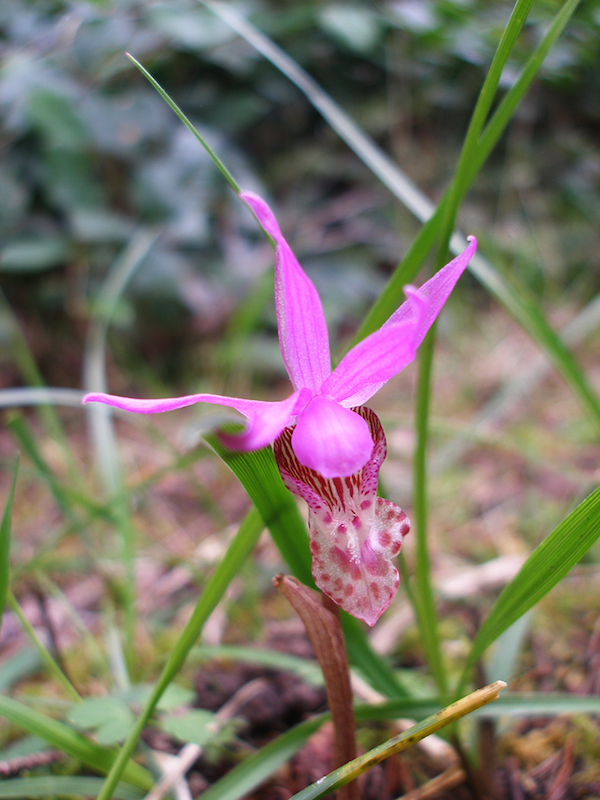 Lovely! Fred H writes:
Also known here as a fairyslipper or, technically, Calypso bulbosa. The first one that caught my eye, years ago, I plucked before thinking too much about it. Then I looked around, and not seeing any others I had a terrible thought…

Luckily, I was wrong.
* * *
If you enjoy Water Cooler, please consider tipping and click the hat. Water Cooler would not exist without your support.