By Lambert Strether of Corrente.
TPP/TTiP/TISA
"Four people dressed as clowns have been kicked out of the first stop of the Government's Trans-Pacific Partnership information roadshow in Auckland" [New Zealand Herald].
2016
Policy
Well, this is pretty feral:

The Dem frontrunner is BRAGGING about her support of the Wall St bailout. Just think about that for a sec. Amazing. pic.twitter.com/zL2rwkWgHx

— David Sirota (@davidsirota) March 7, 2016

"Clinton's pledge to curtail fracking falls on unconvinced ears" [Reuters]. Big Oil thinks Clinton means what she says.

"Ontario, Canada announced a plan to test Universal Basic Income for all citizens" [Quartz]. That would never work here. Canada's metric.

"[O]ur laws should be designed to function as if the people we trust least are in power" [Tech Dirt]. Our constitutional lawyer President didn't exactly do that, did he? Unless he did.
Our Famously Free Press
Impressive:

From 3/6 to 3/7 Washington Post Ran 16 Negative Stories on Bernie Sanders in 16 Hourshttps://t.co/VyJSmGrlLq#VT #Vermont #Sanders2016

— Vermont News (@TheVTNews) March 8, 2016

Looks like Bezos picking up the Post was well worth it. For him.
The Voters
"Clinton's support among black women has been key to her ability, thus far, to reassemble the coalition that elected Barack Obama in 2008 and 2012. Just look at the past week's primary results" [HuffPo]. "Despite the dominance of support for Clinton, black women voters are not monolithic. Generational, ideological, and regional differences–among others–influence the policy priorities and perspectives of black women voters, as do the experiences they bring to–and value most at–the ballot box. Too often, the strong majorities in black women's support for any given candidate yield conclusions that their votes come en masse, making it all too easy for their influence to be overlooked and their support to be taken for granted."

"[I]n a campaign stop Monday in Grand Rapids, Mich., Mrs. Clinton made clear she is aware of what might lie ahead as she talked about the hard-fought 2008 race against Barack Obama and her work in helping the nominee pull in her supporters once he wrapped up the nomination that June" [Wall Street Journal, "Hillary Clinton Faces a Test Wooing Bernie Sanders Backers"]. There's actually no data in this story… Personally, I feel that Clinton would throw Sanders supporters under the bus in a heartbeat for the moderate Republican vote.

"When members of the professional class wish to understand the working-class Other, they traditionally consult experts on the subject. And when these authorities are asked to explain the Trump movement, they always seem to zero in on one main accusation: bigotry. Only racism, they tell us, is capable of powering a movement like Trump's, which is blowing through the inherited structure of the Republican party like a tornado through a cluster of McMansions" [Thomas Frank, Guardian].

Last week, I decided to watch several hours of Trump speeches for myself…. In each of the speeches I watched, Trump spent a good part of his time talking about an entirely legitimate issue, one that could even be called left-wing.

Yes, Donald Trump talked about trade. In fact, to judge by how much time he spent talking about it, trade may be his single biggest concern – not white supremacy.

Trade is an issue that polarizes Americans by socio-economic status. To the professional class, which encompasses the vast majority of our media figures, economists, Washington officials and Democratic power brokers, what they call "free trade" is something so obviously good and noble it doesn't require explanation or inquiry or even thought. Republican and Democratic leaders alike agree on this, and no amount of facts can move them from their Econ 101 dream.

To the remaining 80 or 90% of America, trade means something very different. There's a video going around on the internet these days that shows a room full of workers at a Carrier air conditioning plant in Indiana being told by an officer of the company that the factory is being moved to Monterrey, Mexico and that they're all going to lose their jobs.

Well, here is a video of a company moving its jobs to Mexico, courtesy of Nafta. This is what it looks like. The Carrier executive talks in that familiar and highly professional HR language about the need to "stay competitive" and "the extremely price-sensitive marketplace." A worker shouts "Fuck you!" at the executive. The executive asks people to please be quiet so he can "share" his "information". His information about all of them losing their jobs.

It wouldn't be a pretty sight watching Trump eviscerate Clinton on TPP. But he would do it.

And speaking of the professional class wishing the understand the working class Other, here is an earnest explainer entitled "White working-class nostalgia, explained by John Wayne" [Vox]. Vox actually manages to omit the Case/Deaton study: ""Stunning" Rise in Death Rate, Pain Levels for Middle-Aged, Less Educated Whites". Oh Ezra, Ezra…
Trump Panic
"Trump the Trickster" [American Conservative]. "In the Trump case, it's like people want to be lied to. Heidegger famously said, toward the end of his life, "Only a god can save us." What if the god people look to as savior is … Loki?"

"In private conversations in recent days at a Republican Governors Association retreat here in Park City and at a gathering of conservative policy minds and financiers in Sea [not Fantasy?] Island, Ga., there was an emerging consensus that Trump is vulnerable and that a continued blitz of attacks could puncture the billionaire mogul's support and leave him limping onto the convention floor" [WaPo]. "But the slow-bleed strategy is risky and hinges on Trump losing Florida, Illinois and Ohio on March 15; wins in all three would set him on track to amass the majority of delegates. Even as some party figures see glimmers of hope that Trump could be overtaken, others believe any stop-Trump efforts could prove futile."
The Trail
"Mrs. Clinton draws support from 53% of voters who said they would participate in a Democratic primary, while Mr. Sanders has 44%, the poll finds. Mrs. Clinton's lead was 11 points in February and 24 points in January, according to the poll." [Wall Street Journal, "Hillary Clinton's Lead Over Bernie Sanders Narrows Slightly in WSJ/NBC Poll"]. "Strongest support groups for Mr. Sanders include younger voters; he takes 60% of those under age 50." Democrats to future of party, key members of "Obama Coalition": Drop dead.
Supreme Court Trench Warfare
"Conservative lawyer says Scalia might never be replaced: 'There's nothing magical' about nine justices" [Raw Story]. Even today, with their party crumbling around them, Republicans go for the jugular. You've gotta admire them.
Stats Watch
NFIB Small Business Optimism Index, February 2016: "The small business optimism index slipped 1 point in February to 92.9, a 2-year low that reflects incremental declines across six of 10 component" [Econoday]. "Underlying strength for business investment and employment, however, is not likely to hold up for very long given weakness in earnings and sales." And: "the lowest reading in two years, with six of the 10 indices declining and four remaining unchanged." Below consensus [Econintersect].
Honey for the Bears: "The federal budget deficit was $352 billion for the first five months of fiscal year 2016, CBO estimates – $34 billion less than the shortfall recorded in the same span last year. Receipts were 5 percent higher than they were at this time a year ago, and outlays were 2 percent higher" [Econintersect]. Because draining money out of the economy is a good thing!
Honey for the Bears: "Goldman Sachs: Get Ready for Labor to Crush Capital in the U.S." [Bloomberg]. "Goldman expects corporate after-tax profits to fall to 8.2 percent of gross national product in 2017, down from an estimated 8.5 percent in 2015, primarily attributable to the tightening labor market. The unsettling part of Main Street > Wall Street, however, is that it typically heralds (and in fact, is the impetus of) an economic downturn."
Honey for the Bears: "Trucking companies started to scale back fleet investment last fall when freight demand began to slow. Although some carriers have reported an increase in activity in recent weeks, many firms remain reluctant to commit to new trucks until conditions improve further" [Wall Street Journal, "Truck Orders Plummeted 43% in February"]. ""Orders for commercial vehicles in February largely mirrored the ongoing U.S. economic narrative," ACT President Kenny Vieth said in a statement."
Honey for the Bears: "These are anxious days in the land of start-ups. Another few months of tight money and the entrepreneurs and venture capitalists will be feeling real pain" [New York Times]. "The sooner the better, some people here say." Silly Valuations…
"Daimler Investing €500 Million Into New Lithium-Ion Battery Factory In Germany" [CleanTechnica (PT)].
"Cyprus exited its 10 billion euro ($11 billion) bailout on Monday without any successor arrangement, in fact, about 30 percent of its entire bailout funds were not even utilized. Cyprus was commended in a statement from the Eurogroup of euro zone finance ministers" [CNBC].
"In the beginning, there was barter. Then, and forever after, there was money" [Real World Economics]. "That's the myth every student of economics learns, that money grows out of barter. The idea is that monetary exchange solves the problem of the double coincidence of wants. The fact is, as Ilana E. Strauss [ht: ja] explains, the story is false. Human beings did not invent money to solve the difficulties of barter exchange. Barter turns out to be a historical myth." A history very familiar to NC readers, but it's worth retelling.
Today's Fear & Greed Index: 71, Greed (previous close: 73, Greed) [CNN]. One week ago: 61 (Greed). (0 is Extreme Fear; 100 is Extreme Greed). Last updated Mar 8 at 12:32pm. Stalled in the mid-70s?
Corruption
"Goldman's former top banker in Southeast Asia has been subpoenaed by U.S. investigators probing possible wrongdoing at Malaysian government investment fund [1MDB], a person familiar with the matter said." [Wall Street Journal, "Ex-Goldman Sachs Banker Subpoenaed in U.S. Probe of 1MDB"]. "Tim Leissner, who was Goldman's chairman in the region until he left the firm last month, has worked on several big deals for the Malaysian fund that together earned Goldman hundreds of millions of dollars."
Dear Old Blighty
"The origins of conservatism's modern incoherence lie with Thatcher" [Guardian]. "If international capital did indeed rule the world, then nothing made Britain special. On the contrary, it was on its way to being little more than a brand."
Class Warfare
"If We're So Powerful, Why Aren't We Free?" [Zerowork (Darthbobber)]. 1976.
"Nearly 1 in 5 Americans in their prime working years aren't employed or looking for a job, and the right mix of tax and benefit policies might draw many of them into the labor force" [Wall Street Journal, "The Hurdles to Getting U.S. Workers Off the Sidelines"]. Rigging the game a smidge less. That's the ticket!
"Sadly, though, the failure to distinguish between luck and merit doesn't just help explain the hopefully brief and futile rise of a demagogue. It has longer-lasting pernicious effects. The narcissistic fiction of the rich that they owe their success to merit rather than to a lucky accident of being born in the right country leads to opposition to redistributive taxation. And supporters of immigration controls fail to see that the difference between ourselves and poor Mexicans or Syrians is due mainly to accidents of birth" [Stumbling and Mumbling].
"America's entrepreneurs are brimming with promising ideas. But they appear to be struggling to transform innovations and insights into successful companies with broad reach" [Wall Street Journal, "The Crisis in American Entrepreneurship"].
"Your Phone Was Made By Slaves: A Primer on the Secret Economy" [Longreads].
Surprisingly, slavery is at the root of much of the natural world's destruction. But how can the estimated 35.8 million slaves in the world really be that destructive? After all, while 35.8 million is a lot of people, it is only a tiny fraction of the world's population, and slaves tend to work with primitive tools, saws, shovels, and picks, or their own bare hands. Here's how: slaveholders are criminals, operating firmly outside of any law or regulation. When they mine gold they saturate thousands of acres with toxic mercury. When they cut timber, they clear-cut and burn, taking a few high-value trees and leaving behind a dead ecosystem. Laws and treaties may control law-abiding individuals, corporations, and governments, but not the criminal slaveholders who flout the gravest of laws.
News of the Wired
"5 ways web apps and sites are the same–and different" [O'Reilly]. "App developers are a smaller but rapidly growing and often highly compensated group." Because you can collect rents at the walled garden gate.
"Magnetic mind control works in live animals, makes mice happy" [Ars Technica]. Where do I sign up? "Researchers can remotely control specific brain circuits in living animals with just magnets." Speaking of cell phones….
"According to the Civil Aviation Authority there were 1,440 reports of lasers being pointed at planes in Britain in 2014, the last full year for which there are data. That compares with 746 in 2009. It is not only a problem in Britain: 312 British planes were targeted overseas in 2014. And in America there were 3,894 cases in 2014" [The Economist, "Laser pens and planes: A pointed problem"]. "The British Airline Pilots' Association (BALPA), says that 55% of its members have experienced a laser attack in the past 12 months; 4% have suffered six or more. It has long called for lasers to be classified as offensive weapons." I must be too naive. Why do people do this?
"Corrupt Techniques in Evidence Presentations: Effects Without Causes, Cherry-Picking, Pruning, Chartjunk" [Edward Tufte]. The Clinton chart on putative "intersectionality" we looked at yesterday was an excellent example of "Effects without Causes." "Chartjunk," too.
* * *
Readers, feel free to contact me with (a) links, and even better (b) sources I should curate regularly, and (c) to find out how to send me images of plants. Vegetables are fine! Fungi are deemed to be honorary plants! See the previous Water Cooler (with plant) here. And here's today's plant (from a loyal reader who lives on the New Hampshire seacoast):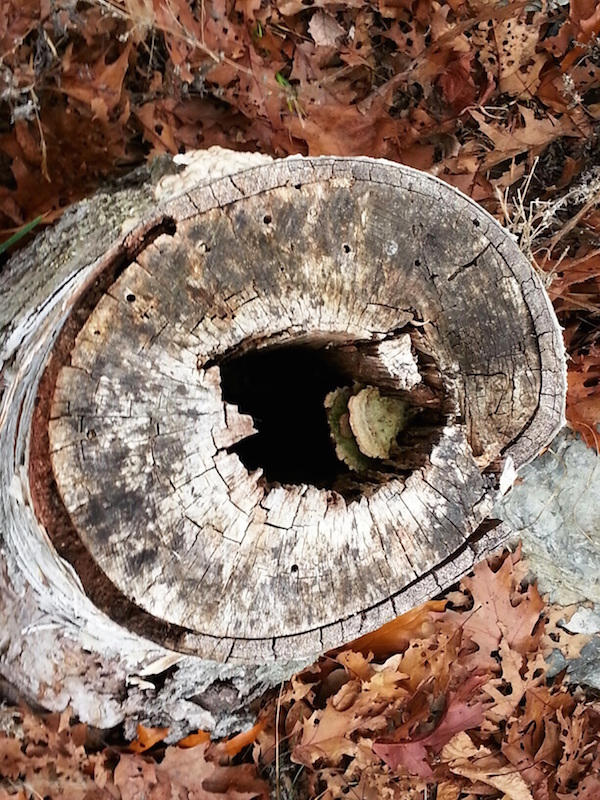 Oooh, a rotting stump!
* * *
If you enjoy Water Cooler, please consider tipping and click the hat. Water Cooler would not exist without your support.