An Amazing Collection of Over 550 Coffee Lids and an Exploration of the Challenges Designers Faced When Making Them Laughing Squid
Argentine cleaner Enrique Ferrari's double life as prize-winning writer Art of Kenya
A Cambridge professor on how to stop being so easily manipulated by misleading statistics Quartz (resilc)
Logical fallacies – tools to debunk pseudoscience Skeptical Raptor (furzy)
Tay Exposes the Fairy Tales We Tell Ourselves About Racists New Republic
As The Independent launches its next chapter, my thanks to our most important allies – that's you Independent. Chuck L: "The Independent goes 100% digital."
Robert De Niro pulls anti-vaccination film from Tribeca film festival Guardian
Toxic Chocolate As You Sow (Judy B)
Look out Cuba, here we come The Conversation. Glenn F: "Aaahh!! Nothing like the smell of Roundup in the morning."
Djibouti: How a Forgotten Country Became a Hub of International Power Games Bloomberg (resilc)
Refugee Crisis
The Blaster: Grand Strategic Blowback for Neo-Imperial War Consortium News. Chuck L: "I'm sending the link to this re-post of John Marshall's piece at Consortium News instead of the CN link itself because I think Chuck Spinney's brief introduction makes more explicit the strategic gravity of the threat that the current wave of uncontrolled immigration presents to Europe."

Refugee Crisis Update: Greece Begins Emptying Idomeni Refugee Camp On Border With Macedonia International Business Times
Brussels
In Brussels Bombing Plot, a Trail of Dots Not Connected New York Times
Brexit
Brexit Campaign Gathers 250 Business Executives Including Former HSBC CEO; Project Fear Michael Shedlock (furzy)

NHS would be put under threat by Brexit, says Jeremy Hunt Guardian
Syraqistan
Unlikely partners? How Western media largely ignored State Dept-Google-Al Jazeera plot against Assad RT

Iran's 'Suez Canal': Tehran Could Connect Caspian Sea and Persian Gulf Sputnik. Chuck L: "Follow up comment: A quick look at online maps of Iran suggest to me that the listed projected cost of $7B is ridiculously low, probably by an order of magnitude or more. There are mountains to be traversed or moved, and the crow-fly distance is about 500 miles!"
Imperial Collapse Watch
Big Brother is Watching You Watch
The FAA logged more than 500 drone incidents in six months The Verge (resilc)

Law enforcement investigators seek out private DNA databases WTOP. Readers may recall that I deemed people who turned over their DNA to vendors who tied it to their health apps to be nuts. And more generally, I've also been of the school that unless you are in a gene pool which has a strong tendency to certain specific and nasty genetic risks, that you were similarly nuts to have you DNA collected and tested. This confirms my reading of where this was going to wind up. Chuck L: "It's because of news stories like this that we need an emoji for disgust."

A new bill would force prepaid phone buyers to register themselves The Verge
Police State Watch
Why Are Educators Learning How to Interrogate Their Students? New Yorker (furzy)
2016
Sanders wins Democratic caucuses in trio of Western states Washington Post

Sanders crushes Clinton in Alaska and Washington Democratic caucuses Guardian

Seattle Money Loves Hillary, But Bernie Raises More In WA Overall KUOW. Martha r: "With color map showing where candidates $$ is coming from (including Repub) in WA."

Bernie Sanders pulls even with Hillary Clinton in a new poll. Because it's the economy, stupid. Washington Post (furzy)

A Dozen Reasons Sanders Voters Are Justifiably Angry at the Media Right Now Huffington Post

SANDERS FIGHTING PERCEPTIONS HE CAN'T OVERCOME CLINTON EDGE Associated Press (martha r)

Sanders sharpens attacks for N.Y. showdown that may dash Clinton's unity hopes Washington Post (furzy). Translation: Clinton tries to blame lack of receptivity among most Sanders voters on Sander's (finally) taking aim at her, as opposed to their existing antipathy for her.

6 Ways Elizabeth Warren Trashed Trump This Week—And Stood by Bernie Alternet. Note the contrast between this article and the comments in the Post story immediately above re Warren. The Clinton camp seems to be messaging that Warren's attacks on Trump were pro-Clinton, as opposed to attacks on Trump. In other words, "not A" is not necessarily the same as "B".

Bernie Sanders Would Now Outraise Clinton Almost 2-to-1 With Small Donor Matching Fund Intercept (furzy)

The Remarkable Bernie Sanders Journey That Will Overcome the Crowning of Clinton Common Dreams (martha r)

Sample Questions from the Trump University Final Exam New Yorker (furzy)

Donald Trump Wants the United States to Run a Global Protection Racket Gawker

Trump and the Tea Party Jacobin (resilc)

Does Trump Have a Foreign Policy? National Interest Blog. Resilc: "Better than Clintoon LLC and her neoconzzz."

In Donald Trump's Worldview, America Comes First, and Everybody Else Pays New York Times
John McCain: Salute to a Communist New York Times (Kevin F)
The $2.5 Billion U.S. Power Line That No State Can Stop Bloomberg (resilc)
The Business Backlash to North Carolina's LGBT Law Atlantic
Black Injustice Tipping Point
Queens Drive-Thru: The Negro Motorist Green Book Culinary Backstreets
In Yahoo, Another Example of the Buyback Mirage Gretchen Morgenson, New York Times. Remember that Yahoo also turned down a buyout offer from Microsoft in 2008 of $45 billion, and Microsoft was considering going as high as $50 billion?
Rent Extraction Watch
Health Insurance Premiums Rising Faster Than Wages Free Beacon (Chuck L)
Class Warfare
Mish busy shopping online for his newest robo-bride. Prediction: those sidewalk-scurrying giant-cockroach delivery bots are gonna be a huge target for vandalism, quite possibly from the human workers they displace, or an emergent neo-Luddite 'disappeared by robots' movement – much of the same demographic behind Trump's rise. The techno 'solution', obviously, will be to equip the next-gen robots with 'enhanced surveillance tech' and defense mechanisms like pepper spray, blaring sirens, etc. Robots vs humans warring in what once were public sidewalks and spaces. Gotta get those 4am pizzas to the pudgy fast-fingered code monkeys welded into their office chairs and to the government types who rarely see the light of day on time!
Antidote du jour. Via JessM, a story at The Dodo about a lion named Lambert who loves blankets. Here are photos as a cub and as a young adult. The story has lots of pix and videos too.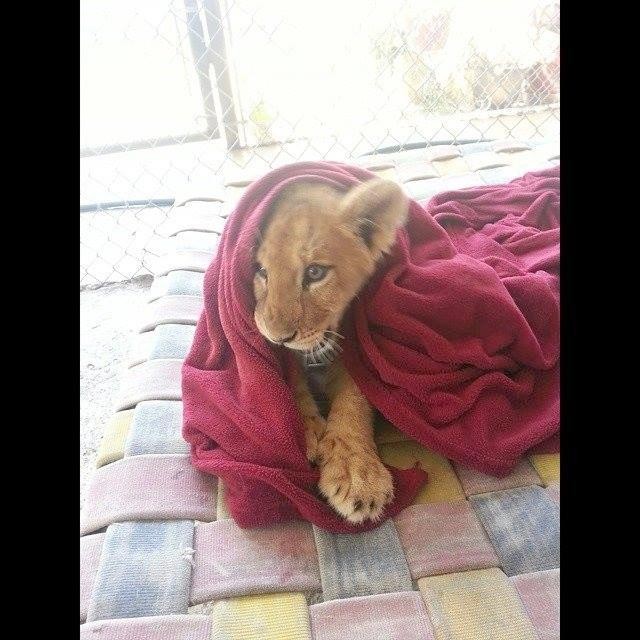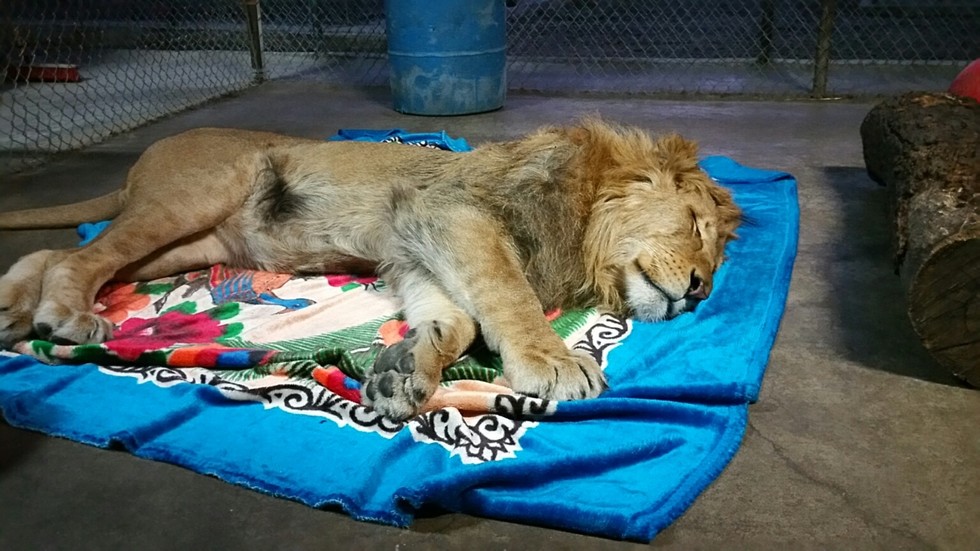 See yesterday's Links and Antidote du Jour here.