By Lambert Strether of Corrente.
Single payer polls very well ("81% of Democrats" are positive), despite the Obama administration's attempt to destroy it, and has for years (although it polls better when called "Medicare for All"). And so it should, considered as public policy.
Therefore, one of the most of the many entertaining spectacles of this year's election season has been to see the Democratic Establishment — as I hope we can, albeit with irony, designate the neo-liberal and as yet dominant cadres of the Democrat Party — sprint away from single payer as fast as they can. Even more entertainingly, the fleetest of foot — hold on to your hats, here, folks — were the self-styled Establishment "wonks." But then, their sprinting orders come from the top:
(Let's remember that Clinton only mentions single payer under duress; see here for her views on "evidence-based" heatlh care policy. So credit due to Sanders for shoving the Overton Window left by putting single payer into his platform and forcing the discussion[1]).
So, with this post I want to present this entertaining video "webinar" from the excellent PNHP (Physicians for a National Health Care Program). Here's the video, from PNHP's Dr. Stephen Kemble. I advise you to watch it in full.
Up until 8:38, we have a detailed analysis of the various cost estimates put forth by Gerald Friedman and the Sanders campaign, followed by a job application shockingly dishonest paper from Kenneth Thorpe, as well as the CEA's Gang of Four, and Henry J. Aaron of Brookings. Following that, there's a brief dissection of Clinton's (not shocking) claims. This is followed by pro-single payer talking points, summarized here: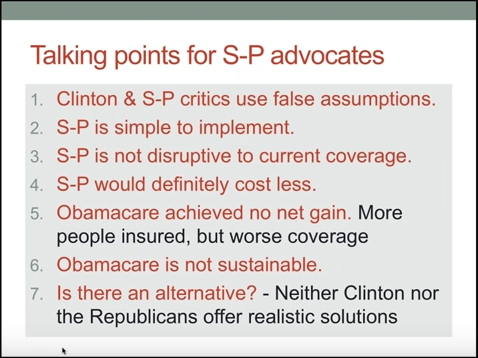 I don't think I can add a lot of value to the video by making screen dumps and going through each talking point in detail; if you want to see the points, start at 8:38. What I'm going to do instead is focus on the the question and answer question that follows, starting at 17:22. What follows is a partial transcript, with a comment from me after each answer from Kemble.
* * *
When we talk about how difficult, cumbersome, expensive this would be to implement and we talk about implementation of medicare 50 years ago Wouldn't it in fact be more complicated now because medicare was implemented in more of a vacuum and there is more that has to be dismantled in order now to implement single payer? I get this question a lot when I speak; it kind of surprises me when people say "Wouldn't this be hard to implement?" and the other thing they say is "Aren't the other countries that have done it successfully smaller?"
KEMBLE: That is a question. I think that it really depends on whether or not you can eliminate the insurance model for financing health care, that you actually could say, "OK, we're eliminating health insurance and starting a single payer program," you would would be starting it from scratch, and you would obviously do the infrastructure for the single payer program before you eliminated the insurance system and then just switch over. The problems is that it would be met with massive resistance from the health insurance industry because they would be about to be bumped out of health care. And that's really the problem. If you could overcome that problem there is a political will to say we can no longer rely on the insurance model to finance health care, then it becomes just as easy to implement as Medicare was. That's the if. That's a big if.
Yeah, but even if we did that, and I would be very happy to get rid of all insurance, you still have the problem of what to do with the insurance industry, the people it employed, all those things.
KEMBLE: HR 676 does include job retraining for the people employed by the insurance industry but it would be more expensive now than it was when HR676 was proposed because the amount of bureaucracy has escalated markedly since. There's a lot of people you have to retrain.
Lambert here: What the questioner and Kemble describe is insane: We have what is in essence a make-work jobs program (the insurance industry) whose purpose (beside rental extraction) is inflicting suffering on people, and even killing them, by denying them health care. However, I'm skeptical of the "retraining" argument, for a few reasons: (1) I'd assert that "training" is often walking around money for politically connected trainers, and the hoped-for jobs rarely materialize; (2) neoliberals keep urging training as an answer to the "skills mismatch" problem that supposedly causes unemployment; and (3) a Jobs Guarantee would be a better answer than training. Because when you think about it, there are a lot more parasitical systems that ought to be purged than the health care industry: The F-35, for example. Or much of the FIRE sector. Better to treat the whole patient, perhaps. On the other hand, there are no doubt jobs to be found or invented in the actual delivery health care, as opposed to health care meta-jobs like billing and coding.
I have a concern with the comparison to all of the European single payer systems since they all seem to be running out of money and the second layer of private insurance seems to be out of all of those system so I'm concerned when we just pointed that, we're not being completely open and honest.
KEMBLE: Well, the thing about that is that when you say they're running out of money already spending much less than we are, so the only reason that they're running out of money is their reluctance to fund their system. But it's not a matter of their systems being less cost-effective. It's a matter of people don't want to pay more taxes so there's a tendency to skimp on money for their helath care systems. And also the efforts to privatize some places like the Netherlands have resulted in increased costs, not savings. You're still left with the most cost-effective model is single payer, and all the experiments trying to veer away from that have resulted in increased costs.
Lambert here, translating: The neoliberal assault on the delivery of all public services is global. Britain's NHS is a prime example; the Tories are in the process of gutting it as you read this.
I'd like to ask about the former single payer supporters who are now coming out against single payer. Do you feel like this is strictly because they're clinton supporters it's political in that way or is there any other reason that they've now turned against single payer? And is there any hope of reversing that?
KEMBLE: there is a probably a possibility of reversing that, but I can see no other plausible reason because many of those really did detailed analyses of single payer proposals and they just changed their assumptions to eliminate all the savings that single payer could gain, and I don't see any other reason for doing that then they want to support Clinton, and therefore they want to discredit Sanders. And unfortunately even people like Paul Krugman who I always thought was above that sort of thing, have fallen into it.
Lambert here: Bitter lesson learned, on wonks of negotiable affection[2].
On staying with the Affordable Care Act and muddling through… I calculate $45 trillion dollars spent in 10 years compared to the Sanders plan being $14 trillion over 10 years. Is that what you get?
KEMBLE: I think that sounds plausible and I do think that we have really not seen the net fallout from Obamacare, both in terms of cost and in terms of disruptions to care delivery. We now have a 55% burnout rate among American physicians, we have escalating amounts of money being siphoned out of health care into new administration and I just don't see how this can continue without collapsing.
Lambert here: This, and everything above and below, is ancien regime stuff. It seems impossible to divert the flow of rents!
We had a question earlier about whether it is still accurate to say that about 20 to 30 percent still goes [to] insurance company profit. Is that number still accurate?
KEMBLE: [P]rofit is probably less than that, but administration is the other question because ObamaCare requires 80 to 85% actuarial value depending on the, or I mean medical loss ratio depending on the size of the insurance plan, which means that supposedly 80-85% healthcare dollar goes to health care and the rest can go to administration and profit and other things. The problem is that Obama negotiated with the insurance industry to count medical management as health care, not administration. And medical management is pharmacy benefit managers, utilization review, prior authorizations: all the things that are obstructing health care and those things have escalated dramatically in the last five years, and they're all being counted as health care and not administration. So nobody knows. They can spend as much as they want on obstructing health care and they can call it health care. So the whole medical loss ratio thing is just really messed up.
Lambert here: So that's how Obama worked the scam. Frankly, I'm gobsmacked. I wasn't cynical enough! And so much for the "capped at 85%" pro-ObamaCare talking point!
There's also plenty of other good information on Taiwan and the Netherlands, so again, be sure to listen to the whole thing. However, I felt the above questions
Conclusion
I'm not on the road for single payer taking questions from skeptics, so I am holding forth from my armchair at 30,000 heet. However, returning for the moment to Kemble's summary slide:
It strikes me forcibly that these talking points are, one and all, crafted to appeal to what I've been calling the 20%: The credentialled class who manage the rest of us, the 80%, with varying degrees of brutality, corruption, deception — and even sometimes courage and compassion — and hence who massage capital on behalf of its owners, the 1. And All Kemble's talking points — but especially the "cost" argument — are very much 20% arguments, focused on academics, managers, policy makers, and implementers; in a word, technocrats. There's not one single talking point that presents concrete material benefits for patients (i.e., all of us, at one point or another). And what happened with the cost argument? The single payer advocates had the analysis on their side, no question. But their former allies in the political class — Operative K is the classic example — simply rejiggered their numbers, and cost became he said/she said.
If I had to create some bullet points on the concrete material benefits that single payer provides the 80% whose families live on wages, I'd put together something like this[3]:
Health care when you need it from the doctor of your choice
More money in your pocket
No paperwork
And then frame the health insurance industry CEOs as the deadly parasites that they are. Dr. Kemble, I recommend a dietary treatment: more red meat!
NOTES
[1] A single payer program can be designed to appeal to Republicans, as Laurence Kotlikoff, chairman of Reagan's CEA, shows in Forbes. So whatever reason Clinton has for her intransigence is likely to have little to do with politics, let alone policy. Ka-ching.
[2] Reminding me forcibly of Clive's point that, increasingly, to stay "middle class," you have to close your eyes to corruption, or be corrupt, as all of these turncoats are.
[3] Of course, if you're lucky, or somewhere north of the uppper 20% — ka-ching — you already have those things. So you see why single payer has no real appeal to Operative K, the Acela bois, et al.