By Lambert Strether of Corrente.
TPP/TTiP/TISA
"Is ISDS dead? No, multi-million lawsuits still on the horizon" [EurActiv]. "In just a few days, the European Union will go back to the negotiating table with the United States in an attempt to salvage the small possibilities to complete a transatlantic trade and investment deal (TTIP) before President Obama leaves office. During the 13th round of TTIP negotiations in New York next week, a key issue will be the controversial subject of how to resolve investment disputes."
2016
Policy
"Against Fortress Liberalism" [Jacobin]. Essential reading!

if anybody is looking for the Democratic tradition of Roosevelt and Johnson, surely Bernie Sanders is its heir.

Of course, liberal incrementalists rule out this kind of talk at once: don't you know the Republicans control Congress? 1936 and 1964 are irrelevant precedents, because the central fact of our political lives is the dominance of the Republican Party.

In this view right-wing opposition is not to be dislodged, let alone defeated. At best, it is to be resisted from within the walls of the Democratic Party fortress known as the White House. "The next Democratic presidential term will be mostly defensive," writes Jonathan Chait — no more or less than a "bulwark" against Republican extremism in Congress.

This kind of "fortress liberalism," to adapt a phrase of Rich Yeselson's, is the dominant mentality within today's Democratic establishment.

On the "wonks" vs. "activists" health care debate [Marcy, emptywheel], with an excellent followup by [Ed Walker]. Marcy:

In truth, the people the 'wonks' deem 'activists' aren't actually stupid, or naive, or unicorn herders. Some of them are actually experts of longer standing than those writing in favor of Obamacare. Rather, they disagree about what acceptable costs are, as well as about whether it makes sense to continue pointing out that the US has an unbelievably ineffective healthcare delivery system with terrible outcomes that not only is immoral, but saddles our economy with a burden that other developed countries don't have, making us less competitive in any industry not driven by this exorbitant spending. Yes, there is also a difference of opinion about whether it is more effective "activism" to set the goal where everyone agrees it should be — providing actual health care — or to instead set more moderate goals that also have the effect of naturalizing a particular ideology. But ultimately there is a real debate about policy here, and rather than use 'activists' to continue to set the bar on the most efficient way to provide the best health care, a lot of those close to Hillary would prefer they just shut up.

STFU has been the strategy for Establishment Democrats like the "wonks" from 2009 to today.

"This pattern of serial crimes at JPMorgan Chase and other Wall Street banks is why presidential candidate Senator Bernie Sanders of Vermont can say with authority and conviction that the business model of Wall Street is fraud" [Wall Street on Parade]. "Hillary is also clinging desperately to the nutty proposition that the big banks didn't cause the 2008 Wall Street crash, buttressed by the increasingly desperate sounding New York Times columnist Paul Krugman, who some suspect may be auditioning for a role in Hillary's cabinet were she to become the next President."

"For a political movement [i.e., socialism] long confined to the fringes of American discourse, Sanders would seem to have done an enormous service" [The Atlantic]. "But as it happens, the real socialists—the ones toiling, lonely, in the trenches; the ones who never felt a need to temper their philosophy with a mitigating adjective like democratic, as Sanders does—are strikingly ungrateful. Puryear's party, the PSL, issued a statement last August, when Sanders began to gain traction, tartly rejecting his campaign. 'His program is not socialist,' it noted." True!
Money
"More and more voters understand that the flow of dollars to both parties is what's allowed billionaires to accumulate and stash their wealth while the middle class declares medical bankruptcy or goes deep into debt to pay college tuition — and so they're quitting 'the game' [Will Bunch, Philadelphia Daily News]. "When someone says that he or she abhors all the wealth in politics but that it's more important to win elections than to fight the system, that person is a partisan, pure and simple…and not a progressive." Yep. This is a very good piece from Bunch; read it all.

"Why We Don't Need to See the Hillary Clinton Transcripts" [David Dayen, The New Republic]. "We already know that she gives priority of place to Wall Street." Ouch!
The Voters
"Over three hundred people were arrested today, bringing the week's total to more than 1,400 arrests including the Democracy Spring protests that began last Monday" [The Nation]. " They are fighting to protect voting rights, to end the corrosive influence of big money on the political system and to force Republicans to confirm Barack Obama's nominee to the Supreme Court." Eesh, what's a moderate Republican doing on that list? Really worth being arrested for?

Trump's "firewall" of married white women [Bloomberg].
California
"The new 30-second spot is called '$27,' a number that has become as closely identified with Sanders as 47% was in a negative way for Republican nominee Mitt Romney four years ago" [Los Angeles Times]. "The spot will debut on KGO-TV in San Francisco on Friday evening and on KCBS in Los Angeles on Saturday night, timed deliberately to coincide with Clinton's major fundraisers with Clooney in both cities. The events have minimum asking prices in the tens of thousands of dollars." Gee, it looks like Sanders won't be folding his tent after New York, come what may.
New York
"New York Primary: Live Updates" [New York Times].

"6 things to watch for in New York's primary tonight" [WaPo].

"This year, 52 percent of the Democratic votes are projected to come from New York City, which also wouldn't be great for Sanders, who has been trailing behind Clinton among voters in the city. Sanders should be worried if the New York primary ends up with low voter turnout and a majority of voter participation from metropolitan areas; his polling numbers are highest among suburban areas and young, college-aged people" [Bustle]. "However, there might be one silver lining for Sanders: Gov. Andrew Cuomo said the state has seen unprecedented online voter registration — nearly 41,000 people submitted applications between March 10 and March 20. Nearly half of these new voters indicated that they had never voted before. … If these voters prove the U.S. Census Bureau statistics wrong and have more than half of their [sic] eligible voters participate in the election, then Sanders could possibly win New York."

"60,000 Fewer Democrats in Brooklyn and No Clear Reason Why" [WNYC]. Seems odd. I mean, you'd think the Democrat Establishment would want more people voting [snort].

"New York's election laws are deliberately byzantine and hopelessly outdated. The State Legislature must fix them before its session ends in June" [Newsday].

"The rules in New York also favor Clinton. Sanders has, thus far, fared better in states with open primaries where independents are allowed to vote in the Democratic race. However, New York election law allows only registered Democrats to participate in the primary. Voters who wanted to join the party had to do so by last October, and new voters who wanted to register as Democrats needed to do so by March 25. Because of these rules, Sanders needs to win among people who were already members of the Democratic Party and were registered before he kicked off his campaign in the state" [USA Today].

"What is particularly outrageous to the millions of Independents that have been barred from participating in closed state primaries [like New York's] this year is that all taxpayers pay for these primaries – and yet, only registered Republicans and Democrats get to cast a vote" [Wall Street on Parade]. Sounds like taxation without representation to me. Maybe somebody should sue?
The Trail
"Brad Deutsch, the lawyer for the Sanders campaign, wrote an open letter to DNC chairwoman Debbie Wasserman Schultz arguing that the Clinton campaign's Hillary Victory Fund, the joint account between the campaign and various Democratic Party committees, "skirts legal limits on federal campaign donations." The fund is made up of the Clinton campaign, 32 state Democratic committees, and the DNC" [Politico]. Readers will not be surprised by the footnotes citing to Politico and WaPo, since we have previously linked to them at NC.

Clinton campaign manager Robbie Mook: "Instead of trying to convince the next generation of progressives that the Democratic Party is corrupt, Senator Sanders should stick to the issues and think about what he can do to help the Party he is seeking to lead" [PoliticsUSA]. Wowsers. It's hard to know where to begin with this, but there's the generational frame, the east assumption that the Democratic establishment is progressive…. Clearly, Mook can clutch his pearls with the best of 'em, but apparently some Democratic regulars are quite upset with this.

"What it's like to phonebank for Bernie Sanders" [Real History Blog].
Clinton Email Hairball
"State Department, Judicial Watch reach agreement on depositions of Clinton aides" [The Hill]. "The agreement, which came Friday night, calls for sworn depositions from Clinton's former chief of staff Cheryl Mills, her longtime aide Huma Abedin and information technology specialist Bryan Pagliano, who set up the server… Pagliano has agreed to cooperate with the FBI in its investigation of the email setup in exchange for immunity." I can't find out if Mills, Abedin, and Pagliano have separate lawyers not affiliated with ClintonLand, or not. Readers?
Stats Watch
Housing Starts, March 2016: "Data on the housing sector are slowing going into the key spring season. Housing starts fell a very sharp 8.8 percent in March to a 1.089 million annualized rate which is well below Econoday's consensus" [Econoday]. But: "Be careful in analyzing this data set with a microscope as the potential error ranges and backward revisions are significant. Also the nature of this industry variations from month to month so the rolling averages are the best way to view this series – and the data remains in the range we have seen over the last 3 years" [Econintersect]. "The slowing of building permits this month is attributable to softness in multiple family dwellings." On the other hand: "Starts and permits down and below expectations. I see this as removing any hope of any kind of sustainable growth. The traditional sources of private sector credit expansion- housing, vehicles, and general investment are continuing to decelerate when acceleration is needed just to replace the capital expenditures that were being generated by $100 oil. And even then GDP growth was modest, at best" [Mosler Economics].
Small Business Economic Sentiment, March 2016: "America's skilled professionals are heading into April in a very positive mood. Based on a national survey of nearly 15,000 respondents, from plumbers to photographers, this group of American small business owner-operators is in better spirits than any point since April of 2015" [Econoday].
The Fed: "[C]onditions here at home paint a portrait of decelerating economic activity, visible through a variety of metrics" [Econintersect]. "The outlier, though, is continued employment gains, which have even accelerated while consumer spending growth slowed. This presents a puzzle to policymakers: If more consumers are working, and they are earning more, and they enjoyed a sharp drop in fuel prices, why aren't they spending it?" Oddly, however, the article does not answer this interesting question. What am I missing?
The Fed: "What's behind the March Spike in Treasury Fails?" [Liberty Street]. "Settlement fails in U.S. Treasury securities rose to their highest level in more than seven years in March. Among the netting membership of the Depository Trust and Clearing Corporation (DTCC), gross fails (the sum of fails to deliver and fails to receive) aggregated across all Treasury issues averaged $95 billion per day over the month, as shown in the chart below. That said, fails remained well below the historic high of $504 billion per day observed in October 2008 at the peak of the financial crisis."
"[T]he success of AT&T Inc. and Verizon Communications Inc. since 2013 in shifting customers into plans that force them to pay the full price for devices—and separate that cost from monthly service fees—has consumers holding on to their devices longer" [Wall Street Journal, "Americans Keep Their Cellphones Longer"].
Today's Fear & Greed Index: 75, Extreme Greed (previous close: 74, Greed) [CNN]. One week ago: 68 (Greed). (0 is Extreme Fear; 100 is Extreme Greed). Last updated Apr 18 at 12:37pm. Finally we move into Extreme Greed territory. Break out the champers!
Health Care
"Analysis of UnitedHealth Group's Premiums and Participation in ACA Marketplaces" [Kaiser Health News]. "If United were to withdraw from all states, 532 counties would go from having three insurers to two, while another 536 counties would go from having two insurers to just one. The net effect of a United exit would be that 532 more counties in the U.S. would have just one or two insurers on the exchange. Combining these counties with the 1,121 counties that already had one or two insurers would mean that just over half (53%) of U.S. counties would have one or two exchanges insurers."
Water
"In Maharashtra, where the sugar industry and politics are twined, drought is a manmade disaster" [Indian Express].
No government of the state — including that of the BJP-Shiv Sena between 1995-99 — has attached importance to issues such as water conservation, drip irrigation or rejuvenating ground water. Why?

Because government after government in the state has been run by those engaged in the gross misuse of water. In Maharashtra, they are called sugar barons, and they are large in number.
Gaia
"Psilocybin, the mind-altering chemical that gives some mushrooms magical properties, can do more than induce trippy states. A new study finds that it reduces the sting of social rejection" [Los Angeles Times].
"Although laughter is a phylogenetically conserved vocalization linked to affiliative behavior in nonhuman primates, its functions in modern humans are not well understood" [Proceedings of the National Academy of Sciences]. " We show that judges all around the world, hearing only brief instances of colaughter produced by pairs of American English speakers in real conversations, are able to reliably identify friends and strangers."
The Jackpot
"The Illicit Spelunker Capturing Underground Scenes at Chernobyl" (photos) [Atlas Obscura]. "[T]he most haunting aspect of Kupny's already-haunting photos is the snowfall of tiny crystalline flakes that float through every scene of silent ruin lending the photos a deep-sea feel."
"McDonald's is preparing to experiment with an all-you-can eat French fries option" [Independent]. We're doomed. Doomed, I tell you.
Our Famously Free Press
"New Republic Editor-in-Chief Gabriel Snyder is leaving the politics and culture magazine less than two months after it was sold to liberal activist and donor Win McCormack" [HuffPo]. Clinton held a $2,700-a-plate dinner at McCormack's house in Portland, OR.
Class Warfare
"An Inline Response to 'Wage Slaves'" [Rami Ismail].
"Adjusting to economic shocks tougher than thought" [Brookings Institute]. BWA-HA-HA-HA!! Stop it, Brookings! You're killing me!
"The [life-expectancy] gap appears to be growing fast. The researchers, led by Raj Chetty, a professor of economics at Stanford University, analyzed more than 1.4 billion federal tax returns, as well as mortality data from the Social Security Administration, from " [The New Yorker]. That's jaw-dropping.
"What the great degree rip-off means for graduates: low pay and high debt" [Guardian]. Nice round-up.
News of the Wired
"How to build a speed-loving DIY Linux router from scratch" [Ars Technica]. Not just speed. Control over your software.
"Most of the Three Stooges' films are perfectly free from topicality, and most have narratives that are barely coherent. For those reasons, the films have an almost unfair historical advantage over many other movies: They barely age at all" [Seven Days]. Sounds like macroeconomics! [UPDATE: The comparison even more on point than I thought. Seach the page for "Use the tools".]
"Reporter's notebook: Left behind in Attawapiskat" [CBC]. "I was chatting with someone and suddenly, a siren started. He instantly went silent. His head snapped towards the direction of the sound, no doubt wondering whether it was a signal of another tragedy."
"Inuit Cartography" [The Decolonial Atlas]
"Only Obama Gets Game Of Thrones Screeners, So I Filed An FOIA Request For Them" [Refinery29].
"The First Roman Fonts" [I Love Typography]. Might tell you more than you want to know, but the samples are lovely!
"With particles that can exist in two places at once, the quantum world is often considered to be inherently counterintuitive. Now, a group of scientists has created a video game that follows the laws of quantum mechanics, but at which non-physicist human players excel" [Nature]. "[T]he work also suggests that the human mind might be more capable of grasping the rules of the bizarre quantum world than previously thought — a revelation that could have implications for how scientists approach quantum physics, says Jacob Sherson, a quantum physicist at Aarhus University, Denmark, who led the study. "Maybe we should allow some of that normal intuition to enter our problem solving," he says." But humans can't grasp macroecomics! Oh, no!
"The enduring popularity of the Monkey King" [Ars Technica]. This is the Year of the Monkey! But can the Monkey King solve quantum puzzles?
* * *
Readers, I still need to fix my fershuggeneh contact form! Hopefully noting that fact publicly will serve a lash and a spur to my endeavors. (Meanwhile, thanks to readers, who already have my email address, who sent in images of plants!)
See the previous Water Cooler (with plant) here. And here's today's plant (MK):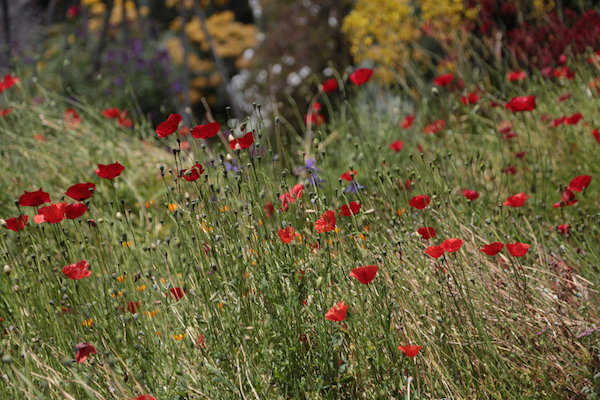 Poppies at the Getty Museum.
* * *
Readers, Water Cooler will not exist without your regular support. Your tip will be welcome today, and indeed any day. If you enjoy what you're reading, please click the hat!