By Lambert Strether of Corrente.
TPP/TTiP/TISA
"FOIA reveals [UK] government's assessment of TTIP's corporate courts – lots of risks and no benefit" [Global Justice Now].
Andrea Montanino, Director of the Atlantic Council's Global Business and Economics Program: "TTIP cannot be an argument during the electoral campaign because it is too sensitive" [Atlantic Council]. Very Serious People indeed!
More Very Serious People: "The occasional effort of a largely discredited political establishment across the Atlantic to do policies that are rational and forward-looking – to which I personally include TTIP – just can't withstand the force of popular anger" [Borderlex].
Yet More Very Serious People: "The Washington Post Says Doctors Without Borders Is Silly to Worry About the Impact of the TPP on Drug Prices" [Dean Baker, CEPR]. Council on Foreign Relations doing its little bit for the cause!
And Almost The Ultimately Serious Person: " "I think that we have to do a better job… to counteract voices that are distorting the reality of trade agreements," Penny Pritzker told CNBC at a leading trade fair in Hannover, Germany" [CNBC]. " The 13th round of TTIP discussions are being held in New York from this Thursday." Hmm…
And The Ultimately Serious Person: "'It is indisputable that [trade] has made our economy stronger,' [Obama] said. "It has made sure that our businesses are the most competitive in the world" [New York Times].
Once more: "President Obama this week said the prospects for congressional approval of the Trans-Pacific Partnership will be best after the election season ends, signaling that the White House still believes it can successfully navigate political headwinds and push the trade agreement through Congress this year" [Inside Trade] (scroll to the bottom).
2016
Voters
"Since the 1980s, if not earlier, the story of the Democratic Party has been a reasonably successful attempt to take or maintain control over the presidency at any costs—combined with a complete failure to articulate a compelling, long-term vision, or to build lasting networks and institutions that provide the infrastructure for political change. We bet everything on the political skills of Bill Clinton or Barack Obama, and then we act surprised when they end up following moderate Republican policies" [James Kwok, Baseline Scenario].

"Obama's 107-Year-Old Dance Partner Unable To Obtain Photo ID" [TPM]. Great photo op. So why the heck doesn't the Democrat Party have a program to help this woman get an ID?
PA, MD, CT, RI primaries
"Watch Philadelphia and the Delaware and Chester counties around it. Mr. Obama won all those places in 2008, but poll numbers and Mrs. Clinton's strength in those kinds of communities in 2016 suggest those should be strong areas for her." As in New York [Wall Street Journal, "What to Look For in Tuesday's East Coast Primaries"]. "Watch establishment bastions like Montgomery County (in Pennsylvania AND in Maryland), Fairfield County in Connecticut and Providence County in Rhode Island. If Mr. Trump wins in those places, we may have seen a significant change in this race."

"As always, the drama on the Democratic side is limited by those boring proportional delegate-allocation rules, which means Hillary Clinton isn't going to officially nail down the nomination until (probably) June 7, and Bernie Sanders won't be able to deny her the nomination until June, either. But by all accounts, March 26 should be a pretty good day for the front-runner" [New York Magazine]. "Maryland and Pennsylvania are holding down-ballot primaries as well. There are red-hot Democratic Senate primaries in both states, with representatives Chris van Hollen and Donna Edwards battling for the nomination to succeed Barbara Mikulski in Maryland, and former representative Joe Sestak trying to fend off White House–backed Katie McGinty for the chance to face Republican senator Pat Toomey."
Money
"Teachout tops among NY congressional candidates in 2016 fundraising" [Capital New York]. $530,732 / 10,657 = $49.80. I think Teachout is terrific, but I'd also like to see Sanders-level averages become a norm.

"Pro-Israel Billionaire Haim Saban Drops $100,000 Against Donna Edwards in Maryland Senate Race" [The Intercept].
Corruption
"Trump and Clinton share Delaware tax 'loophole' address with 285,000 firms" [Guardian]. Gee, that's odd. Or not.
New York
"The Clinton coalition in New York City offers a concentrated expression of the Democratic Party's status quo: affluent, largely white, and highly motivated professional-class voters, joining forces with a largely nonwhite and significantly less enthusiastic working-class bloc" [Jacobin]. In other words, class counts, and "The Obama Coalition," as a concept, is a steaming load of crap.
The Trail
"Sanders supporters knew Clinton was angry at them for voting for Bernie — they could tell by her comment saying that she 'feels sorry for' young voters too misinformed to vote for her; or by Bill Clinton saying that Sanders voters are so unsophisticated that they just want to 'shoot every third banker on Wall Street'; or by David Plouffe (a Clinton ally) saying that every person who donates money to Sanders is being taken in by an obvious 'fraud'; or by the unnamed Clinton staffer so certain she or he was speaking in a tone and manner consistent with the view of the Clinton campaign that she or he told Politico that the Clinton campaign 'kicked Bernie's ass' in New York and that Sanders can 'go fuck himself'" [LA Progressive]. "But who knew that, with almost twenty primaries and caucuses left, and more than 1,400 delegates left to be awarded, Clinton would start vetting potential Vice Presidential picks in full view of an electorate she says she's still working hard to win over?" Nice rant.

"[W]hen pressed about whether he would encourage his young supporters to back Clinton, the senator said " [Yahoo News]. Hmm.

Paths to a Sanders victory: "Path #1: Clinton's health fails in a very big and very public way" [Counterpunch]. And then the email hairball, the Clinton Foundation hairball, and the Goldman speeches. Events, dear Boy. Events. That and Sanders pulling even in the national polls.

"The conservative media's obsession with Hillary Clinton's coughing" [WaPo]. It's out there, as we used to say…

"Bernie Sanders floats Elizabeth Warren as possible VP" [CNN]. Not sure the headline is accurate, however. What Sanders said: "I'm not going to commit … you have to look at the best candidates you can. But I think, as you know, there are people in life today, Elizabeth Warren, I think, has been a real champion in standing up for working families, taking on Wall Street."

"Lena Dunham: Why I Chose Hillary Clinton" [Time].

"The Other Progressive Challengers Taking On the Democratic Establishment" [In These Times]. This is a good roundup.

"Donald Trump is bristling at efforts to implement a more conventional presidential campaign strategy, and has expressed misgivings about the political guru behind them, Paul Manafort, for overstepping his bounds, multiple sources close to the campaign tell POLITICO" [Politico]. Remember, in kayfabe, everybody is part of the show!

"Despite all the noise from both sides of the debate, when you run the numbers, it turns out that Donald Trump could win the nomination on the first ballot precisely because of the GOP's delegate rules. Ted Cruz also benefits, but not until later ballots. The losers? John Kasich and all the other candidates, and their supporters" [Cook Political Report].

"Donald Trump has reached 50 percent support from Republicans and Republican-leaners nationally for the first time since the beginning of the NBC News|SurveyMonkey Weekly Election Tracking Poll in late December" [NBC]. "This milestone is significant as the 2016 primary heads into its final few weeks of contests, as there has been intense speculation that Trump's support has a ceiling"
Stats Watch
Durable Goods Orders: "The factory sector posted a respectable March with orders for durable goods up 0.8 percent which follows a revised downswing of 3.1 percent in February and a very solid 4.3 percent gain in January" [Econoday]. "March reflects a big gain for defense goods which helped offset a downward swing for commercial aircraft. A negative in the report is a 3.0 percent decline for motor vehicle orders reflecting weakness at the retail level." Capex: "Core capital goods orders were flat in March, also a disappointment after the 2.7% drop in February (revised from -2.5%). This aggregate is down 2.4% vs year-ago, but that only scratches the surface of the malaise in business investment. " [Amherst Pierpont Securities, Across the Curve]. Caveat: "Durable goods is not a good economic forecasting tool as it contains too many false warnings of economic contraction" [Econintersect].
Richmond Fed Manufacturing Index, April 2016: "Advance indications are mixed for the April manufacturing sector but the Richmond Fed is pointing to strength" [Econoday]. "The factory sector in March was mixed, evidenced by today's durable goods report. But the outlook for April is still open with this report and Empire State showing strength but not the Dallas Fed nor the national PMI flash." And: "Of the four regional Federal Reserve surveys released to date, all but one are in expansion" [Econintersect].
PMI Services Flash, April 2015: "The services PMI came in showing soft growth as expected" [Econoday]. "Uncertainty over the economy and also the presidential election are cited as negatives. The service sector is still sluggish and needs to pick up steam to help offset weakness in the factory sector."
S&P Case-Shiller Home Price Index, February 2016: "Appreciation in home prices may not be moderating but it is far from spectacular" [Econoday]. "Housing prices at least are showing stability if not acceleration but are probably not strong enough to pull new sellers into the housing market nor perhaps, as far as household wealth and spending are concerned, strong enough to offset weak wage gains." How in the world would home prices "offset" wage gains? Unless my house in an ATM — remember that one? — I can't pay the bills with it! And: "The way to understand the dynamics of home prices is to watch the direction of the rate of change. Here home price growth generally appears to be stabilizing (rate of growth not rising or falling)" [Econintersect].
Consumer Confidence, April 2016: "A big drop in jobs-hard-to-get, which hints at strength for April's employment report, headlines an otherwise soft consumer confidence report for April" [Econoday]. "Weakness in the report is centered in the expectations component which fell 4.3 points to 79.3. This is near February's 79.9 and the lowest score since November 2013. [Here,] there's outright pessimism with 17.2 percent seeing fewer jobs ahead vs only 12.2 percent seeing more ahead." It will be interesting to see if and how that pessimism plays out in this election year. Alternatively: "With real labor income gains likely to stay solid, I remain upbeat about the prospects for consumer expenditures: [Amherst Pierpont Securities, Across the Curve]. And: "There is little question, however, that poor consumer sentiment corresponds to poor economic performance. Econintersect believes that consumer sentiment is mostly a coincident or lagging economic indicator" [Econintersect].
State Street Investor Confidence Index, April 2016: "Investor sentiment eased but is still over 100, at 109.1 in April to indicate demand for risk relative to safety" [Econoday]. "Risk taking has been centered among North American institutional investors."
Commodities: "The death toll in the Pemex petrochemical plant explosion has risen to 32 after the discovery of four more bodies in the wreckage of the Petroquimica Mexicana de Vinilo (PMV) facility" [Splash247].
Banks: "$10 router blamed in Bangladesh bank hack" [BBC].
Corruption: "Mitsubishi Motors has said it has used fuel consumption tests that broke Japanese rules for the past 25 years" [BBC].
Today's Fear & Greed Index: 71, Greed (previous close: 70, Greed) [CNN]. One week ago: 74 (Greed). (0 is Extreme Fear; 100 is Extreme Greed). Last updated Apr 25 at 11:49am. Still dithering around. Come on!
Gaia
"The Department of Environmental Conservation on Friday rejected a proposed 124-mile natural gas pipeline that would have stretched through four counties in New York" [State of Politics]. Excellent.
The 420
"Experts say listing cannabis among the world's deadliest drugs ignores decades of scientific and medical data. But attempts to delist it have met with decades of bureaucratic inertia and political distortion" [Scientific American]. I had no idea the Marihuana Tax Act (of 1937) was a New Deal reform.
Dear Old Blighty
"Democratic control is the main reason why our NHS is one of the most efficient health services in the world — saving more lives per pound spent than any country in the past 30 years apart from Ireland, according to the Journal of the Royal Society of Medicine" [Market quacks eye our NHS]. "And that's in spite of the NHS being subjected to neoliberal dogma over that period — the madcap "internal market" introduced by the Tories in 1990, New Labour's contracting-out calamities and, since the study's publication, outright privatisation under the 2012 Health and Social Care Act."
The Jackpot
"Leak worsens in massive Hanford tank holding nuclear waste" [KING5].
"Shifting weather patterns — milder winters, wetter springs and storms that are more frequent and more severe — are increasingly changing the landscape for scientists who study flora and fauna in the field" [Nature].
Class Warfare
"The China Shock: Learning from Labor Market Adjustment to Large Changes in Trade" [David H. Autor, David Dorn, and CEPR Gordon H. Hanson (PDF; via)]. From MIT, NBER, CEPR:
China's emergence as a great economic power has induced an epochal shift in patterns of world trade. Simultaneously, it has challenged much of the received empirical wisdom about how labor markets adjust to trade shocks. Alongside the heralded consumer benefits of expanded trade are substantial adjustment costs and distributional consequences. These impacts are most visible in the local labor markets in which the industries exposed to foreign competition are concentrated. Adjustment in local labor markets is remarkably slow, with wages and labor-force participation rates remaining depressed and unemployment rates remaining elevated for at least a full decade after the China trade shock commences. Exposed workers experience greater job churning and reduced lifetime income. At the national level, employment has fallen in U.S. industries more exposed to import competition, as expected, but offsetting employment gains in other industries have yet to materialize.
But can you see the "local labor market" from the Acela? And more to the point, can the "local labor market" write anybody a fat check for a speech?
"[Simon DeDeo, a complexity scientist at Indiana University[ and Indiana University undergraduate Bradi Heaberlin decided to examine the emergence of social hierarchy and online behavioral norms among the editors of Wikipedia" using the 15 years of data [Gizmodo]. "One of their most striking findings is that, even on Wikipedia, the so-called "Iron Law of Oligarchy"—a.k.a. rule by an elite few—holds sway…. "You start with a decentralized democratic system, but over time you get the emergence of a leadership class with privileged access to information and social networks," DeDeo explained."
News of the Wired
"When Facebook and Google finally destroy the competition, a new age of feudalism will arrive" [Evgeny Morozov, Guardian]. "Izabella Kaminska, one of Alphaville's lead writers, even thinks that we are facing the Gosplan 2.0 – a Soviet-like system of technocratic elites who, flush with cash from desperate investors, allocate money as they see fit based on purely subjective criteria, favouring some groups over others, and using proceeds from their advertising business to fund exotic "moonshot" projects of dubious civic significance."
"[B]ehind the technology display here in Austin was something as formidable as the technology but far less noticed: Google is mounting a lobbying and public-relations campaign across America to win acceptance for 'autonomous vehicles,' as they're formally known, and to shape the rules of the driverless road" [Reuters]. Nothing in the article about highway infrastructure at all. Maybe that will all be done selectively, as with Internet access. Yes, I understand the potential advantages in terms of highway deaths, but I don't trust today's Silicon Valley to create a future that's anything other than dystopian, so an antidote to the technological triumphalism so evident in coverage of this story.
"No technology will automate away more jobs — or drive more economic efficiency — than the driverless truck" [Tech Crunch]. "The demonstration in Europe shows that driverless trucking is right around the corner. The primary remaining barriers are regulatory. We still need to create on- and off-ramps so human drivers can bring trucks to the freeways where highway autopilot can take over. We may also need dedicated lanes as slow-moving driverless trucks could be a hazard for drivers. These are big projects that can only be done with the active support of government." In other words, as above, massive infrastructural investment. Of course, as an MMTer, I know that Federal taxes don't fund spending. But are we sure this is the best way to invest real resources? Why? Is anybody even asking the question?
"As networked computers disappear into our bodies, working their way into hearing aids, pacemakers, and prostheses, information security has never been more urgent — or personal. A networked body needs its computers to work well, and fail even better" [EFF].
"Facial recognition service becomes a weapon against Russian porn actresses" [Ars Technica]. And anybody else, right?
"The first rule of pricing is: you do not talk about pricing" [Flux]. Interesting long read. But: "Responding to price is hard-wired into our brains." Really?
"For years culinary detectives have been on the chili pepper's trail, trying to figure out how a New World import became so firmly rooted in Sichuan, a landlocked province on the southwestern frontier of China." [Nautilus]. "The bite and the burn of the red chili pepper is a reminder of how the peasants of southwestern China, at the mercy of historical and economic forces, crafted culinary masterpieces from the basic instinct for survival. Out of poverty and war and the currents of globalization they fashioned fire for their palates, and ours."
* * *
Readers, I still need to fix my fershuggeneh contact form! Hopefully noting that fact publicly will serve a lash and a spur to my endeavors. (Meanwhile, thanks to readers, who already have my email address, who sent in images of plants!)
See the previous Water Cooler (with plant) here. And here's today's plant (Chet F):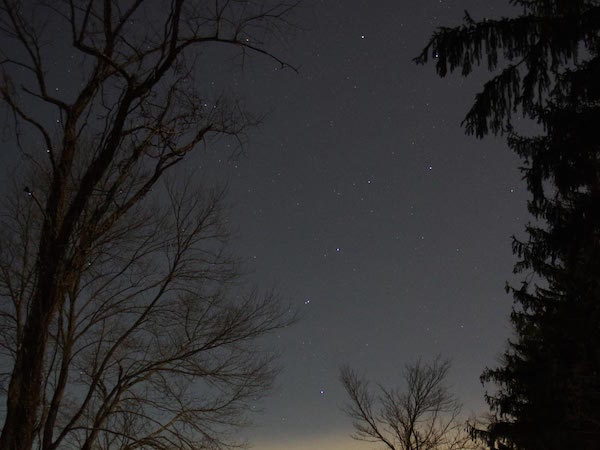 "Long exposure photos taken at night by the light of the moon and snow reflection." Missed this one, so even though it's wintry, here it is. The Big Dipper (with trees).
* * *
Readers, Water Cooler will not exist without your regular support. Your tip will be welcome today, and indeed any day. If you enjoy what you're reading, please click the hat!