By Lambert Strether of Corrente.
TPP/TTiP/TISA
"This afternoon the Wallonian government voted a resounding NO to the Canadian EU Trade Agreement otherwise known as CETA which is viewed by many as 'TTIP through the back door'. The vote does not necessarily mean the EU cannot ratify the agreement but it does mean that Belgium as a country will not be able to sign it" [Health and Trade Network].
""Monster Corporate Sovereignty Ruling Against Russia Overturned By Dutch Court, But It's Hard To Tell Whether It's Over Yet" [TechDirt]. "That lack of legal clarity underlines one of the worst aspects of ISDS: the fact that it does not sit neatly within traditional legal systems, but in many ways lies outside them. Far from helping to uphold the law, as supporters of corporate sovereignty like to claim, it makes it arbitrary and unpredictable. When you're talking plus or minus $50 billion, that's a pretty serious flaw." ($50 billion was the amount Russia was being sued for under an ISDS provision in a trade treat it did not ratify (!).)
"The French government appeared to toughen its stance on the TTIP transatlantic trade partnership on Tuesday with Prime Minister Manuel Valls warning that the proposed deal being discussed by the European Union and the US will not go through if health and environment standards are not maintained and negotiator Matthias Feki saying it might not be signed at all" [Radio France International].
2016
Policy
I'm going to skip the dogpile on Trump's foreign policy speech; the entire foreign policy/national security establishment has no standing to speak on these matters, given that they've lost two wars (in Iraq; Afghanistan), butchered two states (Libya; Syria), and presided over the cheerful destruction of the Fourth Amendment "because we can." And no standing goes double for the small-bore hacks primping themselves in the green room and collecting their tiny checks for peddling this hollow and lethal imperial crapola. (Sorry for linking to NewsMax — ick! — but I couldn't stand the screeching and preening over at Politico.)
Voters
"Wealthy, educated voters fuel Trump's East Coast sweep" [Reuters]. "His sweep of Pennsylvania, Maryland, Delaware, Connecticut and Rhode Island on Tuesday included wins in some of the richest and best-educated counties in the country – like Fairfield County, Connecticut, and Newport County, Rhode Island – and added to victories in his more traditional strongholds of white working-class neighborhoods."

"To Clear the Air, Sanders Should Challenge New York Vote" [Counterpunch]. And all those provisional ballots are still sitting in limbo, somewhere. Odd.
Indiana
"Ted Cruz called a hoop 'a basketball ring.' What does he call other sports equipment?" [SB Nation].

"The race here is shaping up to be a last stand not just for Cruz, but also for the "stop Trump" movement, an unlikely confederation of activists and party donors. But, from members of the donor class in Indianapolis unwilling to back Cruz to blue-collar voters in Elkhart outraged by the collaboration, the movement is not coalescing, and is even backfiring" [Bloomberg].

"But whatever high ground Trump's opponents may have commanded was pretty much squandered when Cruz and Kasich announced that they were, in fact, going to game the system in an effort to subvert Trump at the convention. Now, when Trump says the party elites are trying to rig the process and undermine the voters, you'd have to admit he's not crazy" [Yahoo News].
Money
"For delegates, the cost of participating in the nominating process can run into the thousands of dollars. They often have to pay for travel to the conventions, hotel rooms, meals and incidentals. State parties may also require delegates to pay fees for participation" [Wall Street Journal, "Delegates Turn to GoFundMe to Pay Way to Conventions"]
The Trail
"The Hoosier State now faces the choice that the Badger State faced several weeks ago: Does it want to vote to bring this race to a close, or does it want the anti-Trump forces to fight on? Wisconsin overwhelmingly chose the latter option, and Cruz is hoping Indiana does as well" [Center for Politics].

As opposed to 2008, "this year, the policy differences between Clinton and Sanders are bigger, which could make party unity more elusive" [CBS]. At least on the twitter (granted, not a good sample) Clinton supporters seem generally unwilling to admit that many Sanders supporters are policy driven. And if Clinton wants the same things as Sanders does ("more that unites us then divides us") then her policy proposals should bear a close resemblance to his. They do not. And people are keeping track.

"You're about to meet the second coming of Franklin Roosevelt and Bill Clinton" [Wall Street Journal, "The Clinton Pivot Begins"]. "In 2008 during the Ohio Democratic primary, which Hillary won, I watched her in one day win over three auditoriums of mostly white, cheering blue-collar women. Now she has to win back their husbands and boyfriends. The Clinton pivot into the Trump base has begun. It won't stand for anything principled or recognizable, but this year that doesn't seem to be the point."

Sanders: "'We have had a very large staff, which was designed to deal with 50 states in this country; 40 of the states are now behind us" [New York Times].

"'I think she has to tap into the economic anxiety that leads Americans to think all the systems are breaking down,' said Bill Burton, a Democratic strategist and former Obama aide. 'She has to stay authentic to who she is but hear and understand what Americans who feel stuck in the lower-middle class are feeling'" [WaPo]. You know what I think she needs to do? I think she needs to reintroduce herself to the American people. Again.

Access journalism profile of John Podesta, Clinton consigliere, co-founder of "Washington's fourth largest lobbying firm," and progressive rice bowl purveyor via the Center of American Progress [Jay Newton-Small, Time]. If your diabetes is acting up, skip this.
Stats Watch
GDP, Q1 2016: "Consumer spending, largely on services, helped hold up first-quarter real GDP which came in at an annualized plus 0.5 percent rate and just below the Econoday consensus for 0.7 percent" [Econoday]. "Residential investment, up 14.8 percent, is a highlight of the report and helped offset a sharp 5.9 percent decline in nonresidential investment where weak energy drilling is taking a big toll. … The consumer bailed out the first quarter, both on services and also on fixing on their homes. But otherwise the report points to nearly no momentum going into the Spring quarter." Wonder who'll be the first to wheel out the "stalling speed" trope?
And: "In summary, the Q1 GDP Advance Estimate of 0.5 percent was worse than most mainstream estimates and below the 1.4 percent of Q4 of 2015" (charts) [Econintersect]. Caveat: "In short, GDP does not measure the change of the economic environment for Joe Sixpack in 1970, and Joe Sixpack's kid, yet pundits continuously compare GDP across time periods." It's also subject to revision. And: "Weakness in commercial real estate and business equipment spending spread beyond the oil patch in the first quarter, as six consecutive quarters of falling profits have taken a toll. So far, companies are still investing in human capital, but ongoing employment growth cannot be a sure thing given the extent of the weakness in business investment" [FTN Financial, Across the Curve]. On the bright side, both inventories and durable goods orders seem to have stabilized.
Kansas City Fed Manufacturing Index, April 2016: "Oil prices may be higher but steady contraction is the long uninterrupted theme of the Kansas City Fed manufacturing sector" [Econoday].
Jobless Claims, week of April 23, 2016: "Initial claims did rise 9,000 in the April 23 week but the 257,000 level is still below expectations and among the very lowest on record" [Econoday].
Bloomberg Consumer Comfort Index, week of April 24, 2016: "The [0.5 point] rise keeps the index's trend near the 43 line, still solid but about 1 point lower than earlier in the year" [Econoday]. "Easing levels of confidence point to less optimism on the outlook for jobs and income."
Household Income: "According to new data derived from the monthly Current Population Survey (CPS), median annual household income in March 2016 was $57,263, not significantly different from the February 2016 median of $57,180. … Thus, we are getting very close to the real level of median annual household income that existed in January 2000 ($57,342), the beginning of this statistical series" [Econintersect]. Best economy ever.
Commodities: An extensive new scientific analysis published in Wiley Interdisciplinary Reviews: Energy & Environment says that proved conventional oil reserves as detailed in industry sources are likely "overstated" by half" [OilPrice.com]. Interesting, if true.
Banks: "Yesterday, the regulator of national banks, the Office of the Comptroller of the Currency, sent out a severe warning to its flock that there could be a five year jail sentence waiting in the wings for anyone attempting to use technology to block its mandated access to bank records. The letter was authored by Bethany Dugan, Deputy Comptroller for Operational Risk" [Wall Street on Parade].
Bonds: "Even if Puerto Rico manages to strike a last-minute deal to defer bond payments due in three days, the commonwealth's financial collapse is about to enter an unprecedented phase" [Bloomberg]. "Anything short of making the $422 million payment that Puerto Rico says it can't afford would be considered a technical default. More importantly, it opens the door to larger and more consequential defaults on debt protected by the island's constitution, and raises the risk of putting efforts to resolve the biggest crisis ever in the $3.7 trillion municipal market into turmoil."
The Fed: "The Federal Reserve acted as expected Wednesday: It left interest rates unchanged and used language that was somewhat more hawkish, increasing the probability of a rate increase in June" [Mohamed El-Erian, Bloomberg].
Today's Fear & Greed Index: 76, Greed (previous close: 72, Greed) [CNN]. One week ago: 74 (Greed). (0 is Extreme Fear; 100 is Extreme Greed). Last updated Apr 28 at 11:25am. C'mon. Let's go for 80. What's wrong with you people?
Corruption
"Ex-BSI Singapore banker involved in 1MDB probe faces additional charges" [Channel Asia]. Small fry. Will he sing?
"Over the last 15 years, the Braves have extracted nearly half a billion in public funds for four new homes, each bigger and more expensive than the last" [Bloomberg]. And that's before we get to the small towns they screw for their farm teams:
The Braves are similarly methodical about using other people's money to build their ballparks. In 2001, for example, while trying to persuade Rome to build a $15 million, 5,105-seat stadium for the Single-A Braves, who then played 150 miles south in Macon, the Braves brought local officials to Turner Field for executive dinners and to watch games from the owner's box. "It was hands down the highlight of my life," then-Floyd County Manager Kevin Poe says. That November, Rome voters approved a 1¢ sales tax to pay for the stadium by a 142-vote margin.
Which is how things work for municipal bonds, private equity…
"On just one particular day this session, Feb. 16, lawmakers had seven separate organizations plying them with food" [Des Moines Register]. Great detail:
For breakfast, they had the choice of dining on the nickel of an economic development group, a local nonprofit that serves troubled youth, or a state association of podiatrists. For lunch, the Iowa Land Title Association was providing snacks in the Legislative Dining Room, while nearby, a nonprofit that helps Iowans with multiple sclerosis was dishing out $3,000 worth of food and drink in the form of a Chinese buffet. Legislators could wrap up their day either at the nearby Embassy Suites hotel where the Iowa Credit Union League spent almost $10,000 on food, drinks and entertainment, or they could head for the Renaissance Savery Hotel where the Greater Cedar Valley Chamber of Commerce had laid out a spread that cost $6,100.

Amazingly, this sort of lobbying actually works.
Indeed; see above.
Black Injustice Tipping Point
"How a Black Lives Matter activist lost his battle for City Hall in Baltimore" [Yahoo News]. Decapitation accomplished! (Of course, decapitation is one of the functions of TFA, so kudos there, as well.)
Our Famously Free Press
"Bloomberg has become the latest news organization to place bets on automation as a measure to cover so-called "commodity news" and free up time for enterprise journalism" [Poynter]. Oh, yeah, right. The only thing that's holding back financial journalism is the cost of labor.
Guillotine Watch
"Joining the Uber board, which CEO Travis Kalanick announced this morning, represents for me an opportunity to have an impact on a global scale in a way that truly adds value to people's lives — which are also priorities for us at The Huffington Post" [Arianna Huffington, HuffPo].
"Musk said in January that he wants to send the first humans to Mars sometime 'around 2025′" [CNN Money]. I'd wish for all the squillionaires in Silicon Valley to leave for Mars, were it not that they are exactly the reason Earth should be quarantined.
"The chancellor of the University of California's Davis campus was put on paid leave Wednesday amid an uproar over her service on corporate boards and the school's hiring of consultants to improve its image online, following the widely criticized pepper-spraying of protesters by campus police, the university's president announced" [AP]. Good. But she's not a "bad apple." The whole barrel of university administration is rotten and should be dumped.
Class Warfare
"GDP is just the sum total of the output of the economy, it doesn't say how much of that is going into whose pocket. In the first three years of the recovery, 91 percent of all gains went to the top 1 percent. So the bottom 99 percent saw nothing. Many were actually becoming worse off: Their balance sheet had been destroyed, their major asset has been their home and the value of their home had gone down anywhere from 20 to 50 percent. Then came QE, and it created a stock-market but the average American has very little in the stock market. Overall ownership of stocks, is much more concentrated than the concentration of wealth itself, so QE was basically a gift to the 1 percent" [Joseph Stiglitz (interview), The Atlantic]. "The people at the bottom are not doing very well, and wealth inequality, in that sense, has gotten worse. There are so many of these dimensions where the statistics that the Federal Reserve and the administration don't connect with the lives of ordinary Americans." First answer to the first question. Shows you how powerful to elite bubble is, that this question is even asked.
"For years now, people have been talking about the insulated world of the top 1 percent of Americans, but the top 20 percent of the income distribution is also steadily separating itself — by geography and by education as well as by income" [New York Times]. "This self-segregation of a privileged fifth of the population is changing the American social order and the American political system, creating a self-perpetuating class at the top, which is ever more difficult to break into." We still don't have the right word, here. I've used "the 20%" (accurately, as it turns out), and the "credentialled classes." The Archdruid uses "salaried". The "political class," the "helping professions"…
"Wealth inequality is even more of a problem than income inequality. That's because you have to have enough savings from income to begin to accumulate wealth – buying a house or investing in stocks and bonds, or saving up to send a child to college" [Robert Reich]. "But many Americans have almost no savings, so they have barely any wealth. Two-thirds live paycheck to paycheck."
"The way Congress measures income allows many wealthy Americans to delay paying their income taxes for years or even decades. Well-paid athletes, executives, movie stars, hedge fund managers, private equity managers, real estate investors and others all benefit from special rules that let them earn now and pay their taxes by-and-by. Myriad other devices to delay or eliminate paying taxes keep thousands of highly paid tax lawyers and accountants employed gaming the system for rich clients" [David Cay Johnston, Investopedia].
"How Americans Blow $1.7 Trillion in Retirement Savings" [Bloomberg]. Yeah, sheesh, I'm deeply regretful I took money out of my 401k and spent it on something fun before the bankers blew up the economy (again) and my whole account went down the crapper. What's wrong with these people?
Why you should never waste time reading Jonathan Chait [Corey Robin]. OK, I'm paraphrasing.
News of the Wired
"Depression" [Nutrition Facts]. A reader writes: "I would be the last to suggest that people can deal with economic collapse by a balanced diet, but small things can make a difference. and if you are living with a depressed person, it might be good to know that just putting saffron in their food could help." Saffron works, eh? And listening to Mozart? Probably varies by the person, so get moving!
"Scientists have created an 'atlas of the brain' that reveals how the meanings of words are arranged across different regions of the organ" [Guardian]. "No single brain region holds one word or concept. A single brain spot is associated with a number of related words. And each single word lights up many different brain spots. Together they make up networks that represent the meanings of each word we use: life and love; death and taxes; clouds, Florida and bra. All light up their own networks."
"This Is What Happens When an Historian from Iraq Teaches Veterans of the Iraq War in a US Classroom" [History News Network]. Very encouraging, and the author sounds like a good teacher.
A great article about Jane Jacobs, who took on Robert Moses and won! [Guardian]. For learning how to look at a city, there's no better book than The Death and Life of American Cities.
"FOAAS (F*ck Off As A Service) provides a modern, RESTful, scalable solution to the common problem of telling people to f*ck off" [FOAAS].
* * *
I think I fixed my fershuggeneh contact form below. Just to keep the NC comment section clean, will only those who already have my email address tell me if they have issues, using email? Thank you!
Readers, feel free to contact me with (a) links, and even better (b) sources I should curate regularly, and (c) to find out how to send me images of plants. Vegetables are fine! Fungi are deemed to be honorary plants! See the previous Water Cooler (with plant) here. And here's today's plant (Nancy Ames):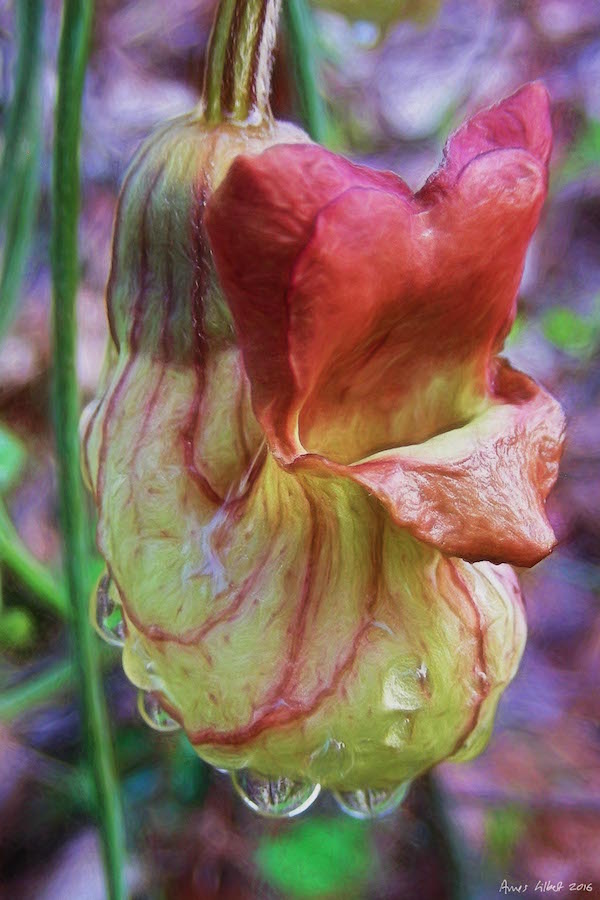 Dutchman's Pipe Flower.
* * *
Readers, Water Cooler will not exist without your regular support. Your tip will be welcome today, and indeed any day. If you enjoy what you're reading, please click the hat!