1 Tiny Dog Holds A Big Toy, But Watch Who His Tug-Of-War Opponents Are... Little Things (furzy)
Trump Catches Self Briefly Believing Own Campaign Rhetoric Onion (David L)
Eons Of Darwinian Evolution Somehow Produce Mitch Onion (David L)
A key ingredient for life on Earth may have crash landed here from space Washington Post (David L)
Ritual slaughter: Why so many early human societies practiced violent human sacrifice PsyPost (Chuck L)
Millimeters-Thick Metal Foam Armor Obliterates Incoming Bullets PopSci (Robert M)
Copyright Troll Tries To Silence Anti-Troll Blogger With Law Enforcement Threats Techdirt
Retired Astronaut Scott Kelly Reveals Physical Setbacks From Time in Space ABC (martha r)
Sweet drug clears cholesterol, reverses heart disease—and was found by parents ars technica
Nuclear Expert: "I've learned there's a huge spike in death rates in Fukushima for young children"… Officials are covering up data — Gov't committing inhuman acts on their own people — Doctor's who treat patients suffering from radiation illness are being put out of business (AUDIO) enNews (furzy)
Radioactive boars run wild around Fukushima reactors Straits Times (furzy)
Mossack Fonseca
What the Panama Papers Tell Us Global Guerrillas

David Cameron's EU intervention on trusts set up tax loophole Financial Times. Li: "David Cameron, hypocrite."
Global Tax Haven Network Means Americans Can Hide Wealth At Home Real News (Sid S)
Refugee Crisis
From Right to Favor Nation (guurst)
ECB's Mersch warns on devaluation CNBC
Adjusting to new realities – banking regulation and supervision in Europe European Central Bank
Brexit?
BREXIT : A New Crisis Acronym Brooklyn Rail (Chris G)
Britain's manufacturing sector lies in ruins Business Insider. This is news?
Big Brother is Watching You Watch
Edward Snowden's talk in Vancouver had an 'electric quality' Globe and Mail (Sid S)
Syraqiatan
Bush-41's October Surprise Denials Consortiumnews

Who is Winning the "Great Balancing Game" Between Pakistan, India, Saudi Arabia, and Iran? EA WorldView (resilc)

The Failure of the Libyan War and the 'Responsibility to Protect' American Conservative (resilc)
Imperial Collapse Watch
A Media Unmoored from Facts Consortiumnews (furzy)

Pro-War Dead-enders and Our Unending Wars American Conservative (resilc)
2016
How Much Should State Legislators Get Paid? FiveThirtyEight (resilc)
Ex-EPA scientist publishes Wyoming fracking study that agency abandoned ars technica
Crapification
Former chancellors of research universities warn their future is in peril Hechinger Report (James R)
How Effective Regulation Can Help Reduce the Too-Big-To-Fail Problem Anat Admati, Federal Reserve Bank of Minneapolis Conference (guurst)
US government to fight MetLife ruling Financial Times
US Credit Card Debt Nears $1 Trillion VoA (Randy K)
Gundlach: Negative rates are backfiring CNBC
The Second Wave Sell-Off: Private Equity In The Craft Beer Market Spells Upheaval Within A Decade Forbes (Qyrs)
The Unraveling of a Wall Street Scion Wall Street Journal
Class Warfare
Unionizing Pays Big Dividend for Professors at Regional Public Universities Chronicle of Higher Education. Furzy: "This is pretty sad…"

Why people are crowdfunding their funerals New Statesman

$370bn of deals aborted on Obama's watch Financial Times. I wanted to write about this but lacked time. Unseemly corporate whinging because they can't increase monopoly power, engage in better tax games, and/or use mergers to create the appearance of growth in mature industries. This at a time when corporate profits are at a record level of GDP and even the staunchly neoliberal Economist is saying the US is being hurt by monopoly/oligopoly power.

CEO Pay Shrank 3.8% Last Year, the Biggest Decline Since the Financial Crisis Wall Street Journal
Antidote du jour. Windsock: "Fergus and Oscar don't get to go fishing much in London. TV is the only opportunity they get."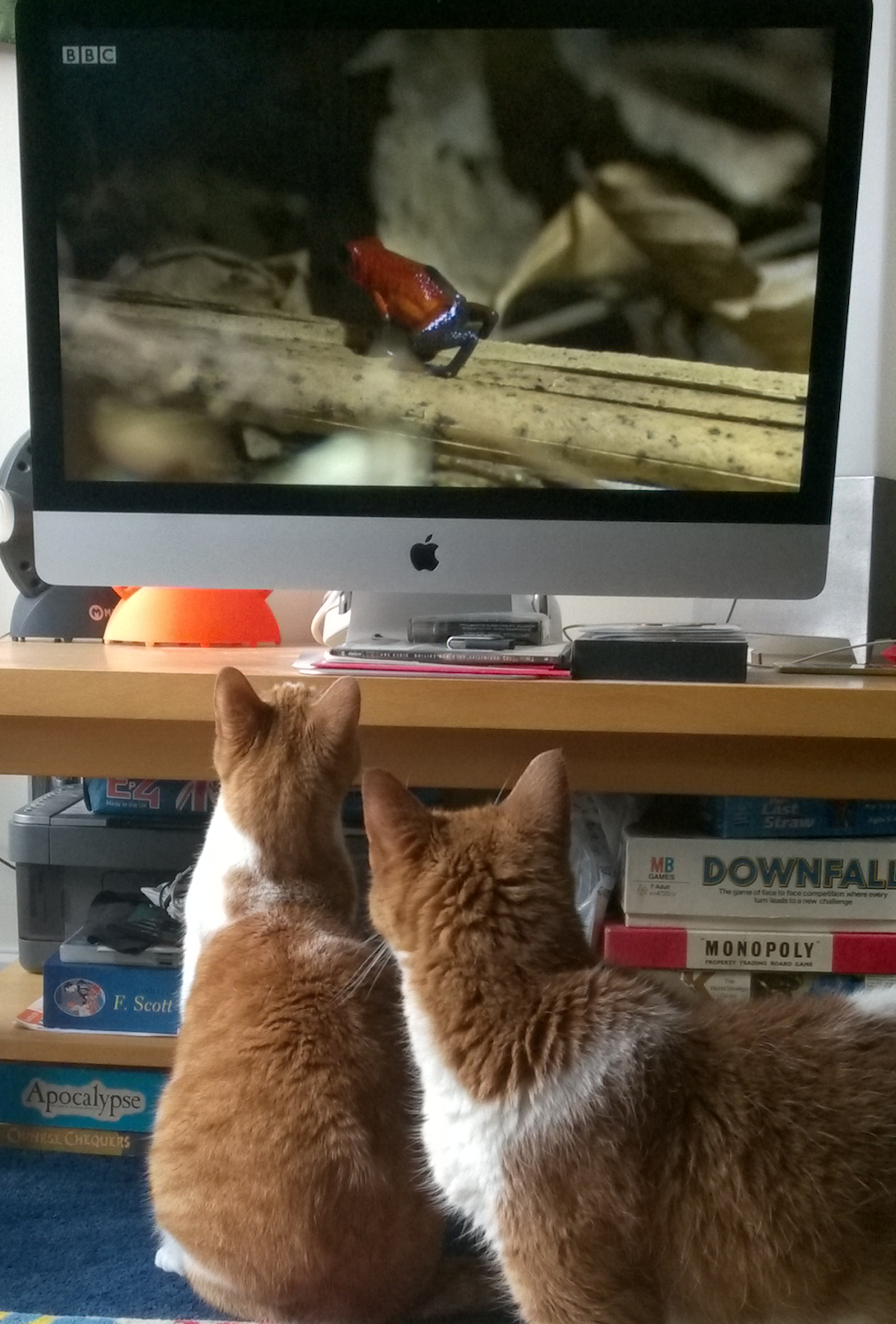 See yesterday's Links and Antidote du Jour here.