Hope (and Change) in the Labor Market?
By Lambert Strether of Corrente.
I want to quickly dig into Neil Irwin's article in The Times on April 1 — headline: "This Is the Job Market We've Been Hoping for All These Years" — essentially because it is better to post than to keep pounding my head on the desk. Start with the headline: Who, exactly, does Irwin mean when he writes "we"? (A question you should always ask.) We can guess (and I'll do some guessing later) but it's a virtual certainty that Irwin's "we" does not include, well, the sort of person who actually has to go out on the job market and get a job the old-fashioned way (that is, not by using LinkedIn, or one's carefully nurtured personal network, or one's seat-mate on the Acela, or other "meritocratic" techniques).
Let's start where Irwin starts:
If you were going to sit down and sketch out an ideal scenario for the American job market in 2016, it would look something like this:

The United States would keep adding jobs at a steady clip. Wages would rise gradually — enough to put more money in workers' pockets, but not so fast as to lead the Federal Reserve to move abruptly to keep the economy from overheating. Steady job growth wouldn't show up in continued drops in the unemployment rate, but rather in a rising labor force. That is, people who had stopped even looking for a job in recent years would come back into the job market, allowing for strong job growth mixed with a steady jobless rate.

That happens to be the reality revealed in the March jobs numbers released Friday, and really in every jobs report published so far in 2016.
To be fair, Irwin immediately qualifies his ideal: He notes that productivity growth is "exceptionally weak, and that "incomes for working-class[1] Americans haven't really grown over the last couple of decades." But ideal it is: The headline is not a question, but a declarative sentence. Irwin concludes:
The economy has a lot of profound problems, and the damage of the 2008 recession is still not fully healed.[2] But the March numbers offer more comfort that, in terms of the job market at least, it's heading in the right direction.
Remember, however, that for Irwin, the "right direction" includes flat wages and weak productivity. Remarkably, however, Irwin doesn't consider the nature of the jobs created at all! But what if all the jobs are crapified? How is that "hope"? Even more remarkably, Irwin's column of the previous day ("With 'Gigs' Instead of Jobs, Workers Bear New Burdens") strongly suggests that crapified is just what those jobs are:
There's a bigger shift underway. That's a key implication of new research [Lawrence G. Katz and Alan B. Krueger (PDF)] that indicates the proportion of American workers who don't have traditional jobs — who instead work as independent contractors, through temporary services or on-call — has soared in the last decade. They account for vastly more American workers than the likes of Uber alone.
And new jobs created since 2005 net out to these "non-traditional" jobs:
Most remarkably, the number of Americans using these alternate work arrangements rose 9.4 million from 2005 to 2015. That was greater than the rise in overall employment, meaning there was a small net decline in the number of workers with conventional jobs.
And here's what "we've been hoping for" and "right direction" mean if you're actually in the working class:
But over all, there's little doubt that workers in these nonconventional work arrangements carry some of the burden of protecting themselves from misfortune that employers traditionally have carried.
(For example, by being forced onto the ObamaCare exchanges, instead of having employer-based health insurance.) The question of whether "We've Been Hoping For" flat wages combined with crappier jobs and more risk doesn't seem to occur to Irwin.
Let's turn now to the "Changes" that have caused to the labor market "We've Been Hoping For" to become what it is. Katz and Krueger suggest four (which I've bolded and numbered):
Many possible factors could have contributed to the large increase in the incidence of alternative work arrangements for American workers from 2005 to 2015 that we have documented in this paper. Although a fuller evaluation will have to await further research, here we provide an initial evaluation of some leading explanations.

[1. Education] The first explanation is that alternative work is more common among older workers and more highly educated workers, and the workforce has become older and more educated over time. A shift-share analysis, however, indicates that shifts in the age and education distribution of the workforce account for only about 10 percent of the increase in the percentage of workers employed in alternative work arrangements from 2005 to 2015….

[2. Technology] Second, technological changes that lead to enhanced monitoring, standardize job tasks and make information on worker reputation more widely available may be leading to greater disintermediation of job tasks. Coase's (1937) classic explanation for the boundary of firms Specifically, we divided the sample into 30 age-by-education cells. If we assign the fraction of workers in each cell that was employed in an alternative work arrangement in 2005 based on the BLS CWS and allow the share of workers in each cell to change according to the observed changes between the 2005 CPS and 2015 CPS, we predict that the overall share in workers employed in alternative work arrangements would have risen by 0.5 percentage point, compared with the 5.7 percentage point increase that was actually observed. We reach a similar conclusion using the 2015 age-by-education distribution from the RPCWS. 18 rested on the minimization of transaction costs within firm-employee relationships. Technological changes may be reducing the transaction costs associated with contracting out job tasks, however, and thus supporting the disintermediation of work.

[3. Reduce rent-sharing] Third, Abraham and Taylor (1996) argue that contracting out is often sought because firms seek to restrict the pool of workers with whom rents are shared, as well as to reduce the volatility of core employment. A rise in inter-firm variability in profitability is thus consistent with a greater desire for contracting out to reduce rent sharing (although increased contracting out could also have contributed to the rise in inter-firm variability in profits). Relatedly, Weil (2014) argues that competitive pressures are causing a "fissuring" of the workplace, with either workers being misclassified as contract employees or work being redefined to make greater use of contract workers and independent contractors.

[4. Reserve Army of Labor] Finally, it is plausible that the dislocation caused by the Great Recession in 2007-2009 may have caused many workers to seek alternative work arrangements when traditional employment was not available.
Of the four proposed reasons, Katz and Krueger reject the first. Of the remaining three, it seems to me that there's a single, abstract factor each shares, and that is not mentioned by the authors: That would be the power imbalance between working class (that is, "we" who sell our labor on the job market for wages) and the — dread word — capitalists who purchase that labor. After all, "technology" has no existence outside the social relations within which it's embedded; why, after all, shouldn't "enhanced monitoring, standardized job tasks, and information on worker reputation" lead workers to organize production on the Twitter? Of course, Katz and Kreuger recognize the power imbalance explicitly in points three and four, although they don't treat the imbalance as problematic in any way.
Is there any data that would suggest that "the job market we've been hoping for" is the result of such an imbalance? I think there is. Katz and Krueger explain that their study is a version of the BLS Contingent Worker Survey (CWS), not performed by the BLS since 2005 for lack of funding. Patrick Martin integrated BLS CWS data since 1995 with the Katz and Krueger data, and came up with the following chart: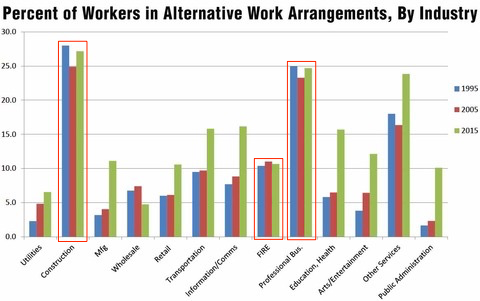 As you can see, there are three industries that in which workers have stabilized their "alternative work arrangements" more successfully than others:
Construction
FIRE
Professional and Business
Speculating freely, let's look for power imbalances distinct to each sector: The power imbalance that protects workers in Construction would be unions; in the FIRE sector, the political power of the FIRE sector itself — it is, after all, running the country — combined possibly with the sector's conception of itself as a relationship business, along with a hush money dynamic; and the Professional and Business Sector, whose political power is such that they won't be subjected to global competition under TPP, unlike, say, steel workers, which is why many of us must travel to get our teeth fixed. (Particularly tragic is "Public Administration." Remember when we promised civil servants steady employment and a respectable pension? Good times.)
What is to be done to bring hope to "us," if "we" are subject to Irwin's "alternative work arrangements"? Sadly, the muscle of the FIRE sector, or the construction unions, or the professional guilds, is not available to retail workers, or truckers, or nursing home attendants. There, efforts on the scale of #FightFor15, with goals as high as single payer (since employers want to dump insurance, and ObamaCare is what it is) look like the "change" that would be needed.