By Lambert Strether of Corrente.
TTP/TTiP/TISA
"The International Trade Commission (ITC) just released its 792-page monster of a report on the "likely impact" of the Trans-Pacific Partnership (TPP) on the US economy. The findings are largely positive on net but tiny, which confirms two of my priors. First, I see no rational way your support or opposition to the TPP can be informed by these findings, and second, trade agreements, as opposed to trade, have little to do with US growth and jobs" [Jared Bernstein].
2016
Policy
"Hillary Clinton's campaign just released the worst Venn diagram of all time" [Vox]. We discussed another Clinton diagramming debacle at length here. Strange that such a wonky campaign can't get such basic blocking and tackling done right.
Money
"Sanders outraised Clinton in April after all" [Politico]. Shocking the press got this wrong, I know.
Nevada Debacle
"Nurses on Nevada: Where's the Outrage Over Widespread Irregularities That Occurred During the Caucuses in February" [Common Dreams]. From National Nurses United, with lots of good detail of how casino management gamed the vote.
Our Famously Free Press
"Barrier Breakers 2016: A Project of Correct The Record" [Correct the Record]. This is the page that explains David Brock's #MIllionDollarTrolls.

"Lessons of the Bruenig Bailout" [@Billmon, Storify].

"Dennis J Bernstein and Greg Palast: Media Fabricates Sanders Riot, Buries the Real Story" [Reader Supported News].
The Voters
"He's Not Moving A Party to the Left" [Occupy]. Bringing forward the critical topic:

Compositionally, these radicalized Sanders supporters are a very diverse group. In many contests, especially open ones, Sanders has split or won the female vote. In fact, although the mainstream media would never make mention of this, Bernie's strongest support seems to come from young women. In Iowa, for example, 84 percent of women under 30 voted for Sanders. In terms of racial diversity, he remains the favored candidate among Native, Arab and Asian Americans. Nationally, some polls indicate he splits the support of Latin@ voters with Hillary. He won Hawaii, the most diverse state in the country, by a landslide.

The major exception, of course, is older African Americans, and especially older black women. Even if Sanders is favored by many blacks, especially black youth, he consistently wins far fewer votes than Hillary Clinton. The reasons are very complex, and I can only indicate a few elements of an answer here: the destruction of autonomous radical black organizations since the 1970s, the subsequent absorption of blacks into the Democratic Party, the rise of a black bourgeoisie whose quarrel is not with the system but with access to the system, the close connection between the black leadership class and the Democratic Party, the role of the black church, the legacy of Bill Clinton and the power of the Clinton brand, high abstention rates among poor blacks, the fact that in some places one out of four black men are disenfranchised, and the justified fear of racist terror, especially in the South, which led many to vote for the most "electable" candidate.

Another factor might be lack of exposure, or more precisely, differential access to information. A 2014 study found that only 45 percent of senior blacks are internet users and just 30 percent have broadband at home, significantly less than whites with a similar demographic profile. In failing to win the support of many African Americans, especially black workers, the Sanders campaign has highlighted probably the greatest strategic question for all radicals today: determining the political class composition of African Americans at a time when the first black president prepares to leave office.

"Demonizing, Not Engaging" [Matt Bruenig].

Recent discussions about the white working class and racism (me, DeBoer, Mystal, et al) have me flashing back to the fascinating world of 2008 LGBT politics. In that year, the majority of Black voters came out and voted in favor of proposition 8, a successful referendum that sought to eliminate same-sex marriages in California. Needless to say, this put LGBT writers and activists in a tough spot: do you take out your frustrations and demonize Black people as anti-gay bigots fighting against equality or do you blame yourself for failing to adequately engage Black people on the issue?

"Debunking Hillary's Specious "Winning the Popular Vote" Claim" [HuffPo]. Missed this one. The claim ignores the popular vote in caucus states that Sanders won.
The Trail
"What we are seeing, however, is that it's no longer taboo in liberal circles to attack Sanders as he drags out the nomination process at a time when many are itching to turn their fire on Donald Trump" [Politico]. Dear Lord. Smearing all Sanders supporters as (white, male) #BernieBros isn't an attack. OK. More subtly, the headline "Bernie Loses His Halo" implies that Sanders supporters think he's some sort of a saint (as opposed to supporting him based on issues).

"To win the 270 votes needed to claim victory in the electoral college, Trump will have to keep every single state won by Romney — including Arizona and Georgia — and find 64 more electoral votes somewhere" [The Hill]. "The question is where? If Trump holds all the Romney states and carries Virginia, Pennsylvania and Florida, he still loses…. Larry Sabato, Charlie Cook and Stu Rothenberg all predict a big Clinton victory. For example, Sabato projects Clinton to win 347 electoral votes to Trump's 191."

"In one of the last actions at the daylong Democratic State Convention Sunday, delegates voted to endorse home-state Sen. Bernie Sanders (I-Vt.) for president. There was no debate and virtually no dissent" [Seven Days]. "In an almost unanimous voice vote with no public debate, they passed a resolution that calls on the party to ditch the superdelegate status for the next presidential election in 2020."

[T]the resolution asks the state's superdelegates to voluntarily follow the will of Vermont Democratic voters and cast their ballots at the national convention for Sanders. Four of Vermont's 10 superdelegates — Gov. Peter Shumlin, Sen. Patrick Leahy (D-Vt.), former governor Howard Dean and Democratic national committeewoman Billi Gosh — are supporting Clinton.

None of them were at Sunday's convention.

Nice to see elites keeping in touch,

"The 2020 Primary Has Started" [Real Clear Politics]. "Elites in both parties have kicked off the next primary process by looking at, and in some cases attempting to revise, rules for the 2020 nominating contest."

Both Republicans and Democrats face questions regarding how much power party insiders should wield.

On the Democratic side, these questions revolve around superdelegates who are able to support any candidate at the convention, regardless of their home state's primary result.

No, they don't. On the Democrat side, the questions "revolve" around voter suppression, election fraud, delegate manipulation by insiders, and the elimination of caucuses. That super-delegates should be abolished is admitted by all but the corrupt and sclerotic nomenklatura (that is, the superdelegates themselves).
Stats Watch
PMI Manufacturing Index Flash, May 2016: "Markit's U.S. manufacturing sample has come to a near standstill, posting a flash May index of 50.5 that is only barely above breakeven 50 and the lowest reading of the economic cycle" [Econoday]. "Today's report follows weakness in last week's Empire State and Philly Fed reports which are all pointing to continuing softness for a factory sector that has yet to get an export boost from this year's depreciation in the dollar nor a boost in energy investment in line with the bounce back in oil prices."
Housing: "Inventory is incredibly tight. You want to buy? Good luck with what is out there. This is why large metro areas from Denver, Seattle, Las Vegas, Los Angeles, San Francisco, Miami, and New York are all seeing similar trends. Prices are rising on normal sales volume thanks to tight inventory. Over the last few years, a large part of the buying went to investors. Now with sky high prices and investors pulling back, you are seeing people stretch into homes with no down payments or very little down – all to get a piece of the crap shack dream" [Dr. Housing Bubble]. "Investors, those that bought up the inventory are doing well on the rental side of the equation… You can have your crap shack but the bank is going to own your life. And what about that next recession? Of course human psychology being what it is, an open house smelling like a rescue pound has people trying to buy without seeing what is directly in front of them. People drank the Kool-Aid again. Those of us who have lived through previous bubbles recognize the chorus but on a different soundtrack."
Housing: "A new study seems to come out daily chronicling the absurd surge in home prices in some of America's hottest real-estate markets" [MarketWatch]. "Trulia's Ralph McLaughlin put together a series of animated graphics to show what he describes as the "million dollar creep" of high-priced homes in the country's biggest metro areas." Yep. There's a lot of million dollar creeps out there, for sure.
Employment Situation: "The main source of unemployment statistics counts workers as unemployed based on their job status one week of the month. But as a notion of monthly unemployment, we also might reasonably ask whether the worker was unemployed for the whole month" [Federal Reserve Bank of St Louis]. "About seven in 10 workers unemployed in the CPS week were also unemployed the rest of the month. If we assume that all workers find jobs at the same weekly rate, then this level actually seems about correct, as we would expect about three-fourths of workers unemployed in the second week of the month to find a job before it ends."
Employment Situation: "Hiring by staffing agencies has ground to a halt so far in 2016, a worrisome sign because the category fell off before a broader job-market slowdown ahead of the past two recessions" [Wall Street Journal, "Temp-Worker Freeze Bodes Ill for Economy"]. "Many economists look at the sector as a leading indicator because cautious firms tend to first hire temps when an expansion begins and dismiss those nonpermanent workers when they sense the economy is faltering."
Employment Situation: "A relatively tight labor market in the United States may put upward pressure on inflation, raising the case for higher interest rates, St. Louis Federal Reserve President James Bullard said on Monday" [Futures].
Shipping: "Several world regions including China, Western Europe and the Middle East seem to have planned much more container terminal capacity than needed for the coming decades.  " [Journal of Commerce]. A new study by the International Transport Forum at the Paris-based Organization for Economic Co-operation and Development finds container traffic related to international trade will double by 2030 and increase by nearly 300 percent by 2050. … Of the world's 18 major sea areas, only in the case of South Asia is the baseline projection for container volumes in 2030 higher than the estimated capacity figure."
Shipping: "When the U.S. Department of Transportation last year issued a new set of standards for tank cars transporting flammable liquids, rail-car repair companies began prepping for what they expected to be an onslaught of retrofitting work" [Progressive Railroading]. "So far, however, the demand for retrofits hasn't quite matched earlier projections. The high costs associated with updating the older tank cars and plummeting oil prices have dampened demand, but repair company execs still expect 2016 to be a busy year thanks to steady calls for requalifications and maintenance work in other segments, such as autoracks."
Shipping: "Is there a future for unmanned air cargo operations?" [Air Cargo News]. "The impact of automation on the work-force is of course a controversial and emotive subject, but participants quickly identified that in the case of air cargo, looking at UAVs from the point of reducing the number of pilots missed the point. … It was pointed out that there was spare capacity in the bellyhold sector and therefore it would be hard for the unmanned industry to offer a more cost-effective solution on intercontinental operations. … Instead, discussions centred on how UAV operations could open up new areas for air cargo and revolutionise supply chains. … The use of UAVs to avoid current safety concerns – such as the transport of Lithium-ion batteries – could also provide an option for unmanned systems. "
Fodder for the Bulls: "The bears would have you believe the world is ending, but is it?" [MarketWatch]. By Betteridge's Law, no. So far as I can tell, this article has no significance, but the headline is fun. Readers?
Shipping: "Seven kinds of counterparty: part one" [Splash247]. "We'll start with the Good, in this article, before moving on to the Bad and the Ugly." Fun!
Today's Fear & Greed Index: 56, Greed (previous close: 55, Neutral) [CNN]. One week ago: 60 (Neutral). (0 is Extreme Fear; 100 is Extreme Greed). Last updated May 23 at 1:12pm. Back to greed from neutral. So the hangover wasn't too bad.
Water
"Seventy bicycle riders toured the streets of New Orleans to learn how water flows through the city and new ways to make New Orleans "more resilient'" [Nonprofit Quarterly]. "The new approach [of the Greater New Orleans Urban Water Plan] would integrate a living water system throughout the city, reducing the rates at which the land is sinking through 'innovative climate-adaptive planning, design, and technology."" I hope they consulted real estate interests. And interestingly, Bangkok faces exactly the same sort of problem.
"'Our Water, Our Future': Voters in Oregon Defeat Nestlé's Attempt to Privatize Their Water" [Truthout]. I wish we'd been able to do the same thing up here with Poland Springs. I guess we'll just have to wait for The Jackpot…
Gaia
"Anyone with an allergy has their origin story, a tale of how they discovered that their immune system goes haywire when some arbitrarily particular molecule gets into their body" [Quartz]. "[Ruslan Medzhitov of of the Anlyan Center for Medical Research and Education at the Yale School of Medicine thinks that] allergies are not simply a biological blunder. Instead, they're an essential defense against noxious chemicals"
"Smelly Socks and Sweaty Shirts: Why Your Laundry Stinks, and How to Stop It" [Alpha Galileo].
Guillotine Watch
"These days, passengers can spend time at sea in a lounge where they are served by robotic bartenders, in a spa where artificial snowflakes fall inside a snow room, or in a planetarium where they are taken on a virtual tour of outer space, and still fail to take advantage of everything on board" [Daily Mail]. Why go to sea at all, then? These people have more money than sense.
Class Warfare
"Meet the Party of Upper-Middle-Class Liberals" [Indypendent (MR)]. Review of Listen, Liberal. This is excellent:
After the Decatur uprising, Frank ignores virtually all opposition to the neoliberal Dems from the left. Unmentioned or barely noted struggles include the 1997 UPS strike; the Battle of Seattle; the Nader campaign; the anti-Iraq War movement; the Howard Dean candidacy; immigrant rights protests; the Wisconsin uprising; Occupy Wall Street; the Chicago teachers strike' the elections of Elizabeth Warren, Kshama Sawant and Bill de Blasio; Fight for $15, and Black Lives Matter. These struggles have been coming much faster and fiercer since OWS broke the dam in 2011, culminating in Bernie Sanders' campaign for president (apparently under way as Frank was completing Listen, Liberal), which will claim over 10 million votes.
"Are You Successful? If So, You've Already Won the Lottery" [New York Times]. But wait! What about merit?
"Council closed libraries to cut costs, then spent more to guard them" [Guardian]. So, a subsidy to the security industry at the expense of making people more stupid. What's not to like?
"How Hedge Funders Built the Pro-Charter Political Network" [Bill Moyers]. "But as the movement to marketize public education gained momentum, advocates broadened their focus from the federal level to state and local governments. There, where campaign costs were substantially lower than in federal elections, the well-funded movement could more effectively leverage its political money." I never know whether where to file charter stories: Class Warfare, or Corruption.
"Google's Relationship with Payday Loans: It's Complicated" [The New Yorker]. No, it isn't. "Google's decision came a few weeks before the Consumer Financial Protection Bureau is expected to release new rules on payday lenders."
News of the Wired
"A Current List of Use Cases for Ethereum" [Medium]. Since Ethereum's storage is centralized, even if the apps are decentralized, the essential use case is renting the storage, no?
"I've worked in software for years and, time and again, I've seen someone apply the arts to solve a problem of systems. The reason for this is simple. As a practice, software development is far more creative than algorithmic" [New York Times].
"This Game of Thrones Porn Parody Is All About the Happy Ending" [Vanity Fair].
"Desire Was Everywhere" [London Review of Books]. A 2010 appreciation of that madcap couple, Félix Guattari and Gilles Deleuze.
"There's No Such Thing as Free Will" [The Atlantic]. "Smilansky advocates a view he calls illusionism—the belief that free will is indeed an illusion, but one that society must defend." In other words, a Noble Lie.
"Your brain does not process information, retrieve knowledge or store memories. In short: your brain is not a computer" [Aeon]. "The faulty logic of the [Information Processing] metaphor is easy enough to state. It is based on a faulty syllogism – one with two reasonable premises and a faulty conclusion. Reasonable premise #1: all computers are capable of behaving intelligently. Reasonable premise #2: all computers are information processors. Faulty conclusion: all entities that are capable of behaving intelligently are information processors."
* * *
Readers, feel free to contact me with (a) links, and even better (b) sources I should curate regularly, and (c) to find out how to send me images of plants. Vegetables are fine! Fungi are deemed to be honorary plants! See the previous Water Cooler (with plant) here. And here's today's plant (Portia):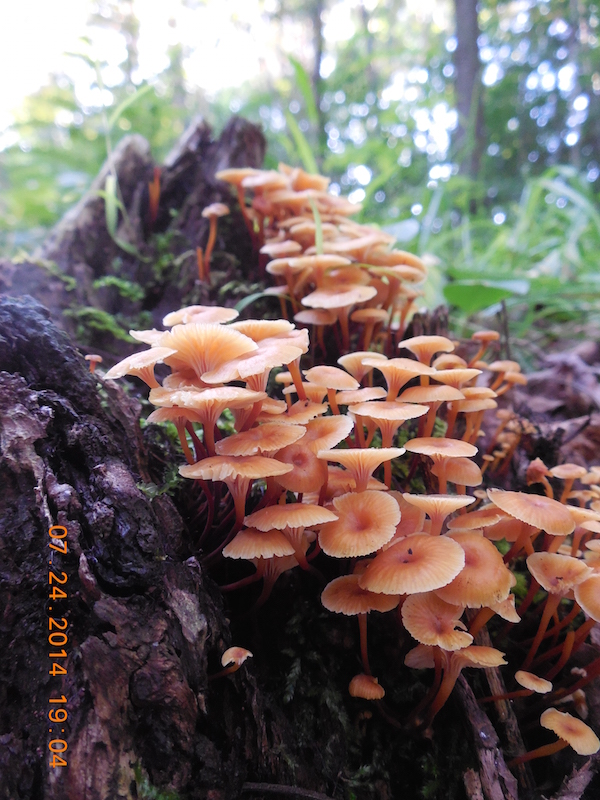 Seems to be my day for time-stamps….
NOTE I credited the photo to Maggie, when the credit should have gone to Portia, to whom I extend my apologies. Not a good day.
* * *
Readers, Water Cooler will not exist without your regular support. Your tip will be welcome today, and indeed any day. If you enjoy what you're reading, please click the hat!